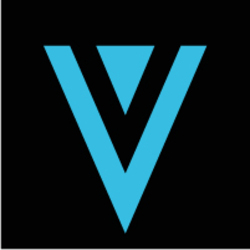 Verge (XVG)
Price
What is Verge (XVG)?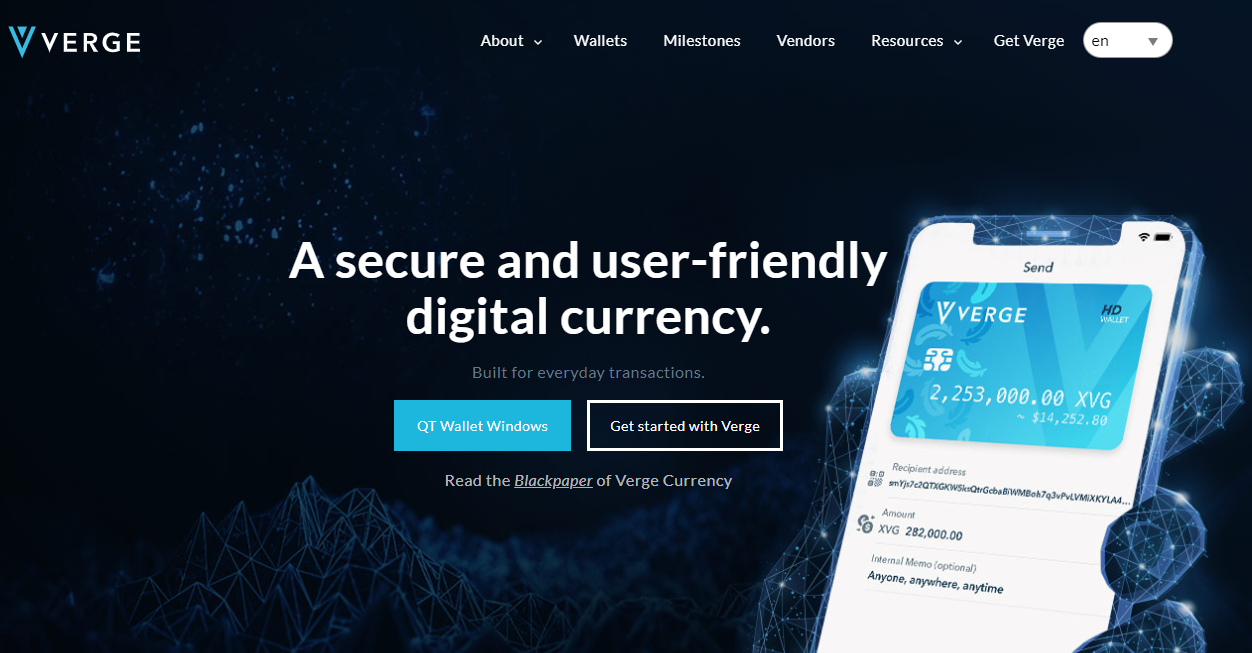 Cryptocurrencies provide a host of unique use cases in an ever-expanding variety of sectors ranging from smart contracts, DeFi, oracles, NFTs, stablecoins, and more. One of these is the privacy-focused peer-to-peer cryptos, which utilize zero-knowledge proofs and similar technology to hide the identity of senders and receivers in transactions.
A popular name in this field is Verge (XVG), a project designed to improve Bitcoin's objective of a decentralized digital payment system but with the addition of anonymity. Verge is a hard fork of Dogecoin and was initially known as DogeCoinDark when it was released in October 2014.
It eventually rebranded into a more accessible name, Verge, in February 2016. Verge was created by the enigmatically named Sunerok or Justin Vendetta, an American software developer. While the project presently ranks #146 for most traded tokens according to CoinMarketCap, it's the sixth-largest for privacy coins overall.
Presently, one is worth $0.022 or about 2 cents. Let's explore why Verge may be a good investment and 'use our crystal ball' in making the coin's future price predictions.
Is Verge a good investment?
We'll consider four reasons Verge is a good investment: longevity, the mining aspect, the importance of privacy, and tokenomics. Any investor in cryptocurrencies should base much of their potential investments on projects with some staying power.
Verge has existed for several years and is likely to stick around for longer. Regarding the creation and security of the coins, XVG uses proof-of-work (PoW) or mining. Verge's PoW is unique in that it works with five different hash functions where most PoW coins are compatible with one.
Privacy coins serve an identifiable need in most industries as people become more conscious of their personal data and prefer anonymous dealings where possible, particularly finance-related ones.
Although Verge allows users to fully or partially conceal payments, the project has a transparent block explorer to see all transactions in real-time. Hence, it adheres to the point of a public blockchain but is also private simultaneously.
Lastly, another interesting point with Verge is the circulating supply, which is near its lifetime maximum. Only 16.5 billion coins have been set to exist, of which we are 99% of the way or 16.46 billion. This fact is significant as many projects with intentionally limited supply tend to increase over time as it dwindles due to growing demand.
Should I buy Verge today: Crypto technical analysis for XVG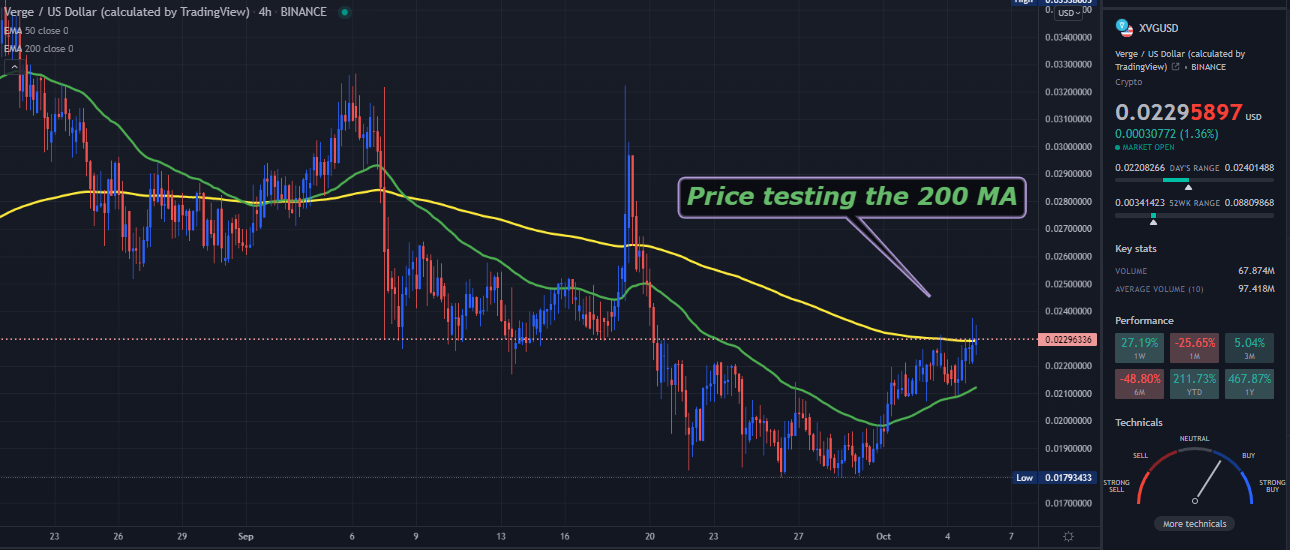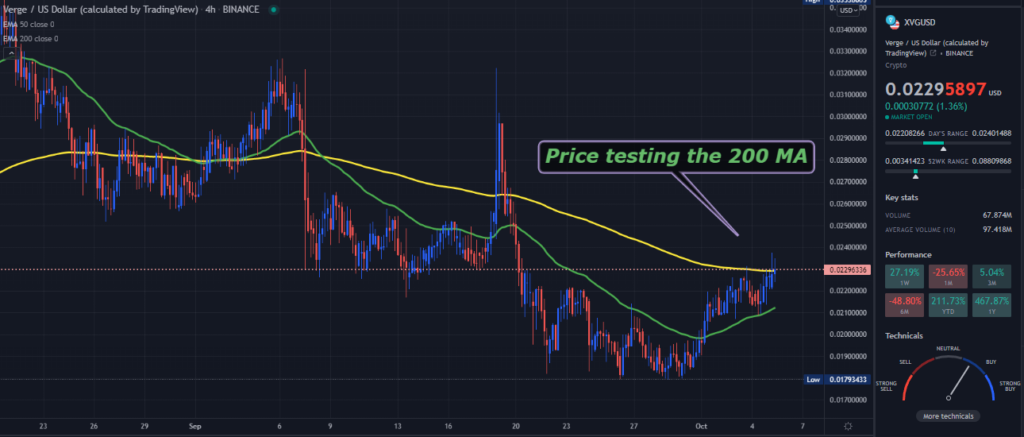 It may not be a good time to buy Verge today, though waiting for some time could be preferable. Let's use a straightforward exponential moving average crossover strategy consisting of the 50-day (green) and 200-day periods (yellow).
The point is for the 50 to cross above the 200. Moreover, the price should be above both moving averages. We'd want to see the 50 crosses above the 200 with the market above both moving averages to fully confirm the buying signal. So, it's not yet the best time to buy, but things could change for the better soon.
Will the Verge coin price hit 10 cents in a year?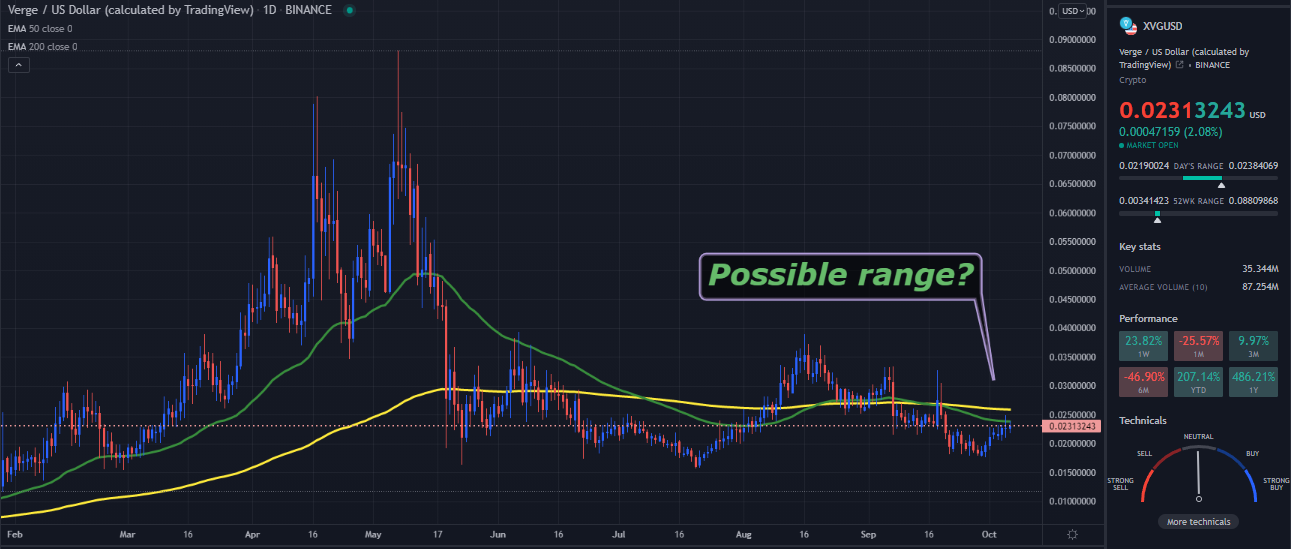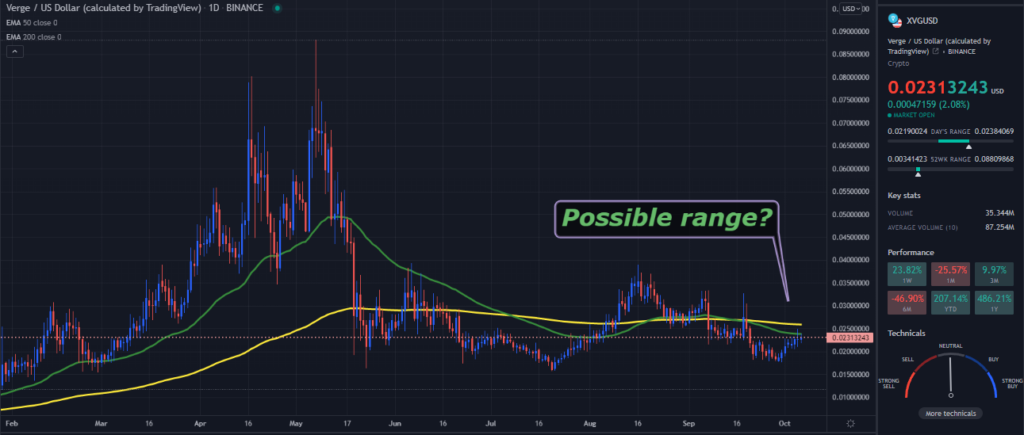 The price is below the moving averages on the daily chart, and the slope is flat, suggesting range-bound conditions. So, the market is likely to stall for some time. So, where will Verge head in a year?
Digitalcoin, a forecasting site, provides its own view on the XVG price prediction based on the coin's past price action.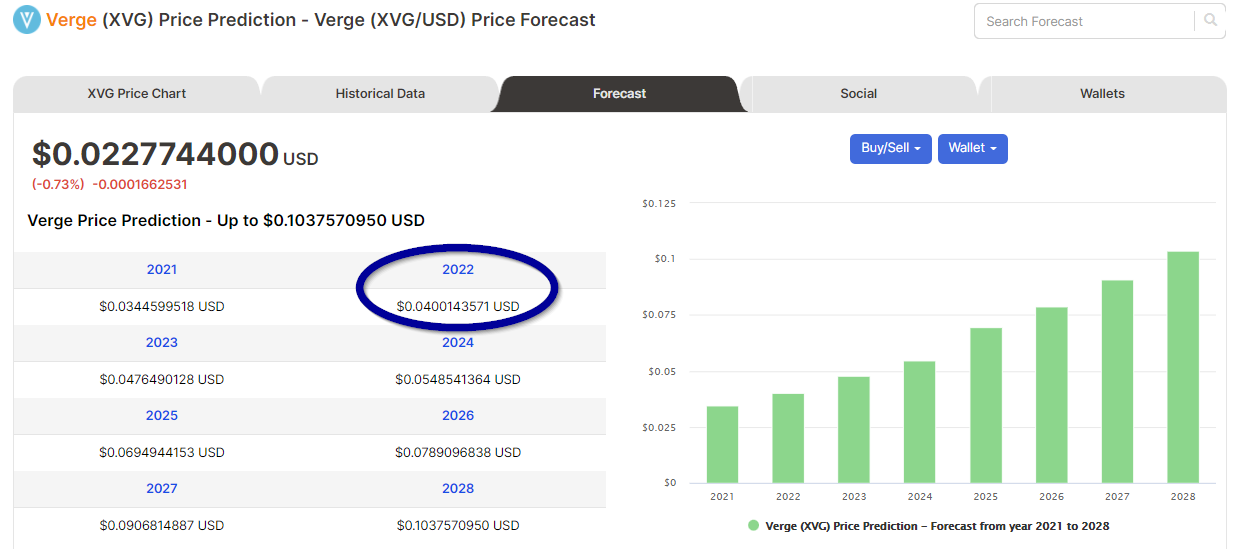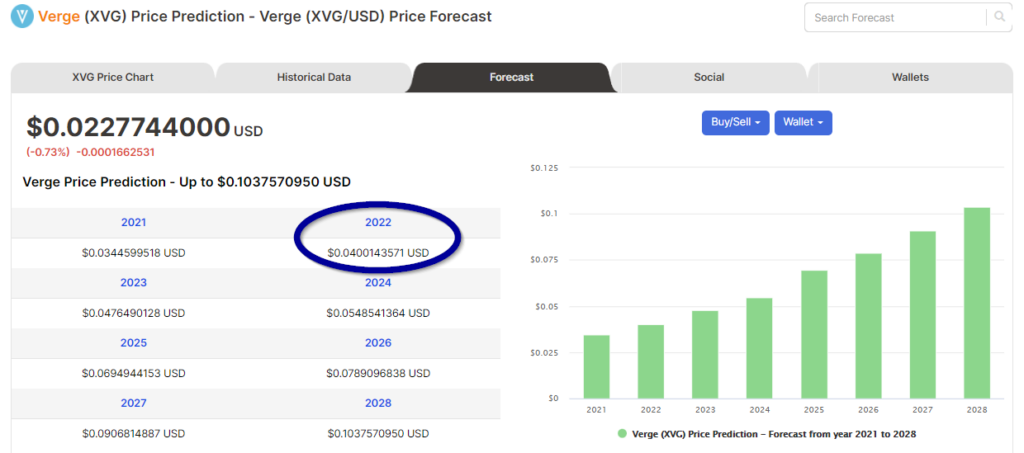 The forecasting site predicts XVG price to reach $0.04 in a year, while Wallet Investor suggests $0.0672. So, XVG is unlikely to be worth 10 cents but likelier in the 4 to 7 cents range.
What is Verge's coin price prediction for 2025?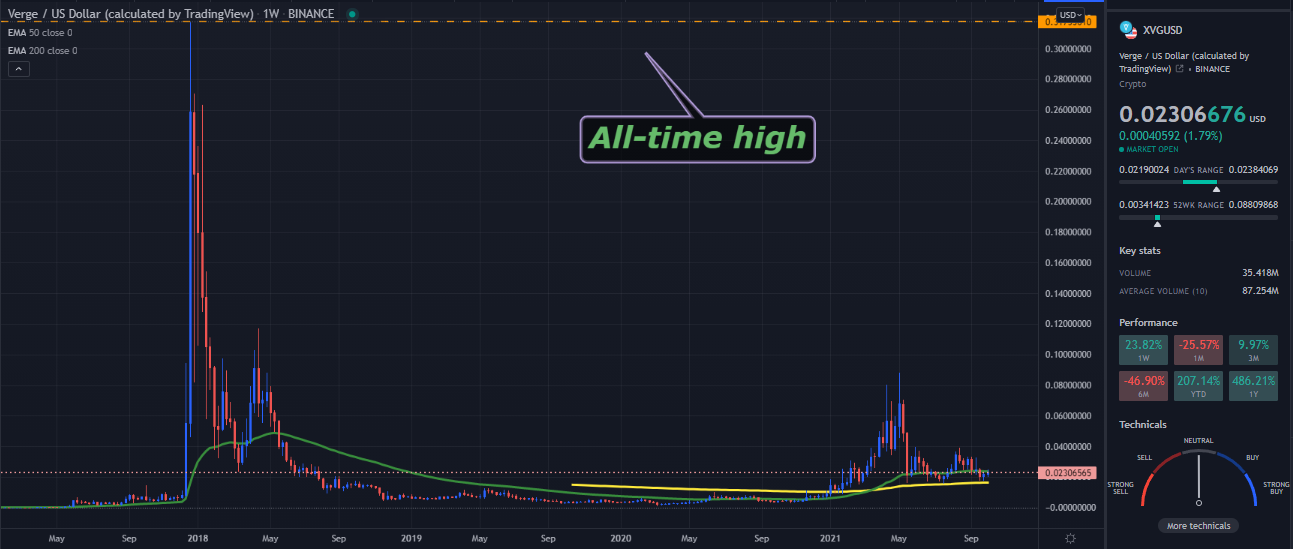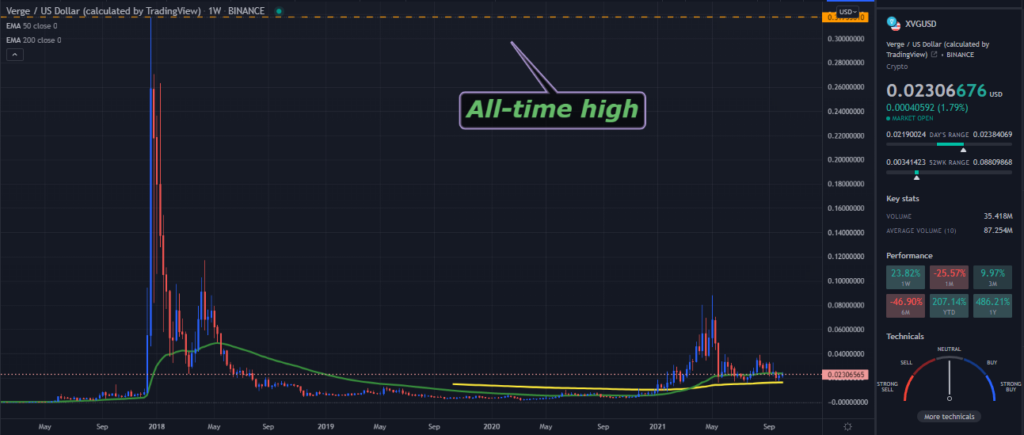 The weekly chart looks similar to the daily judging from the slope and where the market is near the moving averages. So, what is a reasonable 2025 XVG price prediction?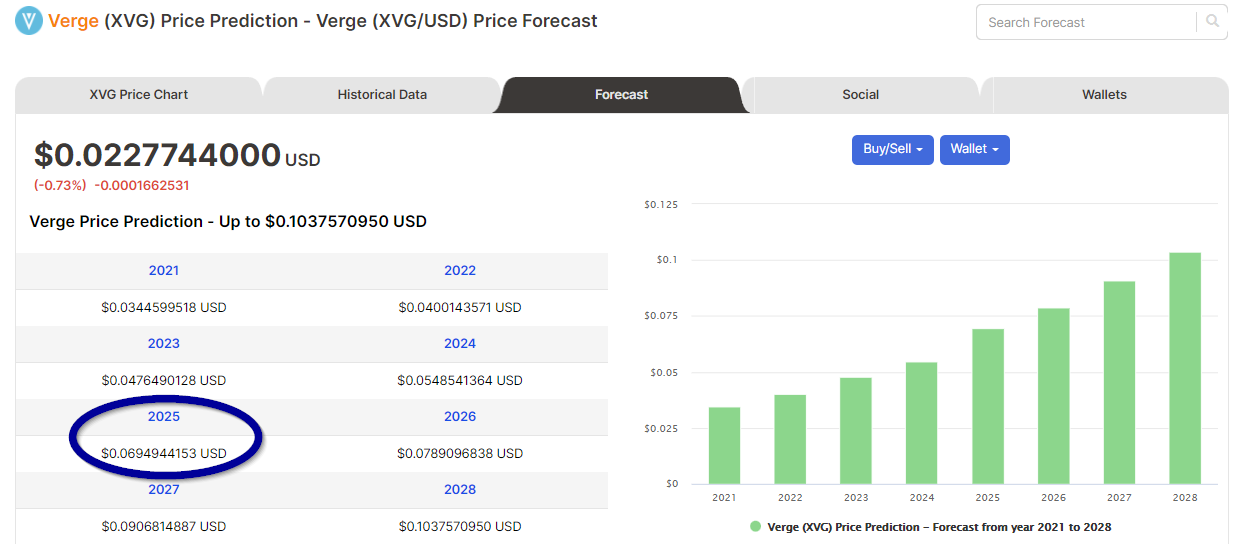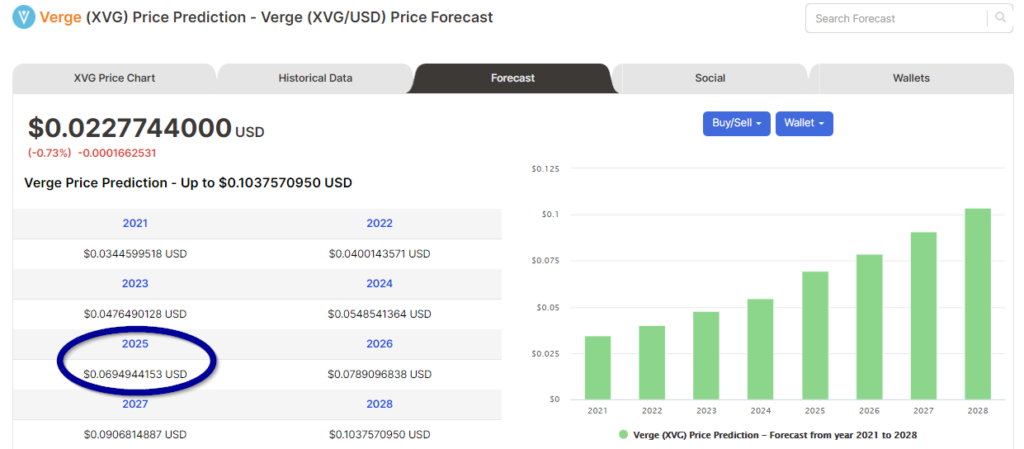 Digitalcoin estimates Verge should hit $0.069 or about 7 cents. Wallet Investor's prediction is a little higher at $0.12 or roughly 12 cents. Regardless, any investor should understand it's hard to predict the future of any financial instrument accurately. However, these are still reasonable estimates based on the market cap and the present value of Verge.
The best way to buy XVG
As a hugely popular cryptocurrency, you can expect to buy XVG from many exchanges like Binance, Bittrex, Bitfinex, Huobi, Gate.io, and countless others. Another way to purchase XVG is from its own exchange named VergeCurrency, where you can exchange 213 different currencies, a combination of mostly crypto and fiat.
Moreover, there are plenty of software and hardware wallets to store the coin if you prefer not to trade it.