Disclaimer: The information provided here does not constitute any form of financial advice. Readers are fully responsible for conducting their due diligence before making any investment decisions.
What is Avalanche (AVAX)?
Avalanche is one of the many blockchains in the race of being the fastest and most feature-rich. Ever since being launched in September 2020 by Ava Labs, it has become quite widely known, with its utility token, AVAX, currently in the top 10 for most traded coins, according to CoinMarketCap.
Avalanche is simply an open-source blockchain for building decentralized applications (including individual blockchains known as subnets) and smart contracts like Ethereum.
However, Avalanche isn't aiming to become an 'Ethereum killer,' as it's compatible with the Ethereum Virtual Machine and Solidity (the language used for smart contract programming on Ethereum).
This allows for the easy transfer of numerous Ethereum-based assets onto Avalanche and vice versa, making the two interoperable.
However, unlike its predecessor, Avalanche can process around 4500 transactions per second with less than two seconds in transaction finality. It achieves this because Avalanche uses the proof-of-stake consensus mechanism, which is inherently more scalable.
Avalanche is built distinctly from most blockchains in that it comprises three chains: the P-Chain, C-Chain, and X-Chain. Each of these is optimized for different elements like speed and security, offering a great deal of flexibility in the type of applications built.
This coin is worth $86 at present. Let's explore what the hype for Avalanche is about and AVAX price predictions for the next few years.
Is AVAX a good investment?
Avalanche is one of the many projects in a quest to solve the 'blockchain trilemma,' which is improving on security, decentralization, and scalability. Most blockchains are struggling with the last element, which is one of the most important for widespread adoption of this technology.
Avalanche is regarded as one of the fastest platforms for smart contracts and applications, with the most validators for any proof-of-stake protocol. Being interoperable with Ethereum (the second-most valuable blockchain) makes it particularly distinct.
AVAX is in the large market cap range (over $10 billion). These are projects characterized by steady growth, strong dominance, low competition, high trading volume, and relatively stable volatility.
While AVAX doesn't have a fixed supply, it is designed to be deflationary as tokens are 'burned,' reducing the amount of AVAX in circulation. This typically results in increasing demand, potentially making the value of the existing coins higher over time.
Should I buy AVAX today: crypto technical analysis for AVAX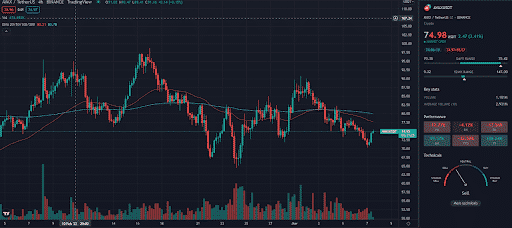 Despite many coins being in a slump over the past few months, our estimates suggest a buying opportunity for AVAX. We've plotted the 50-day (orange) and 200-day (blue) Moving Averages on the chart above to show a widely-used crossover system.
We can see the market is well above the two. Besides, AVAX price predictions for 2023 and 2025 are pretty positive.
Will AVAX coin price hit $1000 in a year?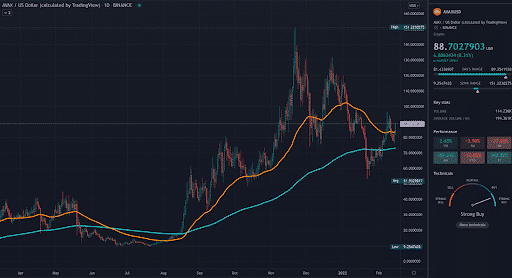 While AVAX has performed relatively well over the past few months, $1000 in a year seems unlikely, and a few reliable forecasting sites can back this up. Most predictions peg for AVAX to be worth around $200, which is fairly realistic.
For instance, Wallet Investor sees AVAX priced from $154 to $199. One of the more optimistic forecasts comes from Gov Capital, which estimates $192 to as high as $260.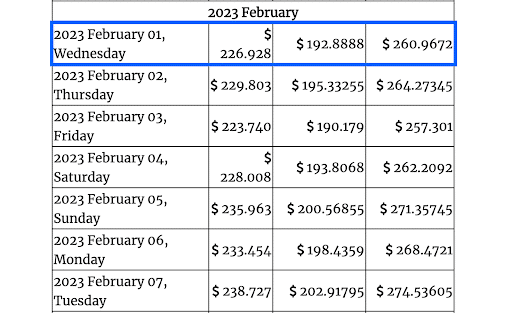 What is AVAX's price prediction for 2025?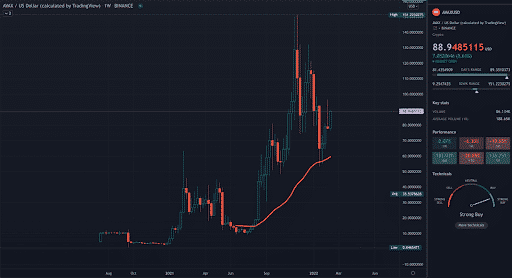 Overall, the future looks quite bright for Avalanche, with technology that's head and shoulders above most of its competitors. However, let's consider the hypothetical best and worst-case scenarios for this coin.
Best-case scenario
For 2025, experts have predicted AXAX can be worth at least $300 up to $1500, meaning investors can realistically expect the coin to increase a fewfold. Wallet Investor approximates values from $317-$427 when that year begins.
On the high end, Gov Capital sees AVAX hitting the $896 mark, which could go up to $1213.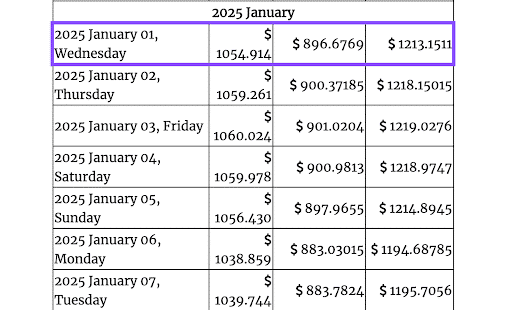 Worst-case scenario
Fundamentally, we didn't observe any specific threats to AVAX. The potential downsides for Avalanche are the same as with most cryptocurrencies, e.g., regulation, DeFi (decentralized finance) vulnerabilities, competition from other blockchains with a first-mover advantage.
Any of these factors can make the coin less valuable, meaning you should invest cautiously here.
The best way to buy AVAX
As with most cryptocurrencies, you need to open an account with exchanges like Coinbase, Binance, Huobi, KuCoin, etc., to buy AVAX.