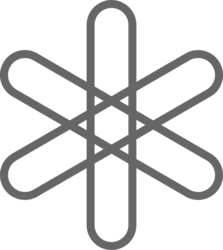 Dent (DENT)
Price
What is the DENT coin?
DENT is a blockchain project that aims to disrupt the world of the mobile data access industry. The technology is removing barriers that people from around the world face when accessing data. It does this by liberalizing mobile data by enabling people to share it, disrupting international data roaming, and by facilitating data purchases.
The overall goal is to enable people to share the often unused data worth about $4.8 billion per month into cash. It is achieving this by using its global digital marketplace for buying and selling mobile data, eSim cards, and voice minutes. This means that its biggest competitors are legacy companies like BT Group, Vodafone, and AT&T.
The DENT coin is the native token that powers the ecosystem. Users can use the DENT token to buy data in the marketplace. Also, they can use the token to swap it with other DeFi coins. The token has a market capitalization of more than $452 million, making it the 129th biggest cryptocurrency in the world, according to CoinMarketCap.
Is DENT Coin a good investment?
In its existence, DENT has not been a good investment for most people. The token rose from $0.01 in March 2021 and reached an all-time high of $0.2275. This was a 120% jump. Since April 2021, the token dropped by more than 92% and reached an all-time low of $0.0016. The lowest point was reached in July 2021. At the time of writing, DENT was trading at $0.050, which was about 260% above the lowest level this year.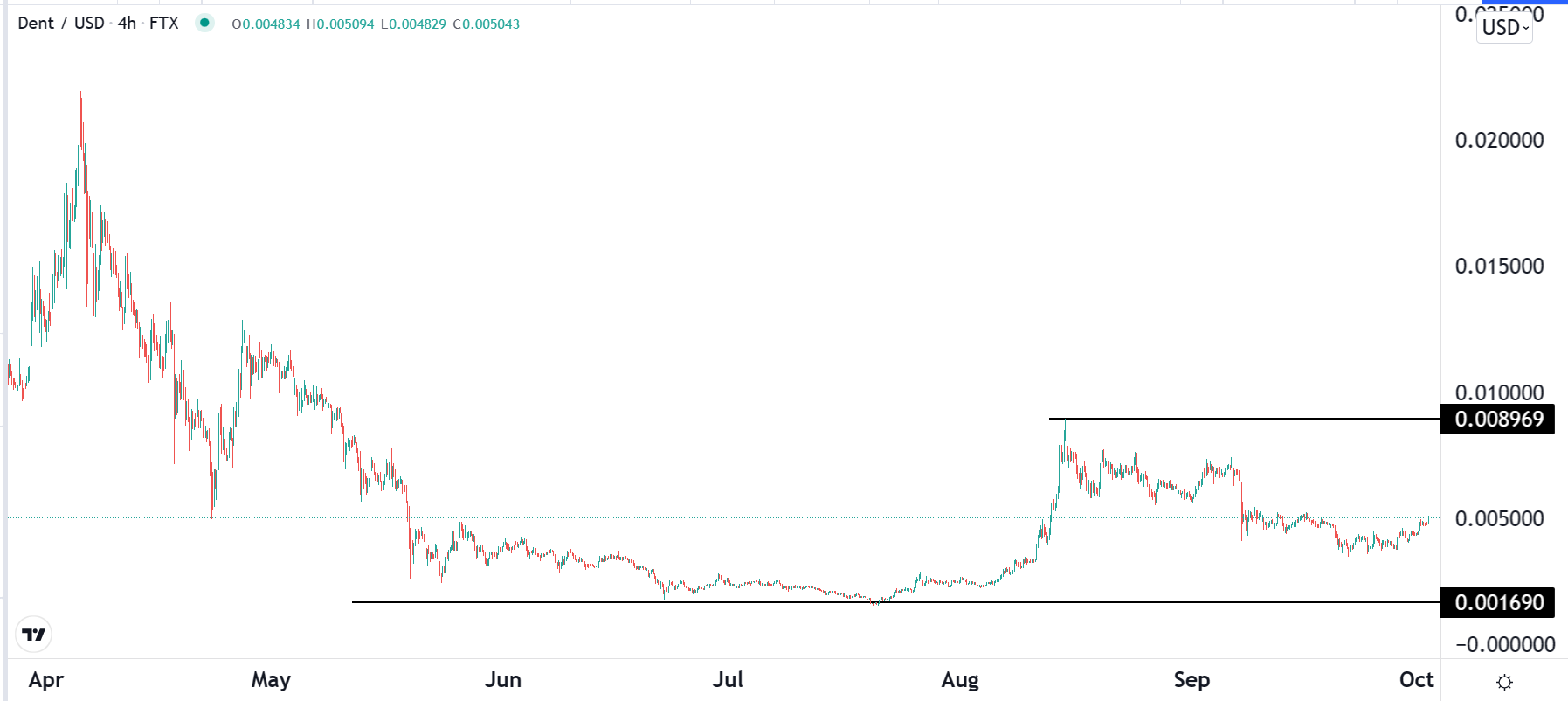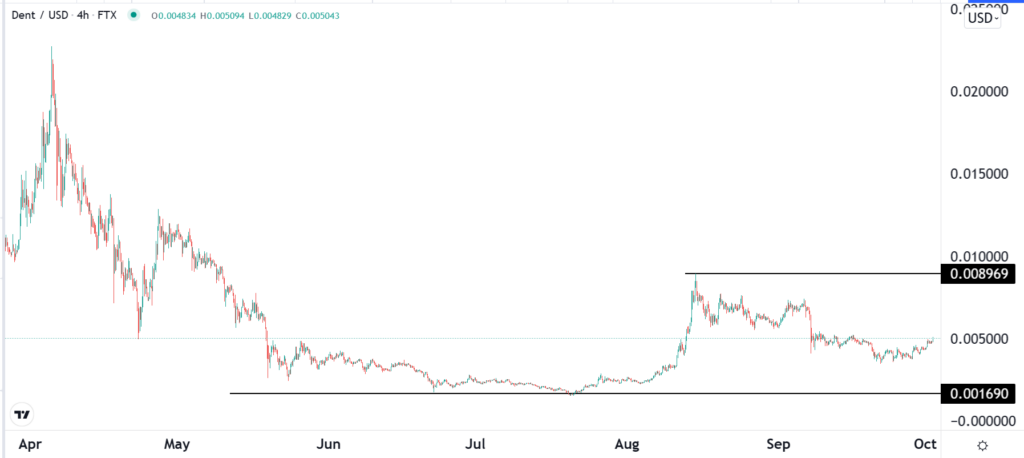 There are several reasons why DENT has lagged in other cryptocurrencies. First, unlike other popular cryptocurrencies like Ether and Bitcoin, most people don't have a clear understanding about how DENT works.
Second, the decline of the DENT token coincided with the overall decline of other cryptocurrencies. As you can recall, Bitcoin surged to an all-time high of $65,000 in May 2021 and then crashed to less than $30,000 in July.
Third, DENT, like most digital coins, declined because of macro issues. At the time, inflation was rising quickly, which made many people believe that central banks will start embracing a more tightening monetary policy.
Finally, demand for the DENT Coin has been relatively muted among cryptocurrency traders.
Crypto fundamental analysis for DENT
The world mobile telecommunication industry is a relatively big one. Combined, telecommunication companies make billions of dollars of revenue every month by selling voice, data, and other services. At the same time, many people don't use most of their data. The unused data is worth more than $5 billion per month.
Therefore, DENT is working to ensure that users can trade this data using its market place. Other assets that they can trade are the roaming data that cost users substantially when they are traveling.
Today, many developers have embraced DENT in their ecosystems. For example, Flow, a VPN has integrated its eSim service into its platform.
Still, while DENT is solving a real problem, the challenge will be on scaling its service around the world.
Crypto technical analysis for DENT
The four-hour chart shows that the DENT price formed significant support at $0.034 in July 2021. It then started a major rally and is currently trading at $0.05, which is about 50% above the lowest level in July. The rally has pushed its price above the 25-period and 50-period exponential moving averages (EMA). It has also moved above the upper line of the ascending channel.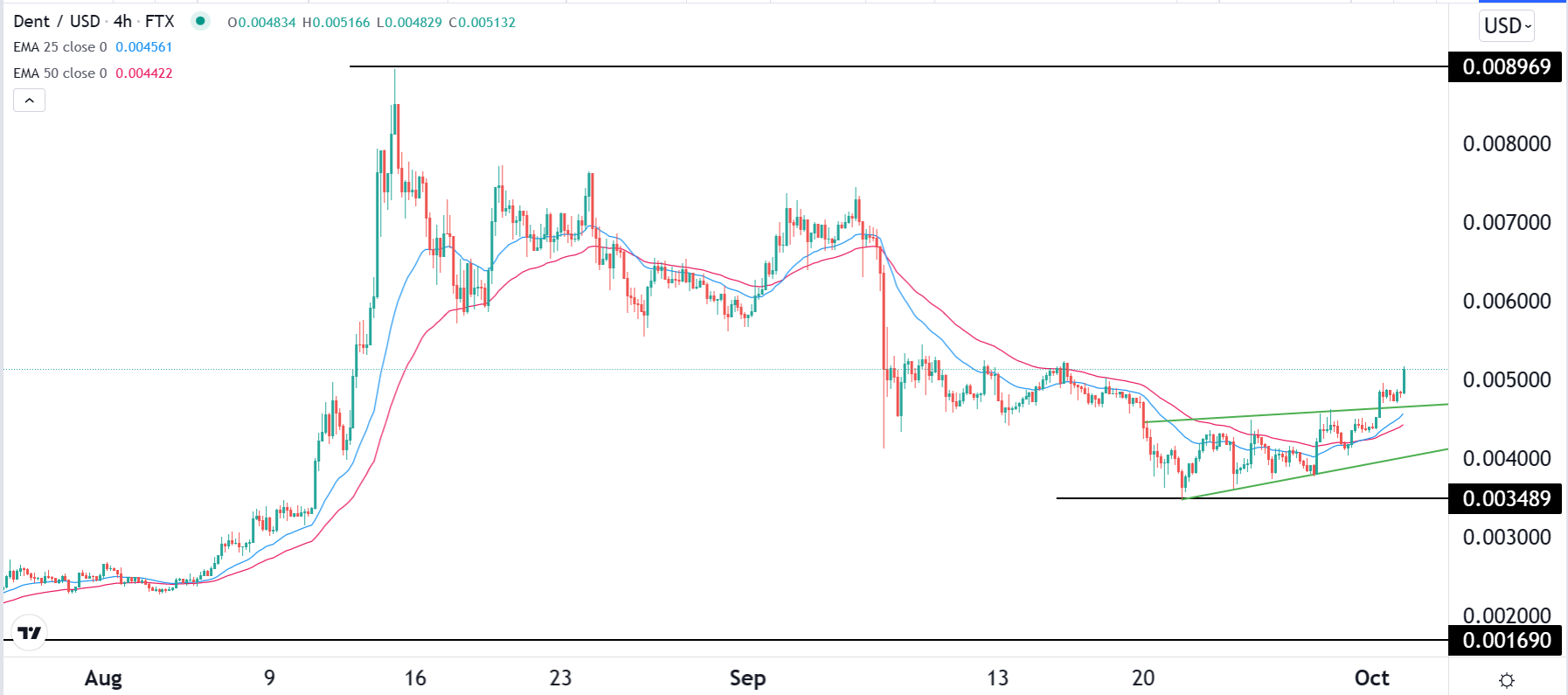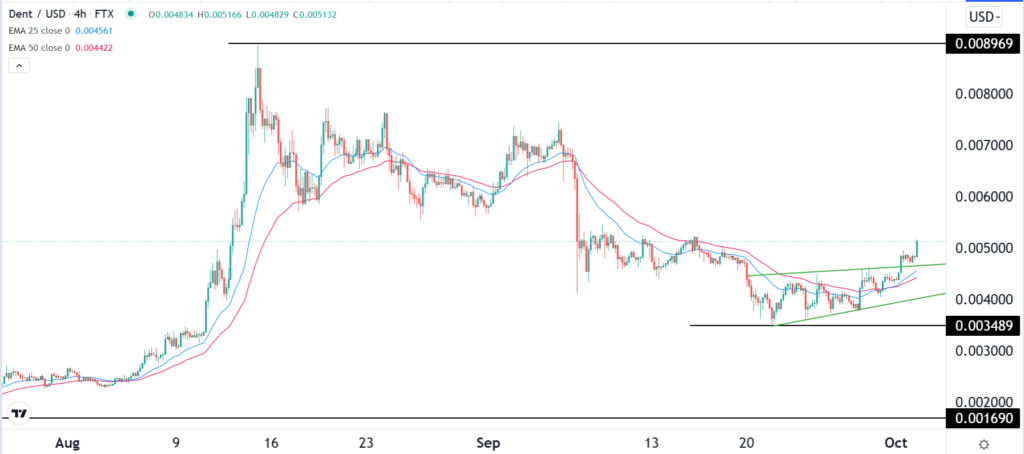 Worst case scenario
In this case, the worst case scenario is where the price moves back to the channel and then drops below the July support at $0.034. Such a price action will mean that there are some sellers in the market who will be keen to push it to $0.01, which is about 60% below the current level.
Best case scenario
The best case scenario for the DENT price is where bulls remain in control and push the price above the key resistance at $0.06. If this happens, it will open the probability that the token will retest its all-time high at $0.089.
Should you buy the DENT coin today?
From a fundamental perspective, there are significant concerns about DENT and how it is addressing the existing challenge. On the other hand, from a technical angle, we see that it has moved above a key resistance level. Therefore, there is a possibility that it will continue doing well in the near term. This makes it a good buy. However, we recommend that you allocate a small portion of your cash to the coin.
Will the DENT coin rise to $1 this year?
There is a minimal probability that the DENT coin will rise to $1 this year. That is because the coin is trading at $0.05 today. Moving to $1 would be a herculean task since it would need to rise by more than 2,000%.
What is the DENT coin prediction for 2025
In my view, DENT and other cryptocurrencies will continue to gain more interest in the next five years. As this happens, many altcoins will become more popular. Although this path will have some ups and downs, I suspect that the overall trend will be positive. Therefore, I think that DENT will be substantially higher than its all-time high of $0.089.
The best way to buy DENT coin
You can buy DENT coins from some of the popular cryptocurrency exchanges like Binance and FTX.