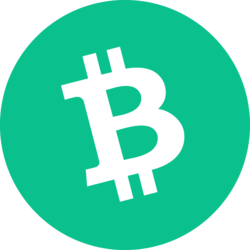 Bitcoin Cash (BCH)
Price
What is BCH?
Bitcoin Cash (BCH) is a peer-to-peer digital currency that was created in 2017 as a hard fork of Bitcoin, the first cryptocurrency. BCH is a relatively popular alternative to Bitcoin, which is known for its lower speed and higher costs. Bitcoin Cash is accepted in many online and retail locations from around the world.
Bitcoin Cash is one of the biggest cryptocurrencies in the world. According to CoinMarketCap, the total number of BCHs in circulation have a total market capitalization of more than $11 billion, making it the 18th biggest cryptocurrency in the world.
Like Bitcoin, most of the Bitcoin Cash available is used as investments. Very few people hold the currency because of its peer-to-peer payment solutions. Also, very few of them use it to transact in physical and online retail spaces.
Bitcoin Cash has a relatively close correlation with Bitcoin since many investors buy it as a proxy for Bitcoin. Besides, with $10,000, you can buy about 16 BCH. With the same amount, you cannot even afford one Bitcoin. According to MacroAxis, Bitcoin and BCH have a correlation coefficient of about 0.85%. This means that the two tend to move in one direction.
Is BCH a good investment?
To a large extent, the success of Bitcoin Cash depends on that of Bitcoin since the two have a close correlation. Since its hard fork in 2017, BCH has been a good investment to its original holders. In total, it has climbed by more than 100%. Still, this performance has significantly lagged Bitcoin, which has jumped by more than 1,700% in the same period.
The BCH price initially jumped from about $150 in 2017 and reached an all-time high of $4,300 in December 2017. It then crashed by more than 98% and landed to an all-time low of $62 in 2018. Since then, it has been attempting to rebound and is currently trading at $609, which is about 708% above the current level.
Therefore, to some extent, Bitcoin Cash has been a good investment over the years. Still, other newer cryptocurrencies like Cardano, Polkadot, and Bitcoin Cash have performed better than it.
There are also concerns about digital currencies that use a proof-of-work mechanism. In the past few years, many investors have opted for those using a proof-of-stake consensus mechanism, which is usually relatively cheap and more effective.
BCH technical analysis
Turning to the daily chart, the BCH price formed a strong double-bottom pattern at $388 between June and July 2021. This price action happened during the significant sell-off that happened since May. Since then, the coin has been crawling back. The coin is trading along with the 25-day and 50-day exponential moving averages (EMA).
Notably, it has also formed what looks like a head and shoulders pattern, which is usually a bearish signal. Therefore, there is a likelihood that the price will break out lower in the near term.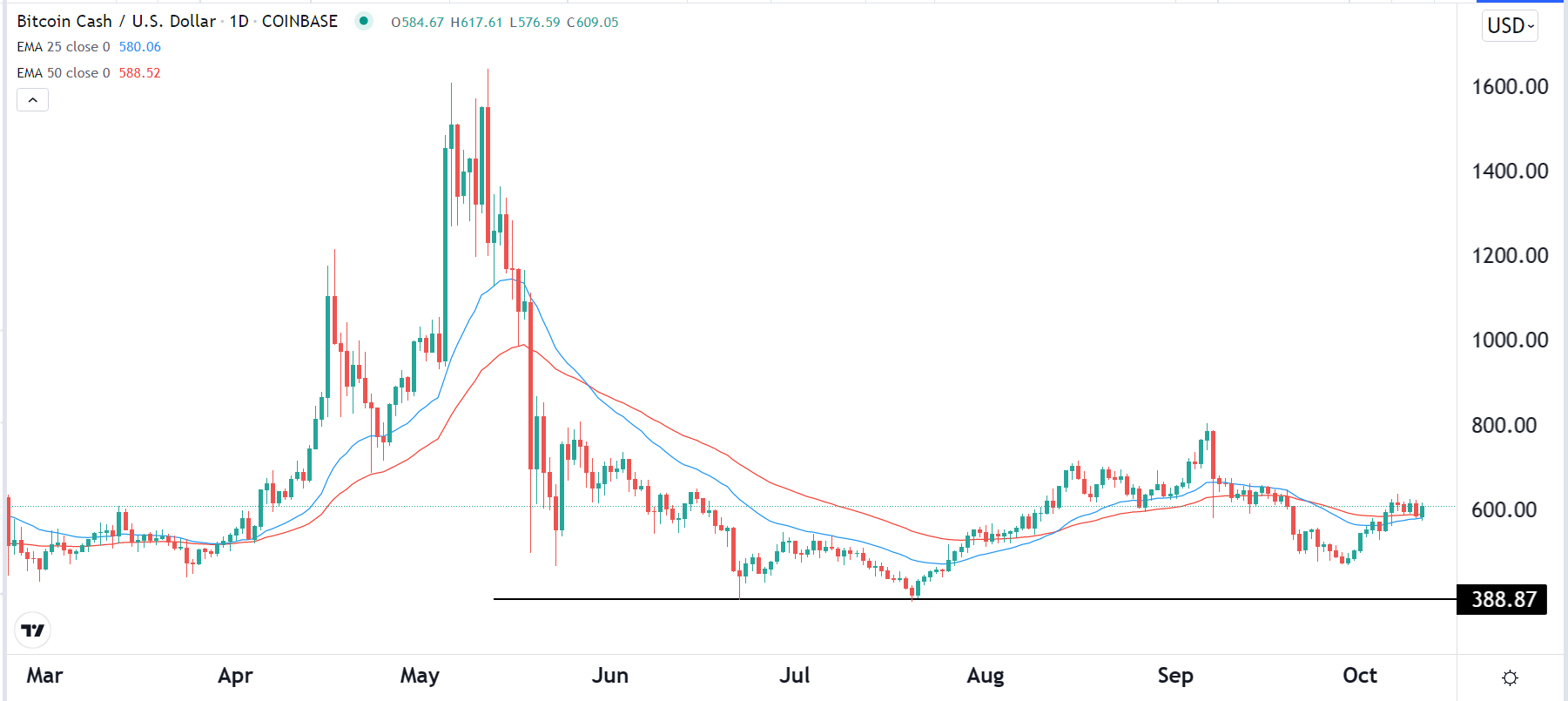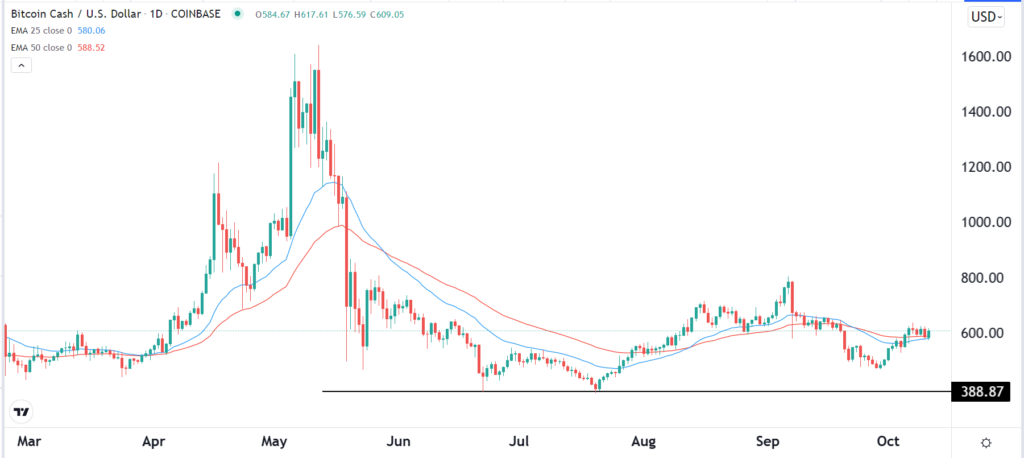 Worst case scenario
The worst-case scenario for BCH is where the head and shoulders pattern works as it should. If this happens, the coin's price will likely break out lower and drop below its neckline at $453. It will then keep dropping, with the next key support being the double-bottom point at $388.
Best case scenario
The best-case scenario is where the price invalidates the head and shoulders pattern and it moves comfortably above the two moving averages. If it moves above the head of the pattern at $805, it will send signals that there are more buyers in the market. That will in turn see them push its price above the $1,000 resistance level.
Should you buy BCH today?
I would not recommend buying BCH today for three main reasons. First, the coin has formed one of the most reliable bearish patterns in the market, signaling that its price could break out lower. Second, fundamentally, there is a general shift from PoW networks to those that use a proof-of-stake consensus.
Third, there are better fast-growing blockchain networks that will likely perform better than BCH. Some of these are Cardano, Polkadot, and Solana.
What is the BCH price prediction for 2025?
The outlook for BCH for the next few years is relatively bullish,, mostly because of its correlation with Bitcoin and the fact that most cryptocurrencies will trade relatively higher than where they are today. I expect that BCH will rise by about 100% from the current level in the next four years. This could see it rise to more than $1,200.
Where to buy BCH?
BCH is one of the most popular cryptocurrencies in the world. It is offered by most exchanges like Coinbase, Huobi, and Poloniex, among others.