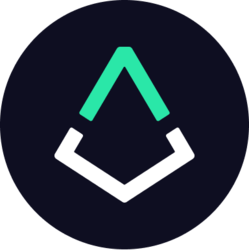 Augur (REP)
Price
What is the Augur coin?
The betting industry is a multi-billion dollar industry that is seeing significant growth globally. The industry is currently dominated by centralized companies like Entain, Flutter Entertainment, and DraftKings, among others.
Augur's goal is to change the industry by decentralizing it. Augur uses blockchain to enable people to create, trade, report, and settle transactions. Anyone can create an event based on a real-world event such as a soccer game or an economic data. After creating an event, market participants can start placing bets on them. Its technology, known as oracle, then helps to settle the results.
Augur is a cheaper and relatively faster method of participating in the betting industry while bypassing centralized companies. Because of its blockchain usage, anyone from around can participate in the market.
The Augur coin, also known as Reputation (REP), is the native token for the ecosystem. It is needed by anyone who is creating a market. Reporters report on the market by staking their REP token. Data compiled by CoinMarketCap shows that all Augur coins in existence today are worth more than $261 million.
Is Augur Coin a good investment?
Augur has had mixed returns over the years. The token jumped from a low of $1.96 in December 2016 and soared to an all-time high of $94 in 2017 during the first major cryptocurrencies boom. The coin's price then tumbled by more than 94% and reached a low of $4.83 in 2020.
It then jumped by more than 1,000% during the pandemic of cryptocurrencies rebound. It reached a high of $57 in April 2021 and then dropped back to $20.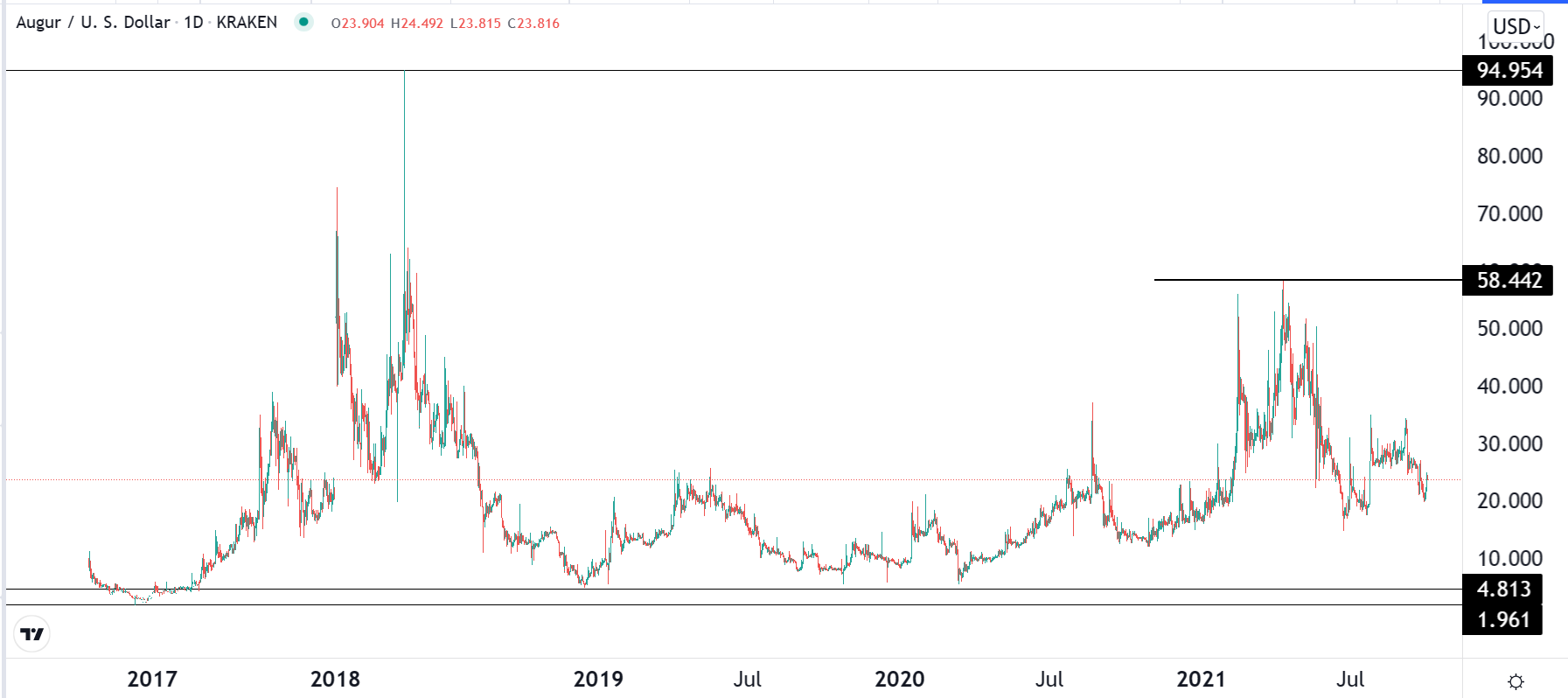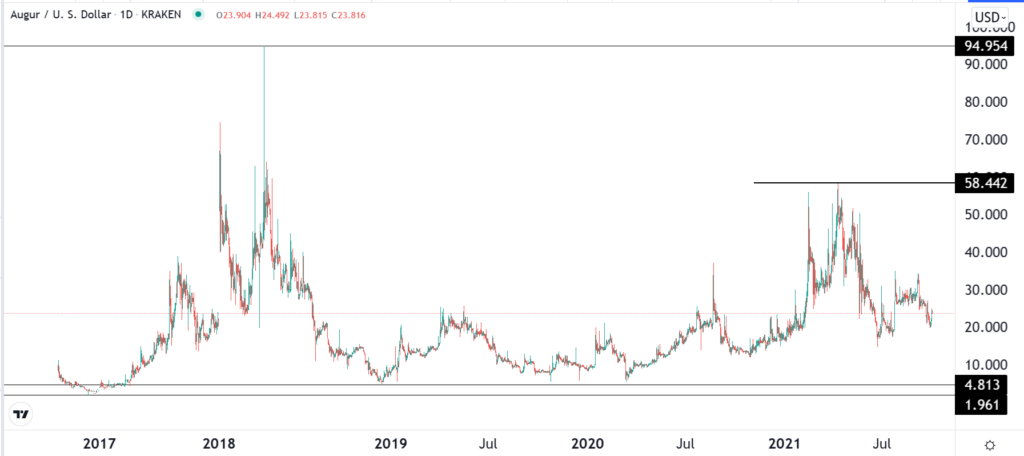 Therefore, if you had invested in Augur early on, you would have experienced periods of boom and bursts. Still, people who invested in it when it became tradable and held their stakes, have experienced returns of more than 100%.
Still, from a fundamental perspective, Augur is addressing an industry that is both big and ripe for disruption. For example, it is widely known that betting platforms in a certain country are not available in other countries. Also, the platform's blockchain capabilities can help address the costs involved in betting.
Crypto technical analysis for Augur Coin
The Augur coin has been under intense pressure lately. Its price has crashed by more than 60% from its highest point in 2021. On the positive side, it is not alone. Indeed, Bitcoin and other altcoins have also crashed hard from their highest point in 2021.
Still, the coin is significantly below the neckline of the double-top at $25.65. It has also moved below the 50-day and 100-day moving averages, meaning that bears are in control. Notably, it seems to be forming what looks like a break and retest pattern, which happens after a major breakout or breakdown.
Worst case scenario
The worst-case scenario for the Augur coin price is where it does a break and retest pattern and restarts its descent. If this happens, the coin will next target the next key support at $12, which was the lowest level in October 2020. This price is about 50% below the current level. Such a drop will be a sign that bears have overcome and will push the coin to the next key support at $4.83.
Best case scenario
The best-case scenario of the Augur Coin price is where the price moves above the important resistance levels at $30 and the $37. If this happens, it will mean that there are more buyers in the market. As such, it will lead to a possibility that the coin will jump to the 2021 high of $58, which is about 142% above the current level.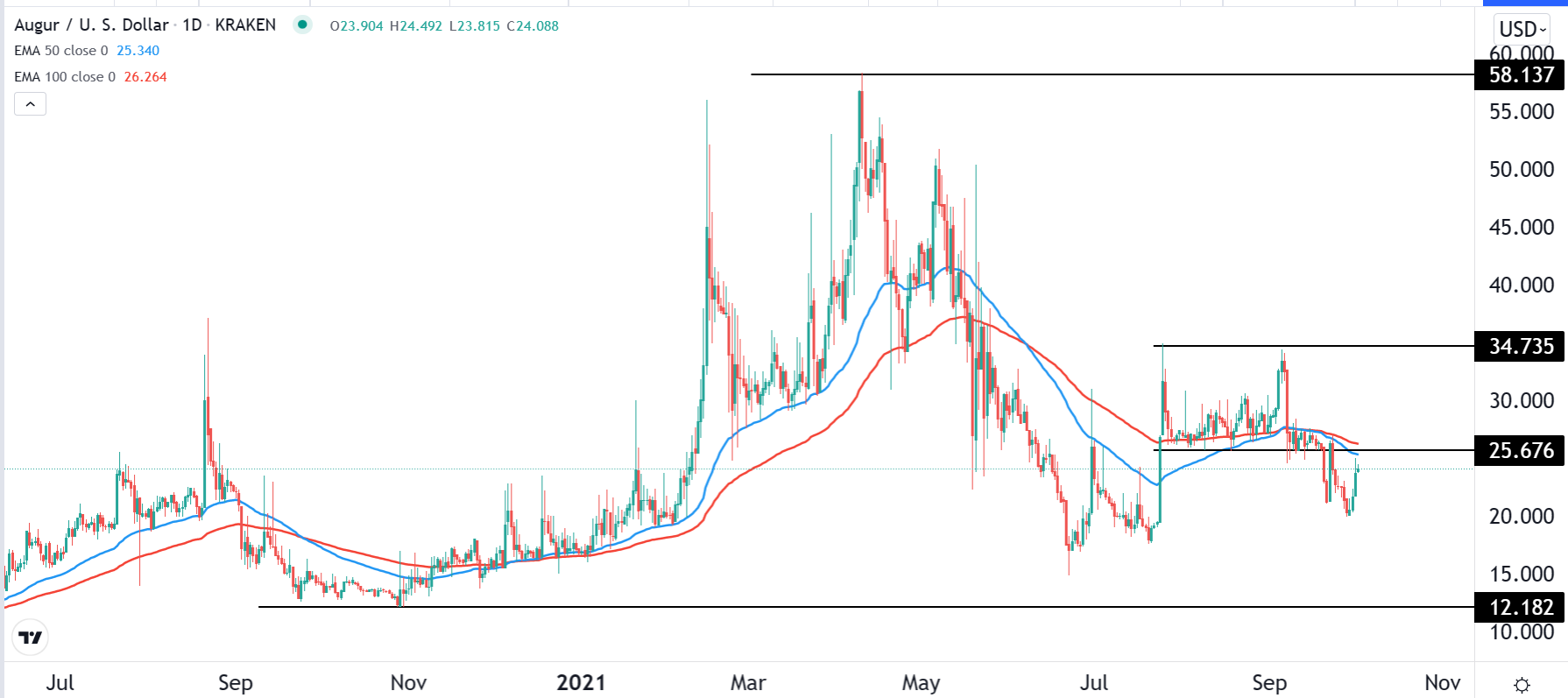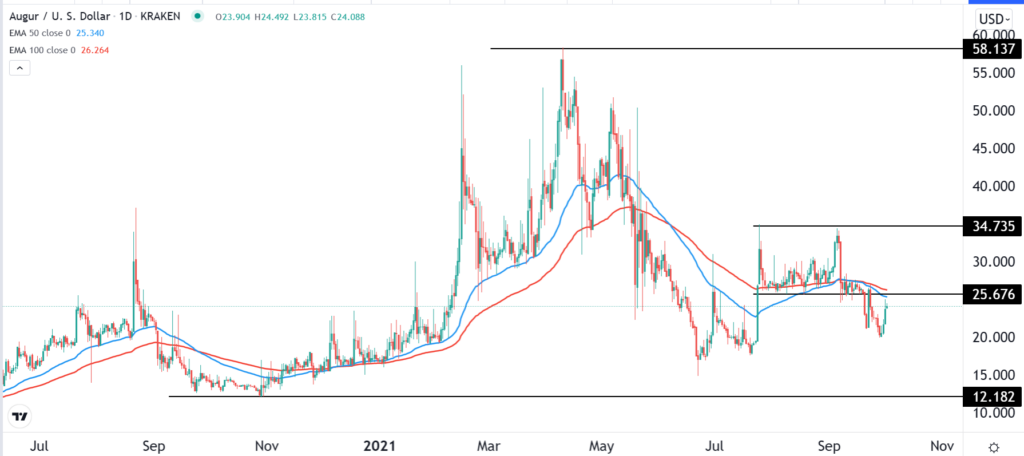 Should you buy Augur coin today?
Augur is attempting to disrupt a major industry of sports and political betting and there is a possibility that it will become a winner in the long term. However, being a relatively small cryptocurrency, there are risks that are associated with its modest volume. Therefore, while it is a good coin, we recommend that you invest in other bigger coins that are growing as fast. From a technical perspective, we recommend that you should only invest in it if the price rises above $37.
What is the Augur coin prediction for 2025?
Cryptocurrencies are highly volatile financial assets. This means that predicting where the Augur Coin will be in the next four years is relatively difficult. Still, we believe that demand for most coins will be substantially higher than where they are today. Therefore, there is a likelihood that the price will be above where it is today. A conservative annual growth of about 10% means that it will be trading at more than $40 by 2025.
The best way to buy Augur coin
As a relatively small cryptocurrency, Augur's Reputation coin is not offered by all exchanges. In our research, we found that one can buy it in Coinbase and Kraken.