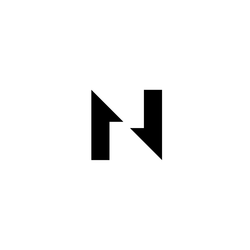 Nervos Network (CKB)
Price
Nervos plans to enhance blockchain network interoperability.
Nervos suite of integrated solutions for seamless connections.
CBK token positive outlook after pullback.
What is CKB Coin?
The lack of direct connection between modern blockchain networks is a big problem. Poor interoperability has had a negative impact on the adoption and use of these networks in different ecosystems. However, the Nervos Network appears to have the ultimate answer in solving a long-running issue.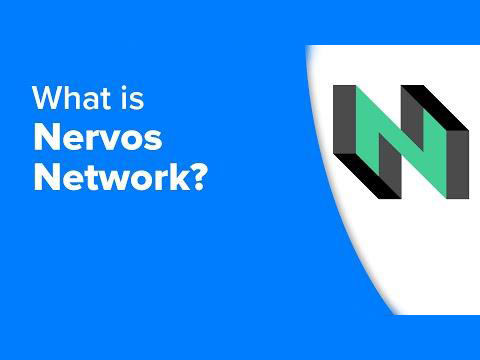 Simply put, Nervos Network is an open-source, decentralized ecosystem featuring an array of distributed ledgers and blockchain protocols. It came into being with the sole aim of disrupting the current framework in the blockchain space made up of highly disintegrated ledgers.
Currently, there are thousands of networks, all with unique niches operating independently. The fact that these networks cannot exchange data in a streamlined manner presents a unique problem that Nervos Network seeks to solve.
Its main aim is to provide efficient and accessible interoperability solutions that allow different blockchain networks to connect and interact with one another. It stands out among other blockchain projects given its ability to enable seamless connections between various blockchains, virtual currency exchanges, and wallets in total disregard of the underlying protocols.
It achieves the same by providing a suite of integrated solutions that people can use to come up with Universal Apps that enable easy connections between networks. The use of Universal Apps allows people to easily and securely launch decentralized applications directly from a crypto wallet.
Gone are the days when developers had to wisely choose the platforms they were to use to develop decentralized applications. Nervos comes with a collection of protocols that empower people to come up with universal apps without being restricted to any network technical capabilities.
Is CKB a good Investment
CKB is a good investment, given that it solves a big problem that has derailed the evolution of the blockchain space. Its ability to enable interoperability between various blockchain networks should go a long way in opening up the sector by allowing the sharing and exchanging of information between various networks.
It has what it takes to open up the blockchain ecosystem making it more accessible to builders and creators. The fact that Nervos CKB allows any crypto asset to be stored with the security immutability and permissionless nature of any virtual currency means it has a role to play.
As it stands, developers no longer have to recreate features that are already available on other platforms. With the help of the Nervos Network, they can easily import the features to other networks with ease.
By allowing various networks to communicate with one another, Nervos Network has essentially eliminated the need of having to develop some features from scratch. Additionally, it has eliminated the need of having to deal with multiple wallets to handle different coins, let alone exchanges.
CKB token
CKB is the native token that powers the Nervos Network. It accrues its value by allowing people to store any asset on the network upon paying some fees. The native token represents ownership on the blockchain network thus used as a store of value and resource management.
Consequently, people can use the token to store assets, smart contracts, and other types of information on the network. It accrues its value from other tokens' assets and data. As the Nervos Network use case continues to grow, demand for the CKB coin should increase.
While Bitcoin acts as a peer-to-peer payment network, CKB inherits some of its best parts and uses them to enable the storage of unlimited crypto assets. Therefore its use case goes beyond electronic cash and transactions.
Should I buy CKB today: Crypto technical analysis for CKB
CKB token started the year on a roll, rallying by more than 1200% to record highs above $0.045. The impressive run came as overall cryptos turned bullish, with a good number of tokens rallying to all-time highs.
However, the capitulation that followed in April was one for the books as the CKB token imploded by more than 70% tanking below the 200-day moving average to affirm the bearish momentum. Amid the sell-off, the coin still held on to some gains and has since bounced back.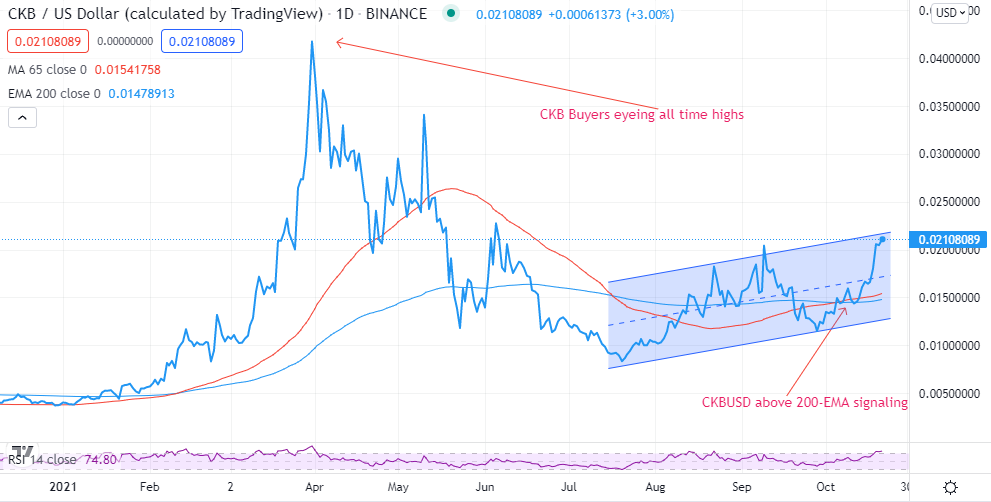 CKB token is currently up by more than 500% for the year despite the implosion from all-time highs. The fact that the token is trading above the 200 day and 65-day moving average, as shown in the chart above, affirms the upward momentum.
As it stands, now may be the best time to buy CKB token as it has started edging higher, with major indicators indicating the upswing is all but starting up. Given that it is down by about 50% from all-time highs recorded at the start of the year, affirms the massive room to move to the upside.
CKB coin prediction
While some predictions indicate that CBK token could rise to $0.15 and even $15 before the end of the year, most of them look ambitious. However, one cannot dispel any of the estimates given the volatile nature of cryptocurrencies.
Additionally, the CBK token has shown it has what it takes to move along with the bullish momentum in the sector. Consequently, a more realistic outlook for the coin would be a spike to its 52-week high of $0.045 before the end of the year.
Where to buy CKB
Just like other popular cryptocurrencies, CKB token can be purchased on many major cryptocurrency exchanges, including Binance, Huobi Global, and KuCoin