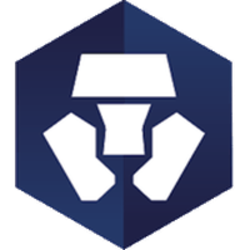 Crypto.com Coin (CRO)
Price
What is the Crypto.com coin?
Crypto.com is a leading blockchain company that offers numerous services. It offers an exchange that processes cryptocurrencies worth billions of dollars every day. It also offers a cryptocurrency Visa card, Non-Fungible Token (NFT) marketplace, Decentralized Finance (DeFi) wallet, and investment platform. It has more than 10 million users from around the world.
Crypto.com coin, also known as CRO, is the native token for the Crypto.org chain. Crypto.org chain is a blockchain project that is relatively similar to the popular Binance Smart Chain (BSc), Solana, and Ethereum.
It is a proof-of-stake network that allows developers to build decentralized apps (dApps), decentralized autonomous organizations (DAOs), games, and even stablecoins. It is a relatively faster network that has relatively low fees and is highly scalable.
At the same time, the Crypto.com coin is used to power the Crypto.com ecosystem. Users of the network can stake the coin and earn interest and even receive some offers from Crypto.com.
Is Crypto.com coin a good investment?
Crypto.com coin is an altcoin that has had some success in the past few months. The coin started trading in 2019 at $0.010. It rallied and reached an all-time high of $0.2578 in February 2021. At its peak, CRO was up by more than 2,400% from its lowest level on record.
At the same time, the total market capitalization of the coin was valued at more than $10 billion. This made it one of the top 20 cryptocurrencies in the world. In the recent number of months, however, the coin has been overtaken by other fast-growing altcoins like Avalanche, Solana, and Algorand.
There are two benefits of investing in Crypto.com coin from a fundamental side. First, the cryptocurrency is backed by one of the biggest platforms in the world. In the past few months, the developers have signed partnerships with companies like Formula 1 Group, Fnatic, Paris St Germain, Philadelphia 79ers, and several other leading brands.
These partnerships will help draw more users to its platform, which will help the token. Similarly, developers will likely be attracted to the platform because of these partnerships. At the same time, it has the financial resources to attract more developers.
Second, Crypto.com coin could benefit from the ongoing trend of exchange-backed digital currencies. In the past few months, Binance coin has become the fourth biggest platform in the world. Similarly, Huobi coin and OKEx coin have become popular. This trend could also help CRO.
Finally, there is a rising demand for so-called Ethereum-killers. This has seen some cryptocurrencies move from obscurity to become some of the biggest crypto projects in the world. They include Avalanche, Algorand, Solana, and Polygon.
Crypto.com coin fundamental analysis
While Crypto.com coin has a bright future, there are some important risks that lie ahead. First, Ethereum is significantly ahead of all Ethereum-killers. While it is a slow and expensive network, it is already used by more than 80% of the developers. Therefore, it will be hard to dethrone it as it moves towards being a proof-of-stake network.
Second, despite the company's strong marketing initiatives, activity within the network is relatively low. It is even difficult to find applications that are built using the network. Finally, it faces significant competition from the likes of Avalanche and Solana.
Crypto technical analysis for Crypto.com coin
The daily chart shows that the CRO price has been in a recovery mode after it crashed to $0.0805 in July this year. It has rallied by more than 110% since then and is currently above the 50% Fibonacci retracement level. It is also slightly above the 25-day and 50-day exponential moving averages (EMA). It is also above the green ascending trendline.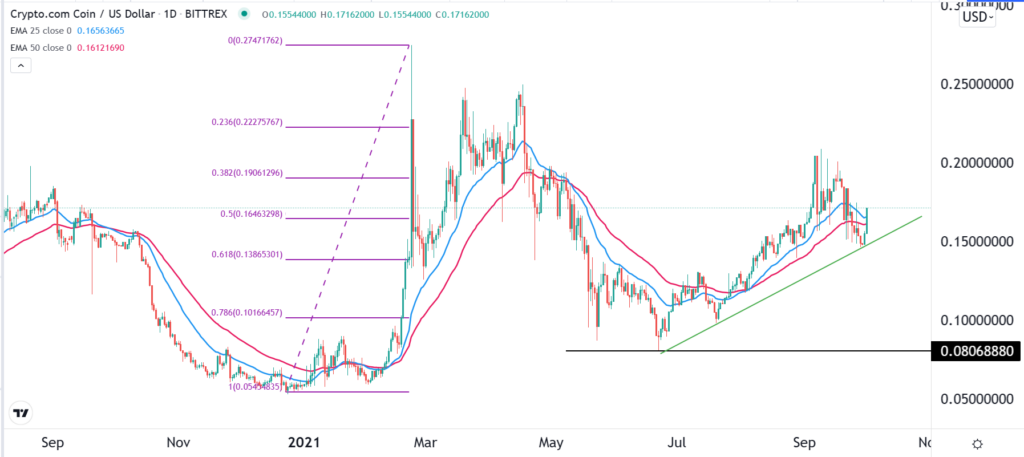 Worst case scenario for CRO
The worst-case scenario for the Crypto.com coin price is that its demand wanes, and it crashes to zero. This is unlikely to happen because it is a relatively popular coin and has some solid backers. Still, in the near term, we can't rule out a situation where the bullish trend breaks and the coin moves to the all-time low of almost $0.005.
Best case scenario for CRO
The best-case scenario is where the Crypto.com coin price continues its upward trend and retests its all-time high of $0.2750. A move above this resistance will lead to more substantial gains as bulls target the resistance at $0.30, which is about 80% above the current level.
Should you buy CRO today?
There is a likelihood that the CRO price will keep rising in the near term. Already, many large investors are positioning themselves for a major Bitcoin rally. And Bitcoin has a close correlation with other altcoins like Crypto.com coin. However, buyers should always consider the risks involved in investing in cryptocurrencies in the long term. As such, they should always have a trailing stop-loss to prevent the downside.
Will CRO Hit $10 this year?
It is highly unlikely that the Crypto.com coin will rise to $10 this year or any time soon. It is currently trading at $0.1715, meaning that a jump to $10 would be a 5,727% increase. This will not happen. Still, in the long term, such a parabolic move cannot be ruled out. Besides, Bitcoin was once worth less than $1.
What is the Crypto.com Coin price prediction for 2025?
In general, I remain bullish about cryptocurrencies in general. I expect that most coins will be substantially higher in 2025 than where they are today. For Crypto.com Coin, I suspect that its price will be substantially higher than where it is today. A conservative estimate is that the coin's price will grow by about 300% in the next five years. If this happens, the key level to watch will be $0.6820.
The best way to buy Crypto.com Coin
The best way to buy Crypto.com coins is through a broker like Crypto.com, Binance, and Coinbase.