So, what is the PAC Protocol? In layman's terms, this project is a proof-of-stake (PoS) blockchain offering digital, peer-to-peer transactions that can be sent more faster, securely, and inexpensively than the competition.
The service suits all types of clients from business to personal. Started in 2015, PAC Protocol is a product of the US-based blockchain solutions company PAC Global. As a proof-of-stake network, PAC does not rely on the intensive mining process for forming new blocks and confirming transactions.
As an incentive, you can stake PAC coins by investing at least 250 of them (equating to roughly $1.63 at the time of writing) to earn more of these, potentially increasing your investment over the long run. Alternatively, you can set up a masternode by purchasing 500,000 PAC (equating to roughly $3,200 at the time of writing) to secure the network and earn even more rewards.
PAC's wallet is a downloadable mobile application on the Apple App and Google Play stores and is also available in a desktop version. While quite an unknown project, it ranks in the top 400 of most traded coins according to CoinMarketCap at the time of writing (#385 to be exact).
Presently, one PAC is worth roughly $0.006 or about half a cent.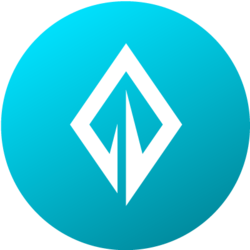 PAC Protocol (PAC)
Price
Is PAC Protocol a good investment?
The short answer is, yes, PAC Protocol is an investment worth considering for a few reasons. For starters, the network uses the proof-of-stake method for creating blocks which tremendously decreases the carbon footprint that tends to be high with mining-based cryptocurrencies.
PoS coins are far more scalable than PoW cryptos (proof-of-work), or coins requiring computational mining, making PAC highly capable of meeting the ever-increasing, modern demands of a digital payment system.
Aside from the traditional buy-and-hold strategy, you have an extra avenue of potentially increasing your investment by staking the coin. While this is a more arduous task, you can earn even more by running a masternode on PAC.
Lastly, PAC has a finite supply of 50 billion, with about 31% of the coins presently in circulation. Due to basic supply and demand, the common theory is that such a project should grow in value over time as the supply dwindles if demand increases.
Should I buy PAC Protocol today: Crypto technical analysis for PAC
Let's consider the technical analysis on the 4-hour chart for PAC.


Strategy-wise, we are looking at a simple moving average crossover strategy consisting of two exponential moving averages (MA), 200-day and 50-day. Traders want to see the 50 MA (the yellow line) cross over the 200 MA (the green line) as one of the two entry triggers for buying purposes.
The second one is for the price to be above the 50 MA. We can see the chart reflects both circumstances on the circled part, meaning it is a good time to buy PAC coin today.
Will PAC Protocol coin price hit $0.01 USD in a year?
Yes, PAC is most likely going to hit $0.01 in a year's time. It's worth mentioning PAC's price did reach an all-time high of $0.018 as recently as March 2021. Hence, the chances of the coin going back to this level in the near future are relatively high. Let's look at the daily chart below.


Using the same moving average strategy as before, we can see both lines look a bit flat, suggesting some consolidation has occurred for a few months. This is characteristic of smaller-capped coins like PAC, but it doesn't mean it won't eventually break out of moving sideways.
As we'll see in the next section when we observe the weekly chart, the moving averages suggest an uptrend. Another confirmation factor is looking at forecasts from Digitalcoin who utilize complex algorithms based on PAC's historical price data and performance.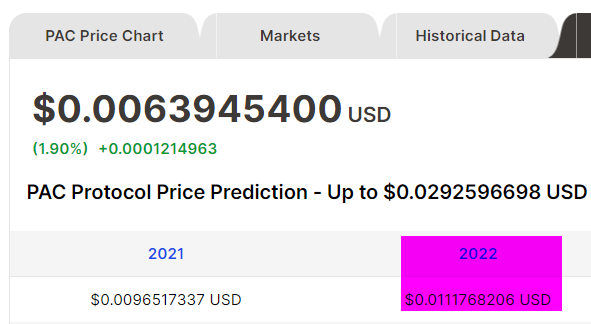 Based on this research, PAC should cross the $0.01 within the next 365 days, representing an increase of about 200% from today's price.
What is PAC Protocol's coin price prediction for 2025?
As briefly mentioned before, the weekly chart shows PAC is in an uptrend judging by the slope of the moving averages and that price is above these (circled below).


Technical analysis can only take us so far in predicting where the price may be in 2025. So, let's look at the forecasts again from Digitalcoin.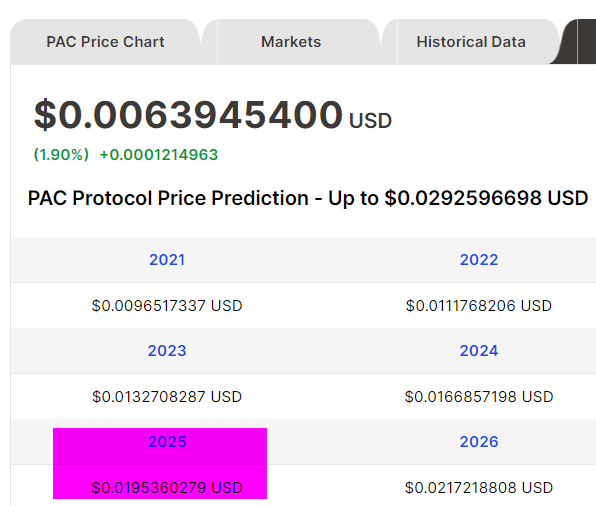 Based on this research, PAC is likely to be around at least the $0.019 mark by 2025.
The best way to buy PAC Protocol
The following are the exchanges you can trade PAC:
StakeCube
Graviex
TOPBTC
Bitrue
With these exchanges, you will typically need to first buy BTC (Bitcoin), ETH (Ethereum), LTC (Litecoin), USDT (Tether), or any other supported established coin that you subsequently swap for PAC.
After that, you can trade the coin as a CFD or store PAC with a compatible wallet.