What is the New York Coin?
Developers behind the New York Coin describe the cryptocurrency as the 'original lightning-fast, no fee crypto since 2014,' a coin that's faster than a New York minute. It is essentially a peer-to-peer money transfer system but has no transaction fees.
The project was launched in March 2014 as a fork of Litecoin, except with a faster block generation time (down to 30 seconds), no transfer costs, and more energy-conscious mining. Like Bitcoin, the original developer of the New York Coin is anonymous and seems to have disappeared right after launch.
Hence, the project is fully decentralized, community-driven, and open-source. While NYC is an undiscovered gem (sitting somewhere around the 4600th spot with a market cap of around $3 million, according to CoinMarketCap), it can potentially produce a huge ROI in the future.
At the time of writing, one NYC is worth $0.0000264 or about 2000th of a cent.
Is the New York Coin a good investment?
New York Coin has a few things going for it from a value perspective. For starters, it's quite simple to understand as it's essentially a global remittance network like Bitcoin, Litecoin, Dogecoin, etc.
Like most payment-focused cryptocurrencies, NYC is targeted mostly towards daily consumer purchases. One of the first distinctions is the project is far more time-sensitive since each block on its blockchain takes about 30 seconds to form compared to Litecoin's 2.5 minutes or even Dogecoin's 1 minute.
Perhaps the biggest advantage is there are no transaction costs, which is unusual yet unprecedented for cryptocurrencies in this modern age. From these two qualities alone, it's clear to see how friendly NYC is as a daily transacting cryptocurrency.
NYC is also accessible from a mining perspective. By having a low difficulty, low barrier to entry, and a less intensive hashing algorithm (Scrypt), it consumes far less energy. Lastly, the coin is dirt-cheap in value as it costs about 2000th of a cent.
Should I buy New York Coin today: Crypto technical analysis for NYC 


For trading purposes, the chart above shows a simple 50-day (orange line) and 200-day (light blue line) moving average crossover strategy. Traders first observe whether the 50 MA has crossed above the 200 MA to generate a buy signal. Secondly, the price must be trading above the 50 line.
While the 50 line is above the 200 line, the price is well below it, suggesting it's not yet a good time to buy NYC today.
Will the New York Coin price hit $0.0001 in a year?
No, NYC is unlikely to be worth at least $0.0001 in a year. Our analysis in the previous section is similar if we go up a time frame as in the chart below.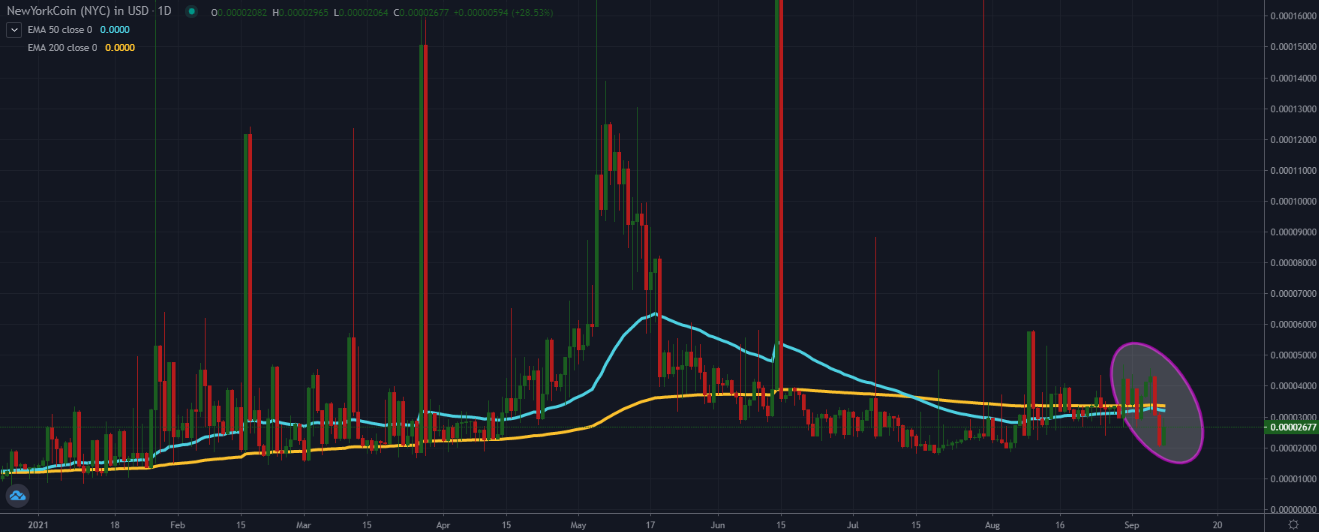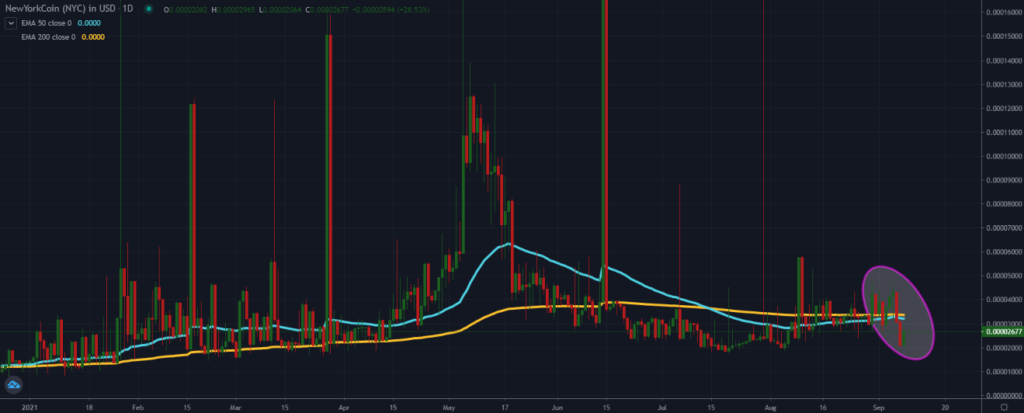 If we use the same strategy as in the last chart, we can see the price is below the 50 MA. Moreover, the slope of the moving averages appears a bit straight, suggesting range-bound conditions, typical behavior of coins like NYC with low trading volume.
For more confirmation of this sentiment, we can also consider predictions from Digitalcoin.com who use more advanced data analysis to forecast where the prices of cryptocurrencies may be in a year or several years.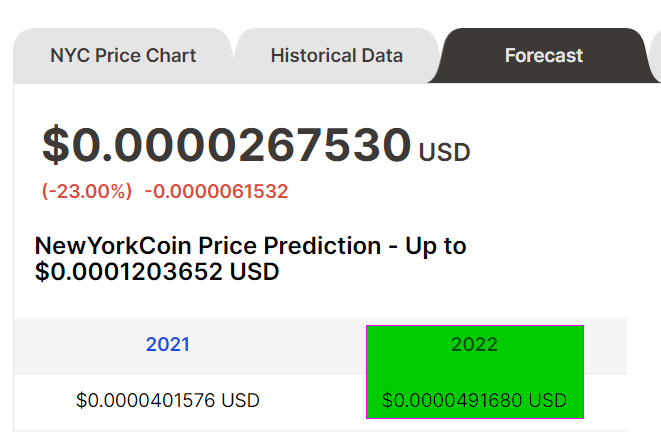 From the image above and our charting analysis, it's clear to see it is unlikely for the New York Coin to hit $0.0001 in a year's time.
What is the New York Coin price prediction for 2025?


The weekly chart of NYC also exhibits similar qualities to the other charts. While the price is just above the 200 MA (suggesting an uptrend), the 50 MA is still below it, which we don't consider a buying signal. Still, there is some potential for price to increase, though this may take quite a while.
Again, using data analysis from Digitalcoin.com (see below), we should be around the $0.00008 price point in 2025. Of course, this is only a prediction; it could be higher or lower. Anything is possible in cryptocurrencies.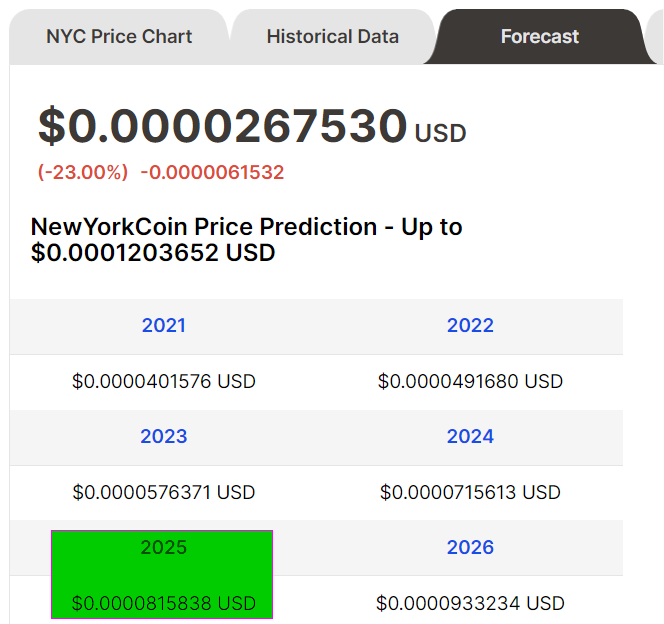 The best way to buy New York Coin
As expected, the best method of buying NYC is from one of the following exchanges:
STEX
South Xchange
Graviex
YoBit
FreiExchange
After identifying the exchanges, you'll first need to purchase Bitcoin, Ethereum, Litecoin, Dogecoin, or any other compatible coin (depending on the offered markets) before swapping this with NYC.
You can trade NYC against these markets as an online derivative through charting software or store the actual coins in a wallet. The wallet currently supporting New York Coin is Coinomi which is available in numerous mobile and desktop versions.