Disclaimer: The information provided here does not constitute any form of financial advice. Readers are fully responsible for conducting their due diligence before making any investment decisions.
What is Mooncoin (MOON)?
If you search 'Moon' on CoinMarketCap, the site will bring up over 100 results of projects with this word in their names. Deep down this list is an obscure cryptocurrency named Mooncoin, which is one of the oldest in the industry.
Mooncoin is a proof-of-work, Scrypt-based coin launched on the 30th of December 2013 that shares similarities with Bitcoin, Litecoin, and Dogecoin.
Like BTC, Mooncoin was founded by an anonymous user named Deaconboogie from Bitcointalk.org, the same forum that the mysterious Satoshi Nakamoto apparently frequented in 2009.
One could easily mistake this project for a meme coin based on the peculiar name. Yet, Mooncoin is like BTC but built for quick global micro-transactions. The token is presently worth $0.00003005 (roughly three one hundered thousandths of a cent) and has a block time of 90 seconds.
MOON is a deflationary token with a maximum supply of 384 billion coins. Interestingly, the number 384 represents the approximate distance from the Earth to the moon of 384 000 km. More specifically, Mooncoin's developers liken that each token covers every millimeter in the span (384 billion mm = 384 000 km).
It's worth noting that Mooncoin is quite obscure with a limited social media presence. Presently, it's most popular on Telegram and Bitcointalk, where the project has a cult-like group or 'brotherhood' called the Mooncoin Fellowship.
Let's try to make sense of this project by looking at Mooncoin price predictions.
Is Mooncoin a good investment?
While Mooncoin could have some advantages in being minable (for financial incentives to miners) and a scarce supply (for value purposes), we believe this project isn't a good investment primarily as Mooncoin isn't popular enough.
For instance, you cannot buy MOON on any well-known exchange like Binance and Coinbase. Another red flag is that CoinMarketCap and a few other analytic sites feature the token as an untracked listing, further adding to the project's lack of familiarity.
We also discovered some concerns from numerous posts on Reddit of alleged pump and dump-like activities with Mooncoin, which are quite possible for a cryptocurrency worth a fraction of a cent; this leads us to the next point.
MOON's price action is quite erratic, as we'll explore in our technical analysis. The market has primarily appeared 'sideways' or 'flat' with the rare massive bull candle before a sudden drop to a previous level. Such activity on a cryptocurrency is really suspect and suggests a strong developmental lack.
Should I buy MOON today: Crypto technical analysis for MOON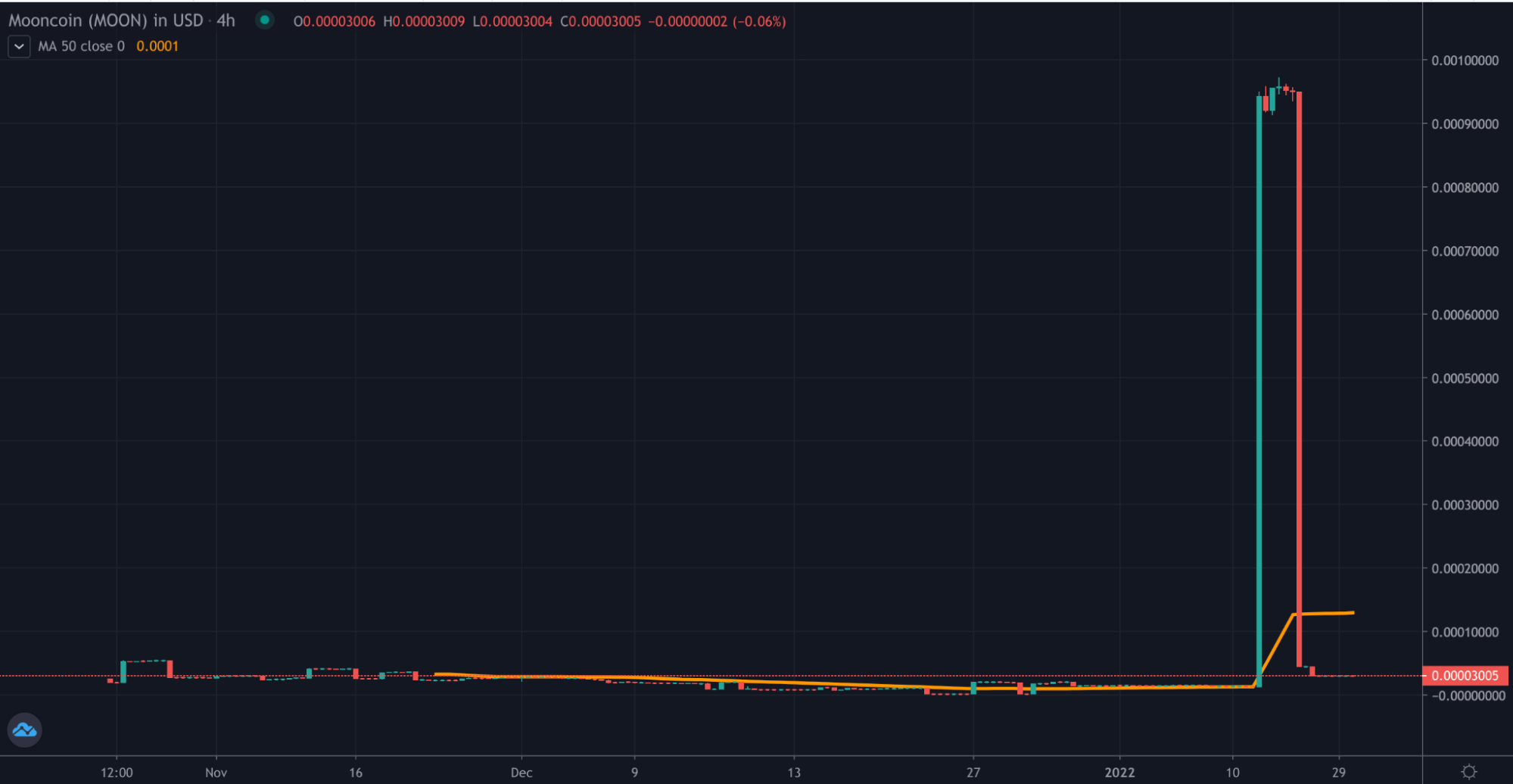 The TradingView chart of MOON hasn't shown any new data for price over the last few months. However, the market is below the 50-day moving average, a clear-cut sign of bearishness.
As previously mentioned, we can also observe range-bound conditions (which will also be apparent on the next chart) to see the price is stagnant and hasn't been moving in any particular direction.
Will the MOON coin price hit $0.0001 in a year?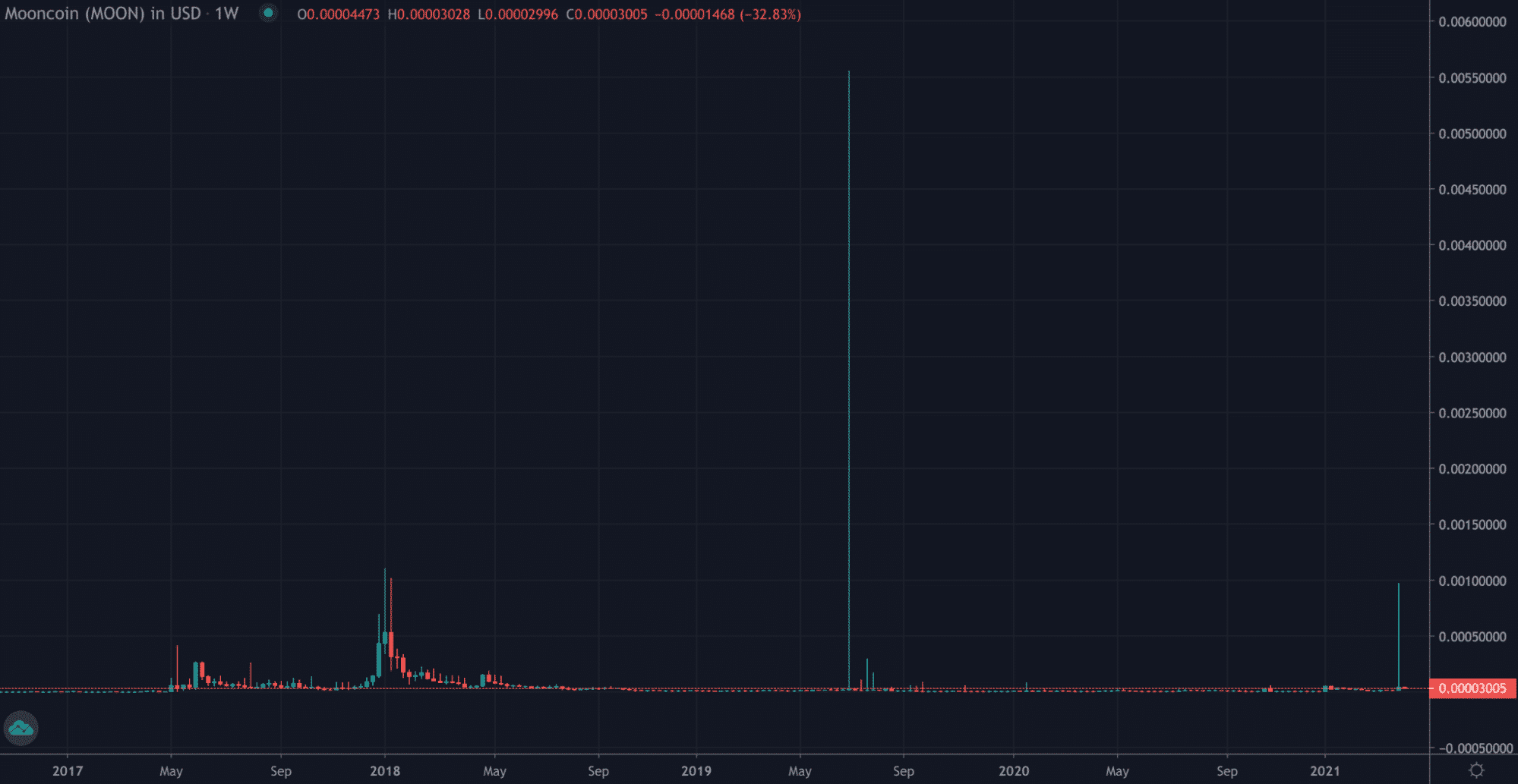 MOON appears highly unlikely to reach this price in a year. Sadly, not many forecasting sites have presented any prediction data on this coin. The few that we observed were TradingBeasts and CryptoPricePredictions, which forecasted $0.0000086 and $0.0000104, respectively.
Yet, it would be virtually impossible to make any reliable predictions on MOON given the erratic price behavior and the deficiency of its data. The weekly chart shows how this token has been moving sideways for years now. Because of this, it's highly improbable to move much or anywhere.
What is MOON's price prediction for 2025?
For the most part, MOON remains very sketchy and not investment-worthy. However, it's worth noting some positives.
Best-case scenario
The only positive may perhaps be the financial incentive for miners to earn from transaction fees. As a typical investment, it remains extremely risky, despite being dirt-cheap in cost and the potential for a rare explosive move.
Worst-case scenario
Ultimately, we have listed enough compelling reasons why MOON isn't a good investment. It's hard to see any future for this token. Therefore, the project may be scrapped altogether at some point.
The best way to buy MOON
Based on our research, the only exchanges where you can buy MOON are Folgory and YoBit, which are lesser-known platforms than Binance and Coinbase. Therefore, you should trade carefully. You would need to have Bitcoin or Ethereum in your account to buy MOON on these marketplaces.