Disclaimer: The information provided here does not constitute any form of financial advice. Readers are fully responsible for conducting their due diligence before making any investment decisions.
What is Ethereum Name Service (ENS)?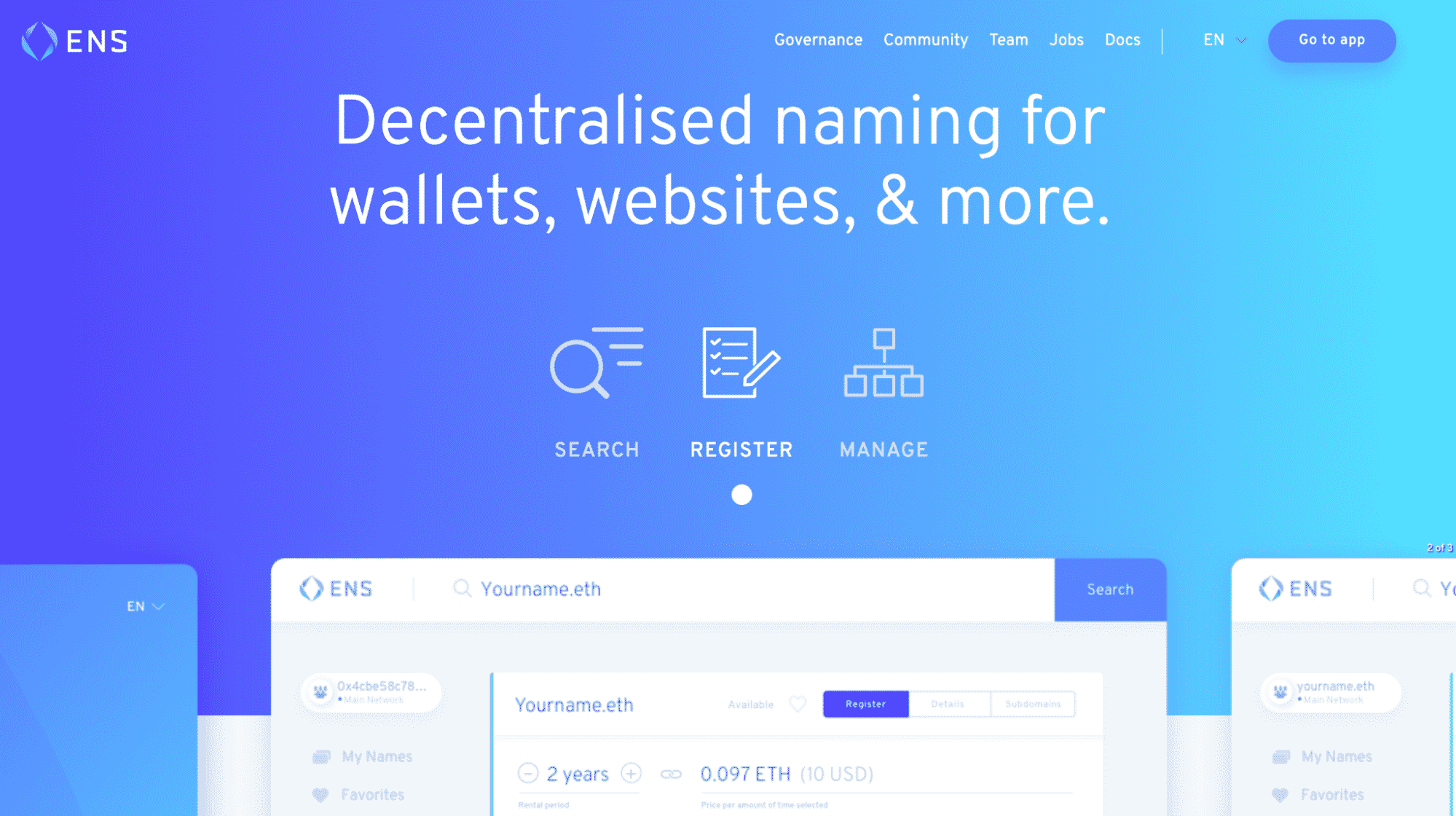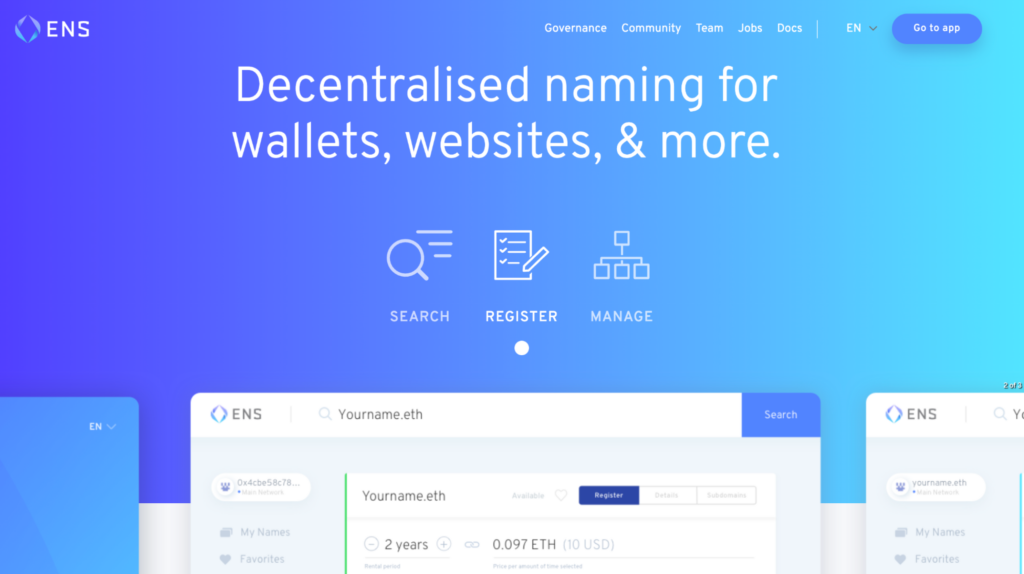 The Ethereum Name Service is a decentralized internet naming protocol built using the Ethereum blockchain.
It's based on the Domain Name System (DNS) concept, describing how domain names are translated into complex IP addresses that computers read to present certain websites.
In other words, instead of typing something like '101.25.1.150' into a browser, you type 'example.com,' which is understandably much simpler to read and memorize.
Similarly, instead of using a long and random alphanumeric address like '8e866f012fb8fb' to receive a token, you can simply use a short username ending with an .eth extension ('username.eth').
This username comes with an avatar and profile to access many Ethereum-built services. Therefore, many crypto enthusiasts have described ENS as the 'DNS of Ethereum.'
Moreover, existing websites with popular domain extensions like .com, .org and .io can also be turned to .eth. The actual project has been in existence since May 2017.
In November of 2021, a DAO (decentralized autonomous organization) was established, along with the ENS token. With ENS, users can decide on numerous protocol changes and how treasury funds are managed.
While only existing for a few months, ENS is now ranked #155 in CoinMarketCap rankings with a price of $15.
Is Ethereum Name Service a good investment?
Considering any Ethereum Name Service price predictions means first seeing whether this project is investable or not. To date, ENS claims to have created around 739 000 names belonging to about 319 000 owners.
Understanding this service's value proposition is simple. With human-readable crypto addresses, sending payments has become a lot easier since you don't need to copy or store complex hexadecimal addresses.
Moreover, this reduces human error, and as we know, refunds rarely exist when dealing with blockchain transactions. ENS is a unique service and currently has little competition, providing a much-needed edge.
The other advantage with ENS is its finite supply of 100 million tokens, of which roughly 20% is presently in circulation. Investors predominantly favor deflationary coins as they tend to become more valuable over time than inflationary ones.
Yet, despite these benefits, ENS is still relatively young, currently with a market cap of around $300 million. Projects in this category are regarded as being the riskiest. However, they can produce the highest gains compared to other established cryptocurrencies due to their newness.
Should I buy ENS today: Crypto technical analysis for ENS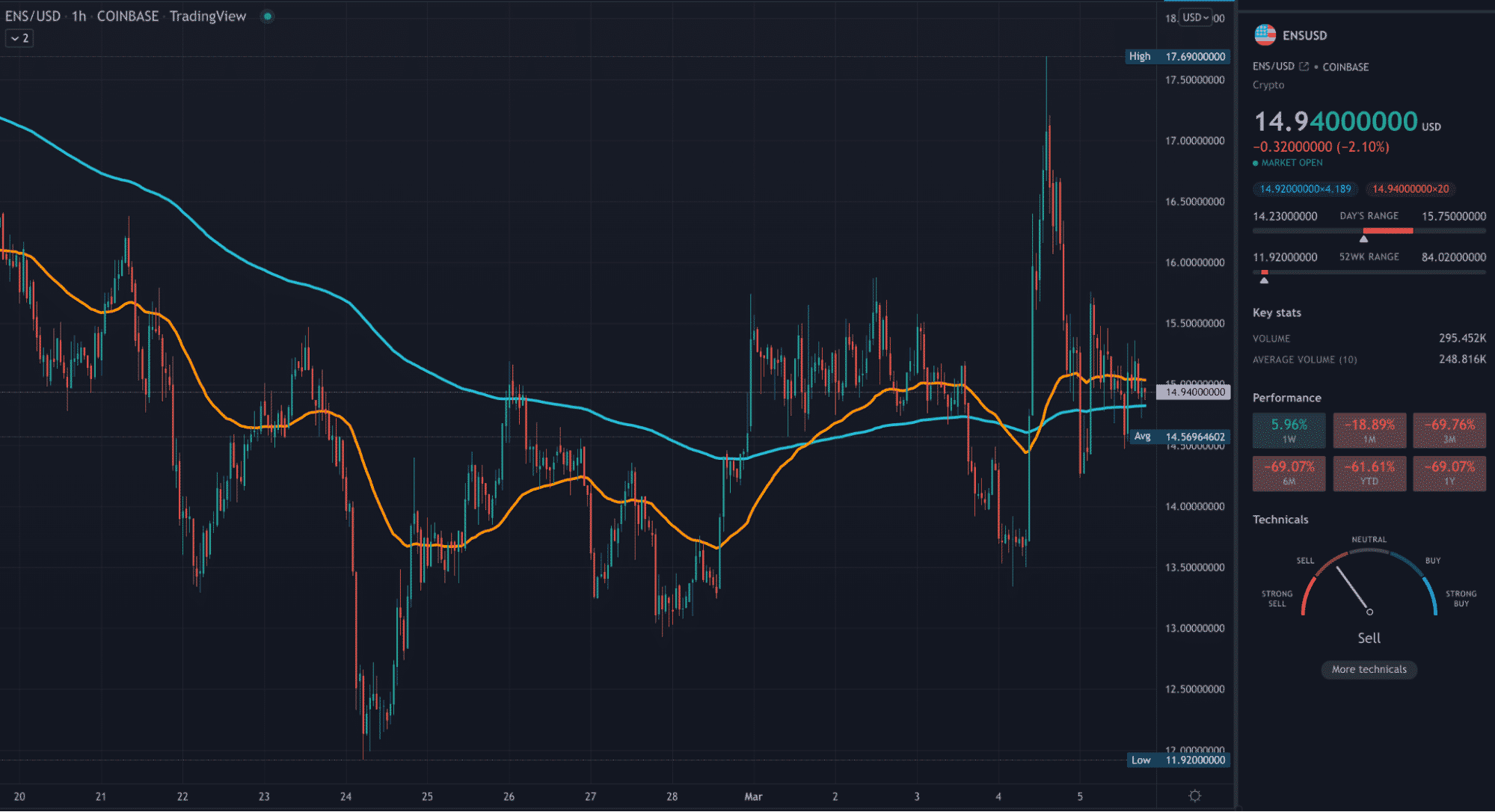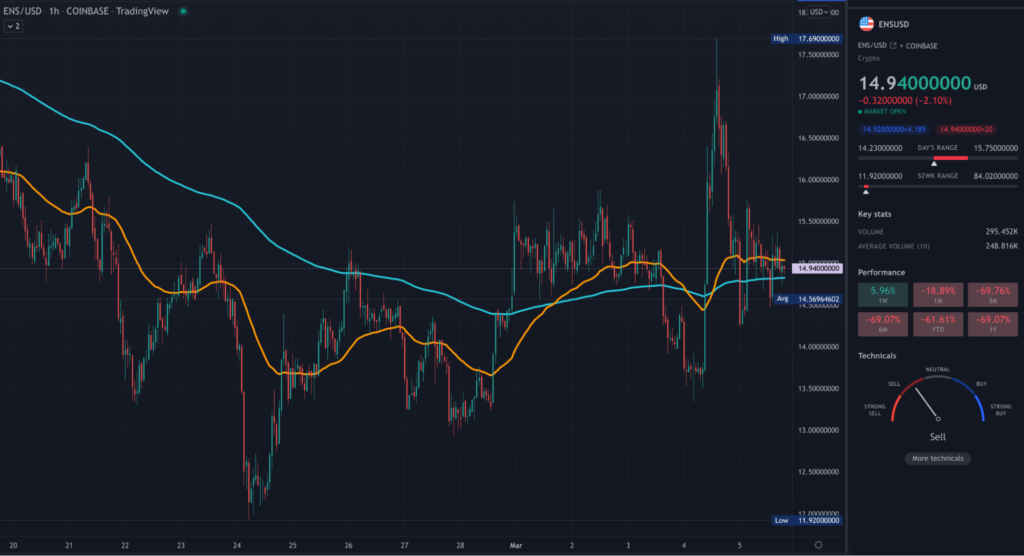 Our technical analysis suggests it's not a good time to buy ENS, a sentiment that's prevalent across most cryptocurrencies. We have shown a moving average crossover system using the 50 and 200-day periods.
We cannot see the 50-200 cross on the chart, and the price is still below the moving averages, suggesting a temporary downtrend.
Will the ENS coin price hit $100 in a year?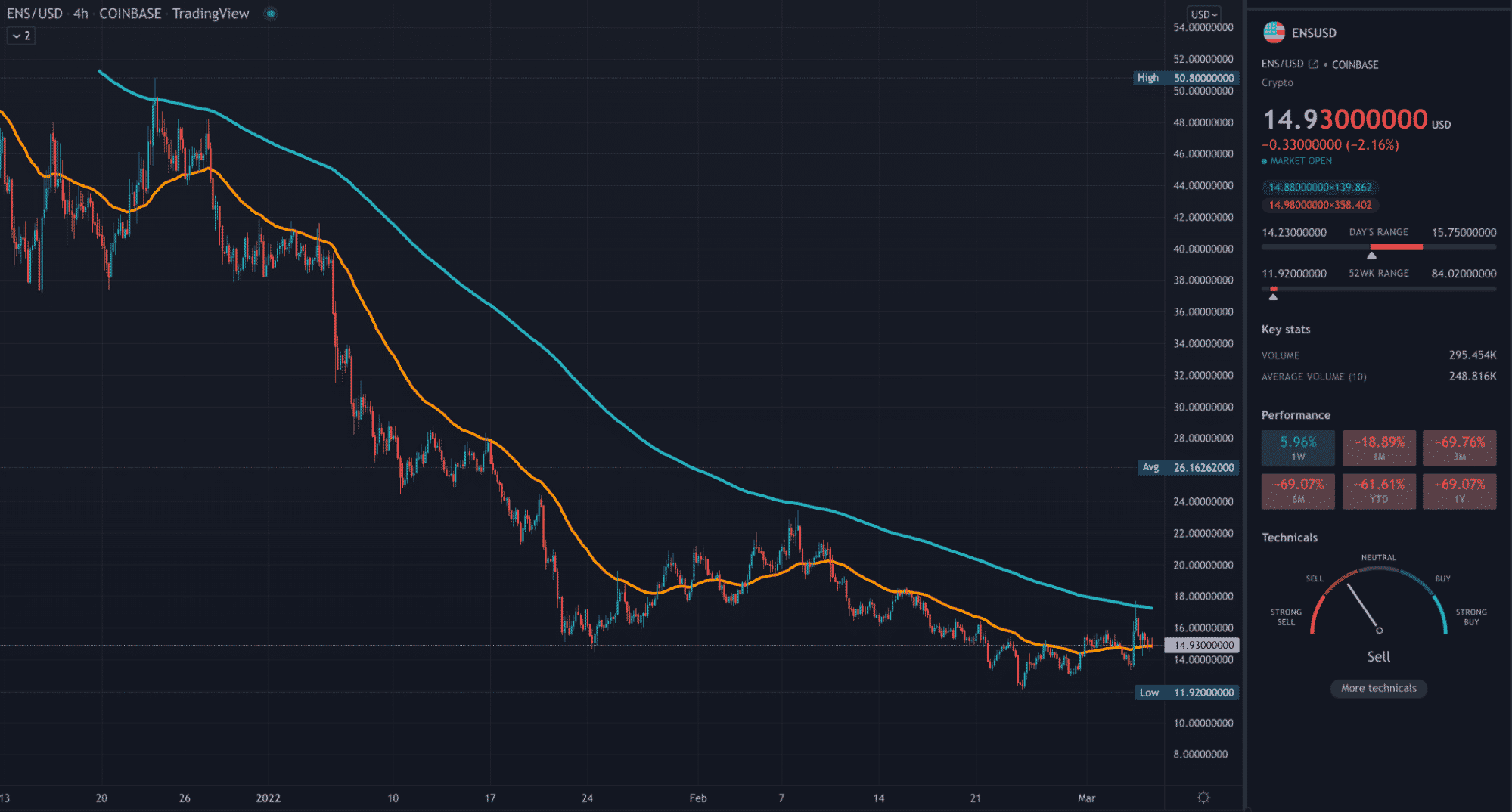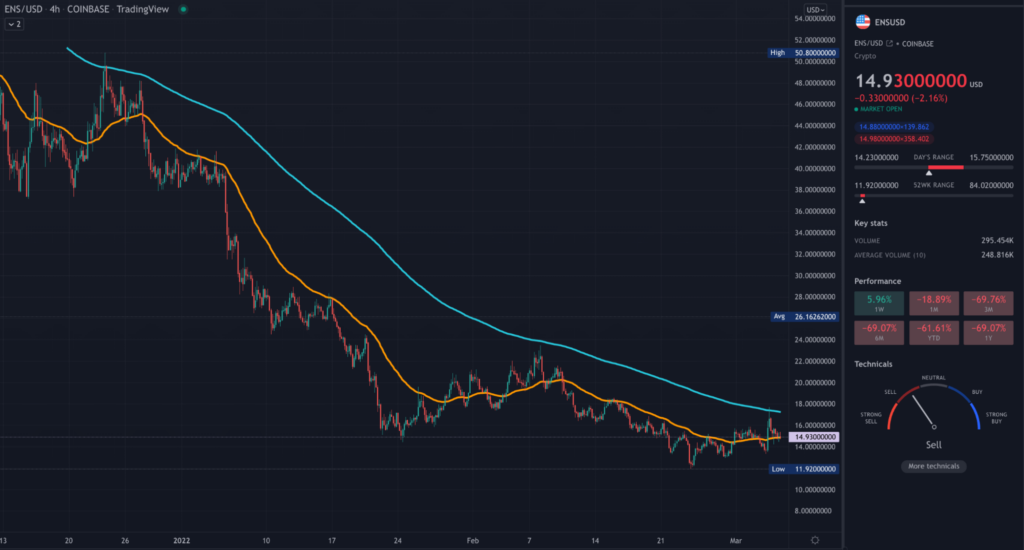 It's worth noting that ENS is less than a year old. Therefore, it's much harder to predict its value in a year because there isn't enough historical price action to reference.
Nonetheless, several forecasting sites we observed don't see the token crossing the $100 mark. The average estimate was $25. Tech News Leader suggested a maximum price of $28.71 for 2025.
Digitalcoinprice sees ENS as being worth at least $19.72, with an average price of $21.68. Similarly, PricePrediction.net approximates a minimum price of $28.66 and an average value of $29.68.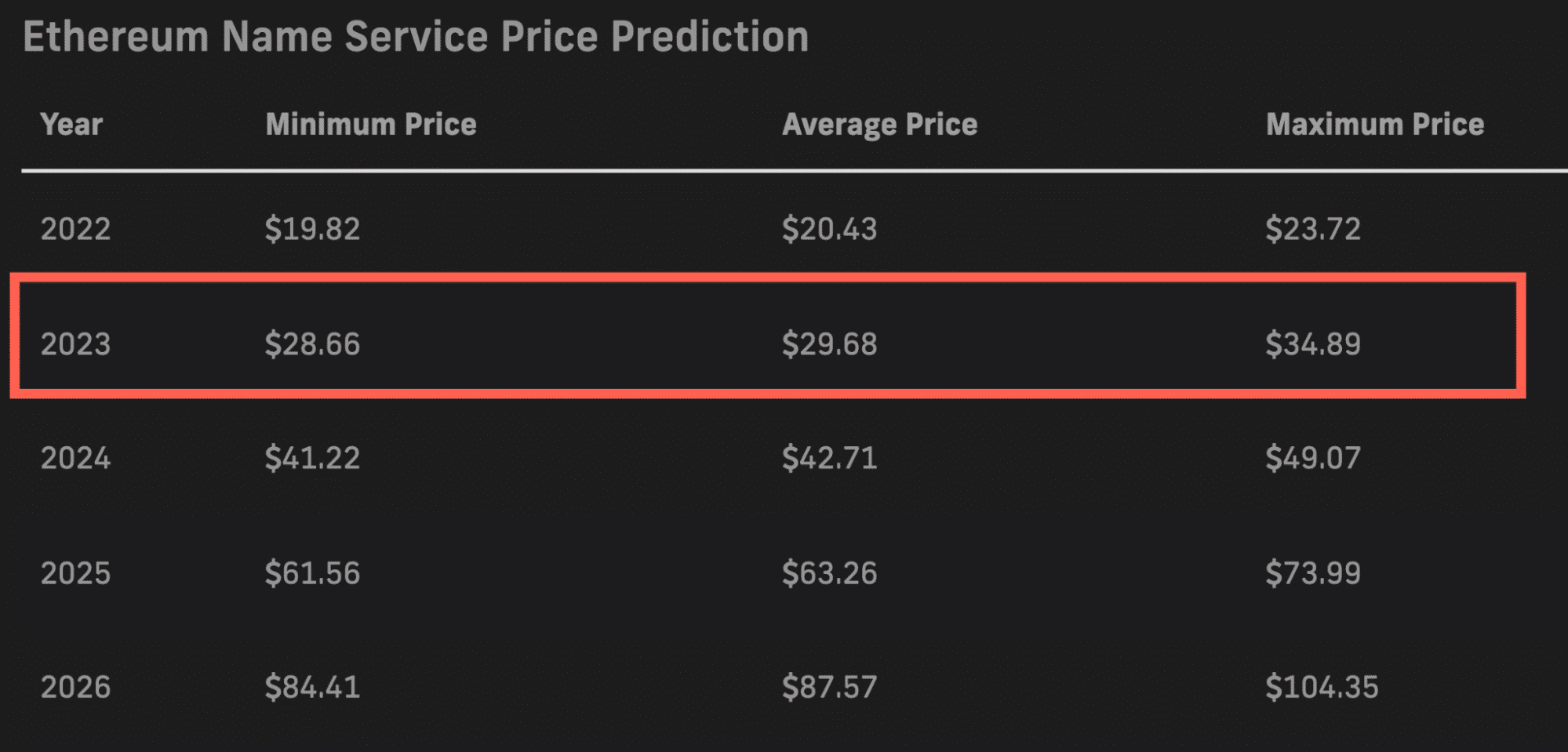 What is ENS's price prediction for 2025?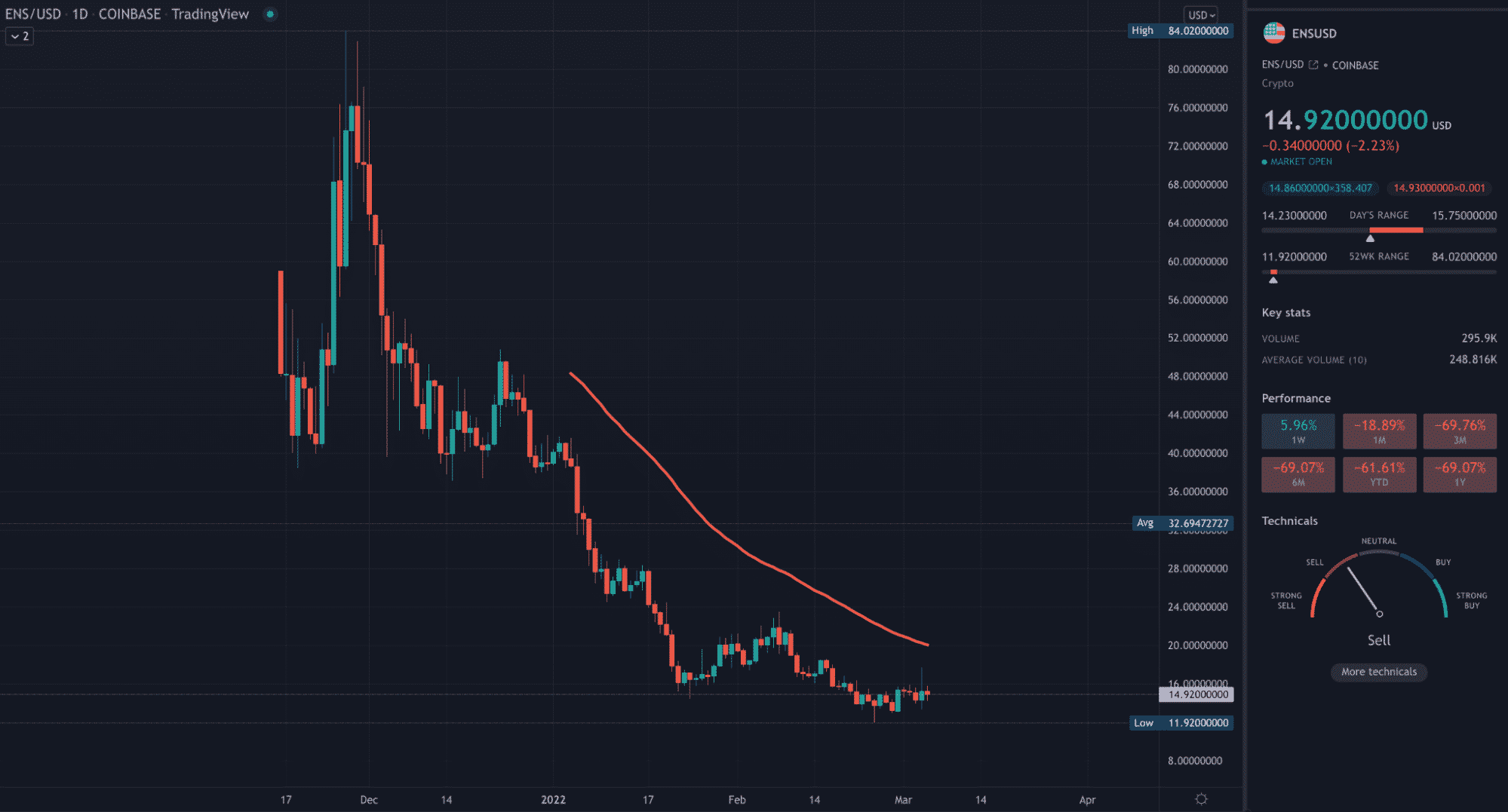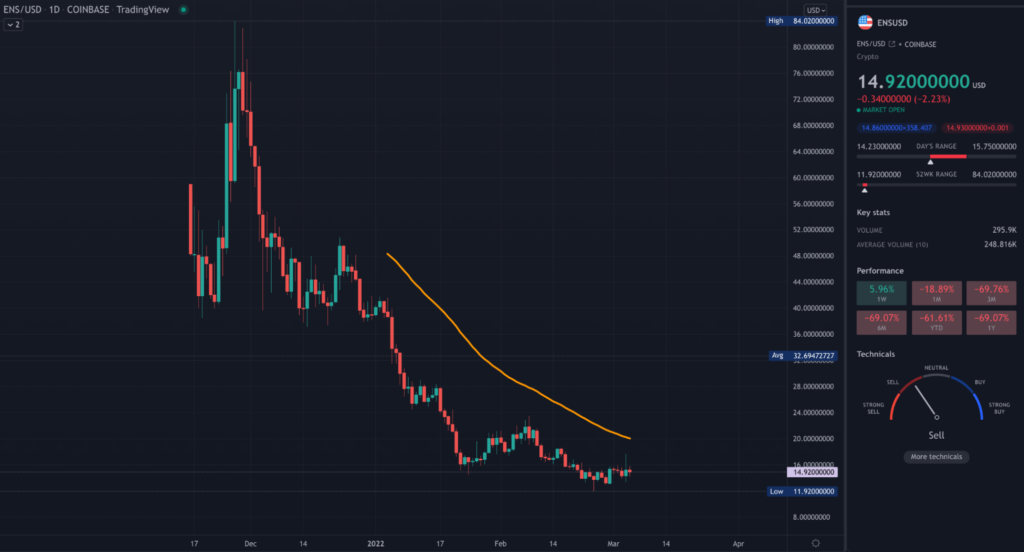 ENS has undoubtedly impacted the markets in a relatively short space of a few months. However, with little price data to observe, it's anyone's guess what could happen to its price in the long run.
Best-case scenario
The prediction resources we analyzed believe ENS might be worth around the $60 mark. PricePrediction.net was the most optimistic of the lot, presenting minimum and average prices of $61.56 and $63.26, respectively.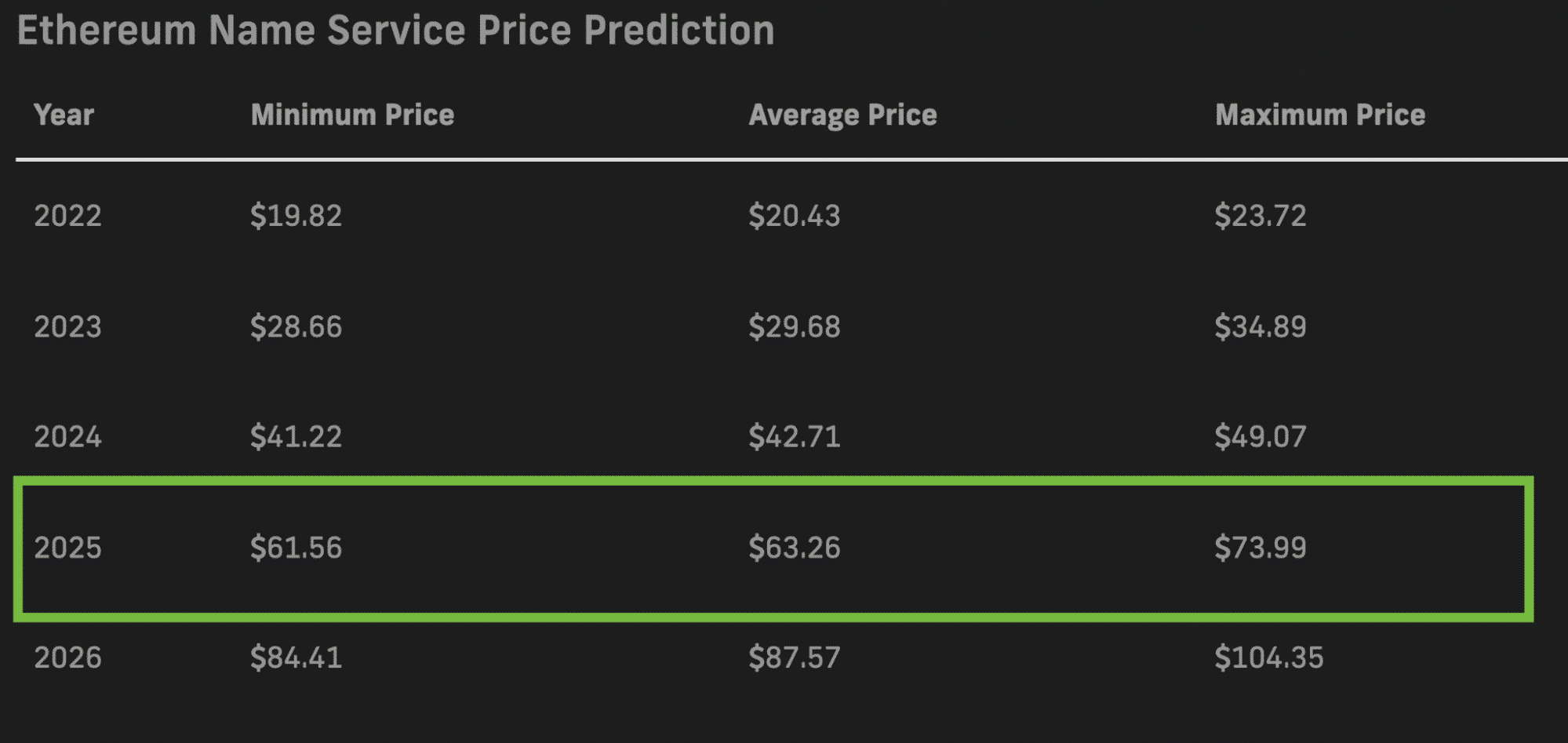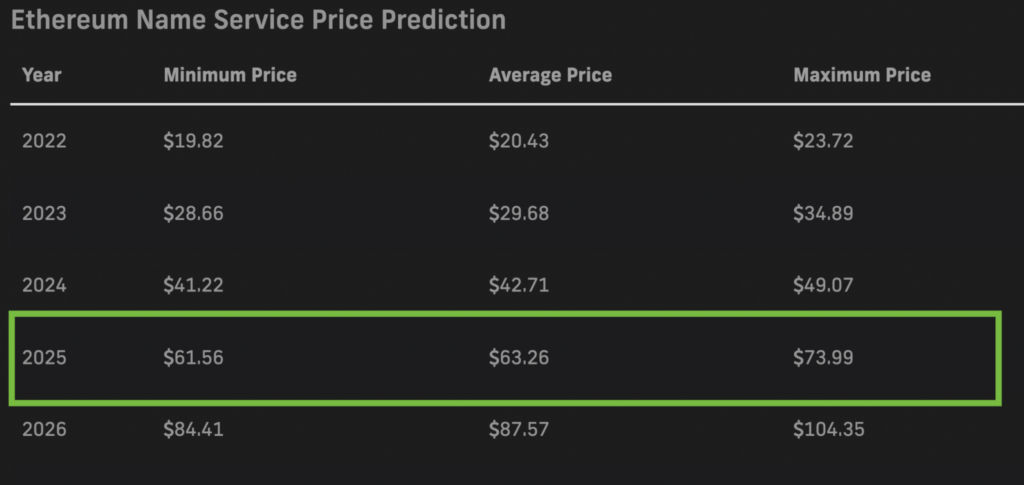 Again, we should remember Ethereum Name Service predictions remain highly speculative and may prove unreliable in the future.
Worst-case scenario
Aside from competition that could come into play from other similar services, the performance of ENS is directly linked to Ethereum. With more blockchains looking to steal the spotlight, people may start using this blockchain less, meaning lower demand for ENS.
Furthermore, altcoins that aren't so established in the markets always remain more volatile. Therefore, investors should invest cautiously here and only with disposable money.
The best way to buy ENS
As with nearly all cryptocurrencies, the best method of purchasing ENS is opening an account with a crypto exchange. The top ones in this regard include Binance, Huobi, KuCoin, Kraken, Gate.io, Gemini, and many others.