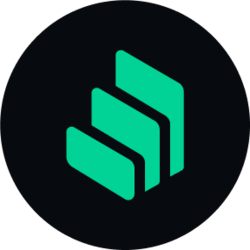 Compound (COMP)
Price
What is the Compound coin?
Compound is a leading blockchain project that is in the decentralized finance (DeFi) industry. Indeed, data compiled by DeFi Llama shows that it is  the fifth biggest DeFi platform in the world after Curve, MakerDAO, Aave, and InstaDapp. It has a total value locked (TVL) of more than $10.3 billion. At its peak, it had more than $12.3 billion in TVL. 
Compound is a platform that allows people from around the world to borrow and invest ERC tokens in a decentralized manner. Instead of using a centralized platform like Lending Club, one can use Compound because of its decentralized nature. Compound was built using Ethereum's technology.
Unlike centralized platforms, anyone can become a customer and take part in making decisions. Interest rates are determined automatically by looking at demand and supplies. At the time of writing, the total supply was more than $15 billion while the total borrowed in the past 24 hours was worth more than $8 billion.
Compound Coin, also known as COMP, is the native token for the ecosystem. It has a total market capitalization of more than $1.8 billion.
Is the Compound a good investment?
The Compound token has had mixed returns over the years. Its price rose from an all-time low of $66.47 in 2020 and soared to an all-time high of $856 in May 2020. This was 1,190% gain. The price then crashed by 70% as cryptocurrency prices declined. At the time of writing, the COMP token was trading at $330.
Still, Compound's fundamentals are relatively strong. For one, the DeFi industry is expected to show some remarkable growth in the next few years as more people get to know about it. Besides, the total value locked of the industry has moved from almost zero in 2020 to more than $189 billion in October 2020.
The DeFi industry is beloved for several reasons. First, it removes the boundaries that exist in traditional finance. For example, customers in all countries can access the marketplace and get served provided that they have genuine collateral.
Second, the industry is relatively easy to use provided that you have an internet connection and access to ERC tokens. Third, it is a relatively safe industry to take part in. Over the years, there have been relatively limited cases of security issues in the network.
Therefore, while there are many competitors to Compound, we believe that the current market leaders like Compound will be the eventual winners because of their substantial market share.
COMP technical analysis
The daily chart shows that the Compound Coin price has been under pressure for a while. The price is about 63% below its all-time high. The coin has formed a triple-top pattern at $527 and is below its neckline at $385. The 25-day and 50-day moving averages have made a bearish crossover and the price is between the 61.8% and 78.6% Fibonacci retracement levels.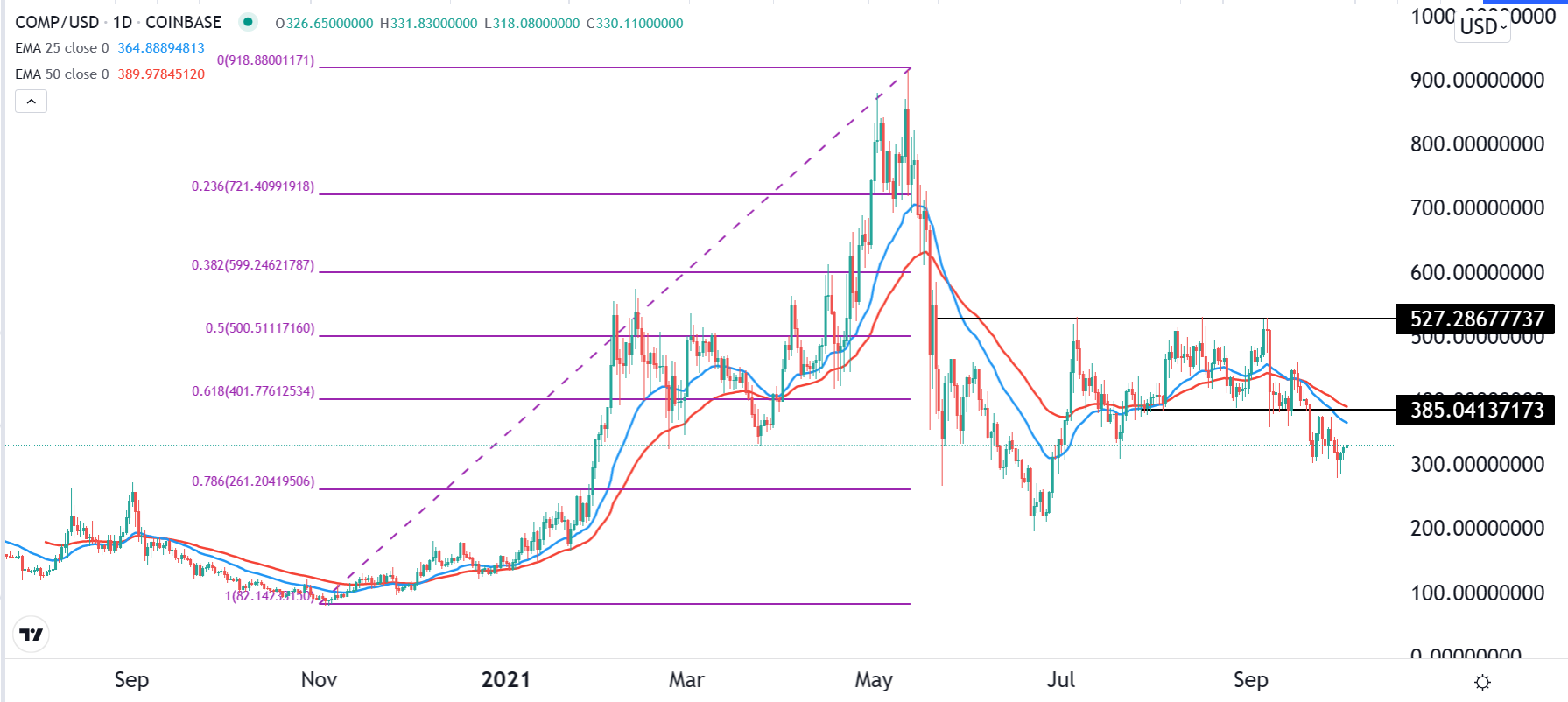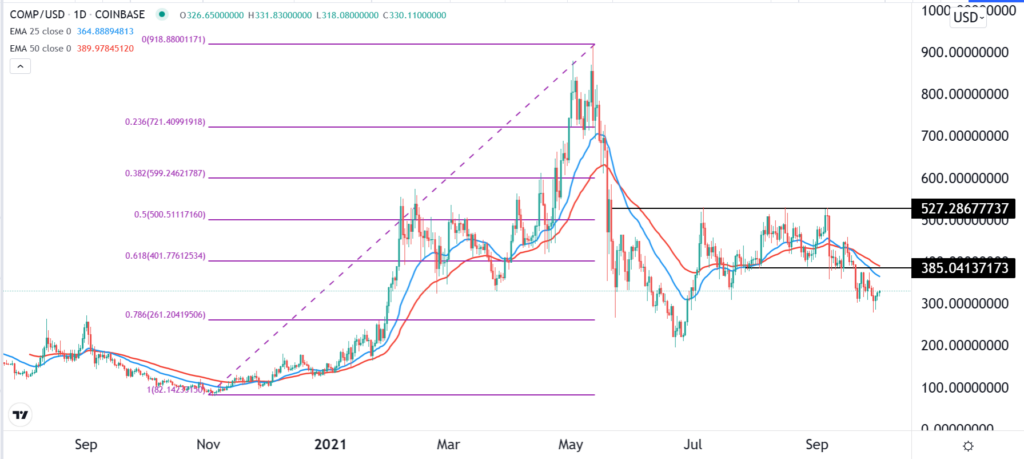 Worst case scenario
The worst case scenario is where the Compound price breaks out lower and moves to its lowest level in November at around $80. This price is about 75% below its current level. Such a move will open the possibility that Compound will keep falling.
Best case scenario
In the current situation, the best case scenario is where Compound moves above the triple-top level of $527. Such a move will send a signal that there are still more buyers in the market, who will be keen to push it to its all-time high of $918.
Should you buy Compound today?
Fundamentally, a case could be made for buying Compound tokens. It has one of the biggest market shares in the DeFi industry and has hundreds of users from around the world. Since Compound is a relatively new company, there is a possibility that it will continue growing as more people move into the ecosystem. Therefore, there is a possibility that its price will rebound in the long-term.
In the short-term, however, as shown above, the technicals are not pleasing considering that it has formed a triple-top pattern. There is a possibility that it will keep falling in the near term.
Will Compound hit $1,000 in a year?
A commonly asked question is whether Compound Coin will jump to $1,000 in a year. A jump to $1,000 would represent a 205% gain from the current level. A 200% gain in cryptocurrencies is not uncommon. Indeed, a few months ago, Avalanche jumped by more than 300% within a month. Therefore, it is possible that Compounds will rise by 200% in the next 12 months. However, it is highly unlikely that this situation will happen.
What is the Compound price prediction for 2025?
In general, I suspect that Compound will keep doing well between now and 2025 since more users will move to the ecosystem. However, the biggest risk is that the industry could come under scrutiny of regulators because of how disruptive it is. If a major crackdown happens, we can't rule out a situation where the price tumbles or remains highly volatile.
Where to buy Compound
Compound Coin is provided by most of the biggest cryptocurrency exchanges in the world. You can buy it in the popular exchanges like Huobi, Coinbase, and OKEx.