Chromia (CHR)
Price
What is Chromia (CHR)?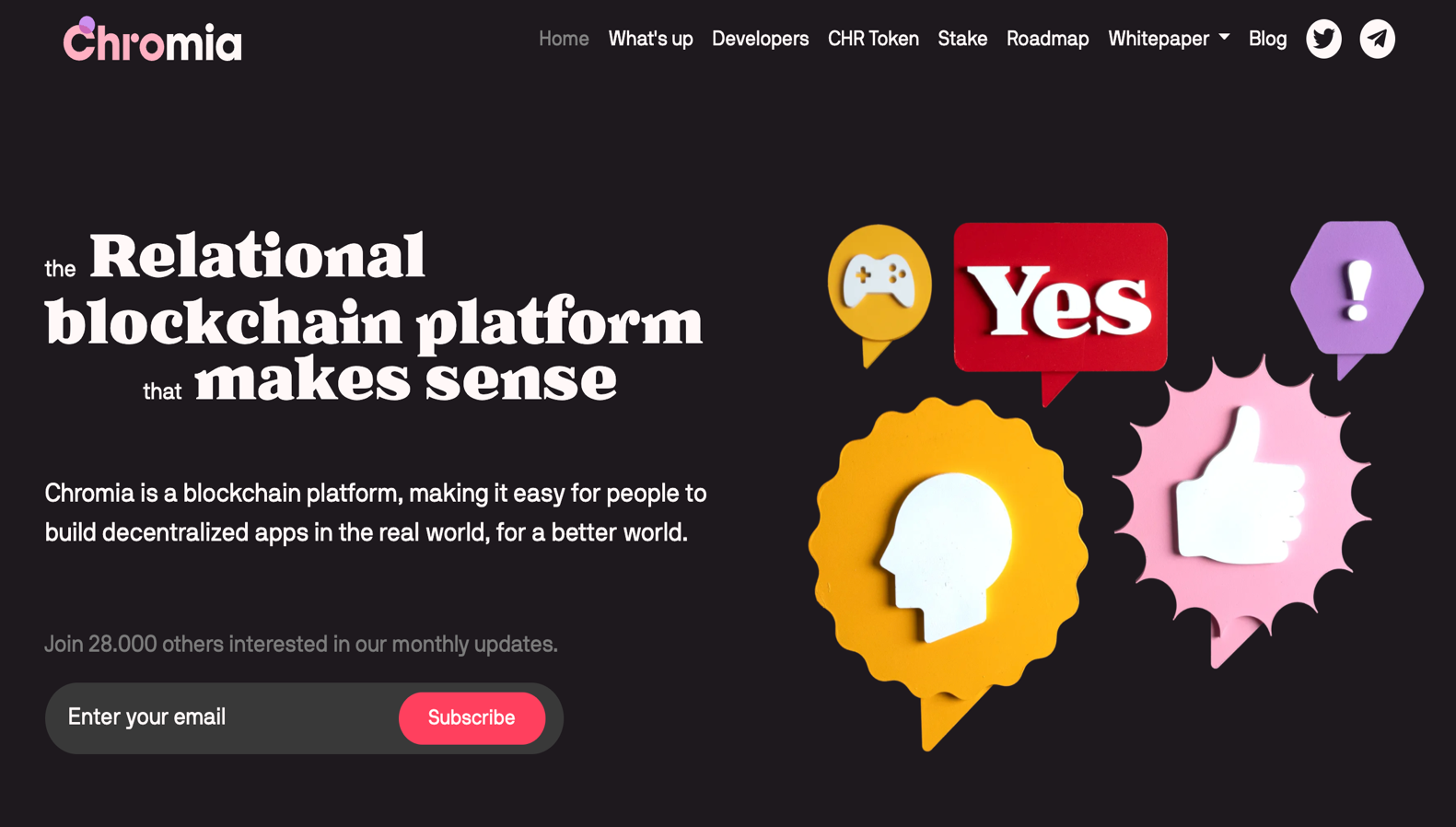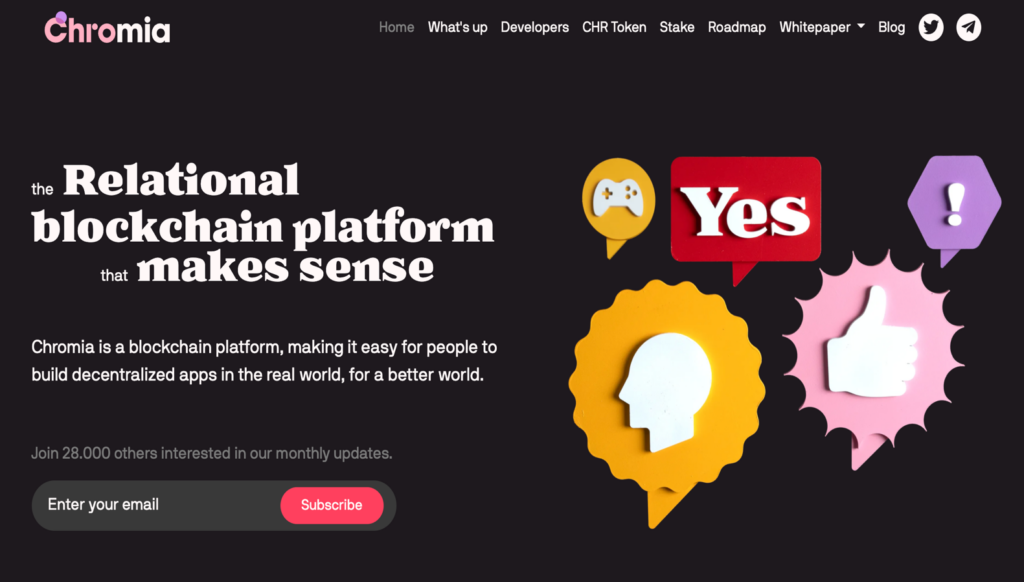 Chromia boldly describes itself as the 'relational blockchain geared for the real world.' The platform uses a unique relational SQL-like programming language known as Rell.
Research suggests SQL is more popular than other frameworks like PHP, Python, Java, and C#, most of which are functional languages. Hence, developers can design a range of applications using a more familiar system with fewer lines of code.
Chromia is primarily a layer-1 blockchain for building dApps (decentralized applications), but it also acts as a layer-2 blockchain or sidechain for Ethereum and Binance Smart Chain. My Neighbor Alice, LAC PropertyChain, Hedget, and Green Asset Wallet are some of the existing projects leveraging Chromia's infrastructure.
Chromia was founded by ChromaWay AB, a Swiss-based blockchain developer company. The CHR token launched in May 2019 and serves a few purposes such as fee payment, staking, etc.
CoinMarketCap presently ranks Chromia #151 for most traded coins, with a market cap of about #560 million. As of 24 November 2021, CHR costs $1.27. Let's explore if Chromia is a worthwhile investment and CHR price prediction considerations for 2022 and 2025.
Is Chromia a good investment?
Any potential Chromia investor would be investing in an Ethereum-like second-generation blockchain. While Ethereum is a dominating force, it's not the most user-friendly ledger from a developer and client perspective. 
Ethereum still faces issues regarding poor user experience, unusually high fees, sub-par security, and other limitations.
Chromia believes it addresses most of these problems through a reimagined blockchain architecture permitting apps to scale to millions of users, improve client-facing usability, and allow developers to use a more accessible programming language.
There are already several use cases of Chromia in industries like real estate, healthcare, finance, and gaming. Chromia's developers plan to venture into other sectors like IoT (internet of things), supply, and other enterprise services.
Another interesting aspect about Chromia is the finite supply of CHR tokens, which is influential in the future prices of any cryptocurrency. There will only ever be 1 billion CHR to exist, of which 43% or about 423 million is currently circulating.
The core concept to grasp here is supply and demand. If the former has exceeded the limit and the latter does not change, it should make the coin more valuable over time.
Should I buy Chromia today: Crypto technical analysis for CHR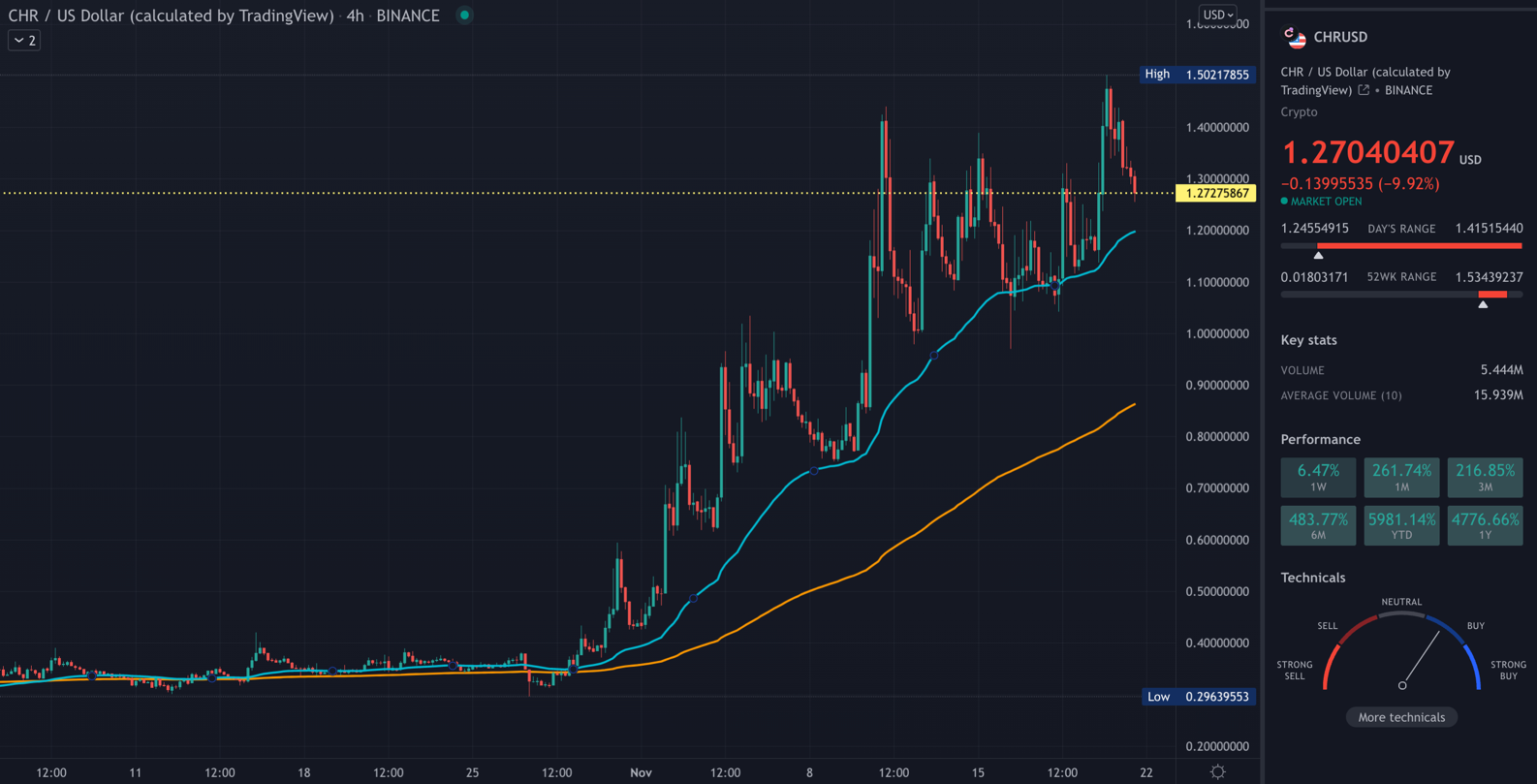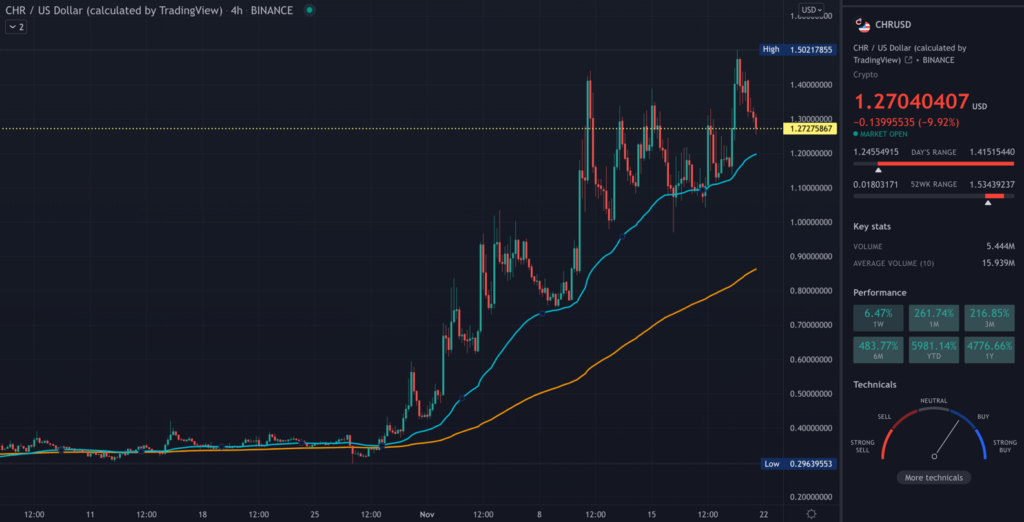 CHR's price recently hit an all-time high of $1.50. This means the market is in strong bullish territory, and it wouldn't be a surprise if the price continues trending up. Therefore, it might be a good time to buy CHR.
Worst case scenario
In the worst-case scenario, the coin can depreciate to slump back to the $0.4 territory; however, that situation is highly unlikely. With the blockchain's flexibility and exposure to different industries recently discovered by investors, we think it is highly unlikely.
Best case scenario
Let's explore the technical analysis using the 50 and 200-day moving averages for further confirmation. Two things should happen to validate a buying signal: the 50 (blue) should cross above the 200 (orange), while the price must be trading above both.
We can observe the market reflects both qualities on the chart. The following sections will detail the CHR price prediction analysis for 2022 and 2025.
Will CHR coin price hit $5 in a year?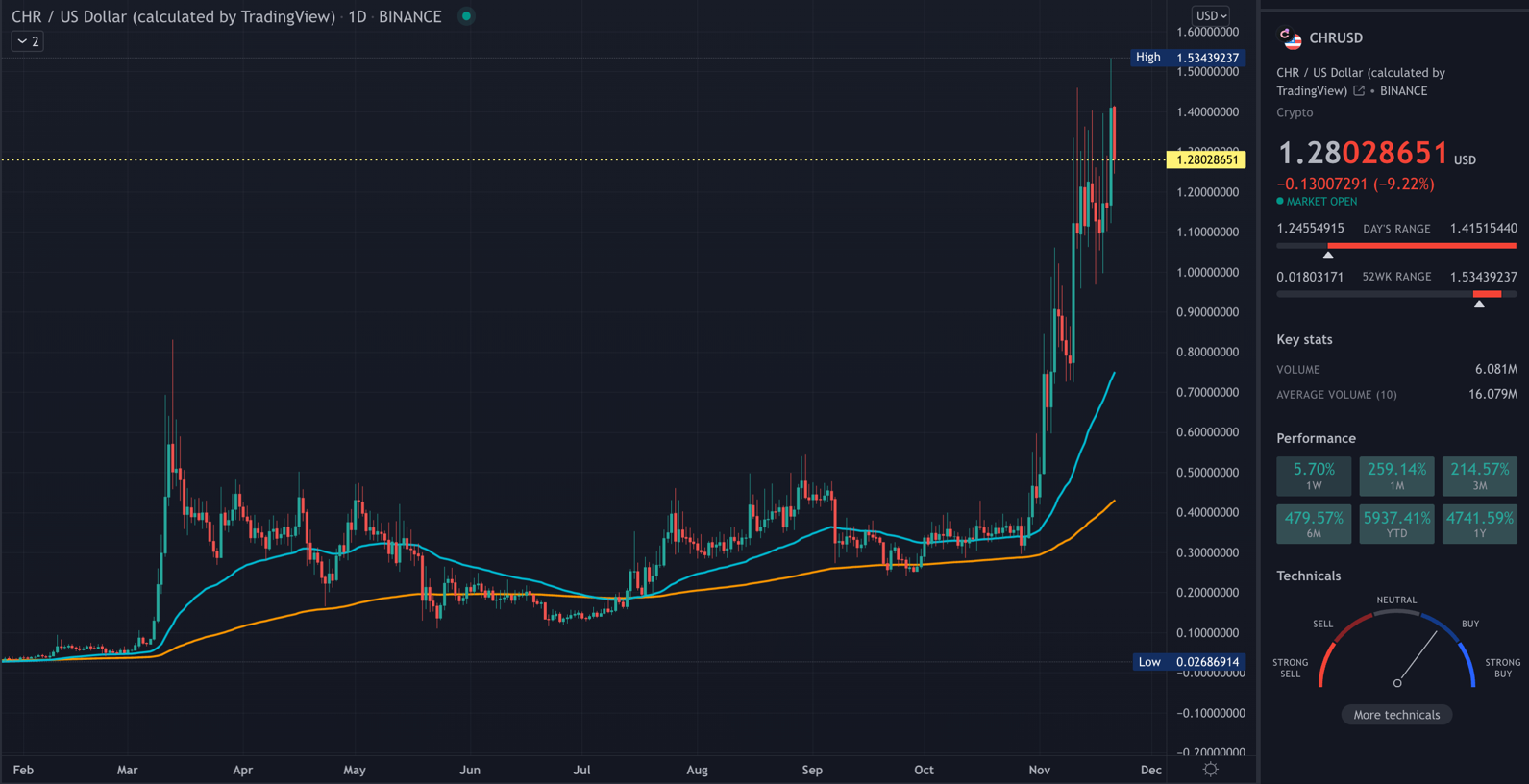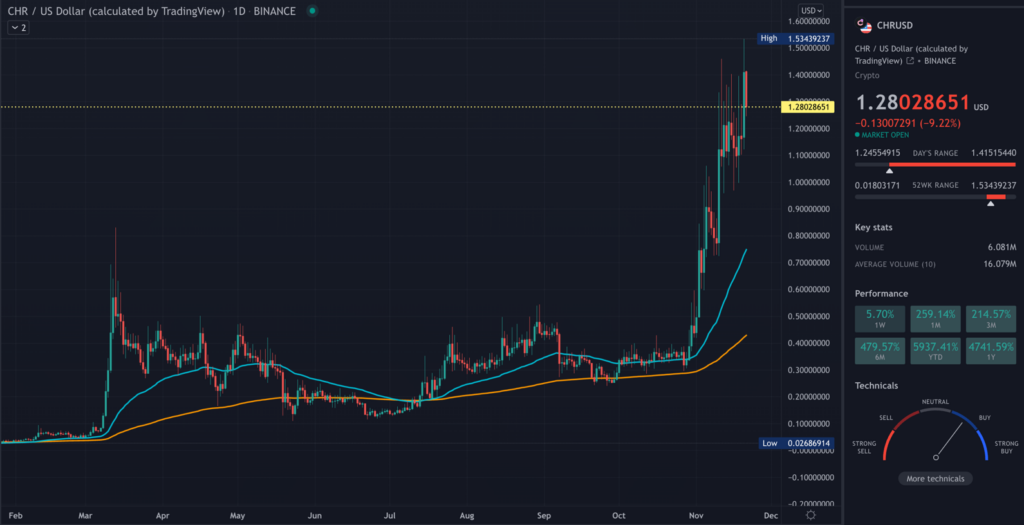 Having just reached a valuation of $1.53, the next anticipated target should be $5. So, how feasible could CHR be worth this much in a year? Let's first consider it would take a 284% increase to reach this point.
Based on the coin's performance in 2021 alone, such a gain wouldn't be out of the ordinary. Yet, we should consider a more algorithm-based and realistic prediction from a resource like Wallet Investor.
No one knows how long this bullish momentum can continue, though investors should anticipate a substantial dip, which is characteristic of lower-capped altcoins.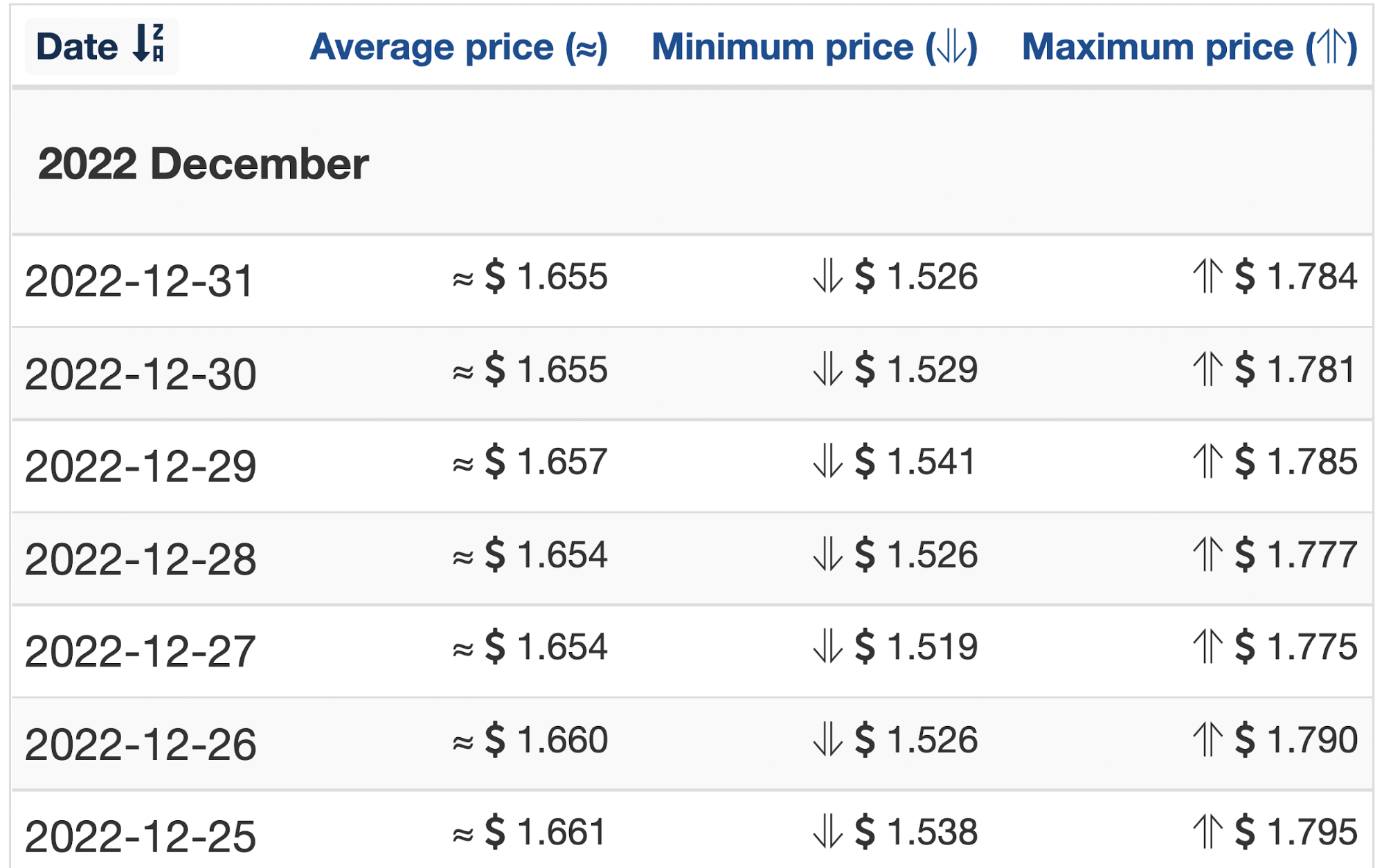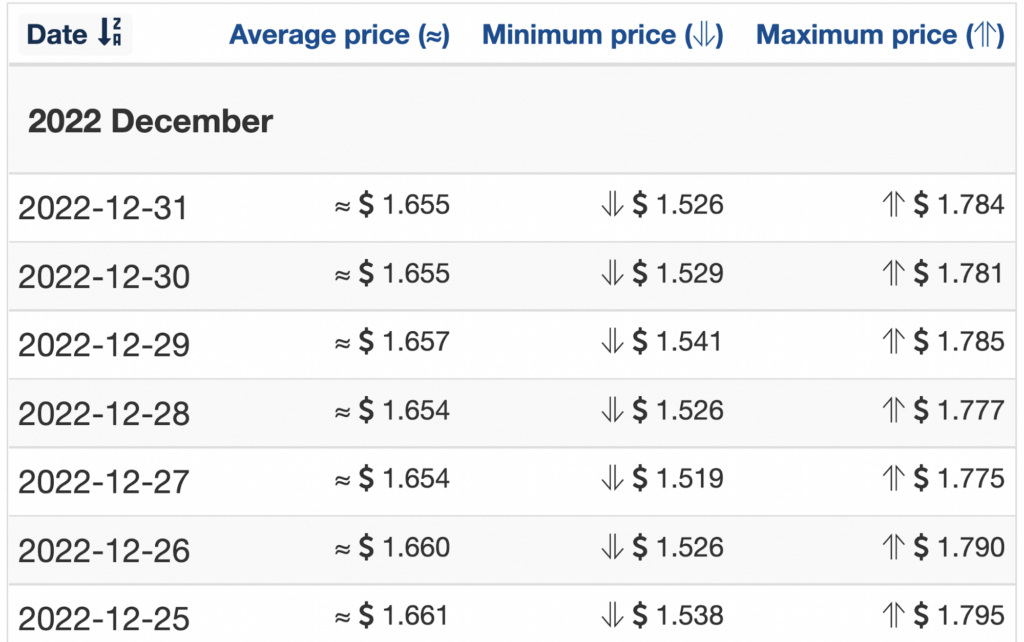 The site suggests prices ranging from $1.65 to $1.79, while Digitalcoinprice indicates an average price of $2.24 within the following year.
What is Chromia's price prediction for 2025?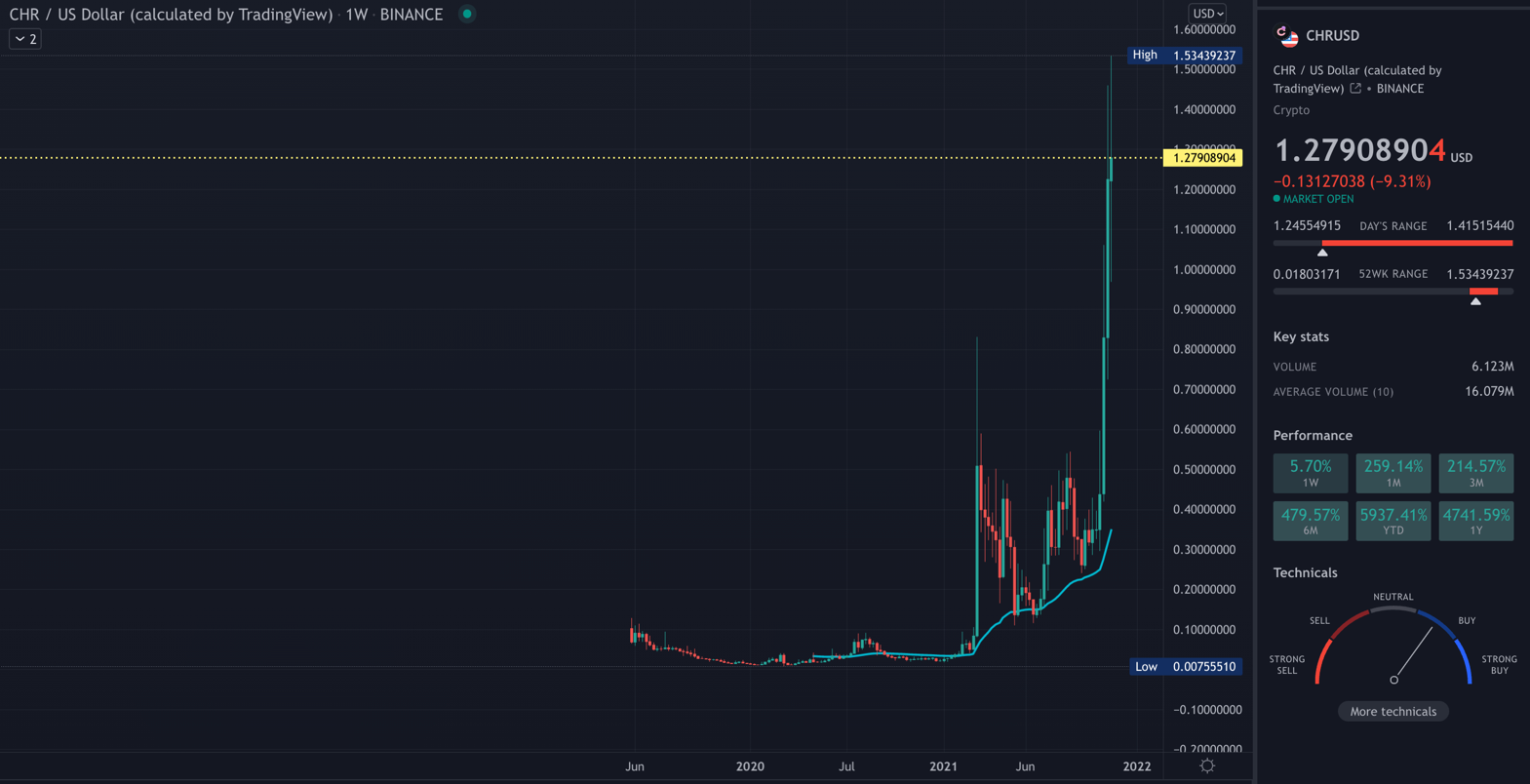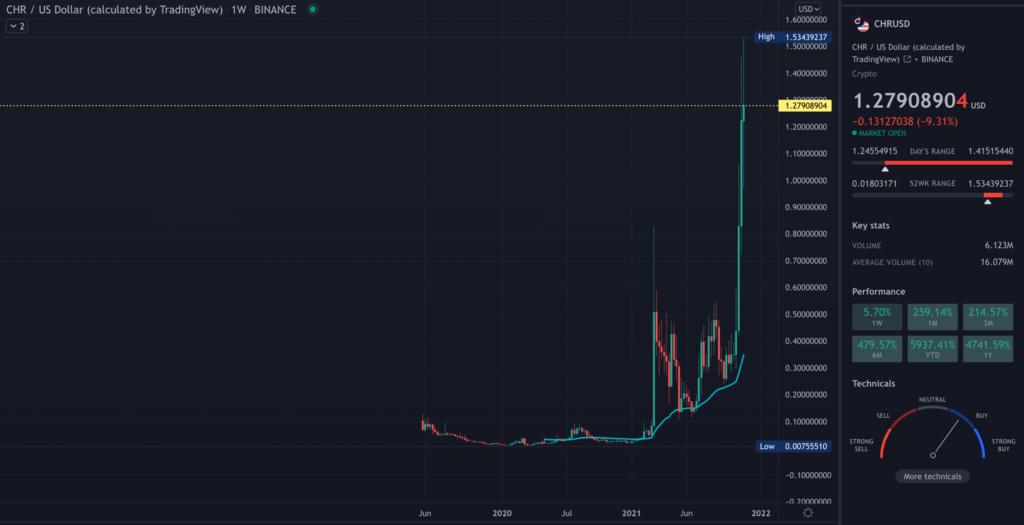 Based on the previous technical analysis coupled with the considerable investment value, Chromia looks poised for long-term growth. A three-year horizon is a reasonable period to assess true success.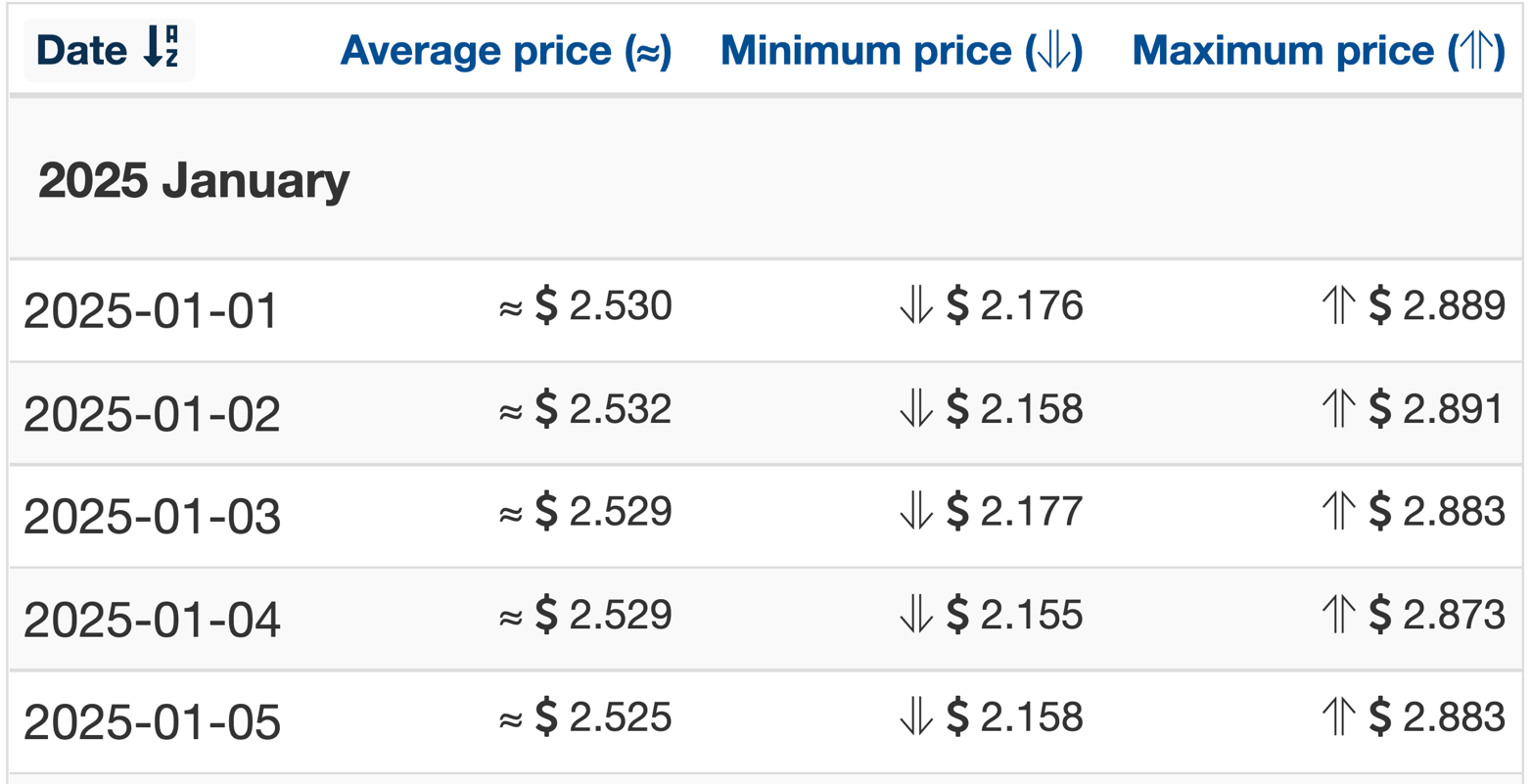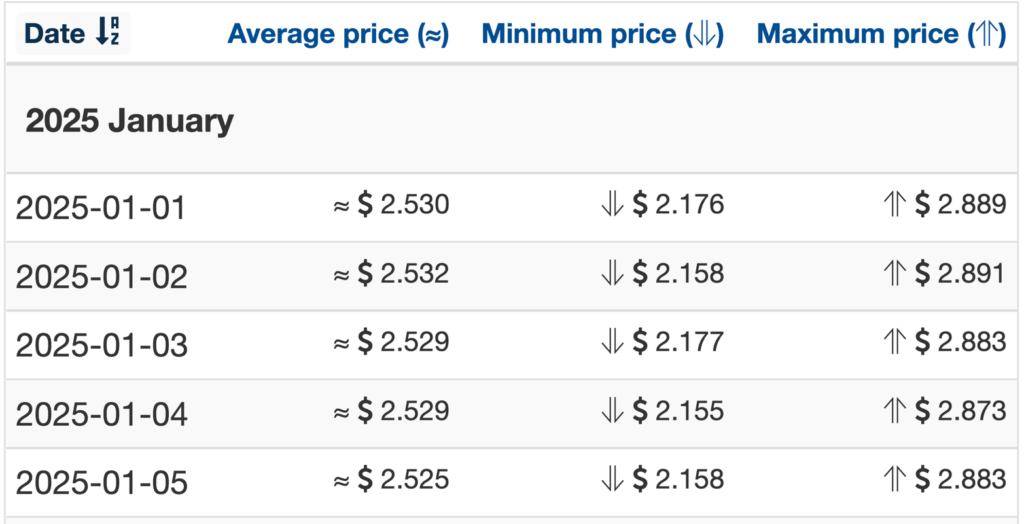 By the start of 2025, Wallet Investor indicates CHR should be worth between $2.17 and $2.88. On the other hand, Digitalcoinprice is a little more ambitious and pegs the coin to as high as $3.96. Most forecasting sites believe CHR could reach anywhere from $2-$5.
What about the worst-case scenario by 2025? Well, the price could either remain relatively the same as it is currently or cost less. This can be caused by numerous factors like stiff competition from other cryptocurrencies or just an overall bear market across the board.
Regardless, no prediction can accurately forecast the future. Therefore, investors should appreciate the unpredictable nature of digital currencies and invest accordingly.
The best way to buy CHR
Binance, KuCoin, Bithumb, FTX, and Gate.io are some of the many exchanges available for users to buy CHR.