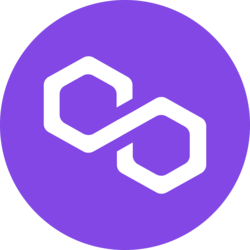 Polygon (MATIC)
Price
What is Polygon?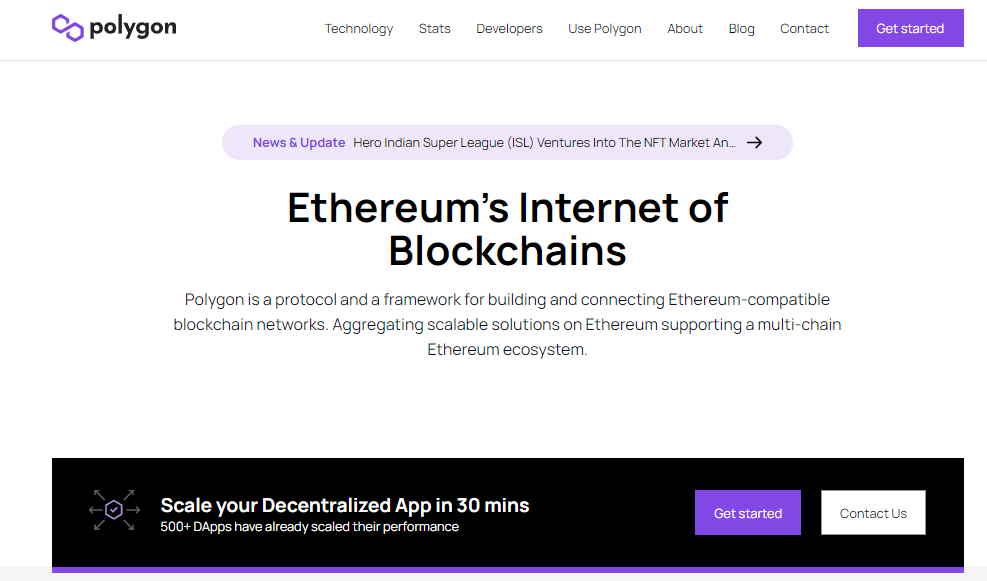 In geometry, a polygon is a versatile plane figure typically with five corners. Within cryptocurrencies, Polygon also aims to be as diverse. Polygon (previously known as the Matic Network) is a third-generation blockchain for building and connecting Ethereum-interoperable networks.
Launched in October 2017, Polygon's founding developers describe their project as 'Ethereum's internet of blockchains' since they built the protocol to solve many of the substantial problems with Ether. It facilitates these processes with simple one-click deployment and offers modules for developers to create their custom ledgers and side chains.
Polygon is one of the projects leading the third-gen blockchain revolution, along with the likes of Cosmos, Polkadot, IOTA, Holochain, and more. The project was co-founded and is currently developed by four experienced tech geniuses, Jayanti Kanani (CEO), Sandeep Nailwal, Mihailo Bjelic, and Anurag Arjun.
Like many blockchains, Polygon employs a native utility token, MATIC, used to settle fees, act as a payment currency between users operating on the network, and participate in governance. According to CoinMarketCap, Polygon ranks 21st for most traded cryptocurrencies and is worth approx. $1.08.
Is Polygon a good investment?
Before Polygon, there was no specialized protocol to build an Ethereum-compatible blockchain. You may be wondering if developers would be concerned about creating a ledger to work with Ethereum.
Ethereum is the most used blockchain worldwide, but the project is plagued by several issues: poor user experience, counter-competitively low output, high fees, transaction delays, and governance deficiency.
Hence, Polygon improves in several critical areas: compatibility, scalability, security, modularity, and the developer/user experience. Polygon is a third-generation blockchain aiming to connect as many unrelated networks as possible, becoming a 'blockchain for blockchains.'
Lastly, we need to consider Polygon's tokenomics. The project has a finite supply (10 billion maximum) of MATIC, which is released monthly. About 67% or 6.67 billion is presently circulating on the market.
Coins designed with scarcity in mind tend to be more valuable over time, adding another reason why Polygon may be a good investment.
Should I buy Polygon today: Crypto technical analysis for MATIC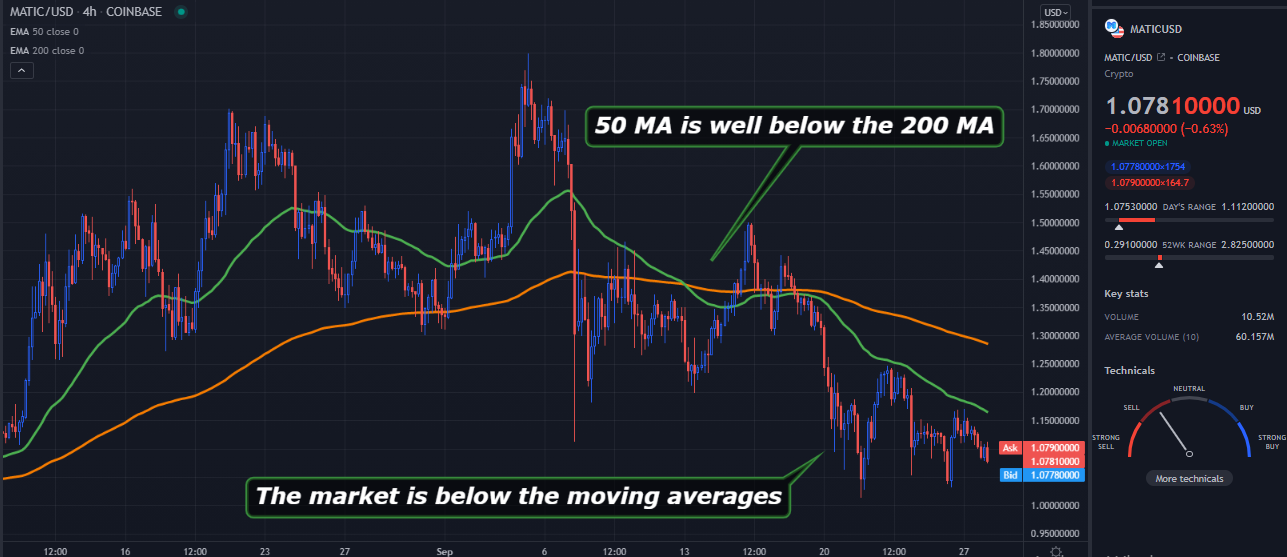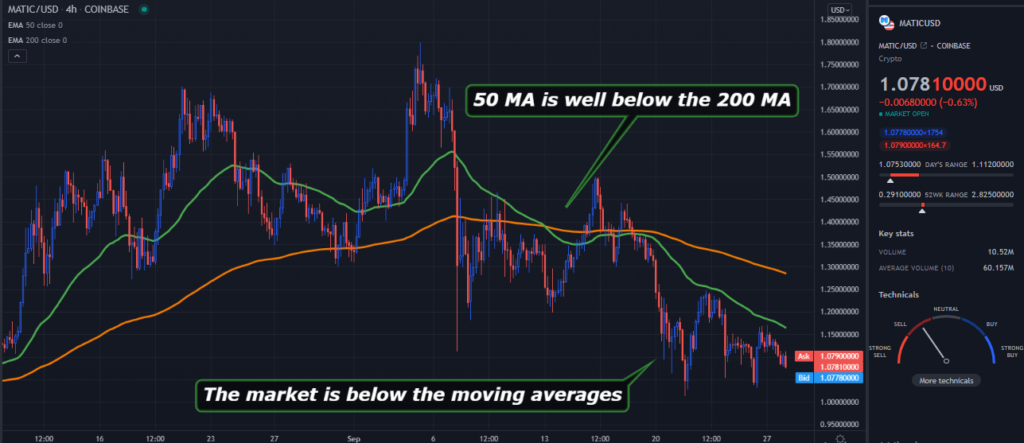 We'll answer this question using a classic 50 (in green) and 200-day (in orange) moving average crossover strategy.
An entry trigger is generated when two things occur:
The 50-day MA crosses above the 200-day MA
The price is trading above both moving averages
As we can see on the chart, MATIC doesn't meet this criterion, suggesting it's probably not the best time to buy it today.
Will Polygon coin price hit 10 USD in a year?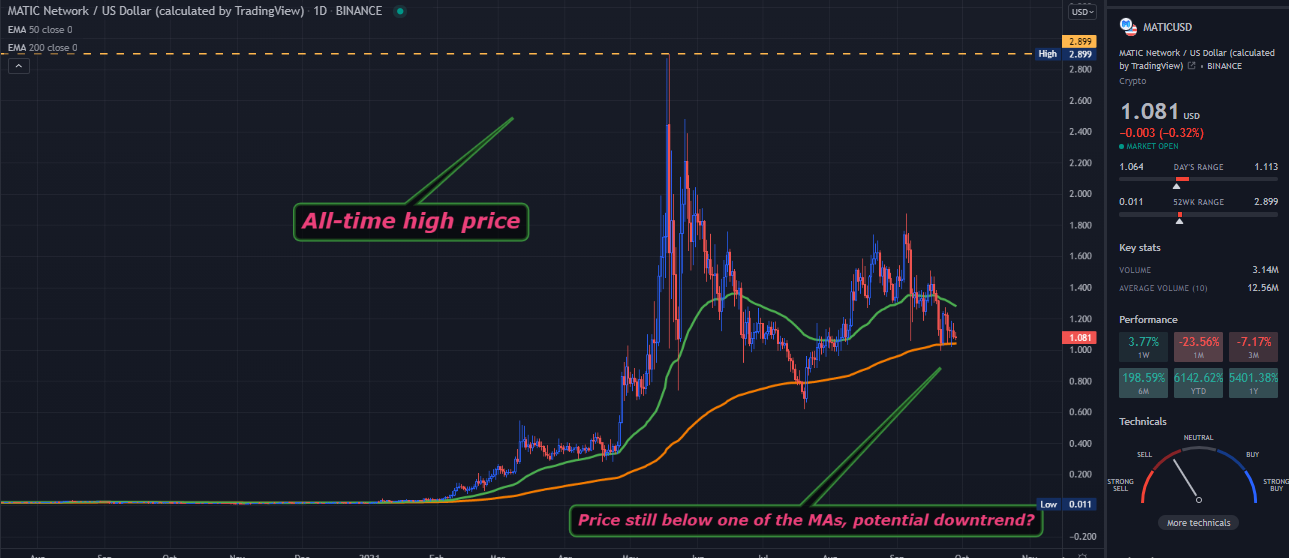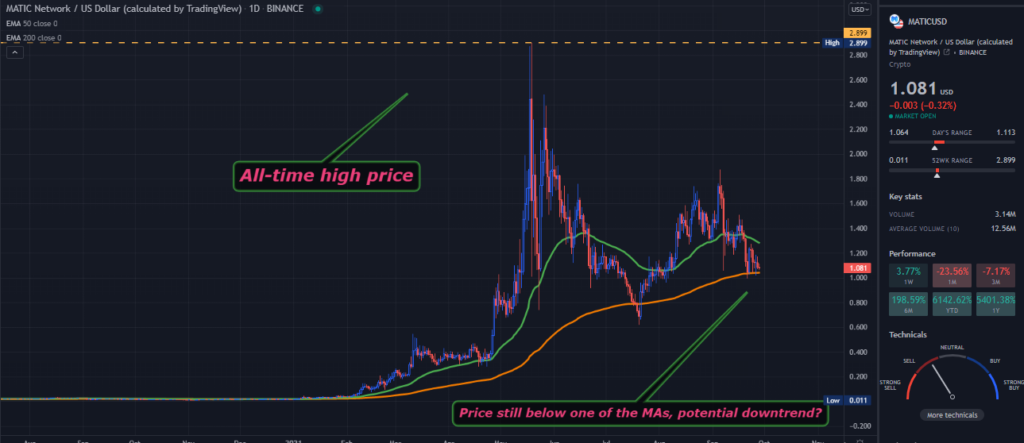 Since the coin was available for public trade, it has surged about 34000%, reaching an all-time high price of $2.89 in May 2021. Sadly, the market has dipped considerably. This type of growth is more of an anomaly, and many cryptocurrencies experienced similar gains this year before dipping.
Moreover, we can see MATIC's price is still below the moving averages, suggesting some downward momentum (although the market still appears bullish judging by the slope). So, to answer whether Polygon's price can hit $10 in a year, we will look at forecasts from Digitalcoin that use mathematical algorithms and give a more conservative estimate.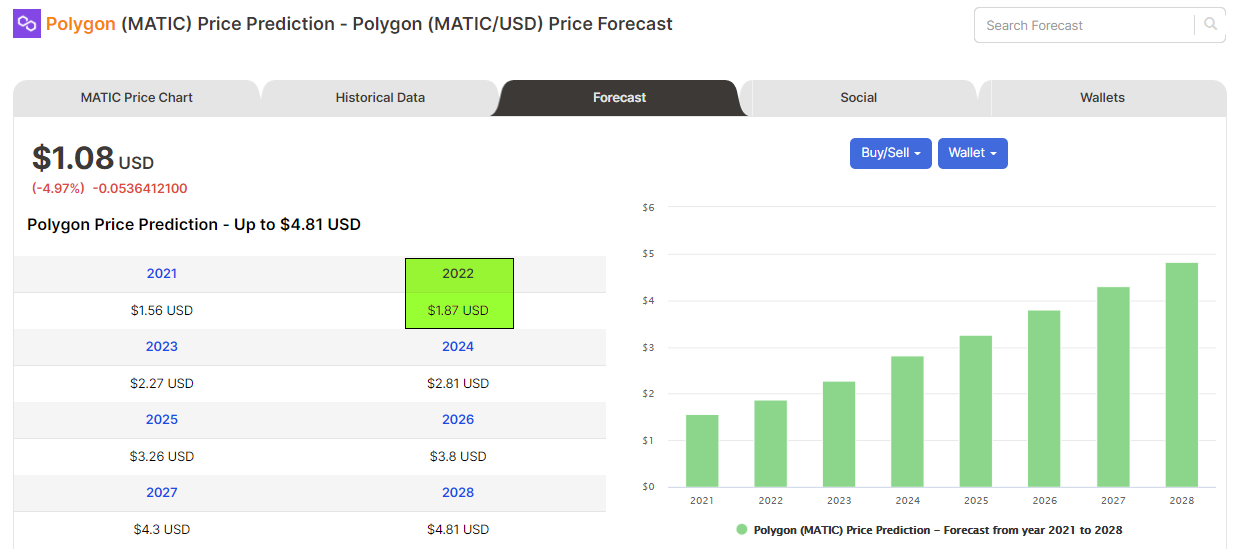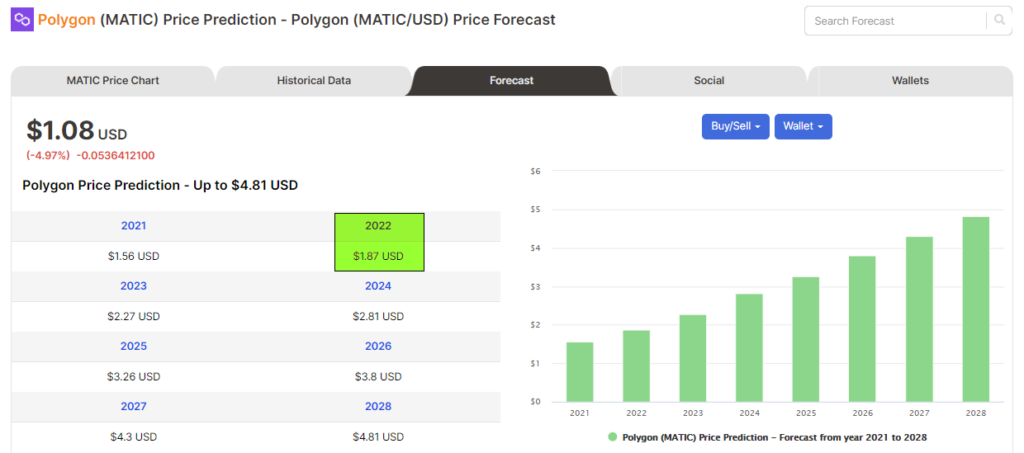 Digitalcoin estimates Polygon's value could be $1.87, meaning it's unlikely to reach $10 in a year. Of course, this is only a prediction, and we should always prepare ourselves for anything in cryptocurrencies.
What is Polygon coin price prediction for 2025?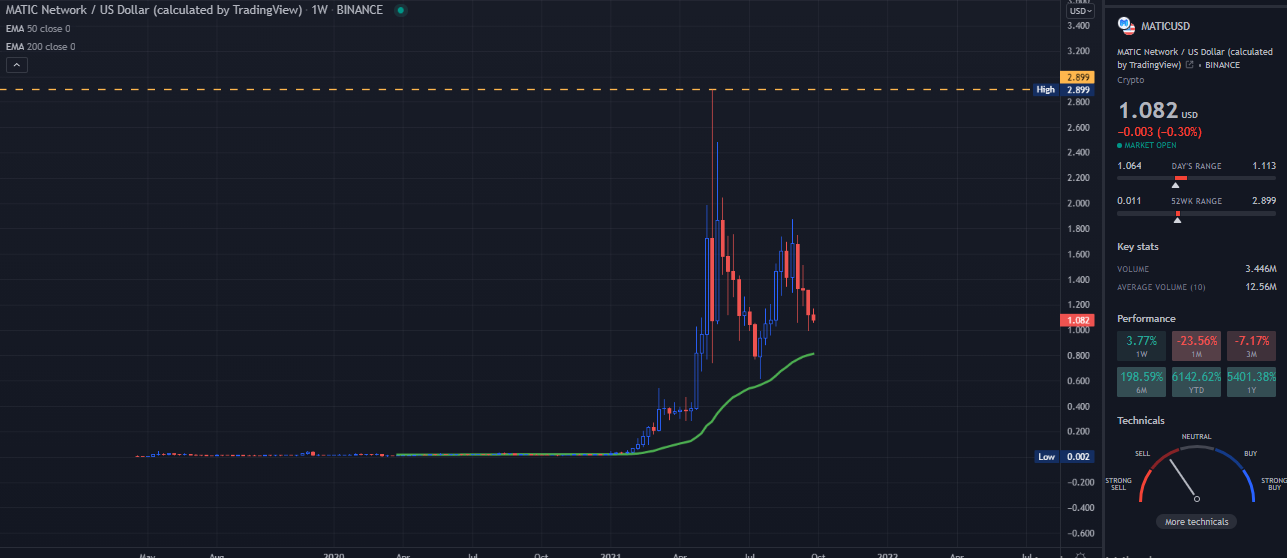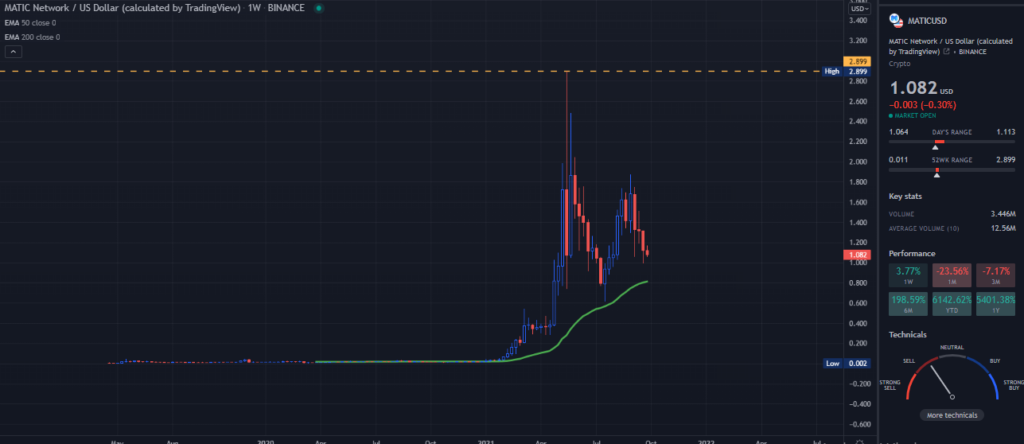 Despite some bearishness on the lower time-frames, MATIC is clearly in an uptrend when observed on the weekly chart, a positive sign for potential future growth. But where to by 2025?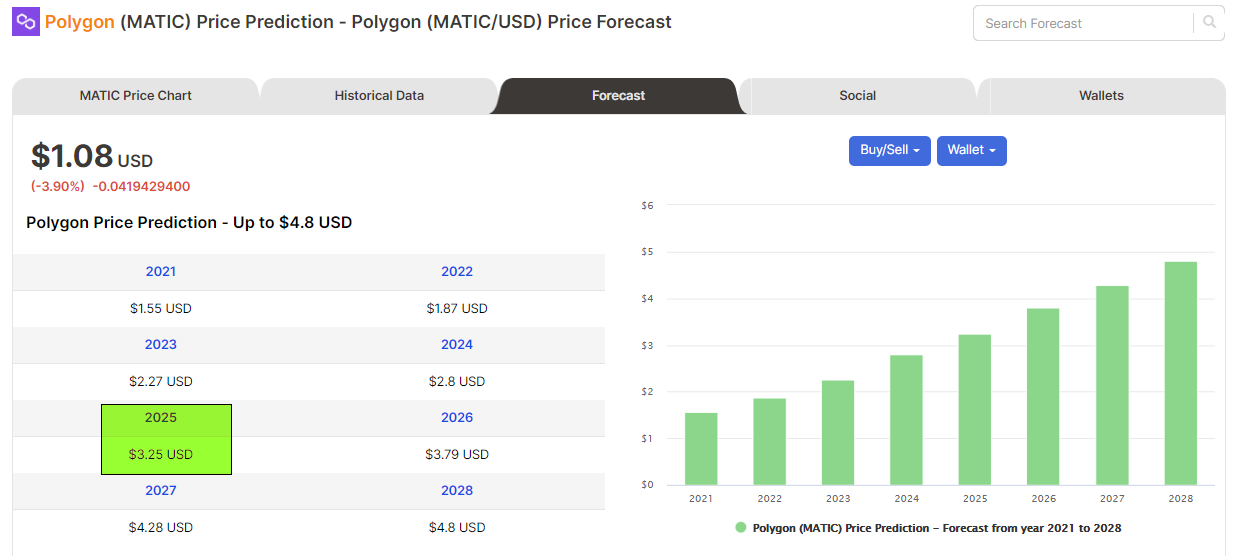 According to Digitalcoin, $3.26 is the price MATIC may reach by 2025, which sounds realistic despite many others predicting other absurd prices. Other sites like Wallet Investor and Coin Quora estimate $7.95 and $7.50, respectively.
Regardless, investors should never solely rely on these predictions alone in deciding to invest in MATIC.
The best way to buy Polygon
You can buy Polygon at tens of exchanges. CoinMarketCap shows the top 5 by trading volume (the usual suspects) are Binance, Coinbase, FTX, Huobi, and KuCoin, but many more exist. You'd typically need to have some USD, EUR, USDT, or BTC to exchange for MATIC.
So, what happens when you've bought MATIC? You can trade the coin as a derivative on trading platforms from the said exchanges against other markets. The second option is storing and holding, which you can do on numerous hardware and software wallets depending on your needs.