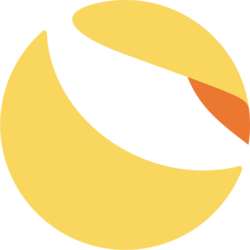 Terra Luna Classic (LUNC)
Price
What is Terra (LUNA)?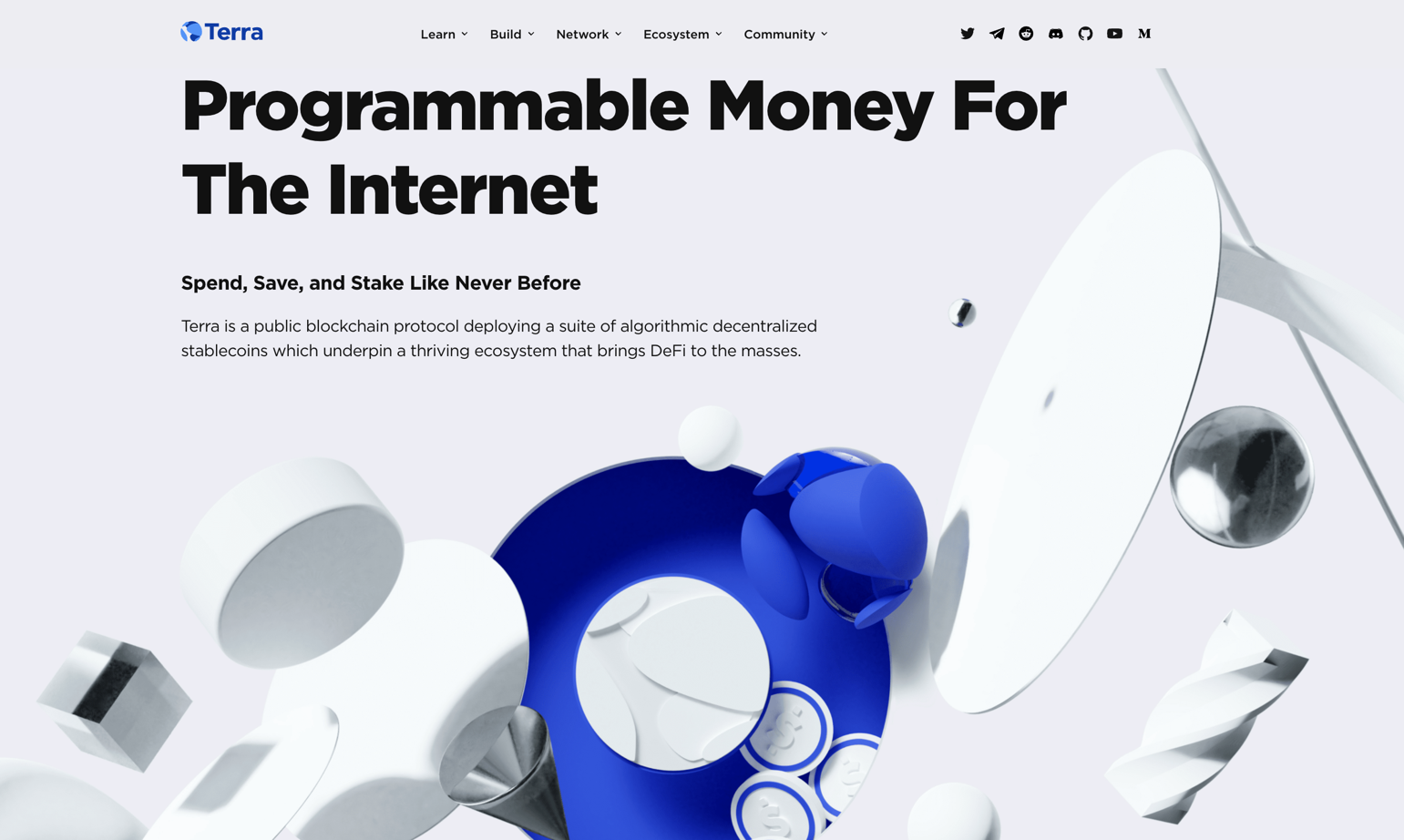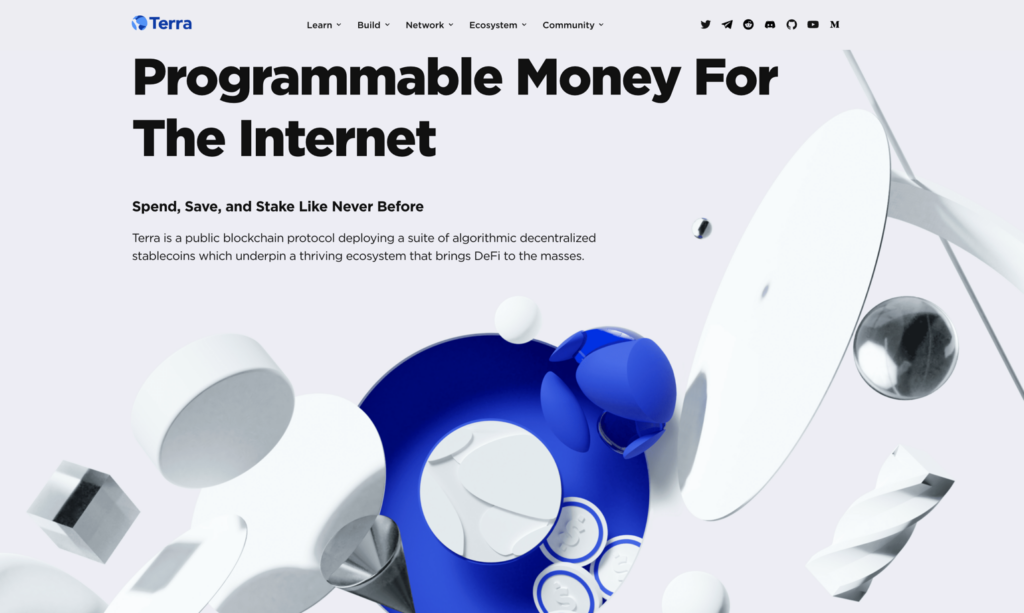 Terra bills itself as 'programmable money for the internet.' More specifically, the platform has designed a suite of algorithmically-backed stablecoins using its native currency, LUNA. Terra's developers believe stablecoins are a vital component of decentralized finance.
A stablecoin is a cryptocurrency designed to retain a stable value by being pegged to another asset, usually a fiat currency like the US dollar. Presently, the stablecoins powered by Terra include TerraMNT, TerraKRW, TerraUSD, TerraCNY, TerraEUR, TerraGBP, all of which are backed by their respective fiat currencies.
Moreover, there is also TerraSDR, pegged to the International Monetary Fund's Special Drawing Rights account unit. LUNA primarily serves two purposes; stabilizing the issued stablecoins and acting as the staking reward currency for validators to confirm transactions on the blockchain.
Terra's development began in January 2018, co-founded by Do Kwon and Daniel, two successful Korean entrepreneurs. After a successful $32 million ICO (initial coin offering), which concluded in August 2018, the mainnet of Terra launched in April 2019.
LUNA's performance has been stellar, increasing by 12200% up to this point in 2021. These gains have seen the project being ranked #13 by CoinMarketCap for most traded coins. Presently, one LUNA costs $43. Let's dive into whether this project is a good investment and some Terra coin price prediction thoughts.
Is Terra a good investment?
Some might consider stablecoins the perfect digital currency form since they maintain stable value, making them practical for everyday use. Although cryptocurrencies have investment value, their volatility is too high to foster true mainstream adoption.
For instance, fiat currencies fluctuate around 1% daily, while 7% drops or more with BTC are common. As expected, this behavior is not suitable for people to use digital currencies more frequently.
This is one of the reasons why Tether (USDT) is the fourth-largest cryptocurrency. Terra is competing with coins like USDT, USDC, DAI, etc., which all want to dominate the stablecoin market. Stablecoins are used frequently by traders when converting between different cryptocurrencies.
Terra is structurally designed to produce low-cost and fast-confirming transactions because it uses the proof-of-stake model instead of mining. Blockchains utilizing the PoS system are also energy-friendly.
Moreover, anyone meeting the node requirements has an opportunity to become a validator and earn LUNA rewards with investment value. Overall, Terra ticks many boxes for a potentially lucrative cryptocurrency investment.
Should I buy Terra today: Crypto technical analysis for LUNA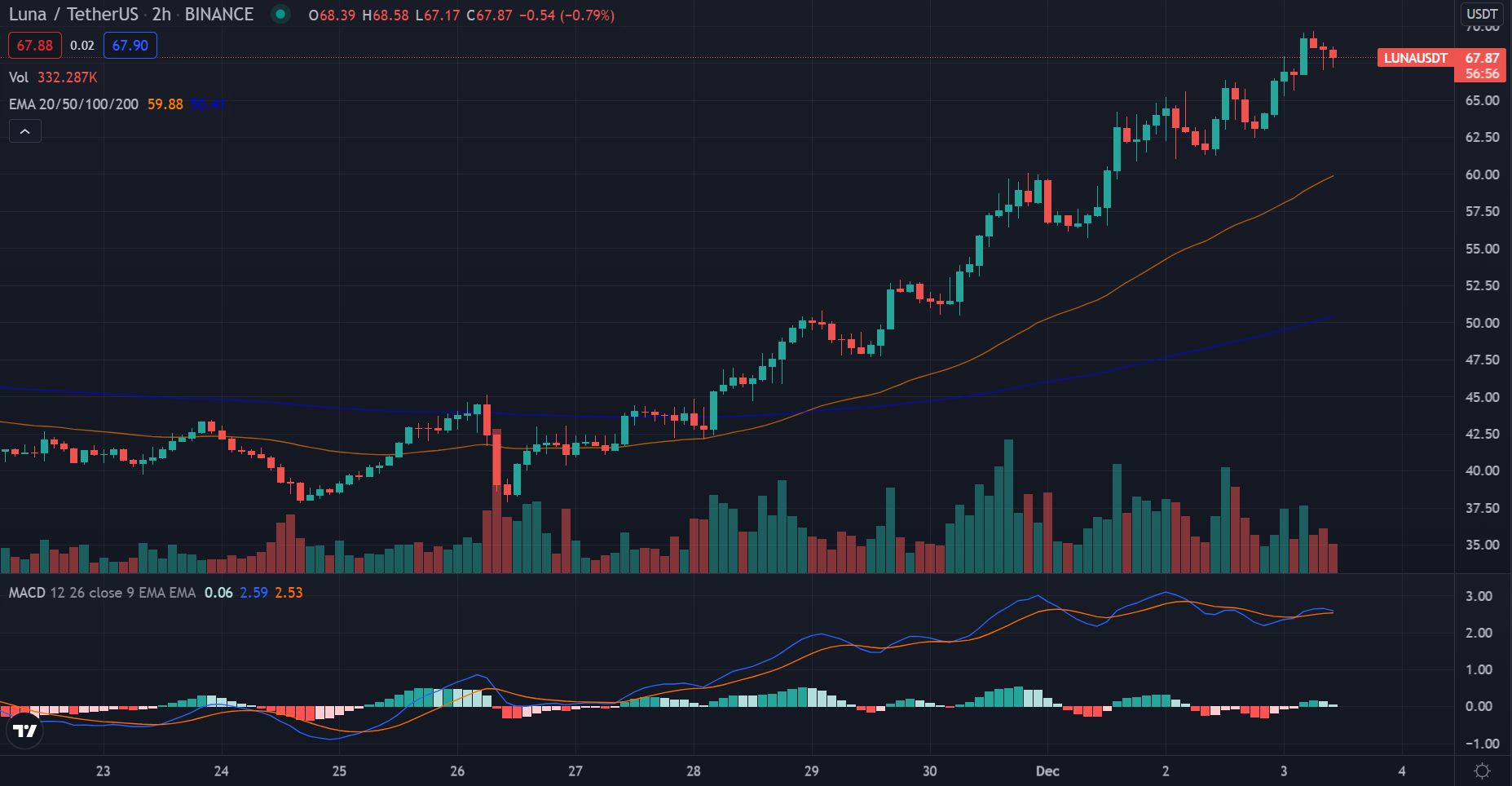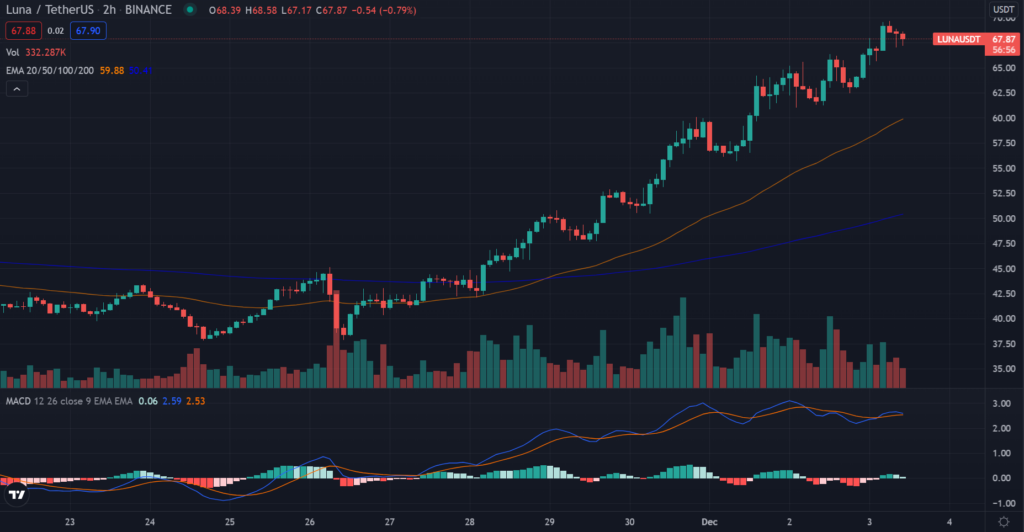 Overall, our moving average (MAs) analysis suggests the start of bullish momentum for LUNA, meaning it's likely a good time to buy before it starts appreciating. The periods for the MAs on the chart are 50 (in blue) and 200 (orange).
Like most strategies using this indicator, traders observe whether the price is above the moving averages when going long. Additionally, we see the 200 diverging further from the 50 while remaining above it to confirm the bullishness and a buying trigger.
We can observe the market doesn't meet either condition. Yet, Terra coin price prediction forecasts suggest bullishness for this market in the long term.
Will LUNA coin price hit $100 in a year?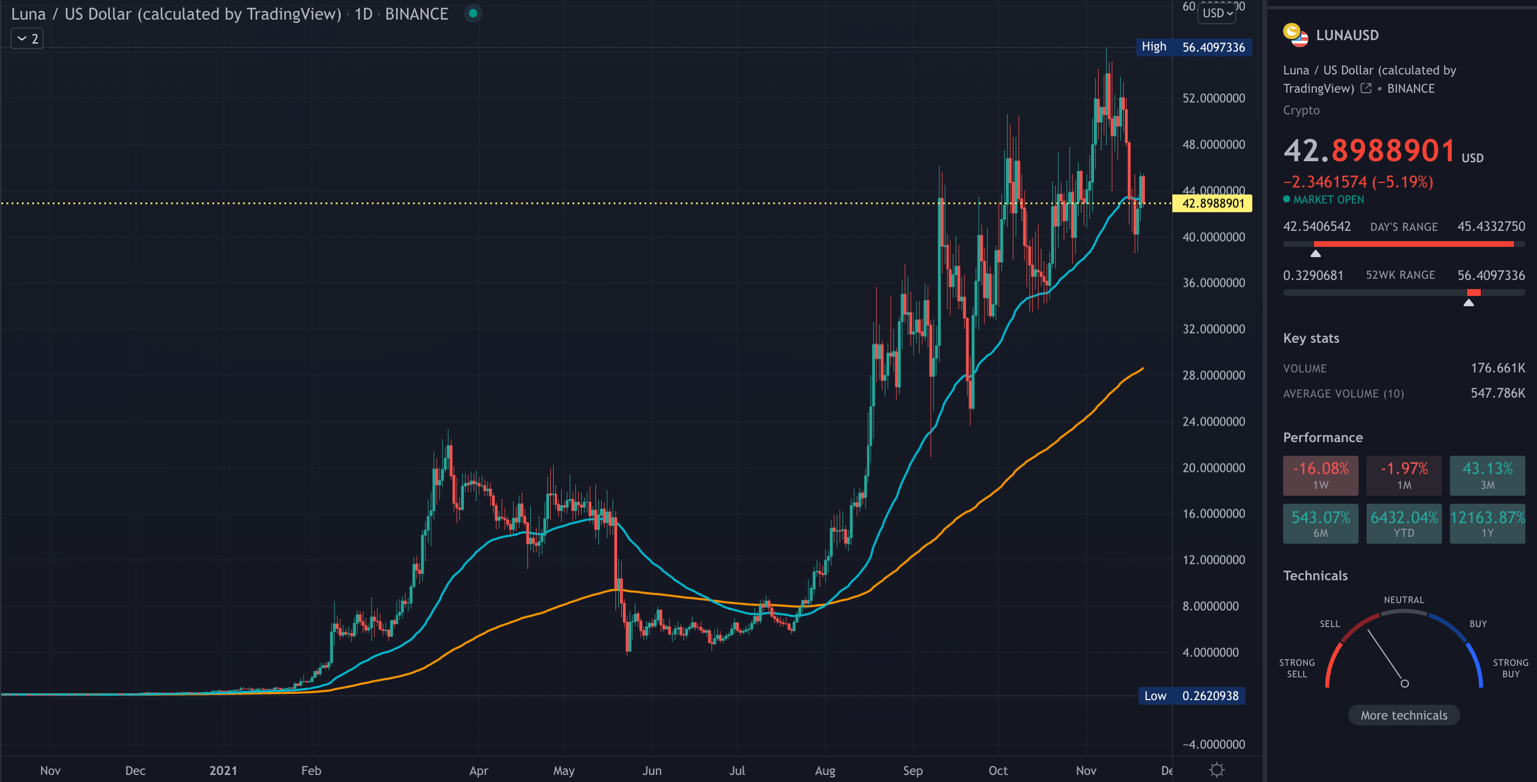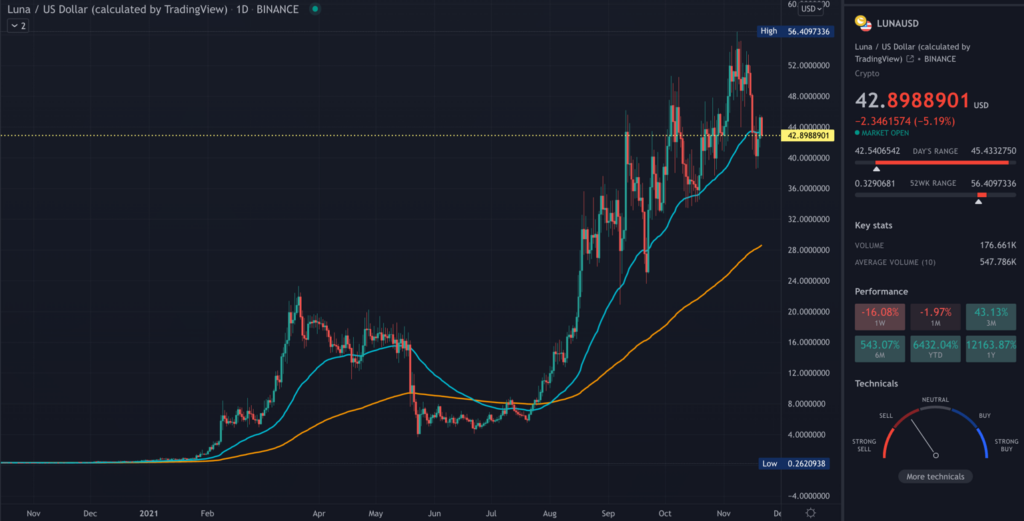 Judging by the upward-looking slope, traders hope price finds support on the 50-day moving average. LUNA recently reached an all-time high of $56 in November 2021. So, the next imagined target should be $100, and a year is a reasonable period to judge the possibility of this happening.
We first need to consider it would take around a 47% gain from LUNA's present value to be worth $100. Based on the coin's performance in 2021, this increase is very feasible. Since we cannot rely on this metric alone, we need algorithm-based predictions from resources like Wallet Investor, which tend to be more accurate and realistic.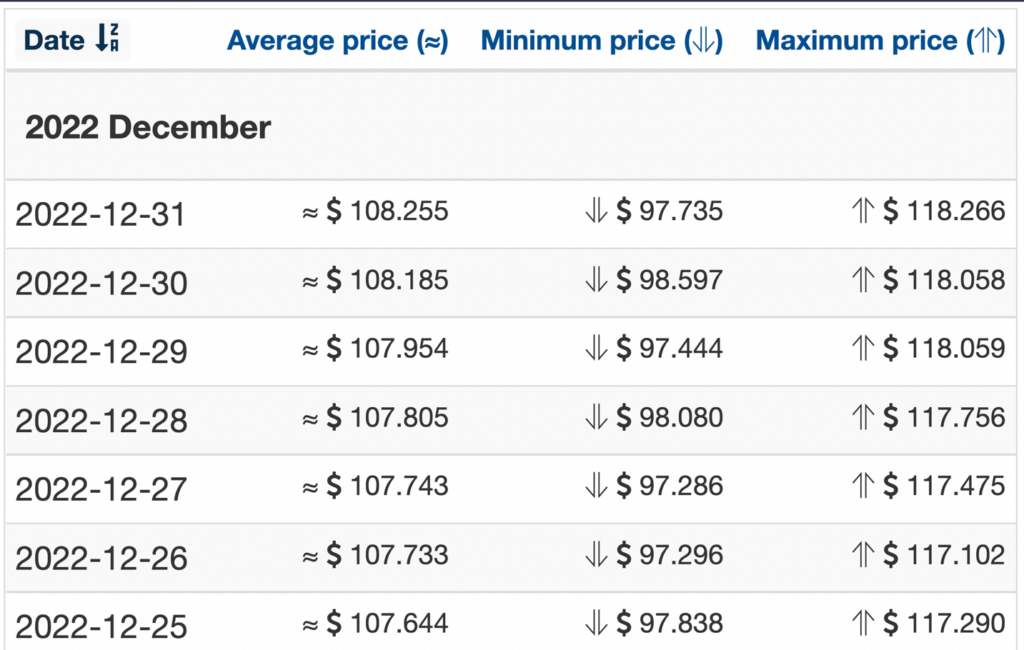 The site predicts LUNA should be valued anywhere from around $97 to $117 within a year.
What is Terra's price prediction for 2025?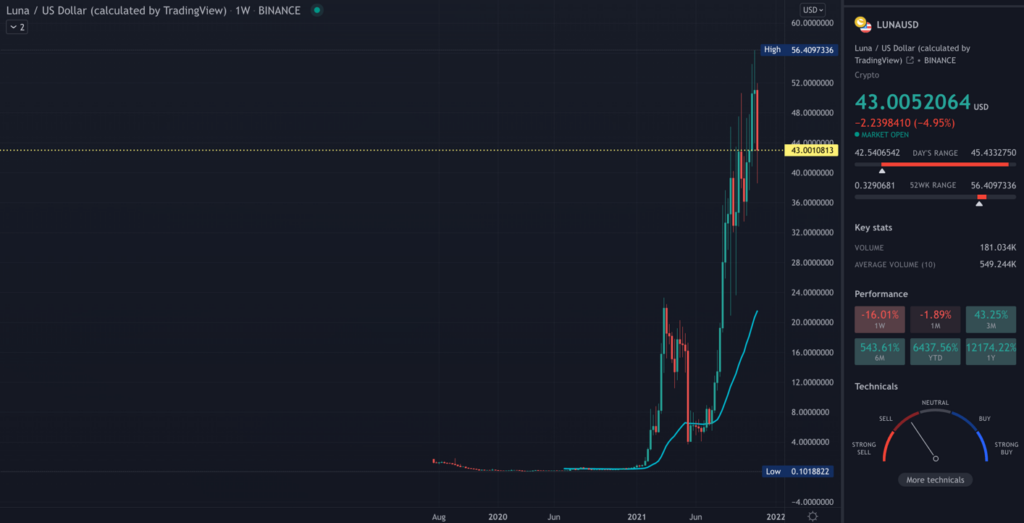 Let's observe the best and worst-case scenarios in long-term predictions for LUNA.
Best-case scenario
Based on the coin's tokenomics and dominant position in the markets, there's enough motivation for investors to hold LUNA for the long term. 2025 seems like a reasonable period to assess whether the investment in this coin was successful or not.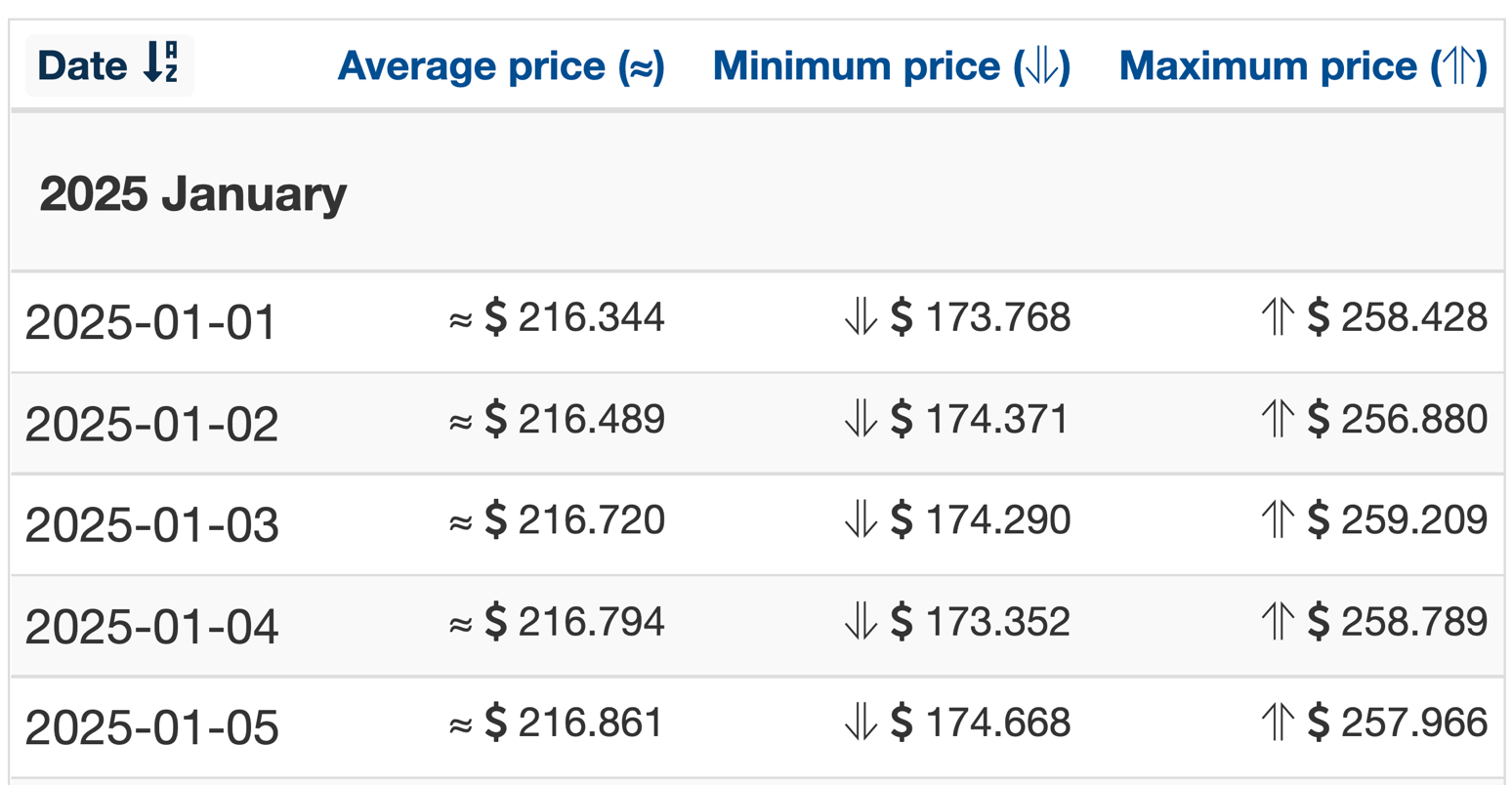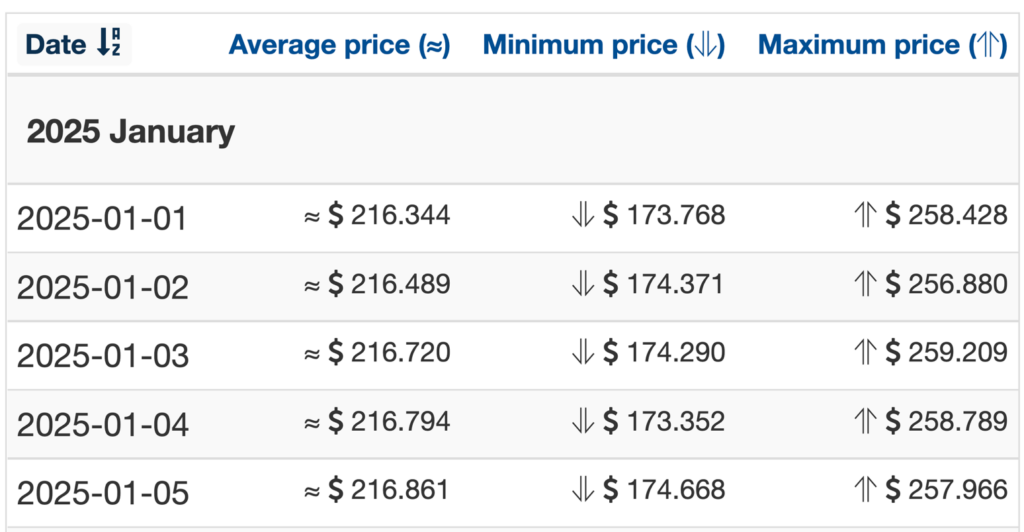 For 2025, Wallet Investor suggests an average and maximum price of $216 and $258, respectively. These figures would represent 5-6X gains over the next few years, which, again, aren't impossible for any digital currency. However, like any investment, you should consider the worst that could happen.
Worst-case scenario
Several factors can negatively impact the price, like dwindling demand, controversial news around development, or just an overall bear market within cryptocurrencies. The findings we've provided are only guidelines and not guarantees of the future. Therefore, as the cliché goes, never invest more than you can afford to lose.
The best way to buy LUNA
Like many cryptocurrencies, purchasing through reputable exchanges represents the best way of buying LUNA. Fortunately, there are several options to choose from here like Binance, Huobi, Gate.io, Gemini, Bithumb, etc.