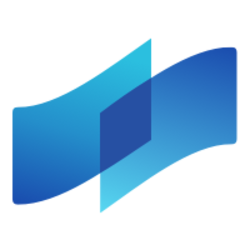 COTI (COTI)
Price
Disclaimer: The information provided here does not constitute any form of financial advice. Readers are fully responsible for conducting their due diligence before making any investment decisions.
What is Coti (COTI)?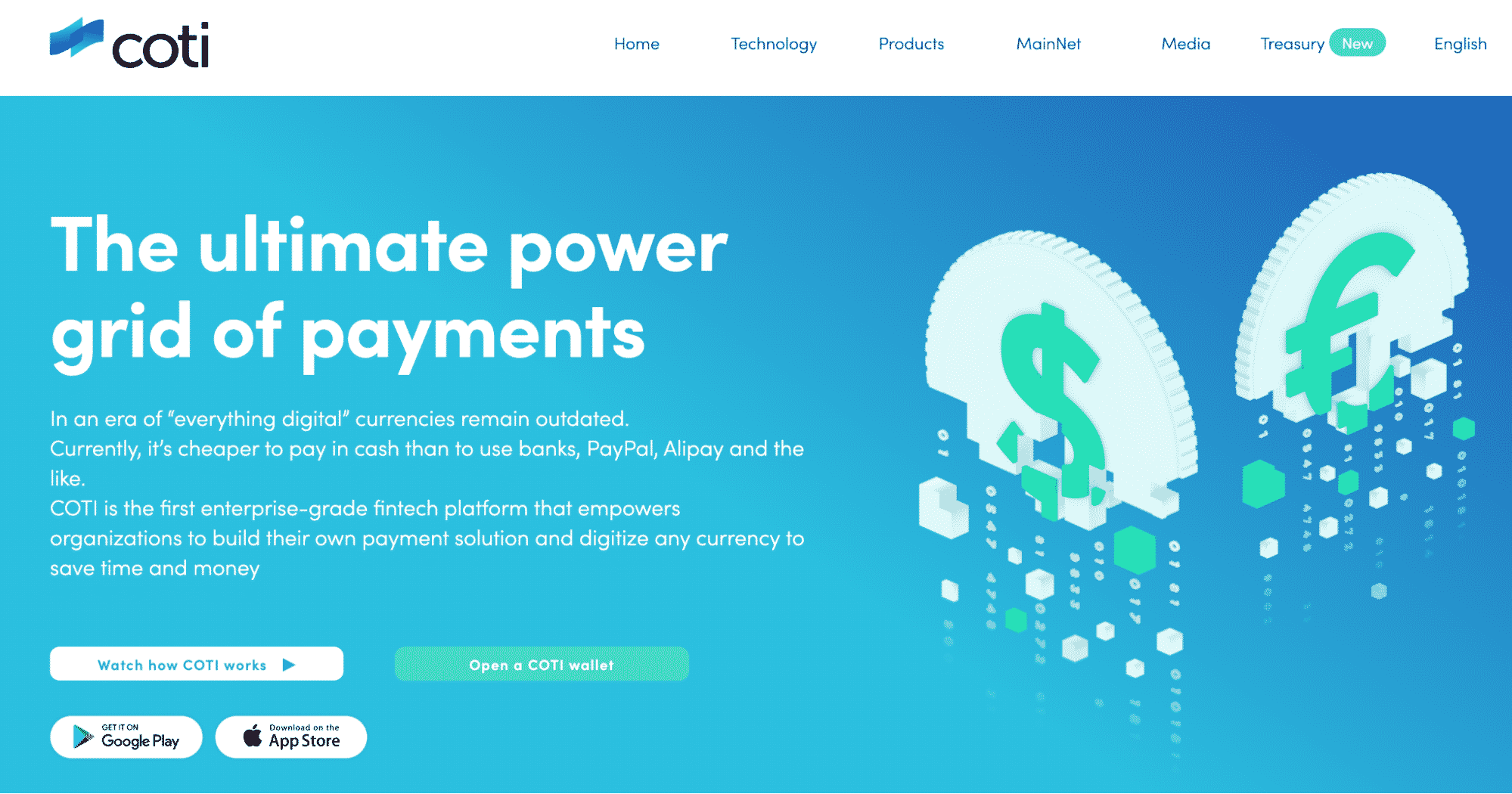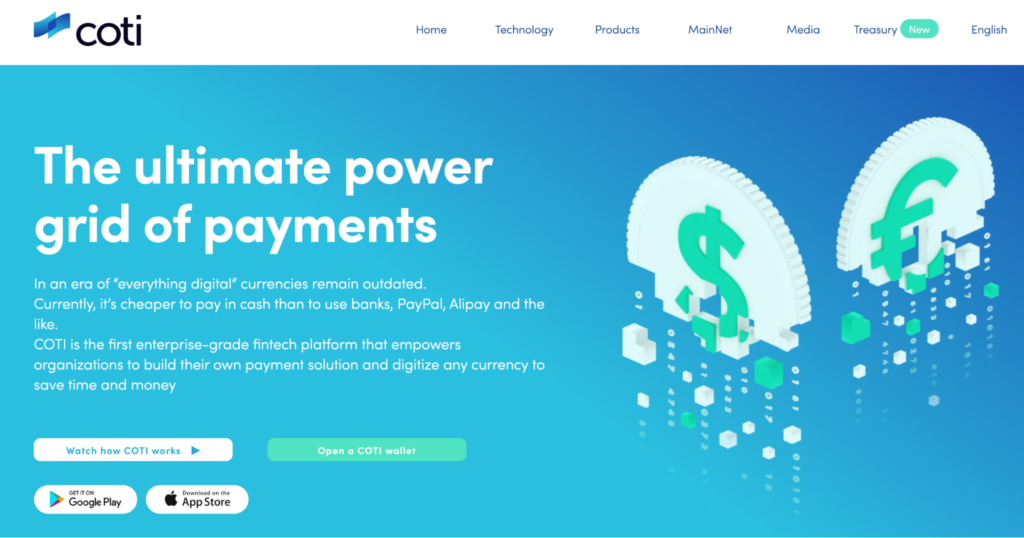 The Coin of the Internet, or Coti, describes itself as 'seamless digital payment solutions for today's enterprises.'
This blockchain-based platform allows companies to create financial technology products such as cryptocurrencies, stablecoins, credit cards, and loyalty tokens. COTI believes that many crypto-based remittance networks currently suffer from instability, complexity, and scalability issues, slowing down mass adoption.
The solution is for a robust payment system as smooth as traditional payments while being cheap, secure, and transparent as blockchain technology. COTI prides itself on executing seven key areas: scalability, simplicity, buyer-seller protections, cost-effectiveness, instantaneity, and security.
It maintains these performance indicators using its proprietary, machine learning-based multi-directed acyclic graph, The Trustchain, which COTI says can process over 100 000 transactions a second, several times more than conventional payment systems.
COTI is the platform's native utility token serving as the 'fuel' for many of its activities. Coti is a product of Coti Limited, a Gibraltar-based blockchain company founded by David Assaraf in May 2017.
According to the latest CoinMarketCap rankings, COTI is the 184th most traded cryptocurrency, with a price of $0.19. Let's explore if this project is investment-worthy and COTI price predictions for the near future.
Is COTI a good investment?
A simple metric investors observe with any coin is market capitalization. Generally, any project with a market cap of less than $1 billion is considered high-risk but has higher growth potential.
COTI's current market cap is around $203,009,459.12. Fortunately, it's one project that has plenty of room to grow, and there's one fundamental reason why. Coti is solving problems within online payments, an industry worth several billion in market size.
Companies have yet to make systems in this sector genuinely reliable, fast, and scalable; Coti believes it can improve tremendously in some of these areas.
Another attractive element of COTI worth noting is the finite supply. When valuing any cryptocurrency, fundamental analysts will always observe the token distribution. Only 2 billion of these tokens are set to exist, with about 1 048 141 495 COTI presently in circulation.
Deflationary coins, which are those with an intentionally scarce supply, tend to be held in higher regard due to the simple concept of 'low supply and high demand'; the less of something there is, the more valuable it generally becomes.
Should I buy COTI today: Crypto technical analysis for COTI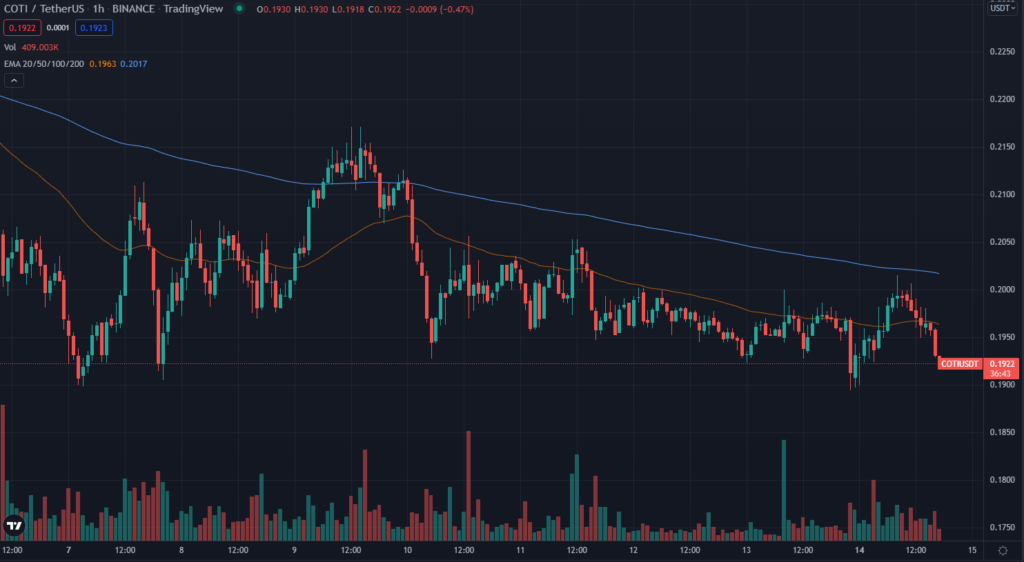 We have input the 50-day (orange) and 200-day (blue) moving averages on the chart. The crypto market is in a bear market mode, a buying opportunity for COTI on the 1-hour chart has not presented itself, but the time is already ripe for the long-term investors to open positions in the coin.
The price is below both moving averages, and the 50-200 cross has not yet happened. However, COTI price predictions for the next year and longer are relatively positive.
Will COTI coin price hit $1 in a year?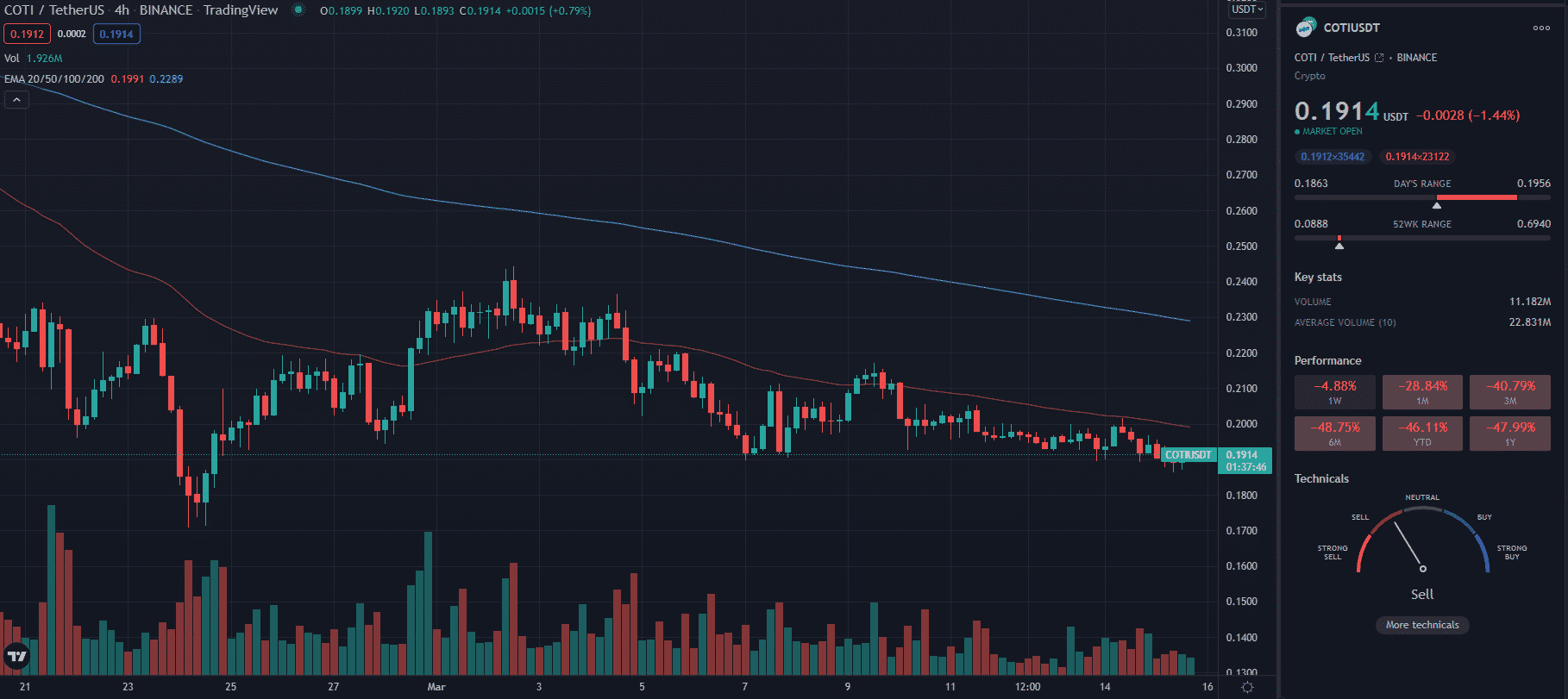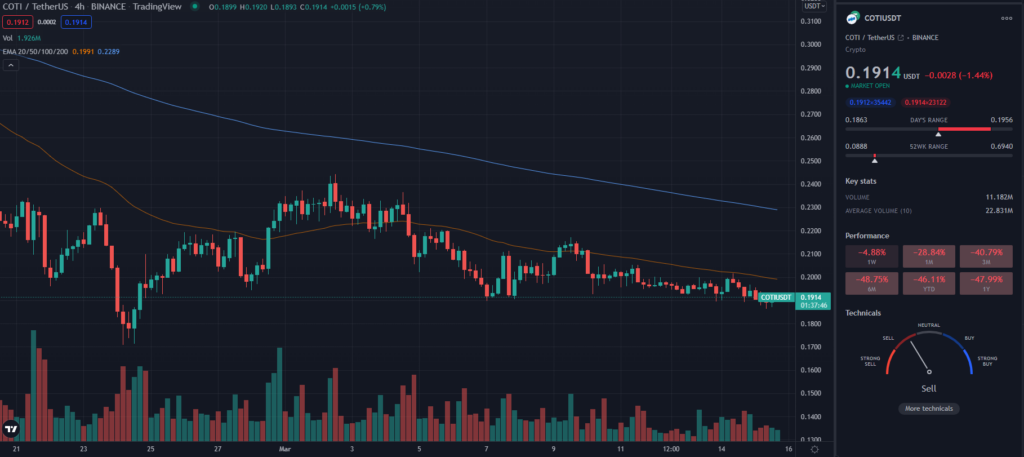 $1 is the next anticipated target for COTI, having peaked at an all-time high of 68 cents in October 2021. The forecasting sites we perused suggest a ballpark figure of around $0.70.
For instance, $0.70 and $0.74 are the average predictions from PricePrediction.net and Wallet Investor, respectively. One of the more optimistic forecasting sites, Gov Capital, sees COTI being worth somewhere from $0.75 to $1.02.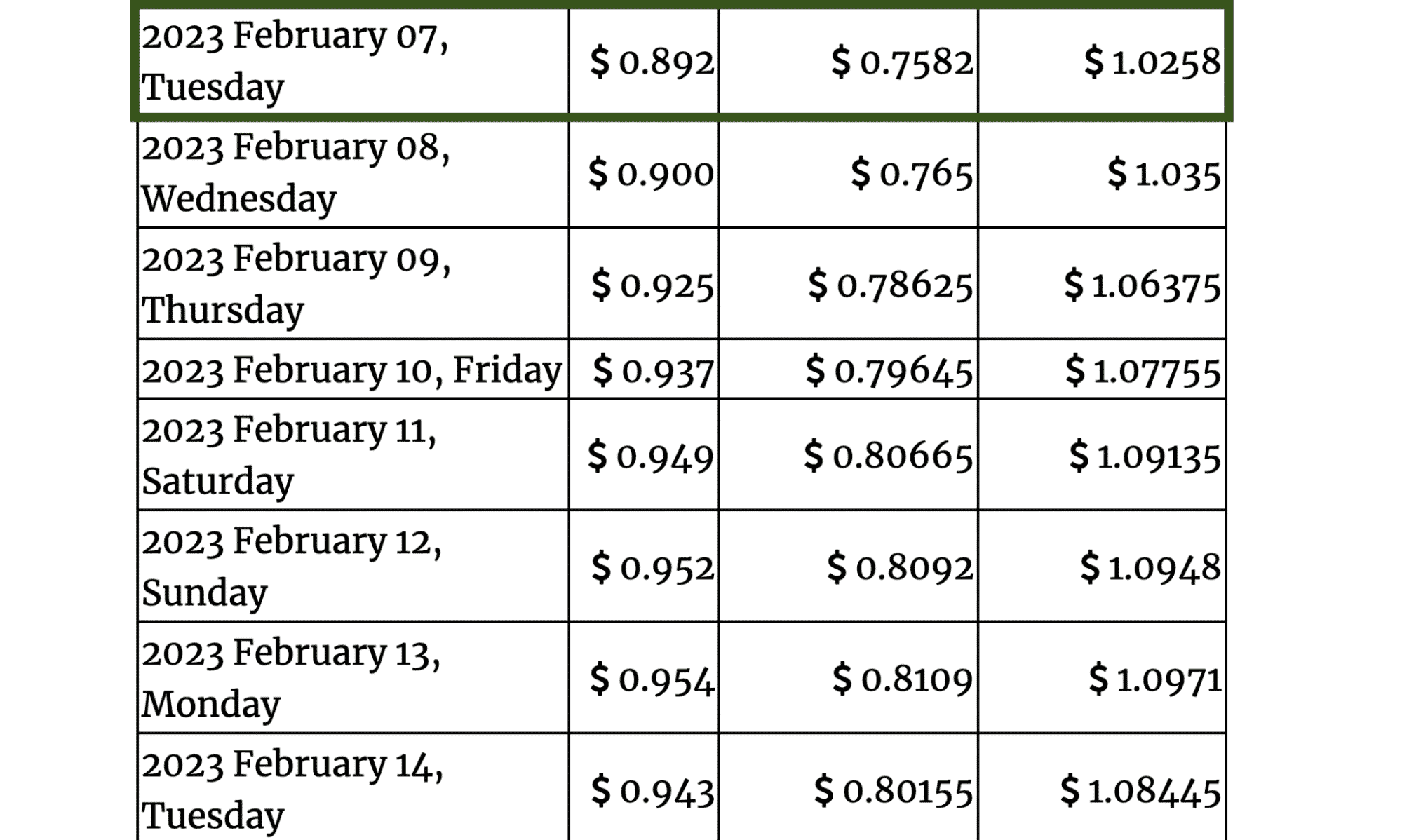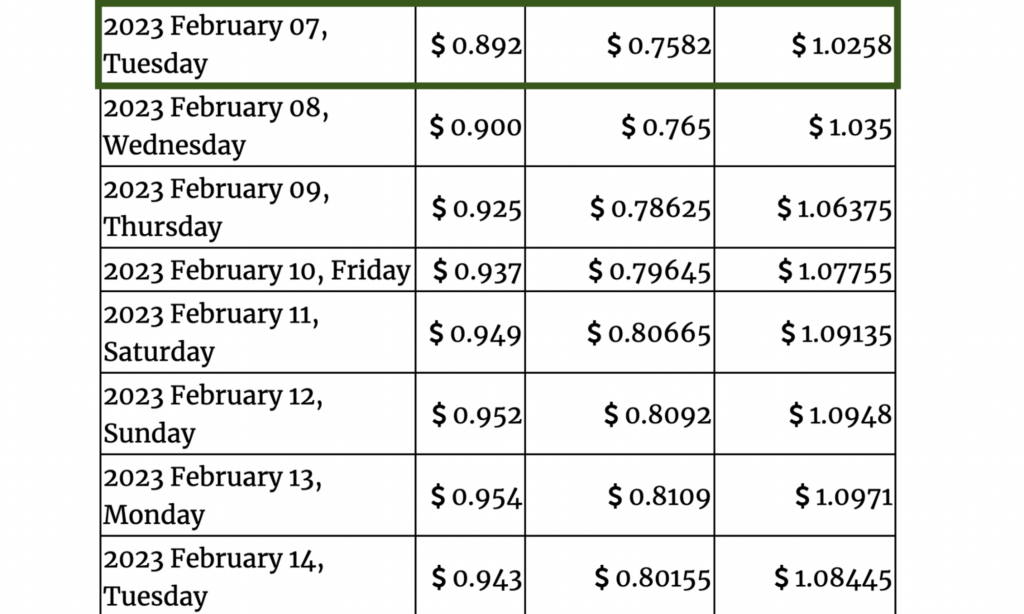 It would take a 233% price increase for COTI to reach one dollar, a yield that is quite the norm in this market. However, it's safe to assume there's a 50/50 chance of such an event happening.
What is COTI's price prediction for 2025?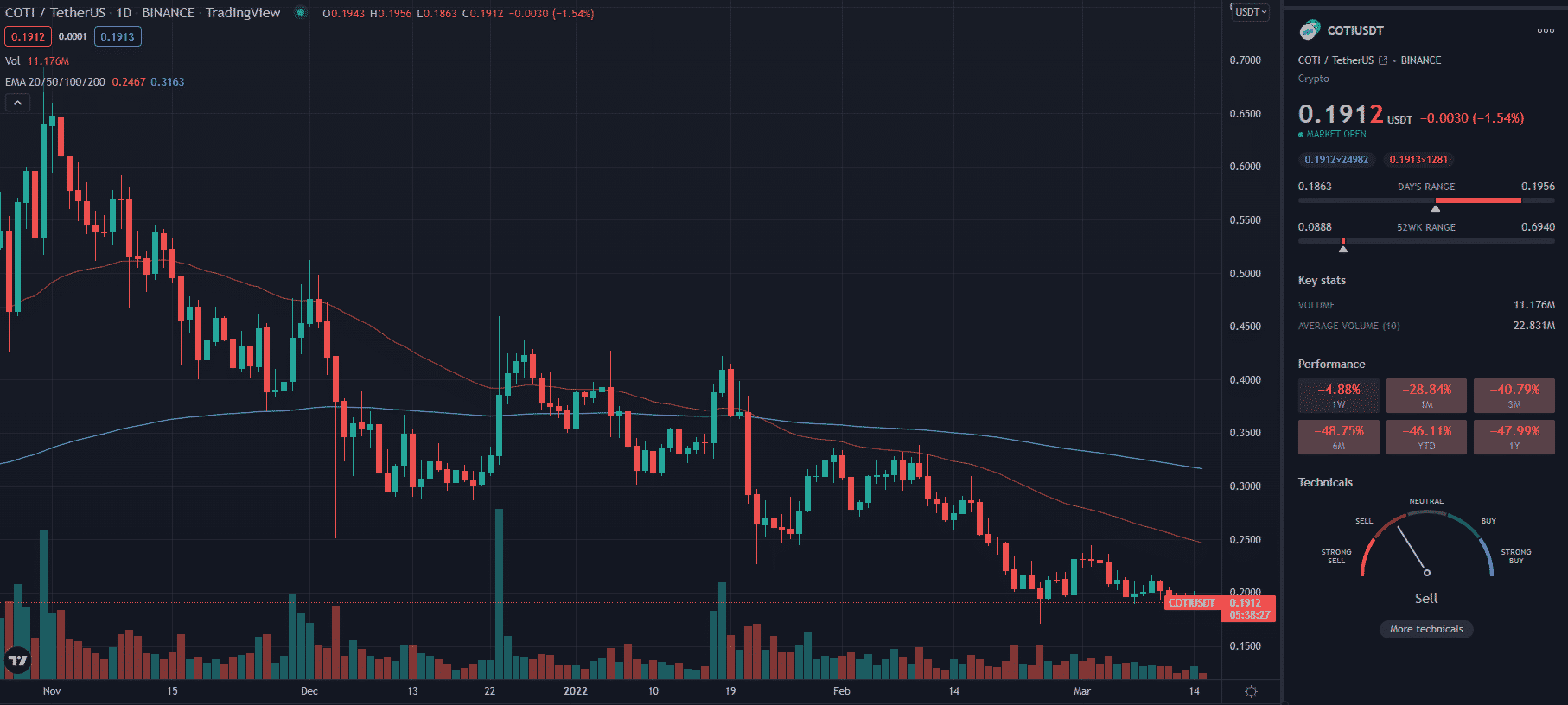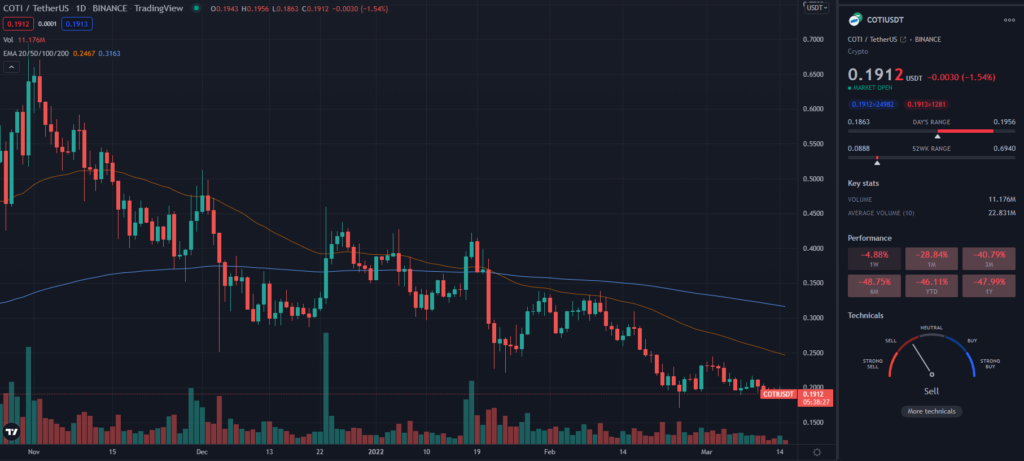 With additional partnerships and more enterprise/consumer services in the pipeline, the future looks bright for COTI. Yet, as with any altcoin, there are always risks involved.
Best-case scenario
If COTI continues being fundamentally sound and experiences increased adoption, very little could stop its price from being higher by 2025. Based on forecasting analysis, this could be the year the value goes well over $1.
PricePrediction.net and Wallet Investor estimate the token to be worth around $1.45. Gov Capital is, again, the most bullish of the three sites, with minimum and maximum prices of $1.98 and $2.68, respectively.
This would represent close to a 10X return, which isn't an absurd possibility within three years.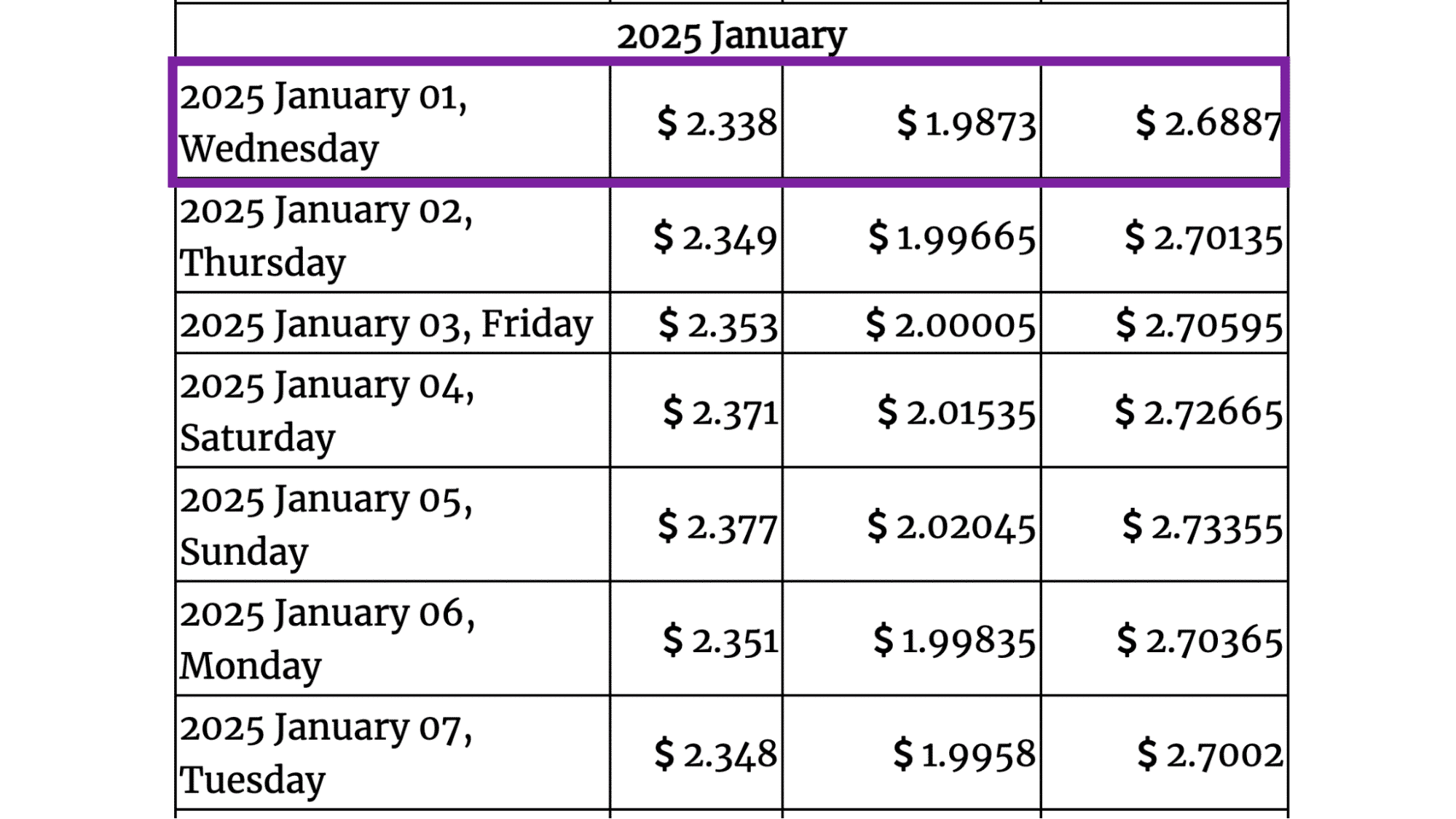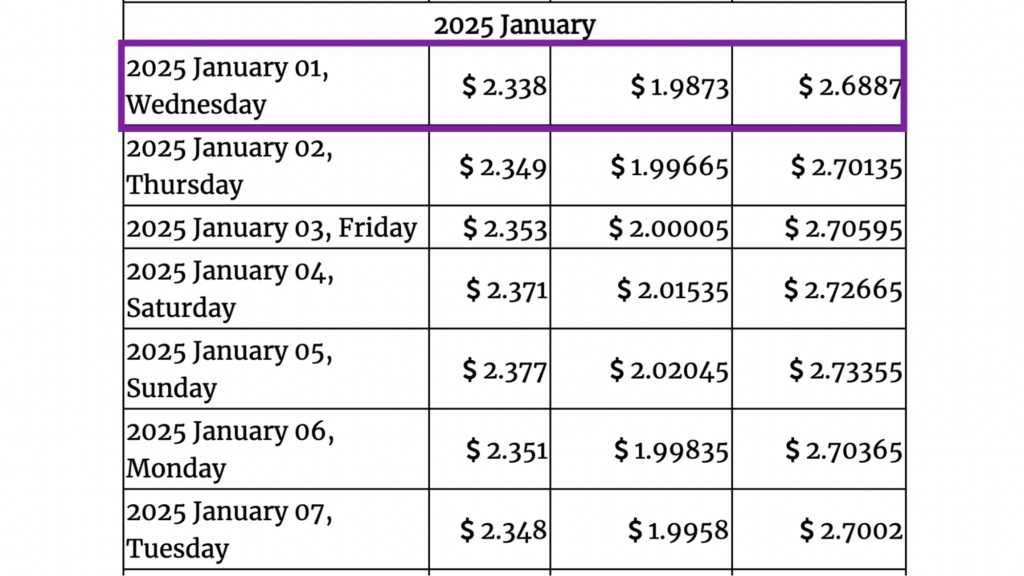 Worst-case scenario
Ultimately, COTI is a small-cap altcoin, and these coins can be highly volatile even when nothing has fundamentally changed with the project itself.
Competition is another threat to the value of any cryptocurrency as projects are continually adding more innovative use cases. Therefore, these are a few factors that might stall COTI's price performance.
The best way to buy COTI
As with most coins, you need to open an account with exchanges like Coinbase, Binance, Huobi, KuCoin to buy COTI.