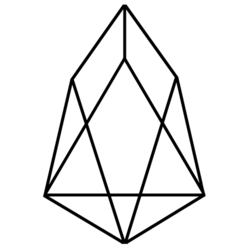 EOS (EOS)
Price
What is EOS?


On the 31st of May 2018, CNBC published an article titled 'a blockchain start-up just raised $4 billion, without a live product.' The project in question is the proof-of-stake and smart contract blockchain known as EOS (pronounced E-OS), which had one of the largest crowdfunded projects in history.
EOS is one of Ethereum's biggest competitors as it also allows for the creation of dApps (decentralized applications) and smart contracts, except for being highly scalable and fee-eliminating.
Block.one, a privately-held blockchain software company, founded the project in 2017. After its wildly successful initial coin offering that stretched for almost a year, EOS went for public trade in June 2018. EOS was once ranked 16th for most traded coins in January 2021.
Nonetheless, it now sits in the 39th spot with a per-token value of $3.85, according to CoinMarketCap.
Is EOS a good investment?
If one had bought EOS this time last year, their investment would have gone up 54%, which is modest for an established cryptocurrency. EOS has certainly proven its credentials in this regard and is likely to exist for a long time.
Let's consider how technically sound EOS is as well. EOS was designed for application capabilities without compromising scalability and expending large amounts of power.
It primarily achieves this quality by being a proof-of-stake blockchain instead of Ethereum's present proof-of-work model, proven to be far less performant, costly in transaction fees, and just more expensive to maintain from a mining perspective.
Lastly, EOS is set to have a lifetime supply of roughly 1.04 billion coins, of which about 959 million or 96% is presently in circulation. This scarcity factor has proven, in many cases, to increase a cryptocurrency's value over time. So, overall, plenty of motivations suggest EOS may be a good investment.
Should I buy EOS today: Crypto technical analysis for EOS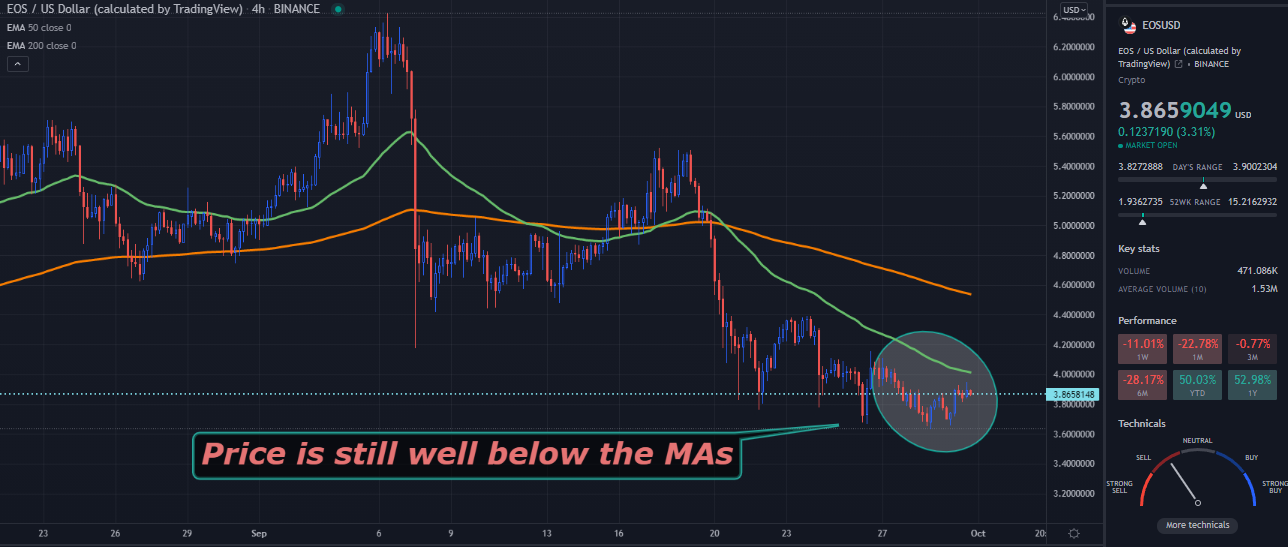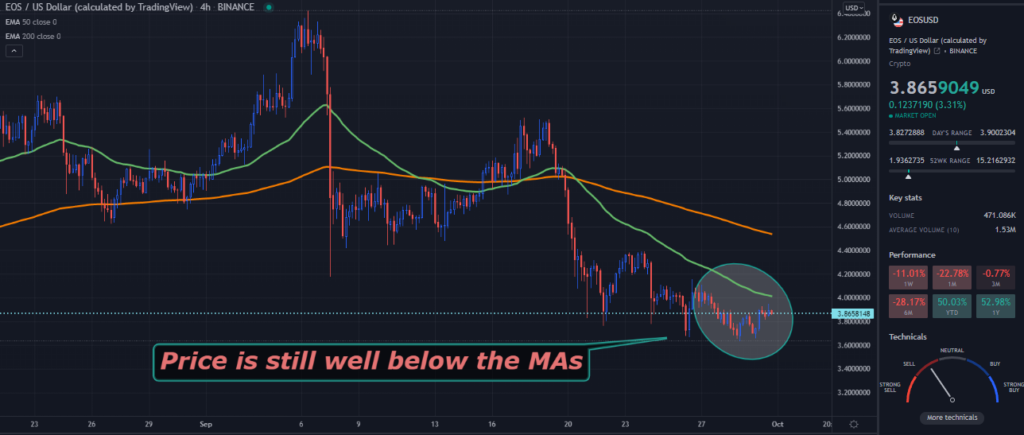 If we observe the bottom right corner of the chart above, the needle on TradingView's technicals point towards the sell-side. Additionally, we can confirm this bias using a straightforward moving average crossover method with the 50 and 200-day periods.
The aim is for the 50 to cross above the 200 and for the price to hover above both moving averages. If we carefully study the chart, while the 50 (in orange) is clearly over the 200 (in green), the price is well below it, further confirming why it may not be preferable to buy EOS today.
Will EOS coin price hit 10 USD in a year?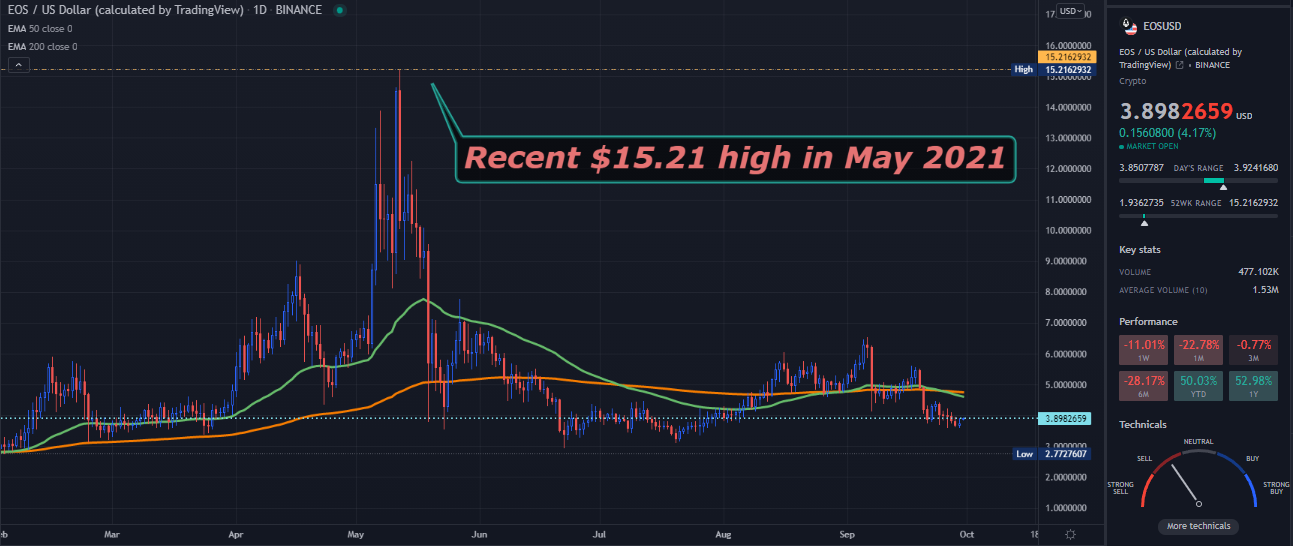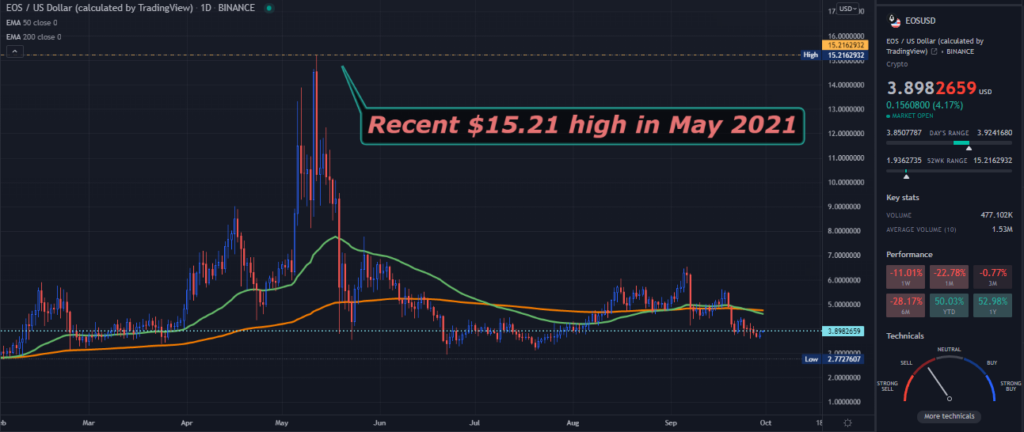 Despite being well-known crypto, EOS has been trending down for several years. Even on the chart above, the price is still below the moving averages; sleeping giant, perhaps?
It's worth noting it reached its all-time high of $23.24 in April 2018, with its most recent high of $15.21 in May 2021. So, EOS has peaked at $10 before, but can it reach this point within a year?
Using a rough hypothetical scenario, if we assumed the price moved about 54% higher as it did exactly the year prior, EOS would be worth roughly $5.8 or perhaps somewhere in the $6 range.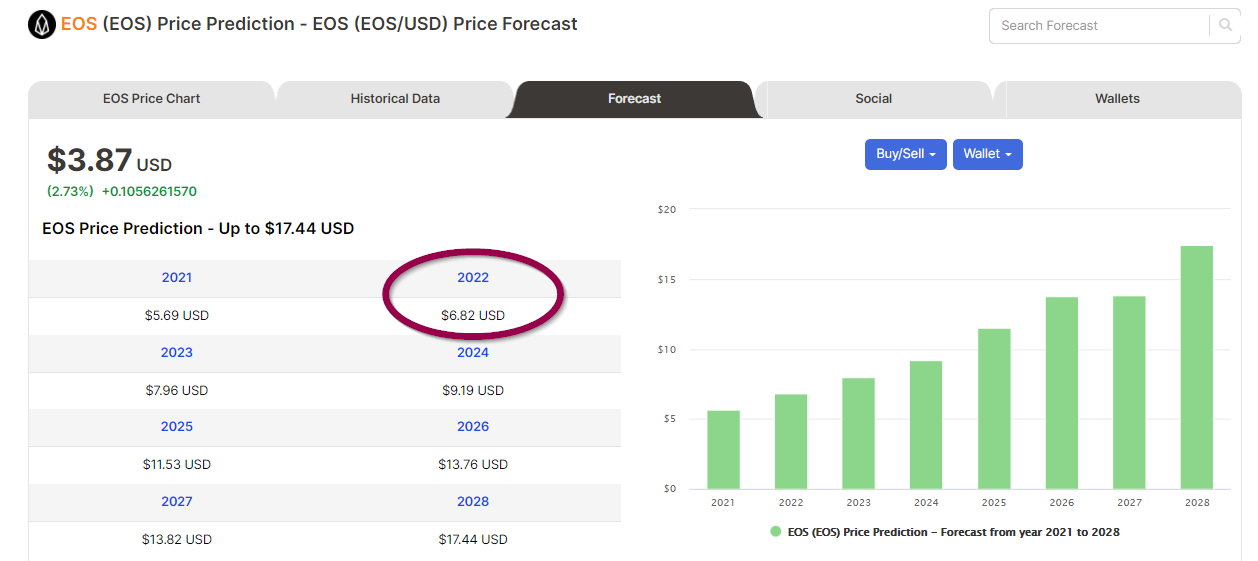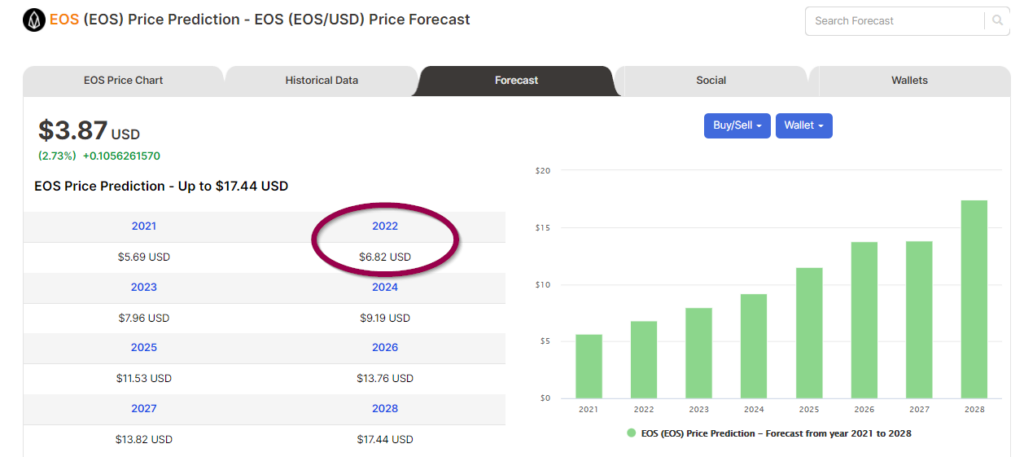 Digitalcoin, a reliable forecasting site using a more complex and mathematical approach, estimates the price may be $6.82. So, no, EOS' price is unlikely to be $10 in a year, probably realistically in the $5 to $7. However, these are only predictions and may just surprise investors positively or negatively.
What is EOS's coin price prediction for 2025?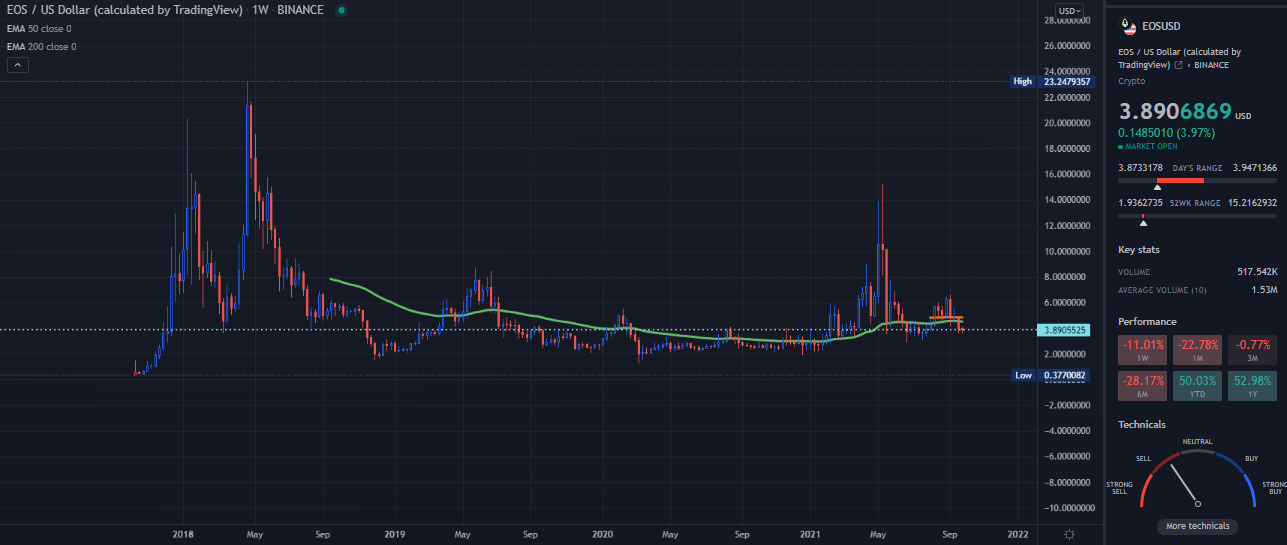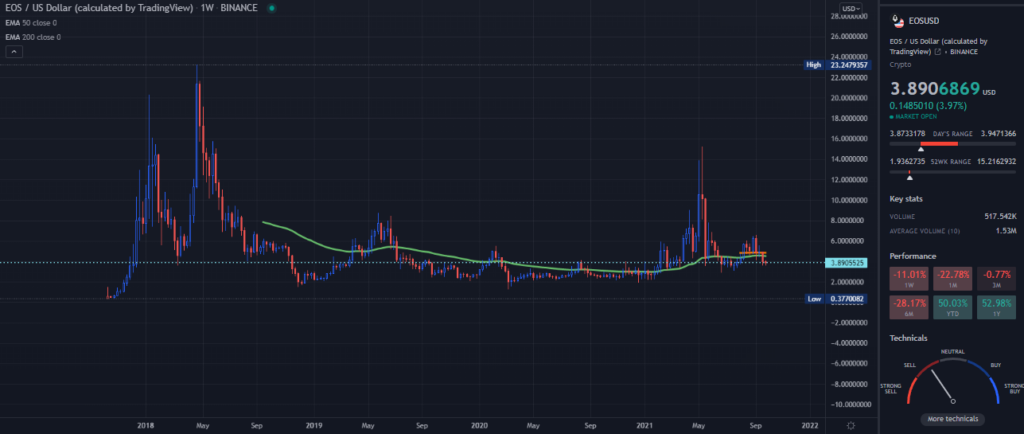 The weekly chart echoes the same bearish sentiment, but where to from here by 2025? Digitalcoin approximates an $11.53 valuation for EOS by 2025.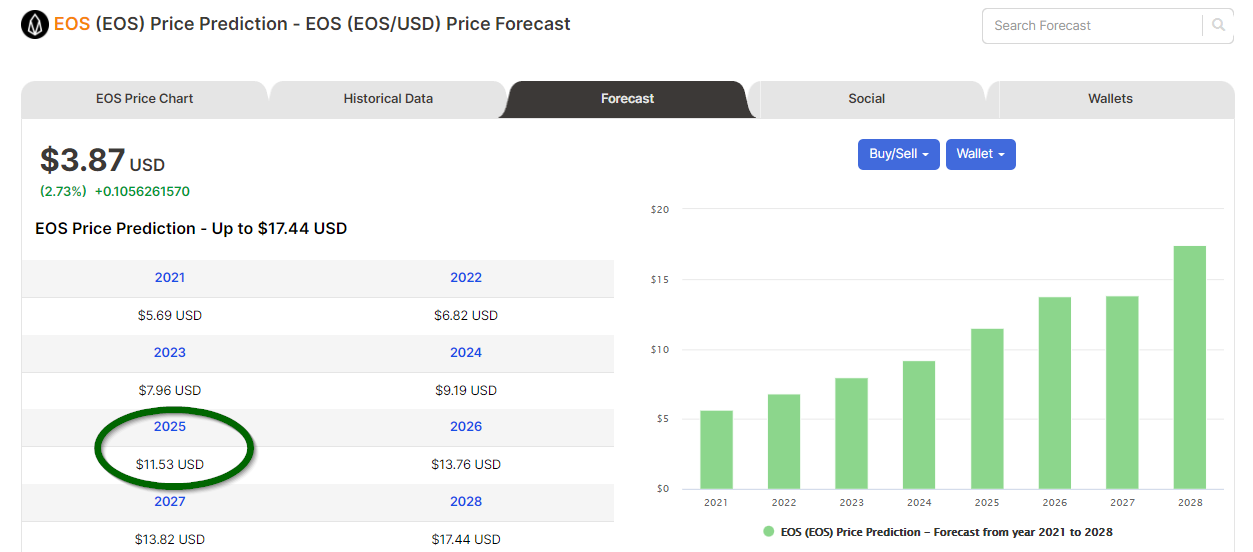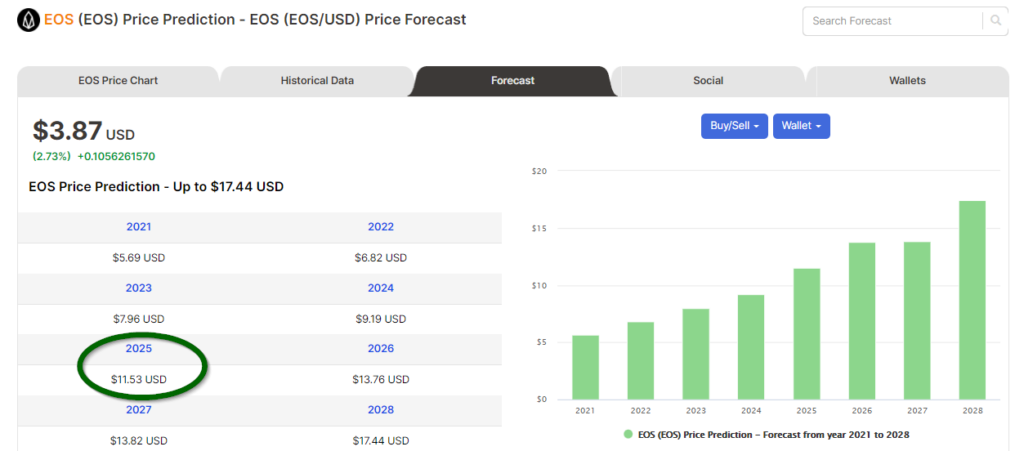 Other resources have predicted for EOS to reach even $100 by 2025. However, Digitalcoin's estimate is conservative considering the relatively languid pace the crypto has been moving. A much higher valuation is undoubtedly feasible given EOS' unique proposition.
Like any investment, you need to consider all the possibilities and appreciate the risks involved.
The best way to buy EOS
The best way of buying any cryptocurrency is through an exchange. In the case of EOS, you can purchase it from many places like Binance, Huobi, Bithumb, Gate.io, Coinbase, KuCoin, and many more.
Once you've gotten hold of some EOS, you first have the option of trading it as a derivative on the exchanges mentioned. Alternatively, you can store on the many wallets available. Experts recommend holding EOS on a software wallet if you trade it frequently. For long-term storage, a hardware wallet from companies like Trust, Ledger, and Trezor is best.