Is the Bithumb Exchange really the 'Global Digital Asset Trading Platform?' Bithumb gradually moved from being a Korea-based entity into a recognized global player with daily trading volume consistently in the top 10 with other exchanges.
Everyone knows about Binance, Coinbase, and Kraken, but closely behind their tail is Bithumb. So, where is the Bithumb exchange? The company's headquarters are in Seoul, Korea, which is where they started. Bithumb began as a modest Korea-based exchange in 2014 and eventually grew into a prominent global player against many of its American competitors.
At the time of writing, Bithumb is the sixth-largest crypto exchange by trading volume, processing as much as roughly $4 billion in 24 hours already in February 2020 (according to CoinMarketCap). This review will conclusively answer whether Bithumb is the 'global digital asset trading platform.'
Fees
As with most exchanges, Bithumb employs the maker-taker fee structure that refers to a customer's orders either 'making' liquidity or 'taking' liquidity away from an order book. Regardless of the cryptocurrency and your trading volume, the maker and taker fees are each a flat 0.10%, a reasonable figure compared to the competitors.
Minimum withdrawal amounts and fees vary widely according to the chosen digital currency (a complete list is available on their website). Regarding funding options, these will vary according to different coins but will typically include a few of the following: Mastercard, VISA, bank transfer, Apple Pay, and SEPA.
Bithumb uses third-party payment processors when buying the actual digital currency, and fees differ widely. It generally may not be the wisest option to buy using this method; it is cheaper to fund directly with a supported cryptocurrency.
Fiat trading
For fiat-to-crypto trading, customers can only trade USDT (Tether stablecoin), TRY (Turkish lira), and RUB (Russian ruble) against the collection of cryptocurrencies on 'spot' or margin (this may depend on the region one resides in).
As expected, Bithumb promotes more crypto-to-crypto trading than fiat-to-crypto trading, the former of which is significantly cheaper in fees for depositing and withdrawals.
Cryptocurrency trading
Users have the luxury of just over 250 different cryptocurrency markets, from the more commonly speculated current bitcoin price to more obscure coins like Qtum, ABBC Coin, and Crypto.com. Regarding pairs, BTC, ETH, and USDT are the quote currency against other altcoins (e.g., BTC/DASH, ETH/DASH, USDT/DASH).
If you're interested in just purchasing a coin without any form of trading or margin, Bithumb provides this option by offering the ability to buy the following: Bitcoin, Ethereum, Ripple, Litecoin, EOS, Tether, Cardano, Bitcoin SV, Dash, Terra, Paxos Standard, Saga, Tron, TrueUSD, Stellar, and Zcash.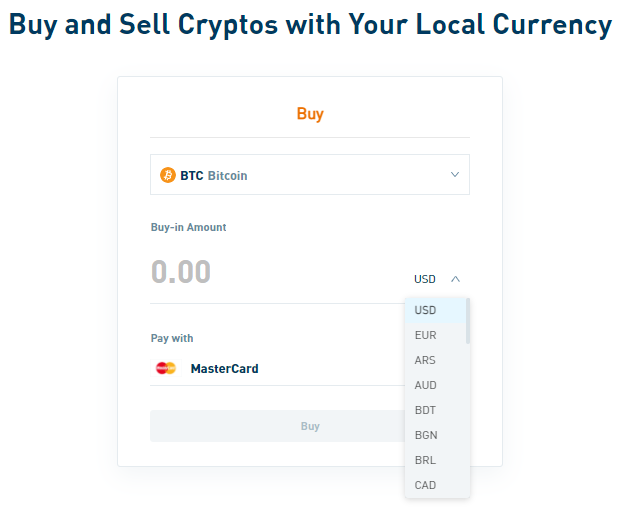 When making payments for these digital assets, one can buy in just over 30 currency denominations. Fortunately, they provide their in-built wallet for storing these coins. One may have to purchase a coin through a 'Spot' market (usually a pairing against USDT) on their platform if it's not available in the usual digital version. They do provide margin trading for all their crypto (covered later).
Margin trading
Bithumb offers 1:5 leverage or margin, which seems to be the industry standard. Leverage is a commonly utilized financial market tool allowing traders to open positions proportionally bigger than their deposited balance.
As an example, on 1:2 leverage, one only needs half the value of the order in their account to trade it. Margin is a quick magnifier of both profits and losses. Hence, one should always understand the risks involved.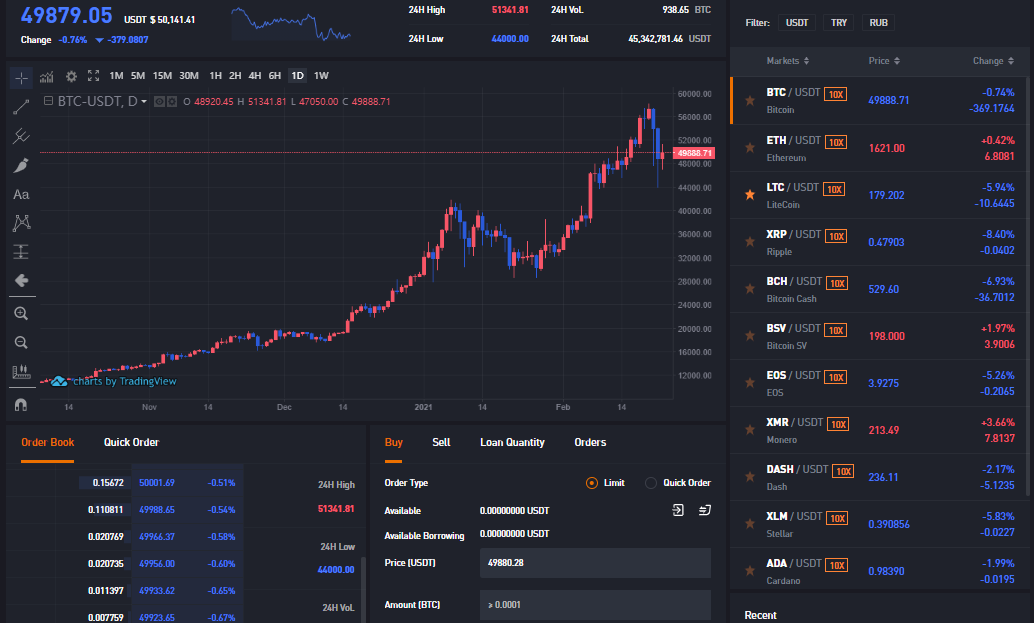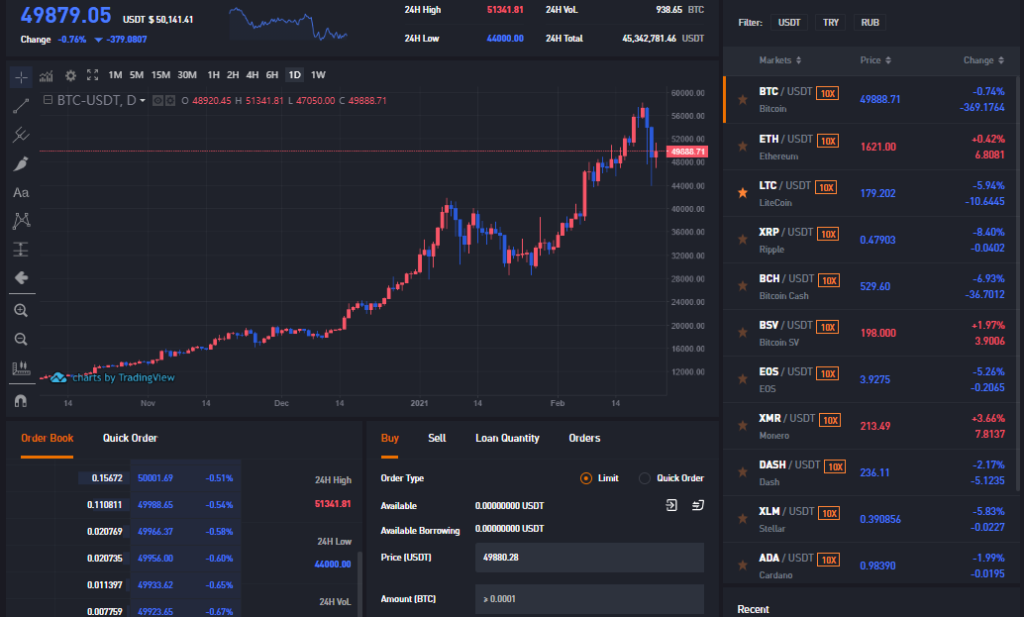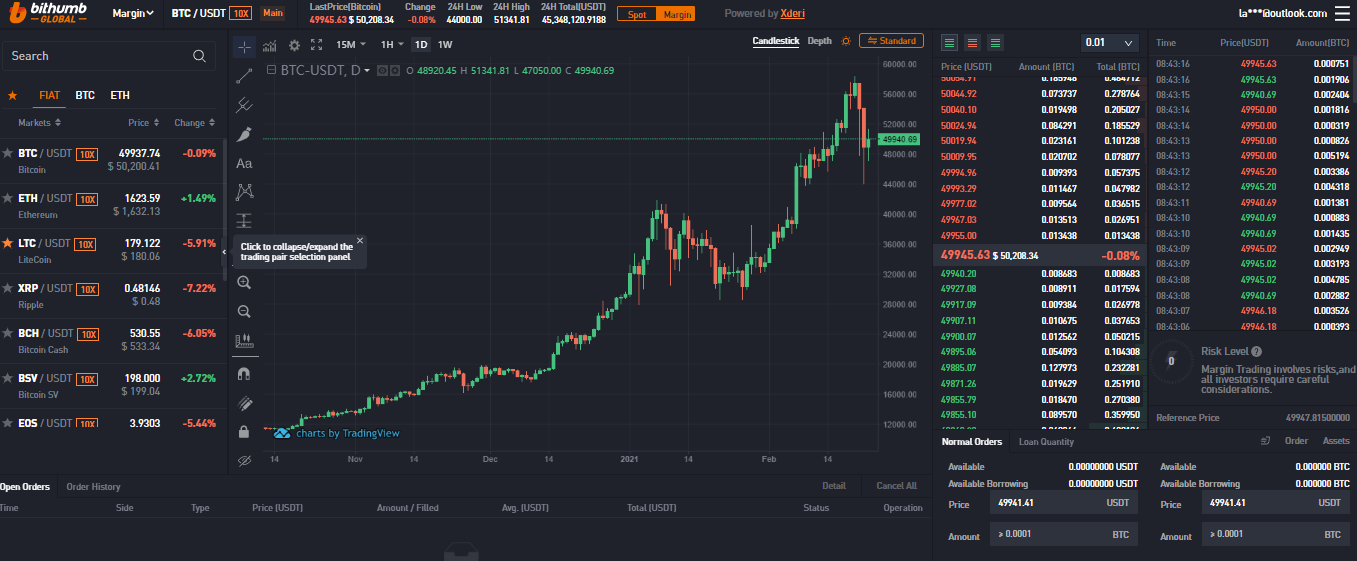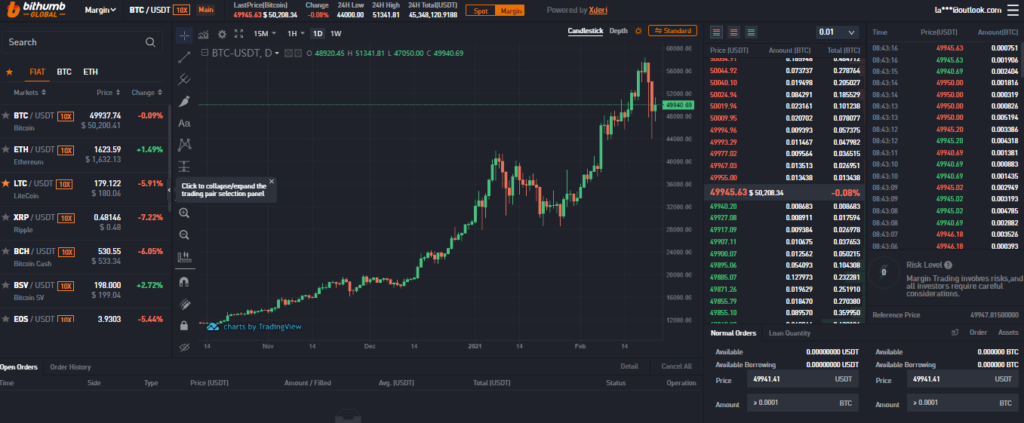 Bithumb offers a simple and advanced trading platform (both through TradingView), with the latter providing slightly more features than the former.
Special features
Aside from the trading aspects, Bithumb also offers other bespoke services on their platform. The few below are just some of what they have.
Smart tokens: Users can purchase what Bithumb refers to as smart tokens directly on their platform. Launched in 2020, a smart token is a financial instrument with a yield rate based on an underlying asset, tracking its opposite value. For example, when BTC goes up 1%, BTCS goes down 1% (and vice versa).
Bitcoin, Ethereum, Ripple, Litecoin, Bitcoin Cash, Bitcoin SV, and Compound have smart tokens (labeled with an S after the symbol, e.g., ETHS). While understanding these tokens requires knowledge and experience, if used correctly, smart tokens act as a hedge against the price of the underlying asset. Furthermore, they come with a 0.1% transaction fee and 0.05% management fee.
Mining: Bithumb offers their users access to their 'Mining Coin Selection Program.' Although this probably changes now and again, they currently provide mining for Verus and Qitmeer.
Staking: Customers can stake a variety of obscure altcoins offering attractive yearly returns.
Pros and cons of Bithumb exchange
Below is an overview of what potential users may like or dislike about Bithumb.
Pros
Bithumb has an extensive range of altcoins.
As a highly-ranked exchange in terms of trading volume, enormous liquidity results in fewer chances for slippage, consistent spreads, and lightning-quick order execution. This aspect is an essential consideration for any exchange.
The company began operating in 2014.
TradingView is the main platform for trading on this exchange.
Bithumb offers a wallet for cryptocurrencies (although it is more secure to choose a 'cold' or hardware wallet from other providers).
Multi-language website viewing.
Bithumb offers reasonable leverage.
The exchange offers other special tools like mining and staking certain coins.
Cons
Very limited 'spot' and margin trading for fiat-to-crypto pairs (only TRY and RUB are paired with a few cryptocurrencies). It would have been better if they at least had the USD, EUR, or GBP markets (though it is also understandable as they are in the Asian region).
Fees can be high when purchasing cryptocurrencies directly from Bithumb with a fiat currency exchange. It is better to deposit using another coin and do a swap with the one you want.
Conclusion
The Bithumb exchange ticks many boxes, making it a viable option for all levels of traders; high liquidity, many years in the industry, an extensive array of cryptocurrencies, a well-known trading platform, etc.
We can observe that the exchange promotes more crypto-to-crypto transactions in trading and simply owning the coins in a wallet. However, it is significantly cheaper this way. The disadvantage, though, is there are no options for trading popular forex currencies like the US dollar or the euro.
Other than this drawback, whether you're looking to speculate on the current bitcoin price or obscure cryptocurrency prices, Bithumb is highly recommended.