Summary
Recent gains by bitcoin have provided the impetus for ETH prices to rise.
The launch of ETH Futures at CME has provided a strong support system.
Declining average trade volumes should be a cause for concern.
As investors hold their breath for a potential $3,000 ETH price, the cryptocurrency's recent rally signals that there's a real chance it will break through this ceiling. Ethereum breached the $2,000 mark on Saturday, setting yet another new all-time high. Having started the year at around $775, it was up 162% at $2,033 and looks set to be headed towards the $2,050 mark.
The recent listing of ETH futures on the CME is likely to be the strongest driving force in the short term. With the launch at the CME, Ethereum will now have a real-time index as well as a reference rate. This is yet another big leap for cryptocurrencies towards the "mainstream" market and will do much towards winning over skeptics.
Already, the ETH/USD futures launch is paying off. The volume traded on Friday was in excess of $76 million, as reported by Glassnode.
Cautious optimism
However, even much optimism requires caution. According to data by Cyptoquant, there has been a 10% decline in exchange-held coins in the past three months. This could be an indication that investors are either opting to keep coins in their wallets or opting for decentralized finance protocols – in which case there could be a sell-side liquidity shortage.
A cautious approach should remind investors that an overleveraged market is always almost certain to result in extreme volatility. ETH's 10-day moving average has taken a dip and may be signaling that recent gains may not be sustainable. On the flip side, an increase in prices with a corresponding increase in trade volume is always more reliable.
The current price rally could keep going for as long as large volumes of ETH are held outside exchanges. Therefore, any perceived "dumping" of the virtual currency in exchange platforms could send prices spiraling downwards.
The Bitcoin effect
Historically, there has been a correlation between ETH prices and Bitcoin's price trajectory. The trend has always been an inverse movement in the prices of altcoins whenever the Bitcoin price rises. However, the current trend by altcoins such as Dogecoin and Ripple points to changing times.
The recent upward trend by BTC has provided significant momentum for the historic highs reached by ETH. The ETH price seems to have benefitted from the recent institutional moves toward investment in Bitcoin, most notably by Tesla, MicroStrategy, and Mastercard. This seems to have created renewed confidence in cryptocurrencies.
BCB group seems to have taken a great interest in the new paradigm in institutional approach to cryptocurrencies. The firm has since launched a treasury service designed to help companies buy cryptocurrencies from their balance sheets.
The prospect of increased institutional investment in cryptocurrencies is currently providing the impetus for investors to hold long positions on Ethereum. This could be the most important driving force in the long term.
Technical analysis
Support will likely be between $1,812 and $1,920, while any movements above the $2,000 sets-up are attempts at a new all-time high. The first major resistance level will likely be at $2,045, while the second major resistance level will be at $2,096.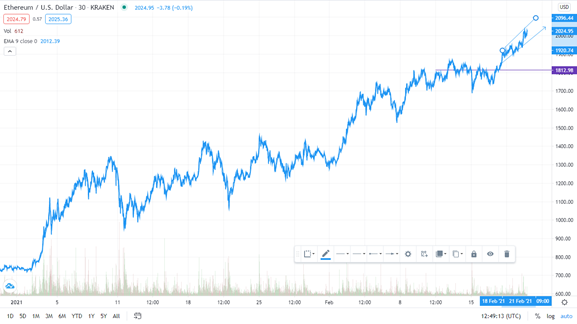 The current momentum will likely keep prices on an upward trend for as long as volumes remain low in exchange platforms. Furthermore, prices will likely remain above $1,800 in the short term. However, any signal of an impending major sell-off from investors keen on consolidating their gains could send prices below $1,800.
ETH price will almost certainly be correcting gains, but it is likely to remain strong above, oscillating between $1,880 and $1,920.
A breakthrough in the resistance could position the cryptocurrency towards an upward trajectory. This will likely see the establishment of a new support level at $2,050.