Summary
Institutional investment to provide momentum in the long term.
Skeptics will progressively change their hard stance against Bitcoin, paving way for increased demand.
Bitcoin broke the $50,000 barrier on Thursday, and went on to hit the $55,000 mark less than 48 hours later. The world's largest cryptocurrency has recently gotten a major boost following news that large firms like Tesla, Mastercard and MicroStrategy were either actively purchasing it or considering investing in it.
With this new unfolding, a major "corporation barrier" to cryptocurrencies seems to have been broken, setting the stage for a possible astronomical price rally.
Breaking the institutional barrier and its impact
Acceptability of Bitcoin by the mainstream corporate world has always been a major obstacle for the virtual currency. However, Tesla's conversion of corporate cash to Bitcoin has built confidence that Bitcoin is going mainstream. This could just be the start of new historical highs for Bitcoin prices.
Going by the current momentum, major companies may soon join Tesla in adding Bitcoin to their balance sheets. Last week, Uber announced that it was considering whether to accept BTC as payment.
Pioneer institutional investors are already reaping the benefits. This will likely create a ripple effect in the market as more institutions jostle to get a share of the Bitcoin cake. For example, MicroStrategy's share price has climbed 700% since August 2020 when it first bought Bitcoin. This kind of sway may prove too strong for most companies to resist.
But could all this optimism be creating a large bubble that will ultimately burst? Throughout its lifetime, Bitcoin has experienced extreme volatility, with very high peaks and low troughs, at times within a matter of weeks. This has made it less attractive than fiat currency.
After having hit that memorable $20,000 milestone in December 2017, the coin slid and traded sideways for more than 2 years. However, in just 12 months, Bitcoin rose by 224% from $7,200 at the beginning of 2020 to just under $ 24,000 in December 2020.
Long-term sustainability and short-term gains
Some economists have argued that Bitcoin has no intrinsic value and it's only a matter of time before it blows up in the faces of investors.
The most significant aspect of Bitcoin's price ascent is the sustained confidence that individual investors have shown in it. Despite prolonged opposition from regulators and corporations, individual investors have kept Bitcoin afloat.
Over the past few weeks, corporations have been cautiously but steadily joining individual investors in pushing up the price rally. Unlike previous price rallies, the current rise in the value of Bitcoin is mainly supported by corporate investment. With that, BTC's status as a mainstream trading asset is almost certainly assured.
The cryptocurrency's pessimists always ought to remember that it weathered the storm caused by Covid-19 at a time when the global economic outlook was very grim. In addition, BTC is set to benefit further as more stimulus checks get signed and the dollar loses value.
The devaluation of the dollar notwithstanding, institutional confidence in the cryptocurrency will be the most important fuel for its rally for the next few months.
In better news for the cryptocurrency, it hit $1 trillion market capitalization on Friday. This means that, while it is not a company, Bitcoin is behind only Apple, Amazon, Microsoft and Google in value. With this latest achievement, BTC has broken another psychological barrier for skeptics and this will drive prices further up.
Technical perspective
Bitcoin (BTC/USD) continues to rise and will likely test new record highs in the coming week. The price actions in the past two months have been greatly dictated by 50-day and 20-day Simple Moving Averages (SMA).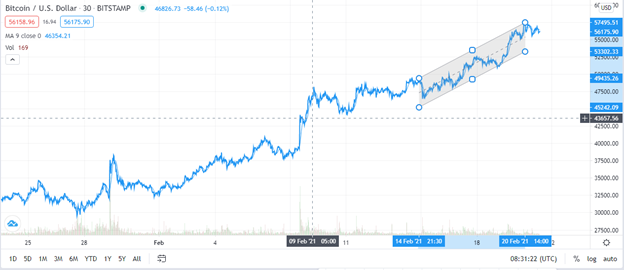 Support level will be at the $45,242 mark with the first resistance level being at $57,495 and the second resistance level at $58,000. However, while mostly unlikely, a major sell-off could drive prices below the $49,435 mark. At this point, a second support level will be established at $47,500.