What is blockchain-based social media?
Decentralized social media systems based on blockchain technology are known as "blockchain-based social media" As a result, all of the network's activity is permanently recorded in the blockchain, all communications are safeguarded by end-to-end encryption, and the blockchain is maintained on a decentralized network made of the devices of every social media user. That means that the more users there are, the more storage space there is available.
Decentralized social networks include all blockchain-based social media platforms. Decentralization refers to the absence of a centralized authority that holds all data and makes it available to consumers upon request.
Any time a user makes a request for information, it is pulled together from all of the network's storage devices and loaded into the user's device.
New social media platforms are increasingly incorporating decentralized blockchain protocols to make it easier for users to connect and share content. This rapidly expanding market is known as "blockchain-integrated social media." The servers of decentralized social networks are not owned by a single company, but rather by a group of individuals. The following is a list of some of the current blockchain-based social networking networks.
Memo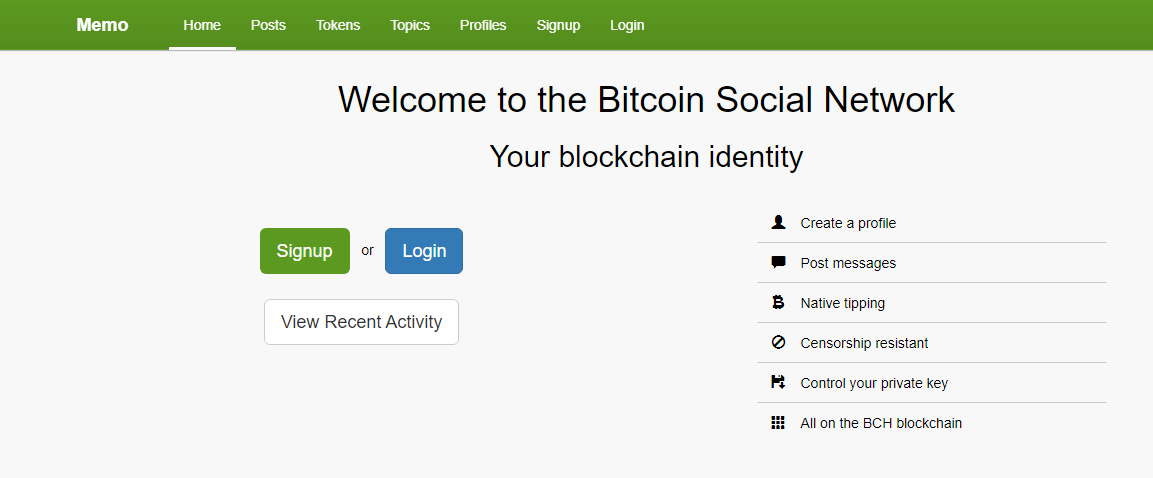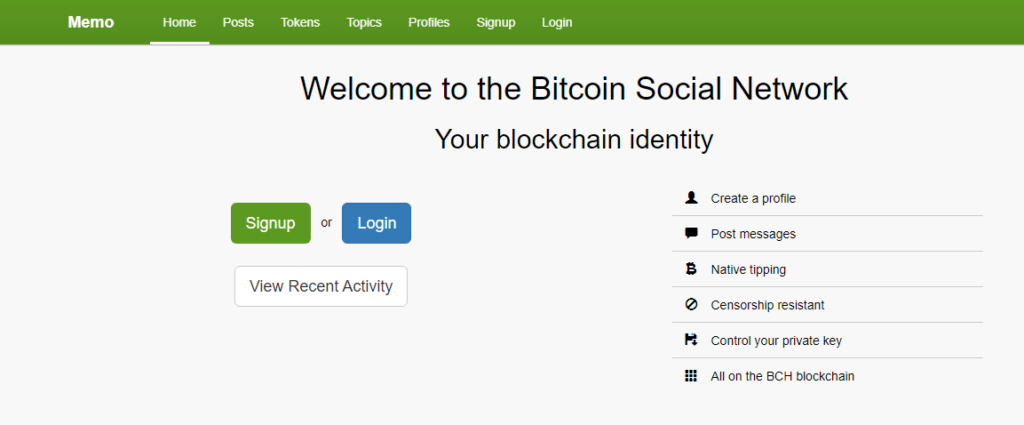 Decentralized social network Memo.cash lets you share visual images and messages on your mobile and desktop devices. Hashtags are used to filter material, and BCH tips are their equivalent of likes. Every post on Memo.cash may be seen by anybody with access to the blockchain because each account is tied to a specific crypto wallet address.
OP RETURN transactions help to permanently and publicly store Memo user data on the Bitcoin Cash blockchain. It has an innovative reputation system, which depends on the number of individuals you follow who are mutuals and the number of people who have muted you.
Steemit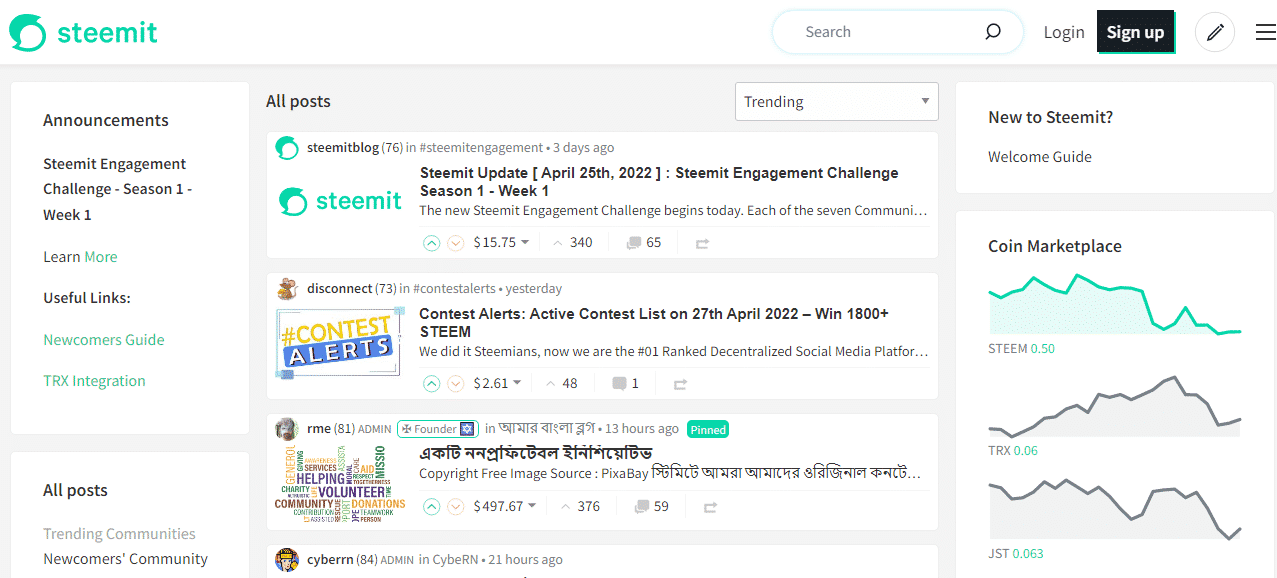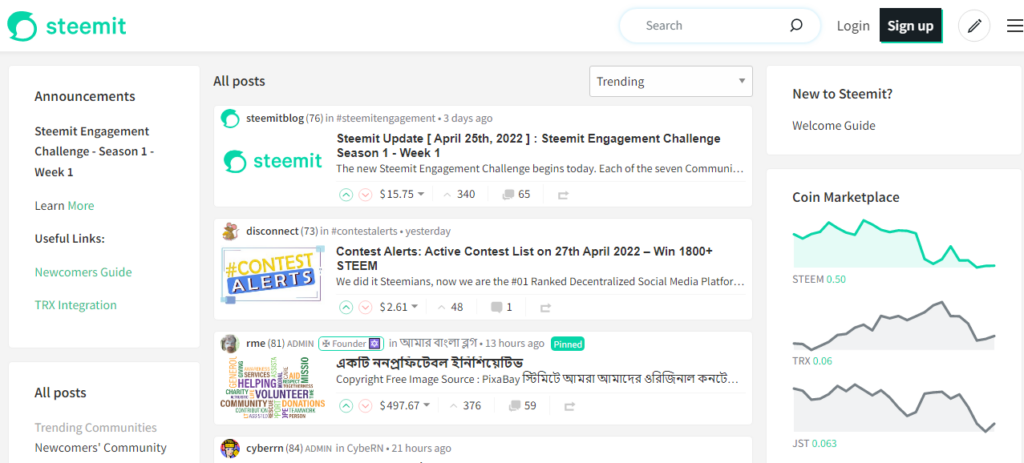 User material on Steemit gets monetized using the Steem cryptocurrency. More than a million people have signed up on the platform so far. The Steem blockchain is used to record information about users and their posts. In addition to relying on Steem price appreciation, Steemit monetizes through user-promoted content. Steem is a virtual currency that users may earn by taking part in specific Steemit activities.
Users of the Steemit network can earn cryptocurrency by creating and curating content. Founded in 2016, Steemit was Steem's first decentralized app (dApp). It's possible that it's the world's oldest decentralized social media site that's still in existence today.
Users who publish content that receives a high number of upvotes are eligible for a prize pool. Voters who upvote posts that become popular can receive a reward for their efforts. Reputation grows with age, therefore older accounts belonging to early adopters have more sway in the network. Early users will benefit from this, considering the ease with which they could mine Steem tokens in the early days.
There's been some debate about Steemit's private blockchain, however. Even more importantly, those that invest in this system early on, regardless of whether they are active or not, are the ones who reap the greatest rewards. This could put off some potential members.
Peepeth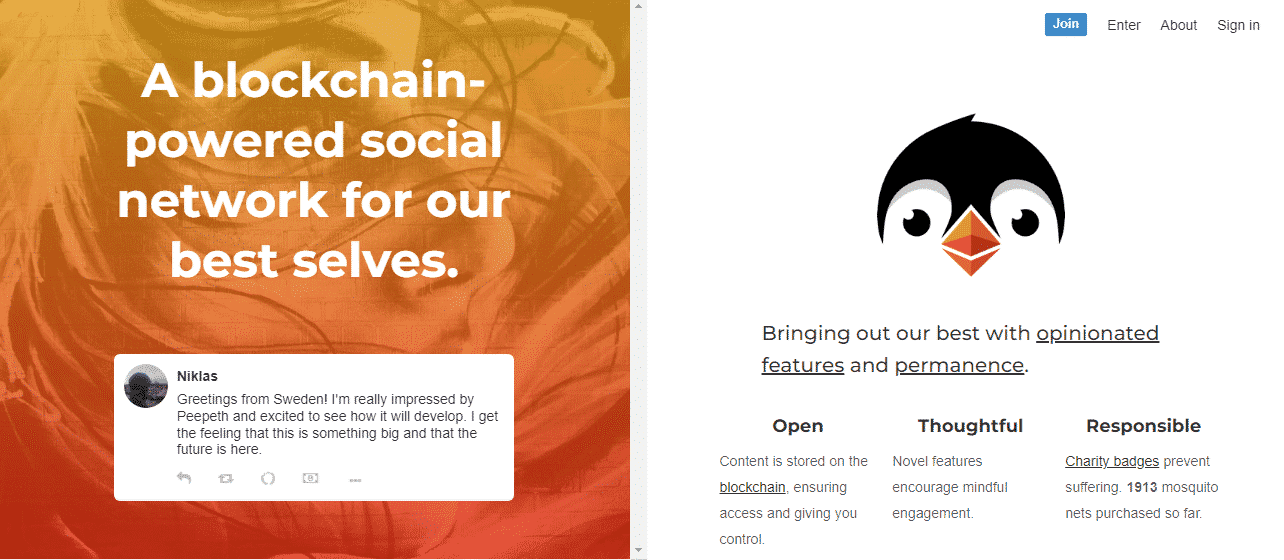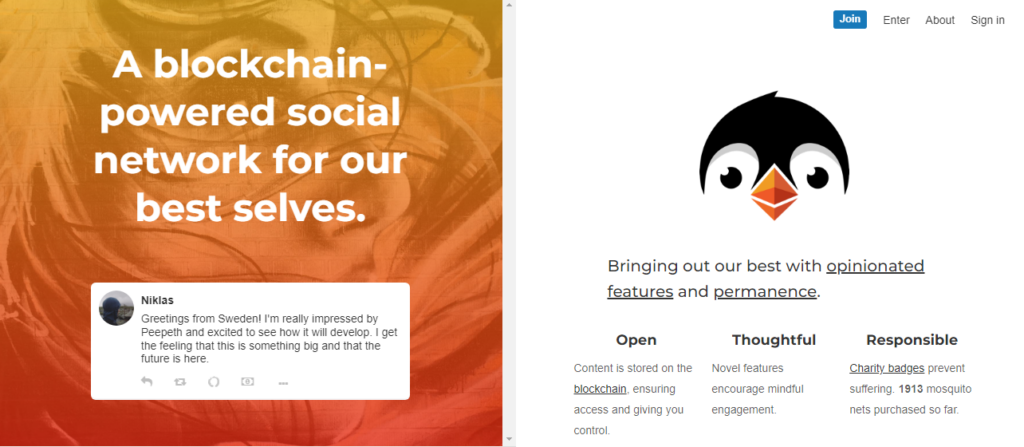 Peekth is a microblogging application that operates within the framework of a decentralized social media network. It may look like a Twitter clone, but don't be deceived. The business model, mission, and backend technology of Peepeth set it different from other similar "free" platforms.
A blockchain network stores Peepeth accounts and "peeps" (posts). There is a 10% platform fee for accepting cryptocurrency tips. Enso (similar to "like") is one of the most unique features of the app. This guideline was put in place to encourage more high-quality content and participation.
Sapien


As an alternative to social news platforms such as Facebook and Google, Sapien.network is a highly customizable, democratic social news platform that runs on the Ethereum blockchain.
Sapien creators can earn SPN tokens by uploading content that the community unanimously decides to be factual (or by connecting with other members) on the platform and marketplace. Users can stake SPN tokens in Sapien's engine and users can receive tokenized rewards for commenting, voting, and creating content.
Importantly, users have full control over their time and data on this decentralized social network. Sapien's decentralized platform allows users to control how much and with whom they disclose personal information. Customization and personalization of the social networking experience will be possible for users. There will also be no restrictions on user expression.
Indorse


Built on the Ethereum blockchain, the decentralized site Indorse.io is similar to LinkedIn. It employs a variety of mechanisms, including decentralized consensus, to verify user skills in an easy and objective manner. Chat bots, for example, are AI-based systems that it uses to verify information automatically and in real time.
The ERC-20 Indorse token (IND) fuels the Indorse network . The platform's "indorsements" mechanism promises to provide more accurate credentialing and talent verification.
Users on Indorse are rewarded for supporting the skill sets of others, a practice the business has called 'indorsing', unlike typical social networking platforms where users can create any claim about themselves that is often accepted as the reality.
In summary
It will take time before decentralized social media platforms can compete with giants such as Facebook, Instagram, TikTok and Twitter. Nonetheless, people are beginning to understand the benefits of blockchain social media and are increasingly receptive to it because of the freedom and security it offers. Mass adoption is, however, one of those things that is more difficult to achieve than it is to say. Persuading a considerable section of the people to adopt a new technology is a difficult task. Decentralized social networks may face difficulties as a result of this.