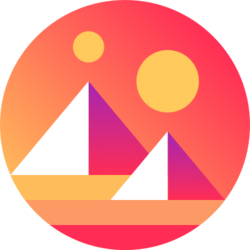 Decentraland (MANA)
Price
MANA coin is one of two tokens issued by cryptocurrency platform, Decentraland.
The coin is built on ERC-20 (Ethereum) standard.
MANA coin gives has gained about $970% in the past one year.
What is MANA coin?
MANA coin is a token that is used for purchasing goods and services on Decentraland's gaming platform. An initial coin offering (ICO) worth $24 million was undertaken in 2017 to fund the creation of Decentraland. MANA coin is a cryptocurrency that is created on Ethereum and adheres to the ERC20 token standard. Decentraland's key driving force is to create a large network of users interacting, doing business and getting entertained in a virtual world.
The MANA token permits the purchase of LAND, as well as the purchase of virtual products and services that are used in the Decentraland virtual reality environment. MANA is one of the two tokens churned out of Decentraland. The other token, known as LAND, is an NFT and it is used to prove ownership of digital real estate assets on the Decentraland platform. 
Holders of the MANA token also have a voting right on the Decentraland platform, such as participating in decision making on software development policy and land auctions. As of September 2021, there are about 1.8 billion MANA coins in circulation, out of a total supply of 2.1 billlion coins.
Is MANA coin a good investment?
If you had bought $100 worth of MANA coin one year ago, that investment would have grown to $974 today. As of the time of writing, MANA coin has a Return on Investment of 3,178%, according to Coinmarketcap. This is a good investment, considering that the asset has only been around for 4 years. On the flipside, this return pales in comparison to many other crypto assets launched around the same time as MANA.
Coins like MKR and BNB, for example, have five-figure rates of return. MANA coin's apparent "underperformance" could be due to the fact that it is based on a platform that specializes in niche" virtual entertainment". However, with NFTs recently picking up, markets are likely to be more receptive to MANA coin in the coming days.
Should I invest in MANA coin today?
MANA coin has had a relatively good year in 2021, having hit its all-time high about 5 months ago. Statistics show that MANA coin is currently trading below its key medium-term highs. If you invest in MANA coin today, you would be buying it at 48% cheaper price than its ATH price of $1.63 set in April.. MANA coin price is also about 32% lower than both its 90-day and one month highs.
MANAUSD 9-EMA has crossed the 20-EMA six days ago and is currently headed below the 50-EMA, as shown on the chart below. This signals an asset whose market is becoming bearish. Therefore, this would be a good time to "buy the dip" because it would give you a good chance of making a profit if the market becomes bullish.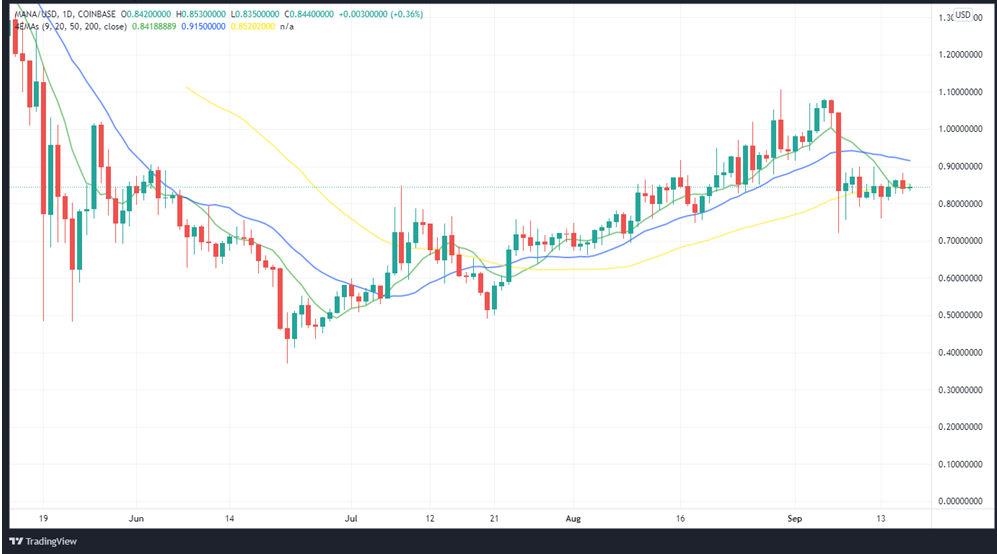 Crypto technical analysis for MANA
Best case scenario: 
MANA is currently at $0.8365 and has been trading sideways for the past 10 days. However, the RSI is at 48, which means that the market momentum could still support some marginal gains. If the bulls regain some control, the price could rise to the first resistance at $0.8697 and beyond that point, it could reach the second resistance level at $0.8979.
Worst case scenario: 
The market momentum has been weakening recently. This is signaled by the 9-day EMA's movement below 20-EMA and 50-EMA. Further, as seen on the chart below, the price is currently below the 200-EMA, pointing to a bearish market. The RSI has also plummeted from 66 to 48 within the last 12 days. If the bears continue having control of the market, MANA coin's price could decline to $0.8150, beyond which it could go below $0.8000.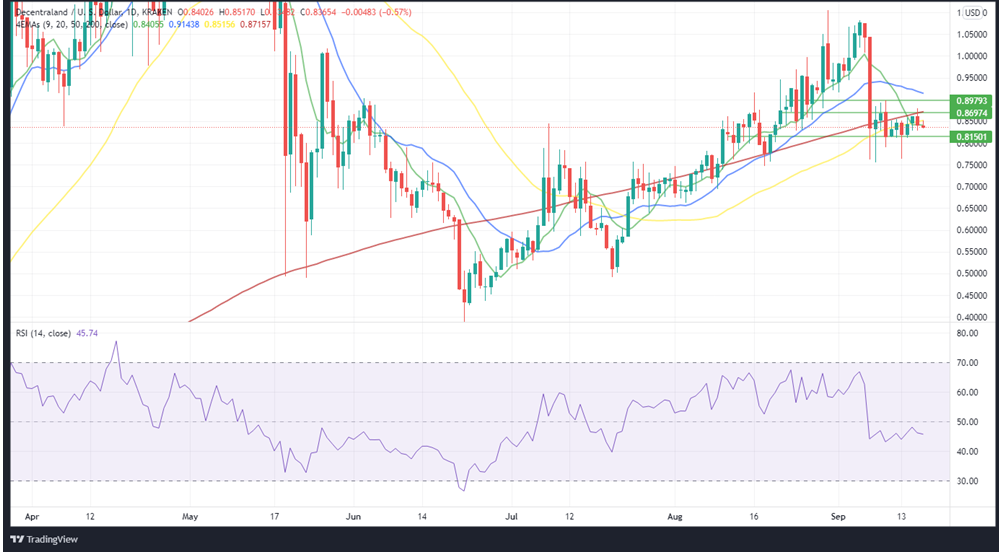 Will MANA coin's price hit $10 in a year?
MANA coin has been growing at an average of 55.36% per month. During that period, there has been a difference of 3,118% between the highest price ($2.4400) and the lowest price ($0.0758). Assuming that the asset maintains these rates over the next one year, it could hit an average of $1.44 and a maximum price of $44.89.
What is the price prediction for MANA coin in 2025?
Working with the average monthly growth rate of 55.36% and the deviation of 3,118% between the highest price and the lowest price, MANA coin could be worth an average of $7.32 and a maximum of $228 four years from now.
The best way to buy MANA coin
You can buy MANA coin from Binance, Crypto.com Exchange or Gate.io. These markets have good liquidity.