At the time of writing, one DOGE trades for roughly $0.47, boasting a market cap of about $61 billion, and ranks 4th in most traded cryptocurrencies, according to CoinMarketCap.
It's clear that the 'fuel' behind the popularity of the meme-inspired cryptocurrency is, in large part, thanks to Twitter posts from American billionaire and serial entrepreneur Elon Musk.
Communities who are strong advocates of DOGE keep their eyes close to whenever Musk even merely mentions the cryptocurrency on his Twitter account.
Dogecoin supporters in social media networks are rallying behind the possibility of DOGE reaching $1 soon.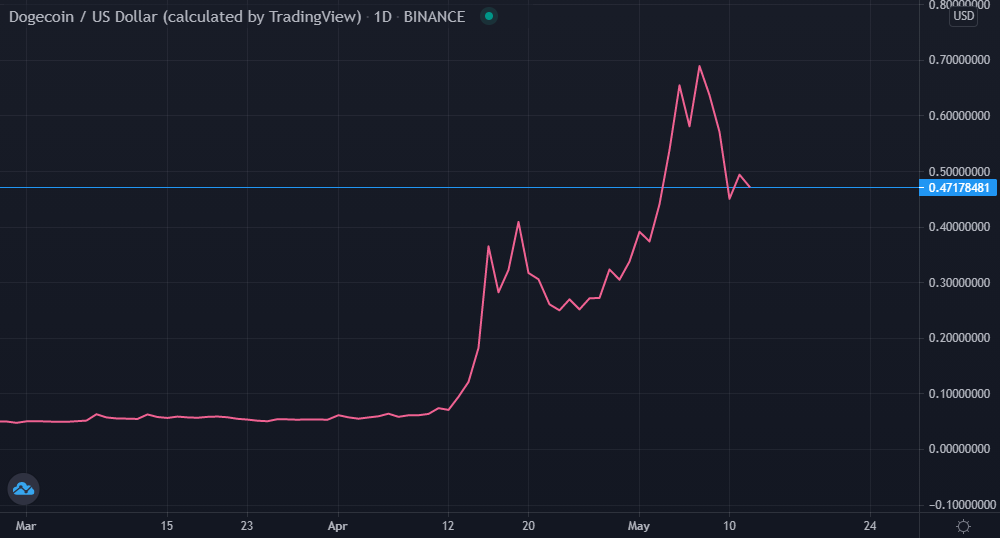 Dogecoin is one of the dark horses of crypto space. Despite being more than seven years old, it has alerted millions more about its existence in 2021. More people have marveled over how a coin created from a meme has gained so much traction even when it's nothing exceptional.
High-profile figures such as Mark Cuban and, most notably, Elon Musk began making posts about DOGE in February 2021, where it first made serious headlines. Soon, more institutions began accepting the cryptocurrency as payment, while exchanges and brokers offered it for trading purposes.
Positive developments steadily increased over time as the coin grew in value, reaching its all-time high price of $0.73 on 08 May 2021.
DOGE fundamental outlook
Analysts believe DOGE has performed successfully because of the friendliness and light-heartedness of its community. It is described by most as a simple, fun, and honest digital currency.
Some note these qualities as the main reasons why the coin has a strong foundation and popularity. Let's look at the two factors fundamentally affecting DOGE's price.
Elon Musk
Arguably, the main driver currently seems to be Elon Musk. Millions of DOGE holders were eager to see how the coin would perform during the Tesla creator's appearance on the Saturday Night Live show on 08 May 2021, with many speculating on how the price would cross over the eagerly anticipated $1 mark.
It was the same day when the price did reach the all-time high of $0.73 before Saturday Night Live. Unfortunately, after Musk's appearance, the value dropped by 44% to $0.40. However, anyone who's been invested in crypto shouldn't be surprised since this is normal for the coins.
A day later, SpaceX, also founded by Musk, revealed a moon rideshare mission funded entirely by DOGE. The markets seem to have responded calmly to this news, seeing the price is now just shy of $0.50. This has afforded some to 'buy the dip' in the hopes DOGE might go to a dollar.
Dollar index
The dollar index denotes the value of the greenback relatives to currencies of its six global trading partners such as Europe and the United Kingdom. Put simply; analysts use the 'dixie' as a barometer for the strength of the dollar.
Because the greenback is paired against DOGE and other cryptos, when the dixie goes down, cryptos tend to go up, and vice versa, currently, the dollar index is in a strong downtrend, while many coins are moving in the opposite direction.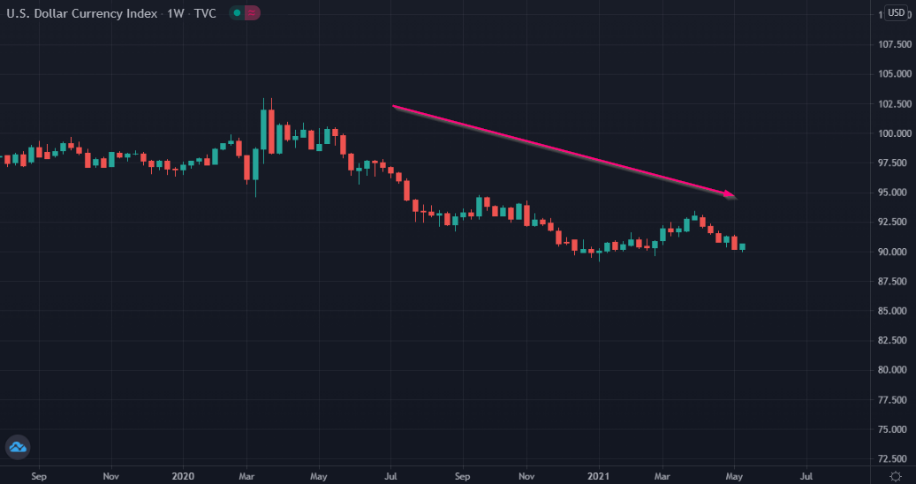 The Commitment of Traders report for the dixie, as of 04 May 2021, shows 82.6% open interest for net long positions and 92.2% open interest for net short positions. Therefore, this suggests institutional sentiment, which is a key measurement for many financial markets, is still to the downside.
DOGE technical outlook
Despite a minor pullback, DOGE is technically extremely bullish. Therefore, it makes a rise towards its all-time high very possible within the next month or few. The RSI (Relative Strength Index) reflects an overbought condition on the weekly chart.
Bullish momentum on such a long time frame is significant and rare, suggesting prices are likely to stay within this current high range in the short term. On lower charts, there seem to be no considerable buying opportunities, even though some may decide to buy this little dip for fear of missing out.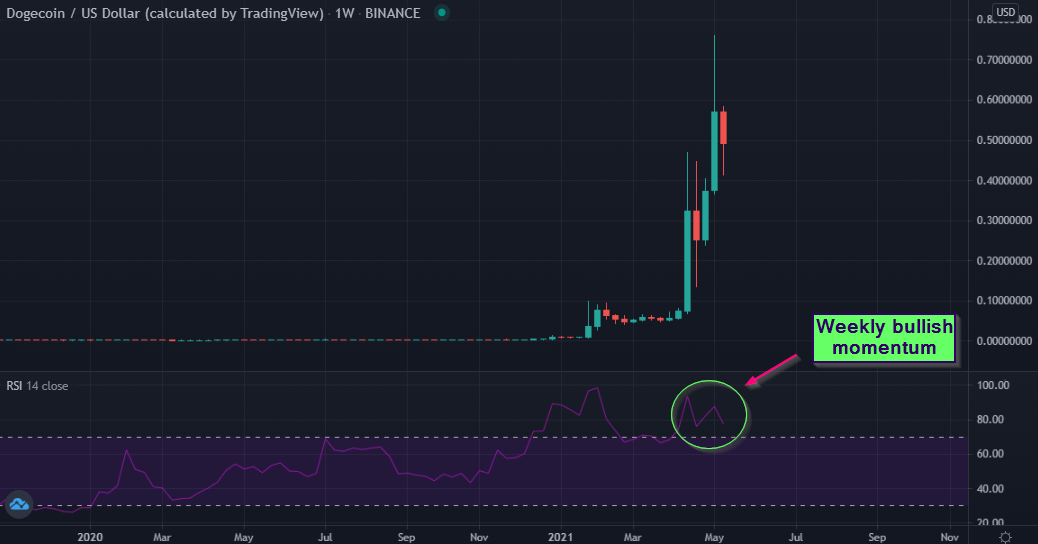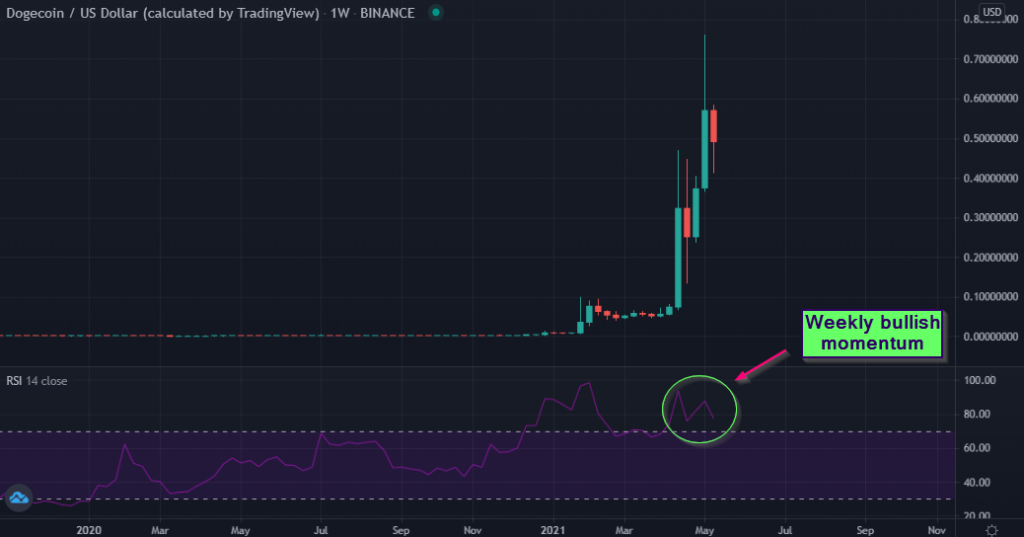 DOGE to the moon?
DOGE continues to fascinate the market despite having questionable value. Fundamentally, there are concerns over the rumor 11-12 wallets control nearly half the supply of the coin. Any selloff from this 'hoard' can have a significant influence on the value at any moment.
Currently, DOGE is heavily moved by social media hype from the likes of Musk and Reddit communities. This may prove to be enough to drive the price to the highly anticipated $1 in the short term. In the long term, it's anyone's guess for the 'friendly internet currency favored by Shiba Inus worldwide.'