It appears like every Tom, Dick, and Harry has been talking about the metaverse presently. Although this concept has existed for decades, the interest has been primarily fueled by the largest social media company in the world, Facebook.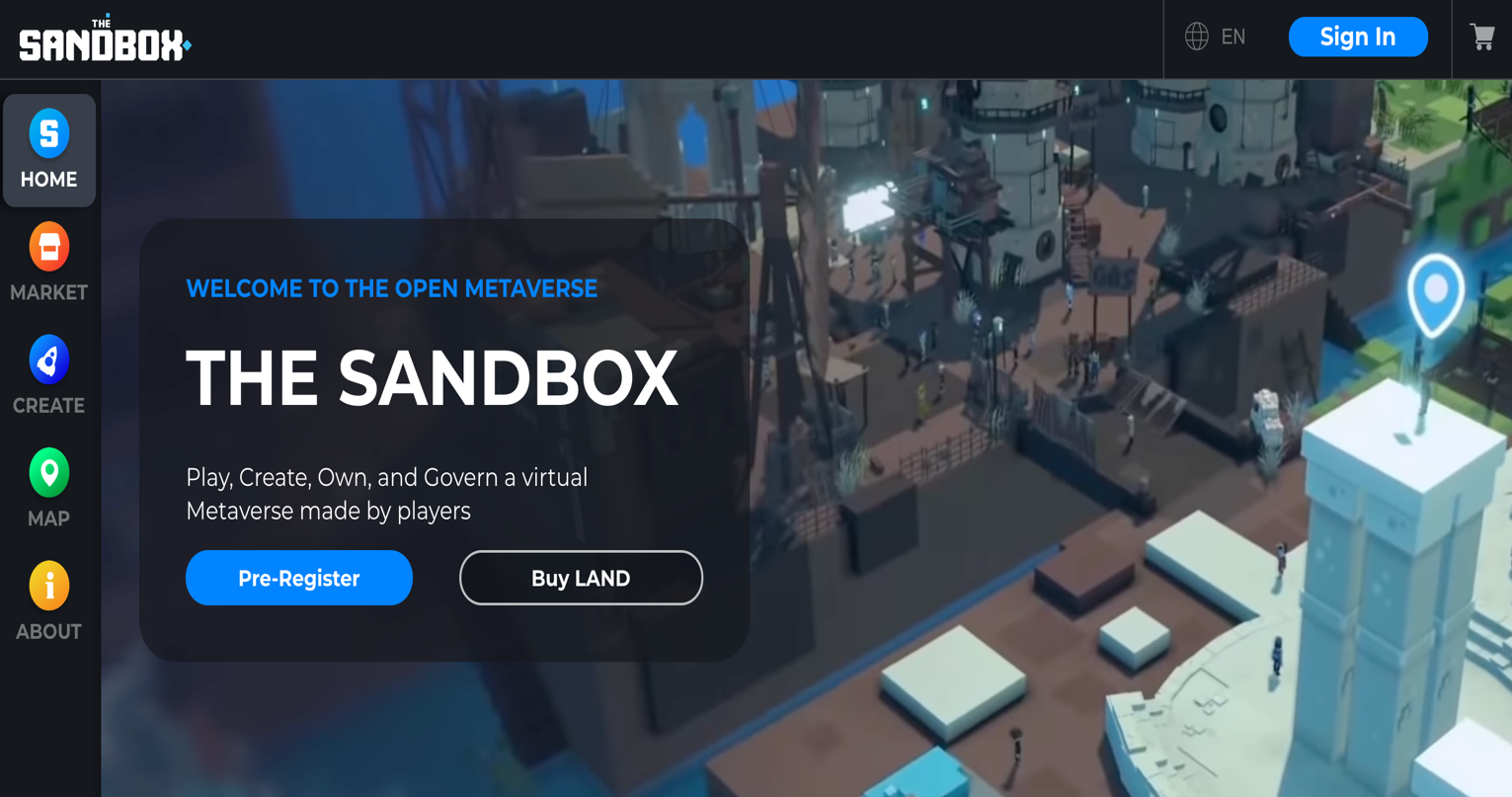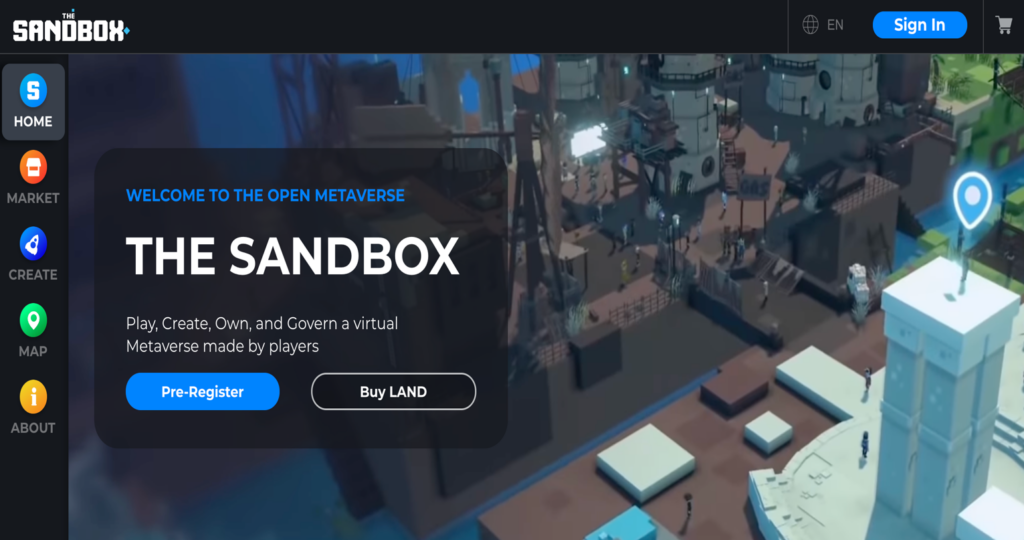 On October 29, the brand announced it was changing the name of its parent company to 'Meta,' firmly declaring a vision of an 'embodied internet' for people to indulge in highly immersive digital experiences.
Cryptocurrencies were one of the expected industries which reacted positively to the news as several metaverse-based tokens like Sandbox (SAND) exploded to record highs, reaching $3.45 on 03 November 2021.
A day before, it was announced the SoftBank Group had completed a $93 million Series B investment round into Sandbox to fuel the service's ambitious plans into growing their metaverse.
Interestingly, this was the fund's first-ever investment in a crypto-related project. According to CoinMarketCap, SAND is the fourth-most traded metaverse token (69th overall) with an approximate market cap of $2.3 billion.
Overall, there's a lot to smile about for anyone invested in or using Sandbox. As one of the largest metaverse projects presently with well over half a million users, let's explore some of the notable projects in this ecosystem.
What is The Sandbox?
Sandbox is a play-to-earn blockchain-based metaverse with voxel-created animated virtual worlds (lands, entities, equipment, art, etc.) people can develop, share and monetize as non-fungible tokens (NFTs). Think of The Sandbox as like a 'virtual attraction park.'
Users can host games, multiplayer activities, and other community-based experiences. One creates a unique avatar on the platform, which is used to interact with The Sandbox's world, and other players and brands.
The name 'Sandbox' is in reference to what is known as a 'sandbox game,' a type of open world-type, no-holds-barred video game offering incredible creativity with or without some objective.
Essentially, the Sandbox lets creators develop any world or object to the fullest of their imaginations.
Initially developed by Pixowl as a smartphone and Windows game in 2012, the game eventually transitioned to the Ethereum blockchain to offer unique monetization incentives using the second-largest cryptocurrency globally.
SAND, the game's native utility currency fueling most interactions and transactions in the game, is powered by Ethereum. Players use SAND to buy and sell LANDS. LANDS essentially represent each NFT of the entire Sandbox metaverse created by users.
There is only 166 464 LAND in existence belonging to about 12 000 owners, which they populate with their own games and assets. Users trade most of these NFTs on the OpenSea marketplace. Several methods of earning exist on The Sandbox, namely creating and then trading LAND and other assets, renting out LAND, and staking.
Top metaverse projects on The Sandbox
For several years, The Sandbox has been partnering with several brands like Atari, Care Bears, The Walking Dead, Snoop Dogg, and The Smurfs to bring their popular intellectual property as animated versions in the VR world for players to discover.
We'll explore some of these projects below.
Snoop Dogg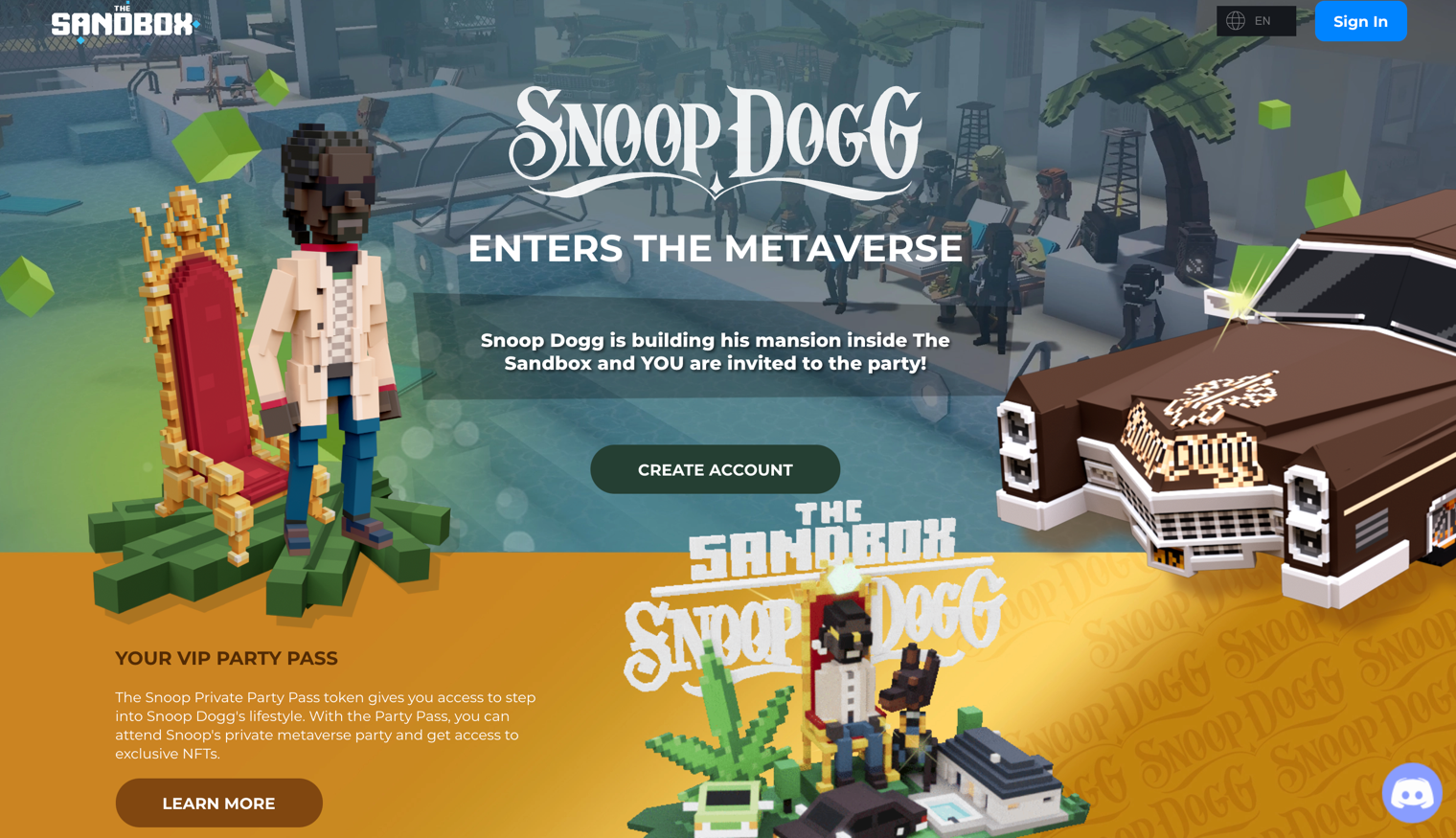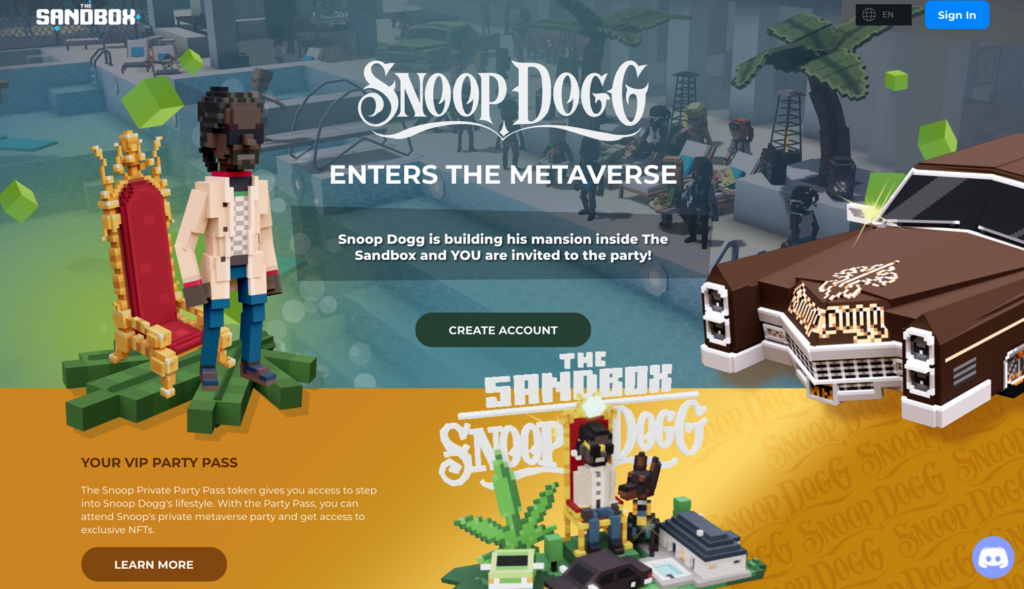 Snoop Dogg is one of the most well-known names in the global entertainment industry. The American musician, actor, and entrepreneur had already embraced cryptocurrencies and NFTs long before he decided to get involved with The Sandbox in September 2022.
So, what is 'The Doggfather' bringing to the metaverse? Essentially, a voxelized version of his real-life mansion now exists on The Sandbox as one of the countless LAND items.
Presently, users can interact with some of Snoop's expansive collections of NFT art, cars, dogs, memorabilia, and much more. You can create your own 'Doggfather' versions of the same items.
Furthermore, players can create avatars of Snoop Dogg himself on The Sandbox. Lastly, there is presently a limited-edition token, the 'Private Party Pass,' for people to attend a private party in the metaverse, watch a Snoop concert, engage in Q&A sessions, and access exclusive NFTs.
The Smurfs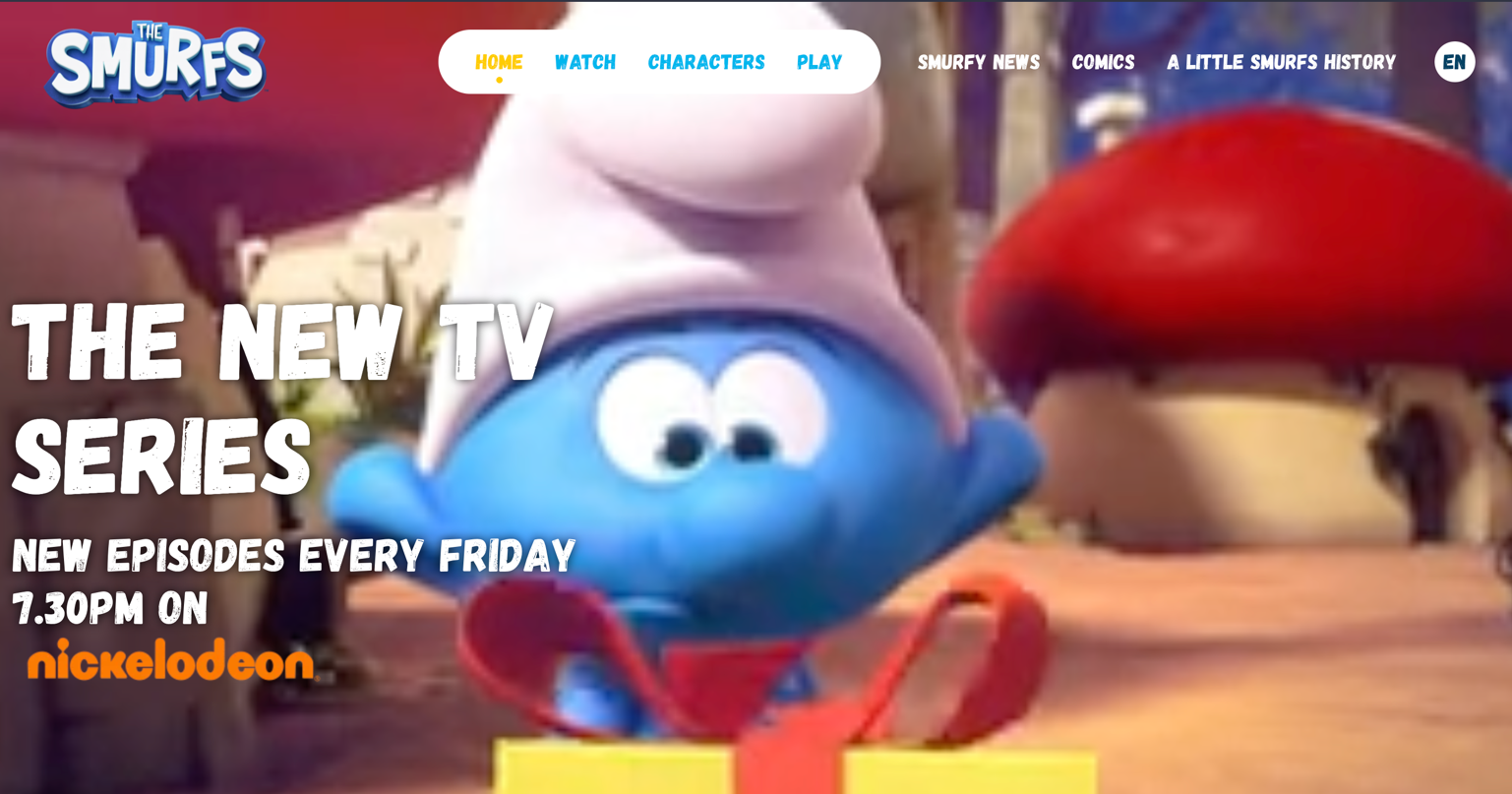 The Smurfs is one of the most popular comic media franchises, capturing the hearts of millions across the world in movies, TV, video games, ice capades, theme parks, and dolls.
In October 2020, it was announced The Sandbox was bringing lovable characters like Grandpa Smurf and Lazy Smurf, along with the entire Smurf village, into the metaverse.
Users will be able to create 3D-animated interpretations of Smurf-themed buildings, environments, attractions, and more as tradeable NFTs. The Sandbox officially launched The Smurfs as a public beta version in December 2020.
The Sandbox has already begun with a LAND sale to incorporate the Smurfs Village, representing close to 12% of its entire metaverse (19 2000 land parcels).
The Walking Dead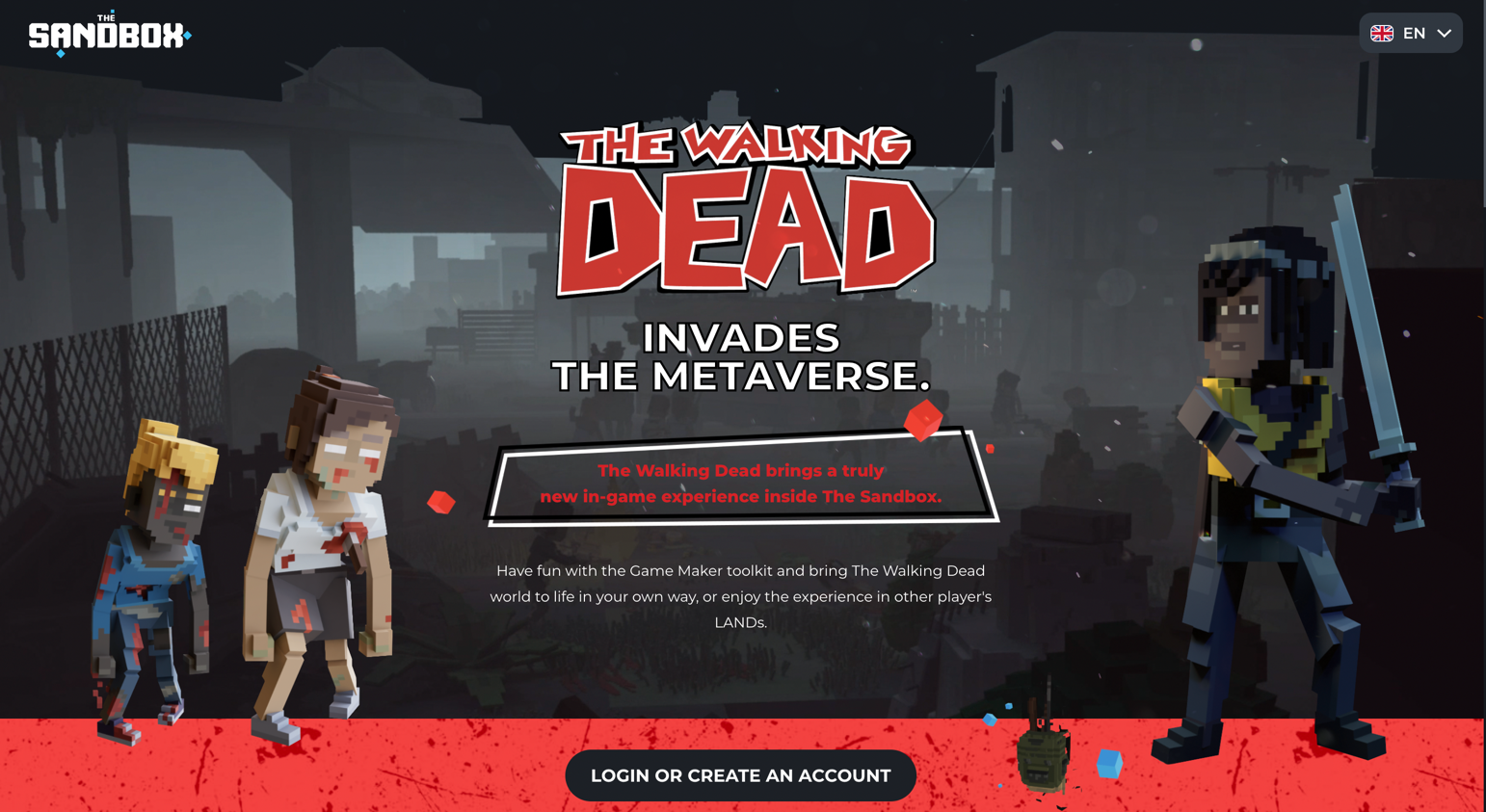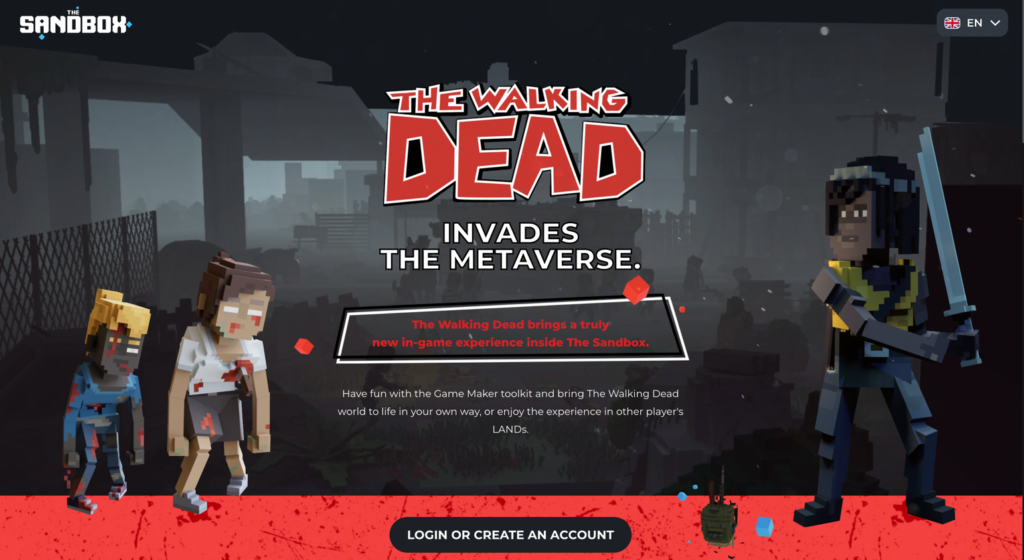 While most thought The Sandbox only welcomed cheerful games, the developers also had a darker side when they introduced the post-apocalyptic horror media franchise, The Walking Dead, in July 2021.
As expected, players can create voxel versions of some of their favorite iconic 'walkers' like Rick Grimes and Michonne as rare NFTs to relive the adventures from the original comic book.
Of course, as a true 'sandbox game,' users aren't limited to just original storylines but can tell their own stories of food scavenging, resource gathering, wall-building, and forming alliances, along with special characters wearables, fan-made items, etc.
Countless virtual lands already exist to The Walking Dead's location on The Sandbox map, bringing players closer to one of the most loved TV series brands in the world.
Final word
So, where to from here? There's blockchain, cryptocurrencies, NFTs, and now the metaverse in the conversation. What does this mean for the internet's future? Ultimately, these innovations are forming part of the emerging web3.
There are several methods of defining web3, but one way is how it will favor decentralized apps like blockchain-based games by displacing traditionally centralized apps and companies.
The core concept is a user-centric ideology, a community-owned economy where ordinary users have numerous earning streams which weren't possible before. In-game items can now have a commanding and tangible real-world value.
Brands and marketers have increasingly seen the power of cryptocurrencies and how they can be used to better engage with their customers/fans and provide even more value to them.
The Sandbox is one of the leading projects that'll feature in these models as the metaverse aims to seismically change everything from how we engage in recreational activities, perform financial transactions to online identities.