Coinbase announced that AMP would start trading on its exchange starting 11th June. The coin has seen significant price moves around this announcement and has been rapidly gaining. So let's understand this rising coin in more detail.
Digital assets are rapidly gaining acceptance as the primary medium of exchange, not just for trading but for global commerce. However, the rapid growth of these assets is being stymied by the significantly high cost of validating the transaction.
The way to unlock the true potential is by reducing the costs without compromising on the transaction validation process. Blockchain helped achieve this solution by offering an open, extensible collateral system that utilizes public verification via distributed convergence mechanisms.

AMP – A collateral token to de-risk transactions
AMP is a collateral token that has been designed to decentralize the risks involved in payment transactions. It has managed to reduce the assurance cost from existing counterparty networks significantly.
AMP uses a new partition interface with a unique framework of partition protocols that help the interoperability of taking contracts for surety mechanism. Using the strategies mentioned above for partition, AMP helps tokens to be conditionally allocated as collateral without requiring any sort of transfer to a new smart contract.
By doing this, the system manages to maintain the custody of the asset and significantly improves the safety of the staking collateral and its simplicity as well.
AMP is a cryptocurrency that offers a medium for accumulating value and aligns the participants' incentives. It does this by creating virtuous loops for feedback that increase the spending capacity and a reward distribution approach that is non-inflationary in nature.
By allowing for decentralized ownership in financial networks, the applications built on AMP offer cost-efficiency that are multiple times better than the existing financial systems.
AMP's protocols are based on the Ethereum blockchain. When payments are made using the Flexa Network, a financial system designed to offer fast and efficient payments, AMP is used as collateral.
So if any payment on the Flexa Network takes longer than expected time or fails altogether, the AMP backing the transaction can be liquidated in order to cover any value lost.
So this essentially allows for the vendor to get paid regardless of the success of the transaction, essentially adding an extra layer of security for the users.
The network can be used for digital payments, fiat currency transactions, property sales, and loan distributions. Apart from Flexa, AMP also works with a number of other companies to enable transactions, such as CoinGecko, Sushi, Uniswap, and Gemini.
AMP's price history and what lies ahead
As you can see in the below chart, AMP had a rather stable price history on its launch. In fact, it dropped right after its launch and traded weak for over a year, even as other cryptocurrencies were seeing volatile moves.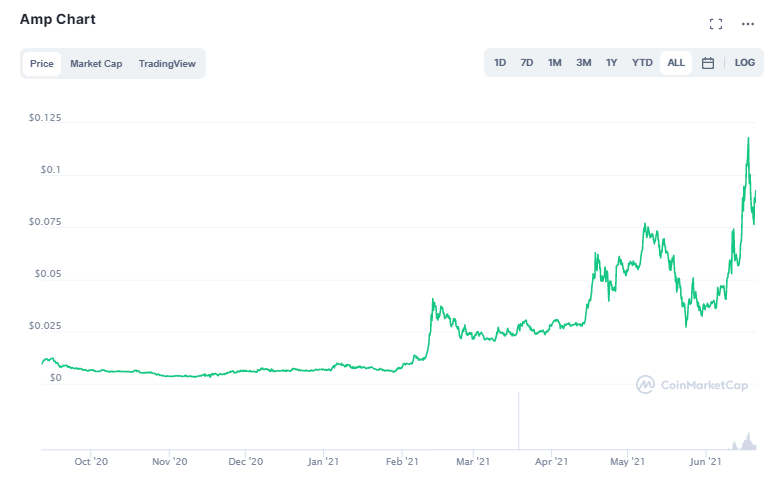 However, 2021 brought about a significant change in the price of AMP. First of all, the coin started to gather more and more attention from the investors, and it gained acceptance for use as collateral across multiple payment systems.
As you might have experienced, the price of crypto often has more to do with its recall value and familiarity than its practical applications in the short-term at least.
So as the word got around on AMP's usability, investors started piling in. AMP's price saw a major spike in February as the token price nearly tripled in almost a couple of weeks. The price subsequently saw a sharp pullback as well over the next few weeks. It traded in a narrow range from March to May. From April onwards, AMP began a wild ride as the price shot up to $0.07 – more than six times what the price was at the start of the year and then also rapidly fell back to where it had started.
AMP then again saw a melt-up, and in mid-June, as it reached the price of $0.11, the all-time-highs. In June, AMP saw a decent pick up in volume. Daily volume started crossing the $200 million mark consistently, which means AMP could now be recognized as one of the mainstream cryptos rather than simply being on the fringes.
Currently, AMP trades at $0.092504, which is 30% below its all-time high but is a whopping 1200% higher than what it was at the start of the year. This shows that AMP has significantly more potential to scale new highs than mainstream currencies such as BTC and ETH.
The number of AMP tokens in existence is finite and fixed. The live AMP price today is $0.092504 USD with a 24-hour trading volume of $123,833,702 USD. AMP is up 15.95% in the last 24 hours.
Current CoinMarketCap ranking is #28, with a live market cap of $3,906,231,463 USD. It has a circulating supply of 42,227,702,186 AMP coins and a maximum supply of 92,547,638,199 AMP coins.
Seeing the wide acceptance of AMP, it is entirely possible that the token continues its rather volatile upward march in the near future.