The Solana token, SOL, has been rapidly increasing in popularity recently. With everything that the Solana project has to offer, it shouldn't come as much of a surprise that there are many investors interested in taking advantage of what this cryptocurrency (and the network it's supporting) has to offer.
Anyone who's looking for relatively new crypto to invest in should certainly consider the potential that a coin like Solana has to offer – but not all wallets support this particular token.
If you're hoping to find the best crypto wallets for SOL storage, don't worry, as we have all the information you need on some of the best picks on the market.
What is Solana?
Solana is a public, open-source blockchain that supports smart contracts, including non-fungible tokens (NFTs) and a variety of decentralized applications (dApps).
Native to Solana's blockchain is the SOL token, which provides network security through staking as well as a means of transferring value.
Solana was created in 2017 by Anatoly Yakovenko alongside current Solana board member and Chief Operations Officer Raj Gokal.
Yakovenko, now Solana Lab's CEO, came from a background in system design and wanted to apply his knowledge toward a new blockchain paradigm that enabled faster processing speeds.
How to choose the best Solana Wallet for NFTs?
There are a few questions that you can ask when trying to pick out the ideal wallet for your needs, such as:
How secure is the wallet? Have there been any data breaches or reports of digital coins being lost or stolen?
Do you want a hardware wallet or a software one? Generally known as cold and hot wallets, respectively, both of these have their pros and cons, which are worth considering before choosing one.
Are there any fees involved with using the wallet? While this may not be an issue with hardware wallets, a software wallet may charge fees for their services.
What cryptocurrencies do they support? In general, a wider range of supported coins is better than having less.
Top 10 Solana Wallets in 2022
Solana (SOL) is a blockchain project that showed significant promise throughout 2021. The coin was so popular at one point that it flipped Cardano!
Now that it has cooled off a little, it might be time to add some SOL to your wallet. But, of course, this begs the question, which is the best Solana wallet?
Let's look at some of the best options in the market.
Phantom


What is Phantom?
The Phantom is undoubtedly among the most popular wallets and also among the best wallet for Solana. It is a hot wallet that acts as an intermediary between crypto users and the Solana blockchain
What does it offer?
Phantom makes it safe & easy for you to store, buy, send, receive, swap tokens and collect NFTs on the Solana blockchain. Available on iOS, Chrome, Brave, and more!
How to get started with Phantom?
Download the extension
Click on Phantom Wallet extension
Click on Create New Wallet
Storing Secret Recovery Phrase or Mnemonic
Create a password for your wallet
Keyboard shortcut
Use Phantom
Key features of Phantom
Non-Custodial
Token Swaps
Supports NFTs and Collectibles
Ledger support
| | |
| --- | --- |
| Pros | Cons |
| Available on several browsers. | A new wallet that's not well tested. |
| Benefits from Solana's extremely low fees. | The mobile app is still in development. |
| A built-in token swap feature | Limited to the SOL ecosystem. |
| Non-custodial wallet. | |
Solflare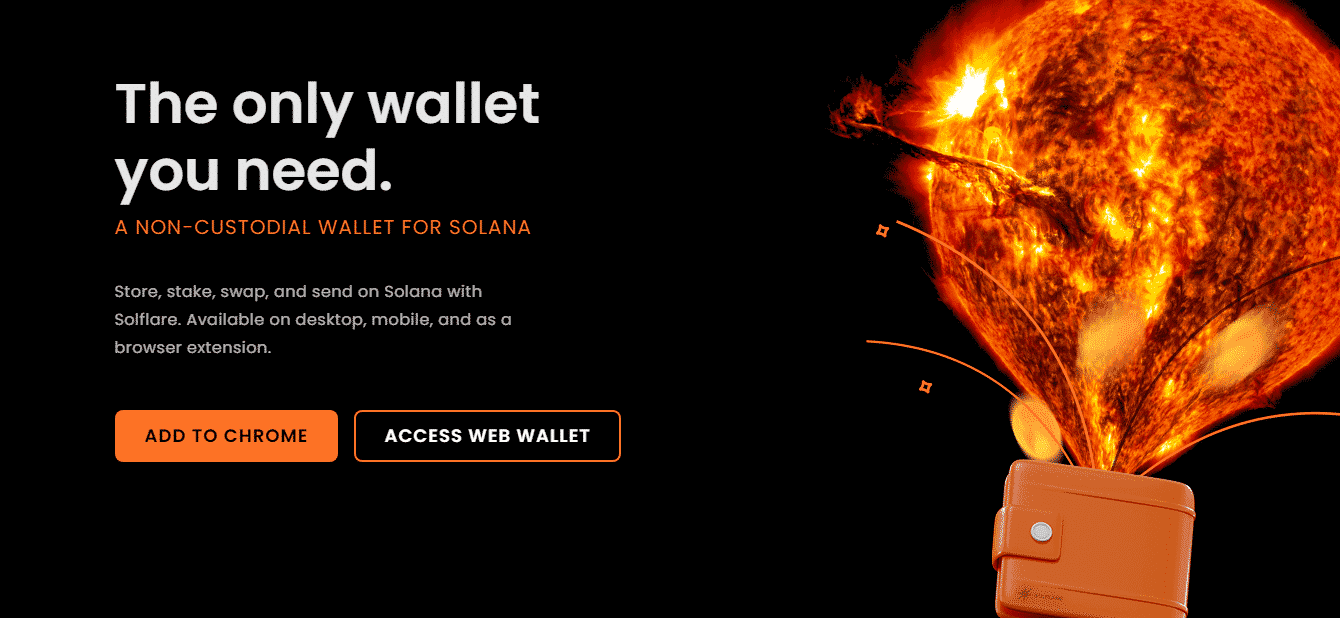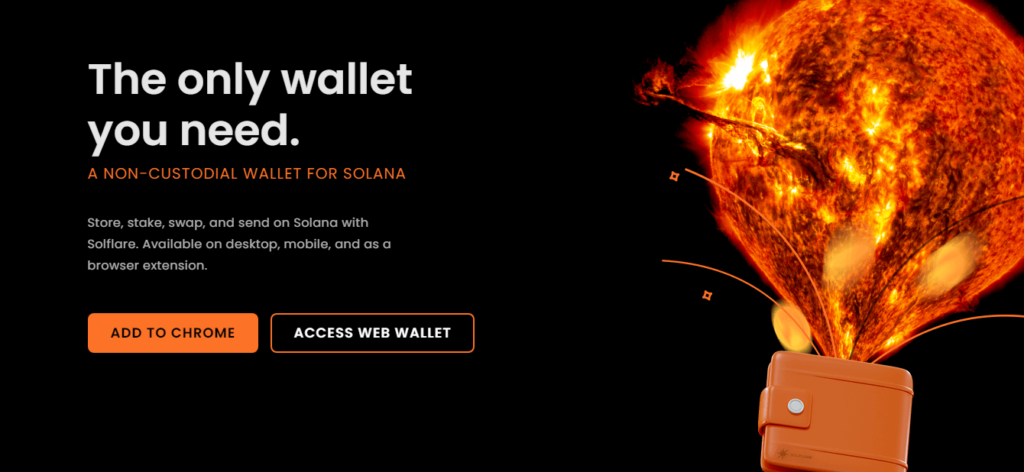 What is Solflare?
Solflare is a user-friendly non-custodial wallet that supports users on both Serum and Solana Beach. It is one of the safest and easiest places to store funds on Solana. It comes second to Fantom as the best wallet for Solana
What does it offer?
It offers swap from token to token, storing and viewing NFTs with full metadata. Users can also stake their Solana.
How to get started with Solflare?
Download Solflare Wallet Extention to Chrome
Click on the Solflare Wallet Extension
Click on "Create a New Wallet"
Create New Password for your Wallet
Store your Keyword recovery phrases
Fill out your Keyword recovery phrases
Use Solflare
Key features of Solflare
Available on all platforms
Staking for everyone
In-wallet swap
NFT compatible
| | |
| --- | --- |
| Pros | Cons |
| It supports swapping | You need to use it with a hardware wallet |
| Supports NFTs | |
| On mobile and desktops | |
| User friendly | |
| Non-custodial | |
Slope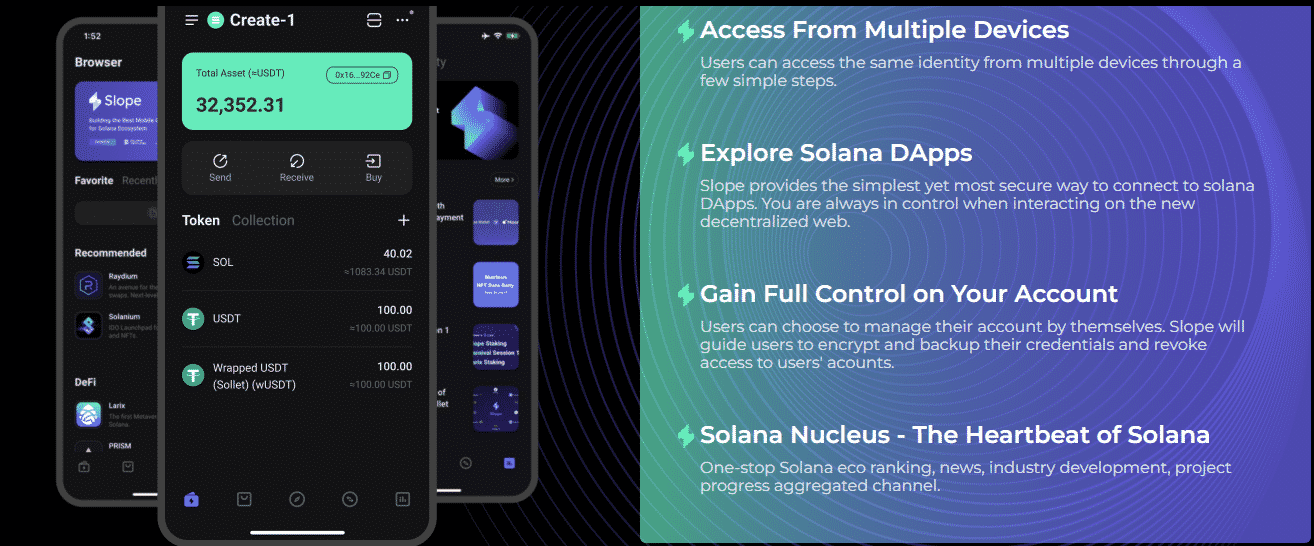 What is Slope?
Slope is a community-based decentralized exchange, or DEX, that provides blazing-fast speed, nearly-zero transaction fees, and an intuitive interface for users.
What does it offer?
Slope provides users with a complete user experience, including Solana Pay, DeFi engagement, visualized NFT management, IDO aggregator, and token SWAP
How to get started with Slope?
Slope Wallet is free!
Use Receive feature on the Homepage (bottom left).
Add a type of token into your Wallet by clicking '+' on the homepage.
Get your Slope Wallet public address prepared for the next step.
Go to your existing wallet to send funds to your new Slope Wallet address.
Key features of Slope
First cross-platform wallet built for Solana
Automated full limit order book
Slope NFTs Market
Governed by the Slope DAO
Pros/Cons
| | |
| --- | --- |
| Pros | Cons |
| Easy to use interface, even for beginners. | It stores assets online, making them susceptible to hacking and theft. |
| Has an integrated DEX | |
| Low transaction fees. | |
| Easy token swap | |
| Access to Solana dApps | |
Math Wallet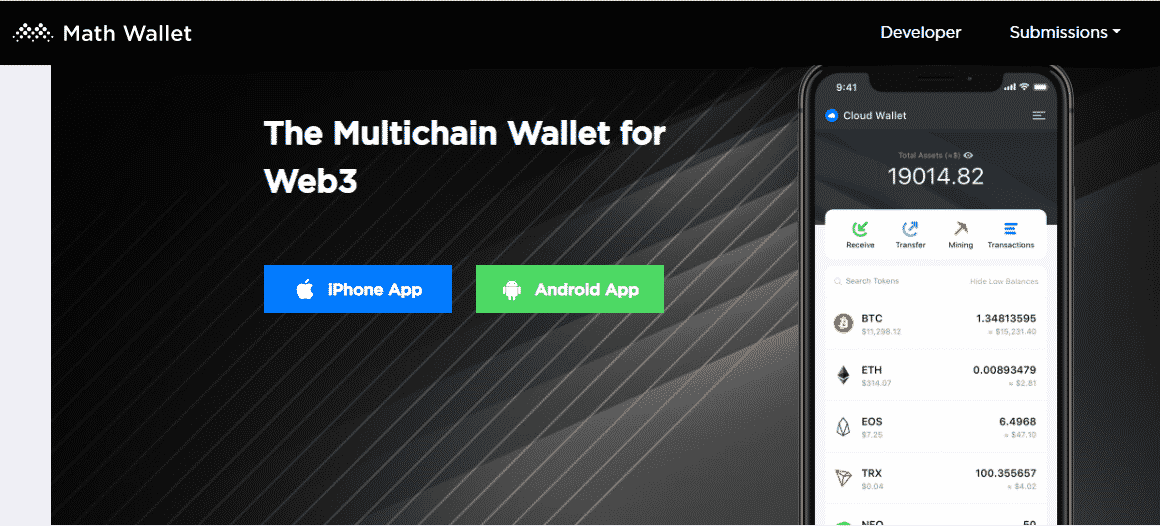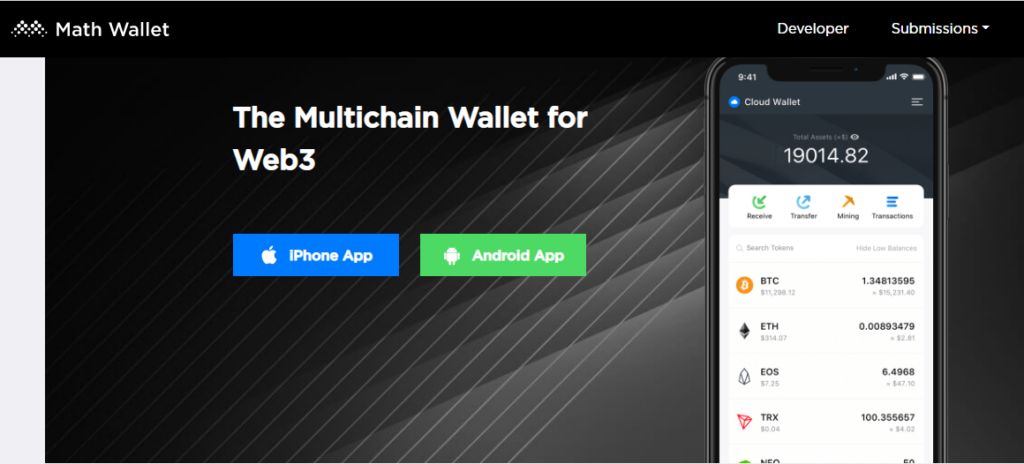 What is Math Wallet?
Math Wallet is a multi-platform universal crypto wallet. Math Wallet enables storage of 50+ blockchains and 3000+ tokens.
What does it offer?
MathWallet enables storage of all BTC, ETH, Polkadot, Filecoin, EOS, Solana, BinanceChain, Cosmos tokens.
How to get started with Math Wallet?
Enter the wallet and select a blockchain
Click on Add and choose Create Wallet
Enter wallet password
Backup the private key
Wallet created, click Web Wallet to start using
Key features of Math Wallet
Token transfer and receive
Browse blockchain information
Blockchain resources management
Portfolio management
Pros/Cons
| | |
| --- | --- |
| Pros | Cons |
| Easily user-friendly design. | Having 2 different wallets with the same name can be confusing. |
| Forces Backup when creating a new wallet. | Customer support is unreliable. |
| Optimized for the use of web3. | |
| Support a large variety of EVM blockchains. | |
Ledger Nano X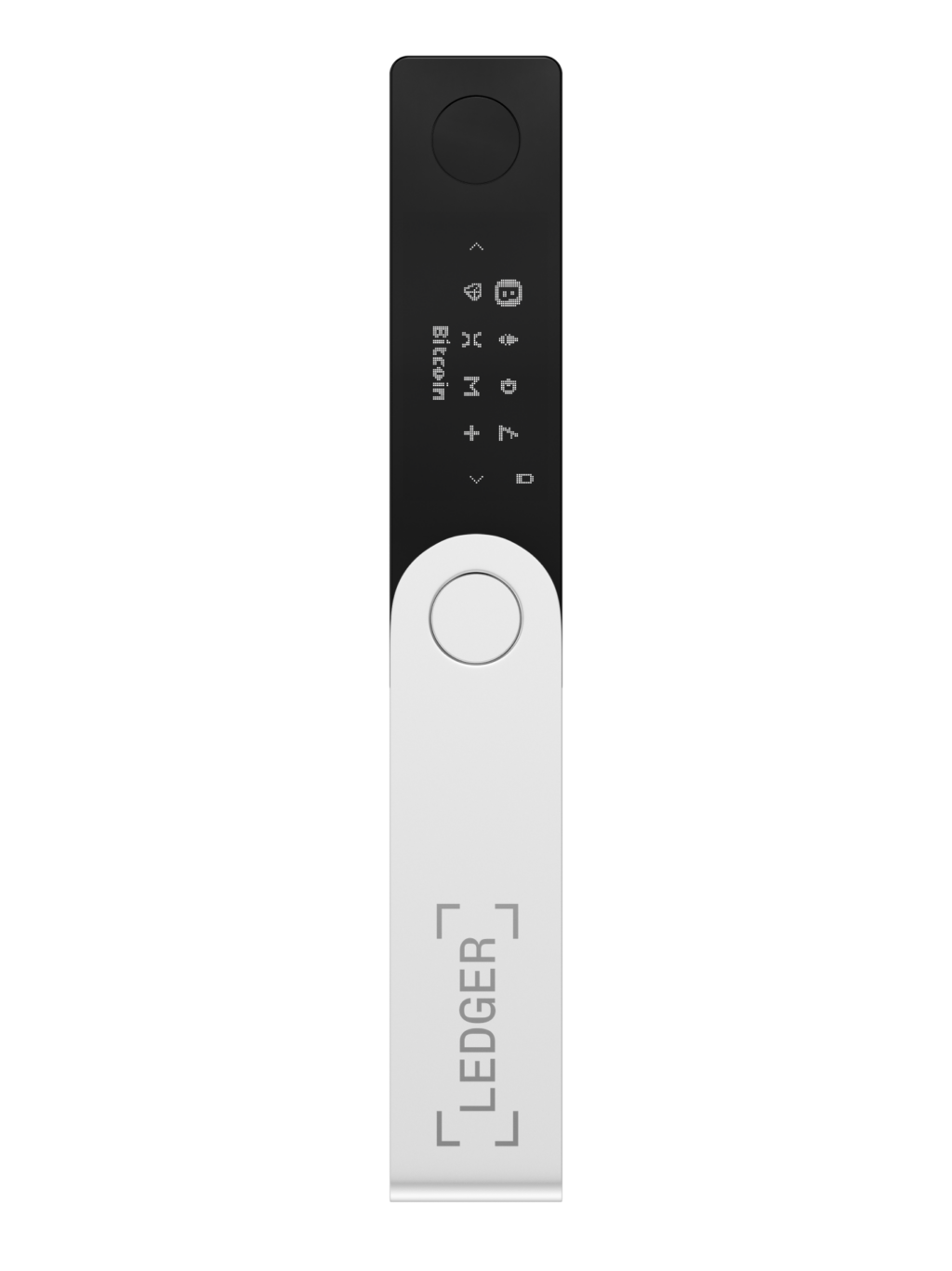 What is Ledger Nano X?
Ledger Nano X is a Bluetooth-enabled Solana hardware wallet where you can securely manage and grow your crypto. It has cut a niche as one of the best Solana hardware wallets in the market.
What does it offer?
The Ledger Nano X keeps your coins & NFTs offline and protected. Enables buying, exchanging, trading crypto in seconds, the simple, safe, smart way.
How to get started with Ledger Nano X?
To set up your Nano X you will need to follow the steps listed below:
Download and install the Ledger Live app.
Your Nano X wallet will generate a secure 24-word recovery phrase.
Choose a PIN that will secure your wallet.
Key features of Ledger Nano X
Integrated crypto exchange on Ledger Live
USB and Bluetooth interfaces
8-hour battery life
iOS and Android support
Pros/Cons
| | |
| --- | --- |
| Pros | Cons |
| Can be managed from the mobile device | Relatively expensive |
| Very secure | |
| Supports more than 1500 cryptocurrencies | |
| Comfortable design | |
Exodus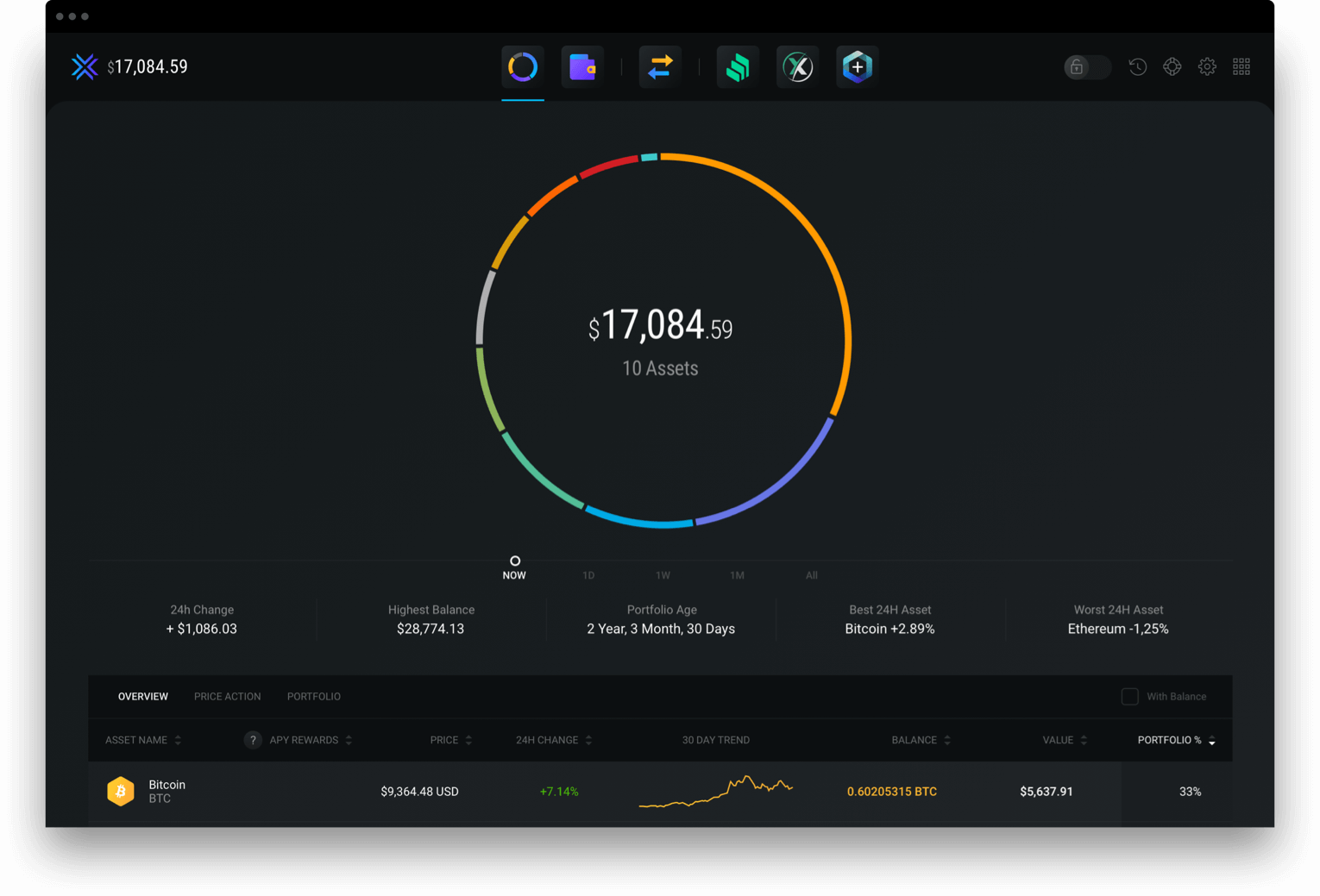 What is Exodus?
Exodus is the multi-chain crypto wallet where you can send, receive and exchange 100+ cryptocurrencies.
What does it offer?
Exodus supports almost all modern operating systems
Exodus has both Android and IOS apps.
Exodus apps yield 5.88% APY on Stacking Solana.
How to get started with Exodus?
Download Exodus
Backup
Receive your first deposit
Start exchanging your assets
Key features of Exodus
Built-in Exchange
Supports 150+ Currently Assets
Supports both Mobile and Desktop Apps
Pros/Cons
| | |
| --- | --- |
| Pros | Cons |
| Easy to use | Prone to security issues |
| Has customer support | The fees can often be quite high |
| Multiple cryptocurrency choices | |
| A software-based wallet | |
| Built-in exchange features | |
Atomic Wallet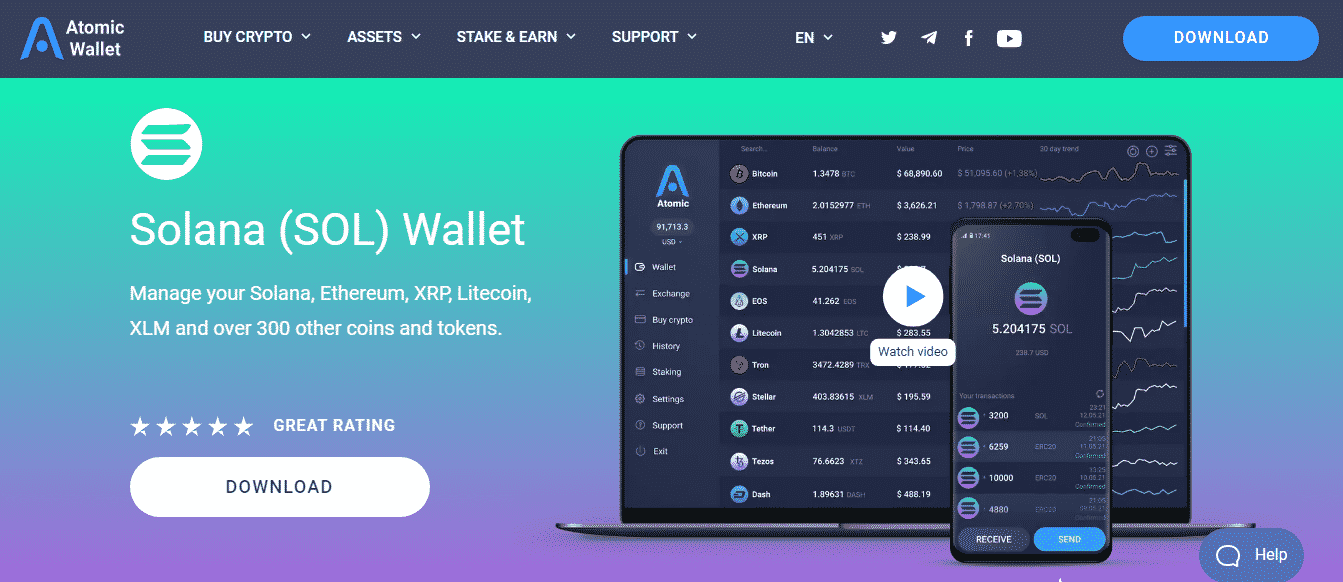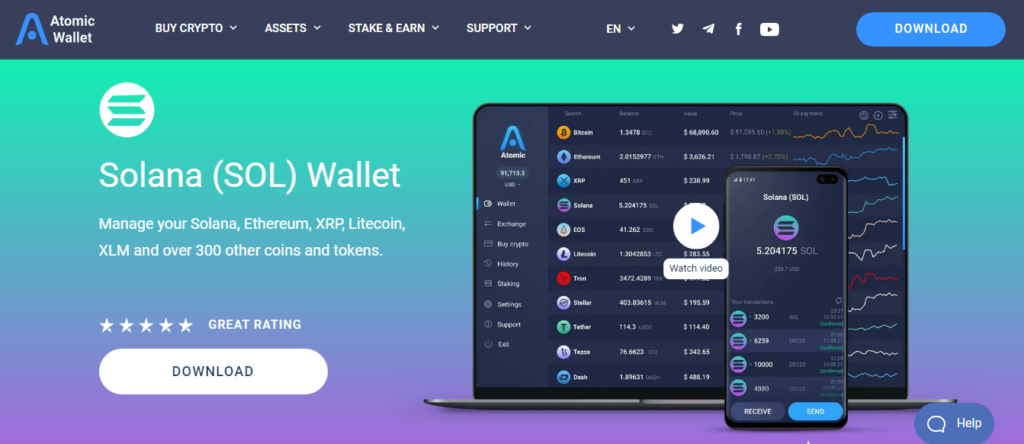 What is Atomic Wallet?
The Atomic Wallet is a decentralized cryptocurrency wallet and exchange app that supports over 500 coins and tokens.
What does it offer?
The Atomic Wallet supports multiple operating systems. It also allows users to use their bank cards to purchase cryptocurrencies without the use of a centralized exchange.
How to get started with Atomic Wallet?
Open the application on your device
Click Create Wallet
Set up a strong and secure password
You are now viewing your 12-word backup phrase
The next step is enabling Atomic Wallet to collect logs
Key features of Atomic Wallet
Activity Dashboard
Real-Time Reporting
Trend Analysis
Performance Metrics
Mobile Dashboards
Pros/Cons
| | |
| --- | --- |
| Pros | Cons |
| Over 500 coins and tokens. | Only certain cryptocurrencies are available for purchase in the wallet. |
| Private keys are encrypted and stored on your device. | No hardware wallet support. |
| Easy to use. | Poor customer support. |
Sollet
What is Sollet?
Also known as Project Serum, Sollet is a decentralized exchange (DEX) that also provides are reliable wallet for Solana.
What does it offer?
Sollet provides support for the usage of the integrated DEX.
Sollet also distinguishes itself by proclaiming that the wallet is designed for advanced users and developers.
How to get started with Sollet?
Go to sollet.io. You will see a 'Create New Wallet' screen
Once you have backed up your seed phrase, you will be asked to add a password.
Key features of Sollet
Sollet Wallet is an open-source storage wallet belonging to the Solana network.
Solana SPL Token Wallet.
Excellent NID Wallet alternative.
Pros/Cons
| | |
| --- | --- |
| Pros | Cons |
| You can use it to track the SOL domains you have. | It has a poor UI/UX. |
| Compatible with Ledger Nano X. | You can't use it to stake SOL. |
Trust Wallet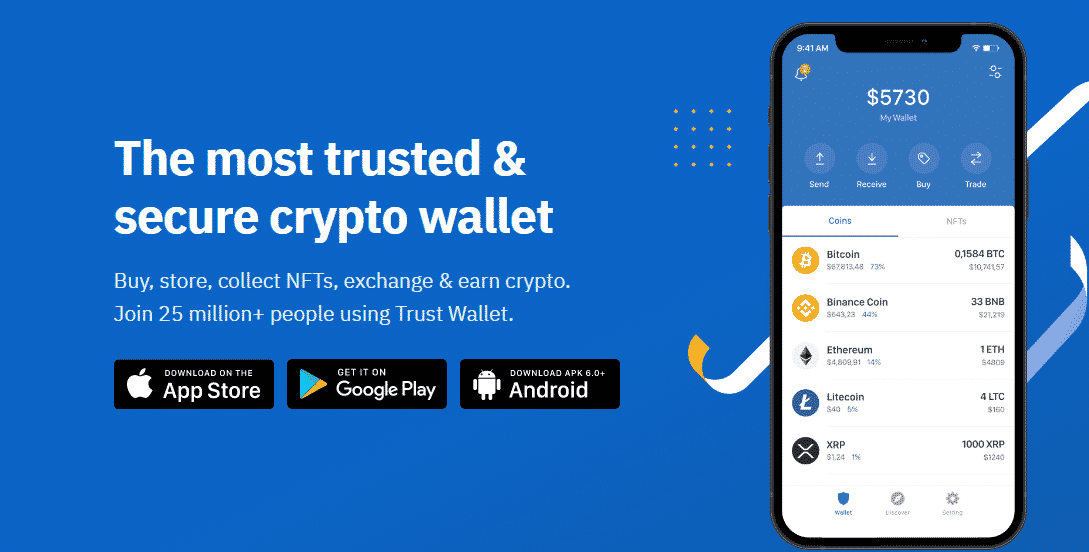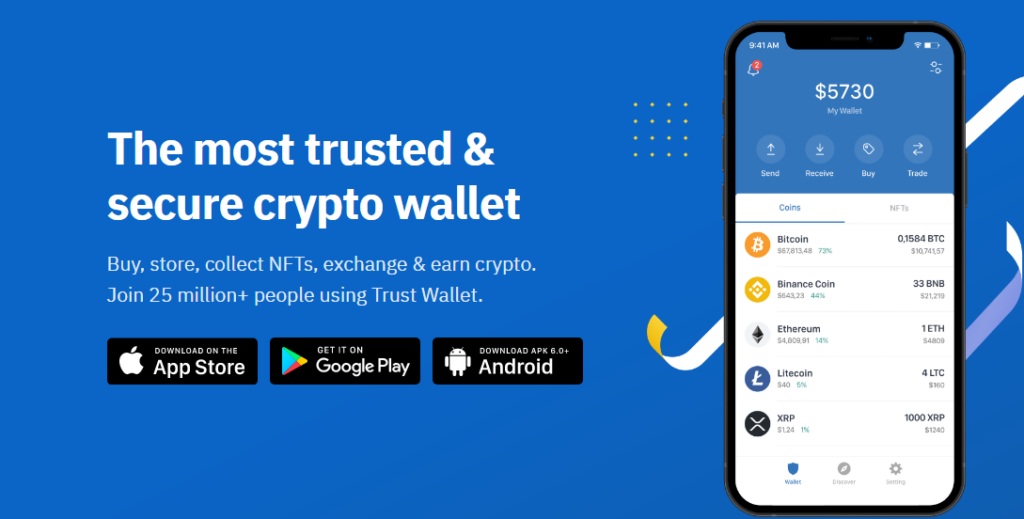 What is Trust Wallet?
Trust wallet is among the most trusted third-party wallets in the crypto market. If you're looking for a high-quality third-party wallet for your Solana, Trust wallet offers all the features you need.
What does it offer?
It supports multiple cryptocurrencies, allowing users to quickly and easily buy, sell, and trade. Additionally, users can purchase more crypto through Trust's built-in exchange.
How to get started with Trust Wallet?
Follow one of the download links on the website trustwallet.com
Open Trust Wallet and tap on "Create a new wallet"
In the next step you will receive your 12-word recovery phrase
Verify that the 12 word phrase is correct order
Key features of Trust Wallet
Secure access
Multi-coin support
Earn interest
Pros/Cons
| | |
| --- | --- |
| Pros | Cons |
| Supports multiple cryptocurrencies and blockchains. | Only offers mobile apps. |
| Excellent wallet for beginners. | No two-factor authentication. |
| In-app exchange. | |
SimpleHold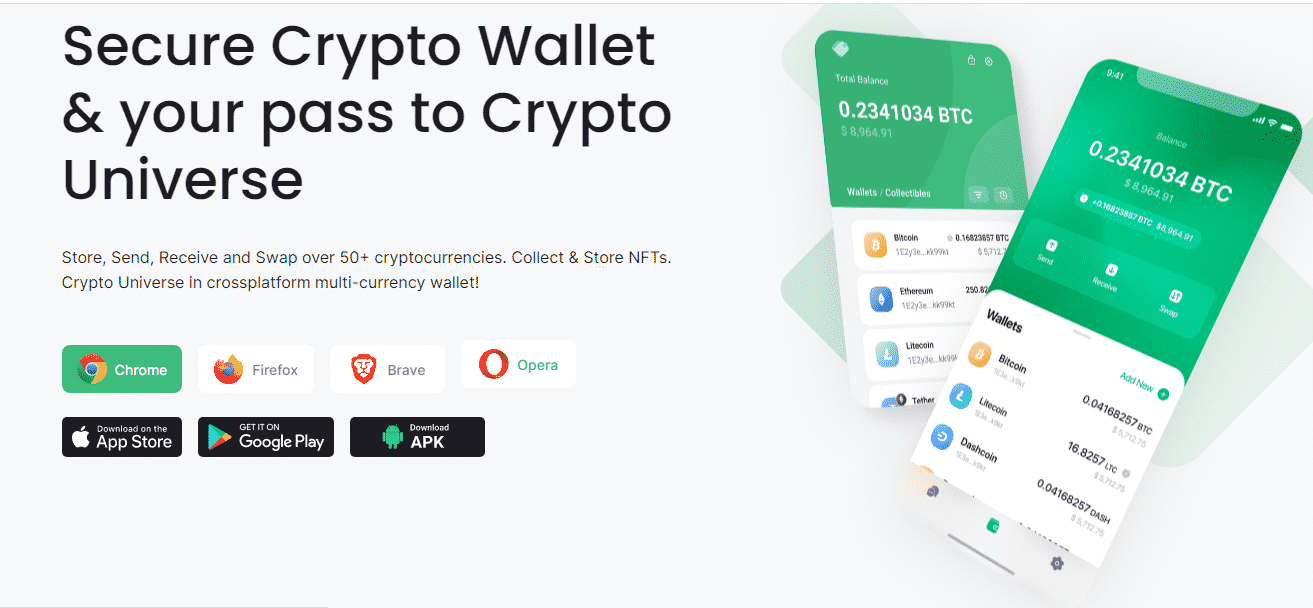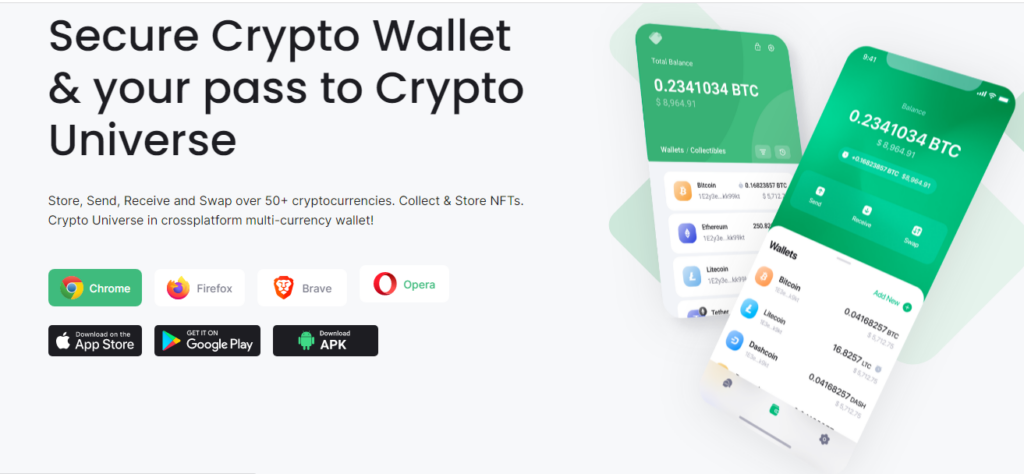 What is SimpleHold?
SimpleHold is a light wallet that was created by the SimpleSwap team with a main focus on safety and usability.
What does it offer?
SimpleHold empowers you to receive, store and swap your cryptocurrencies. The wallet is multi-currency and UI-friendly.
How to get started with SimpleHold Wallet?
Choose a browser where you want to get a SimpleHold wallet extension and go to https://simplehold.io/
Find and install the SimpleHold extension.
Create an account
Next, find a green wallet favicon on your browser's bar.
Key features of SimpleHold
Tight in-built security features
Very light relative to comparable wallets
Promotes user privacy
Pros/Cons
| | |
| --- | --- |
| Pros | Cons |
| Acts as an exchange. | You can't stake SOL on it. |
| Low exchange rates. | |
Conclusion
Solana is among the fastest-rising cryptocurrencies and is enjoying widespread adoption as a result of the many use cases and efficiency of the Solana network. The discussion above has covered the essential features that constitute the best wallets for Solana in 2022. We have given an objective assessment of the wallets and pointed out their weaknesses as well.
It is important to remember that the crypto market is dynamic, and you should therefore be on the lookout for any changes to the wallets discussed above.
Importantly, you should remember that the best wallet is that which has all the features and functionalities that meet your needs. Also, different wallets have different capabilities, but you should never compromise on the security of your assets. Finally, the emergence of the NFT market and DeFi is likely to strengthen the Solana ecosystem. Therefore, you should consider giving more weight to wallets that support different types of assets in the Solana ecosystem.