In the previous few years, few things have had such a profound effect on the financial world as cryptocurrency. While traders are interested in crypto assets because of the investment opportunities, technically-inclined individuals love the technology behind them. They can potentially transform how payments are made worldwide. Novice traders may face some trouble finding the right trades in the beginning, but fortunately, there are several services providing cryptocurrency signals. Here, we are going to discuss some of them in detail.
What are crypto trading signals?
They are trade suggestions provided by expert analysts which tell you when to purchase a particular coin and at what price. These experts carefully sift through market data and research the price trends of an asset before sending out a signal. These suggestions can be delivered via multiple mediums and in various formats. They are particularly useful for those who wish to know more about the crypto market.
Who generates crypto signals?
There are mainly two types of signals, manual and automated. Although crypto is a relatively new introduction, its widespread popularity can lead to the rise of several experts. These individuals have analyzed the price behavior of the coins for many years, and this makes them qualified for generating signals. Automated signals involve a computer program replacing the analysts, performing automatic analysis of price action based on preset instructions.
Are crypto signals important?
If you wanted to trade in crypto coins by yourself, you'd need to conduct extensive research on your own. Also, due to the volatile nature of the market, prices keep changing rapidly. As such, you need to monitor the charts frequently, if you wish to stay updated. With trading signals, you can make prudent decisions without worrying about monitoring the market all the time. Thus, they are quite important for traders.
How to choose the best services?
Choosing the best service is not as easy as it sounds. There are several scam services that offer poor signals for a high price, looking to cheat merchants. You need to gather the maximum possible information on the provider, including their reputation, trading performance, price, and strategy.
What should you look for in a crypto trading signal service?
A reliable crypto trading signals provider should have a decent reputation, with several reviews from satisfied customers. You should look for live statistics verified by third-party websites and study them to make sure the signals are capable of generating steady profits. Another thing to look for is transparency. The company you sign up with should not attempt to hide any information about itself or the signals.
How to read crypto signals?
These signals will tell you which coin to purchase. You will also get the buy price and the sell target. There will be a stop loss whose function is to minimize losses by allowing you to exit your positions. The buying price may be provided in the form of a price range and this will let you find the most lucrative point to enter the market. The suggestions also come with take-profit targets.
How to start trading with crypto trading signals?
Once you receive the signal, you should carefully consider what percentage of your assets you wish to invest. Take into account the suggestions provided by the expert, and also perform your own research. You should only use the exchange specified in the signal for carrying out the deal.
Difference between trading signal and alert
Trade alerts are notifications sent by an automated system or a human trader when the specifications of a user are triggered. When the market conditions change, or the prices shift, or when there is a major economic event, you get alerts that notify you about profitable opportunities. Signals, on the other hand, specify the technical details of the trade, i.e. entry price, exit price, take profit, stop loss, etc.
Crypto trading signals: top choices reviewed
There are numerous services providing paid as well as free crypto signals. They have different features, pricing plans, and signal frequencies. As such, before choosing one, you should take a look at what the top services in the market have to offer.
Crypto Rand Group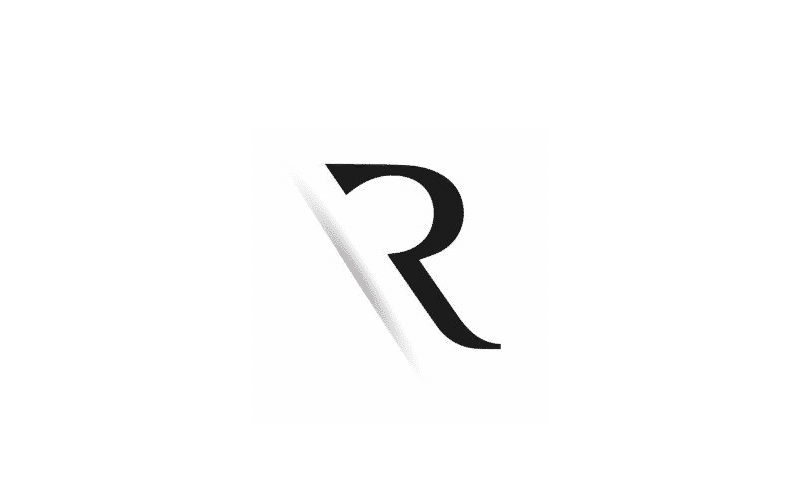 Price: $19.95 per month
Notification Frequency: 3 signals/week
Signal Type: Public
Key features
Here are the main features of the platform:
Experienced team: The Crypto Rand team consists of over 15 experienced analysts, researchers, teachers, and writers.
Advanced plan: There is an advanced plan providing top signals that cost $200 per month. It gives you access to the teacher room and discussion channel. You also get technical analysis results, which helps you make more informed decisions.
Live sessions: This signal provider often holds live sessions that let the users know about the current market scenario. New traders can benefit from these sessions, getting to know more about technical analysis from the mentors.
Personalized courses: This system shares market updates 24/7. There are news updates along with expert analysis. On the official website, you can access courses where an expert builds a personalized strategy based on your experience and objectives.
| | |
| --- | --- |
| Pros | Cons |
| One-on-one sessions | Lack of information on parent company |
| Affordable basic plan | No high-end safety features |
| Educational resources | |
Rocket Wallet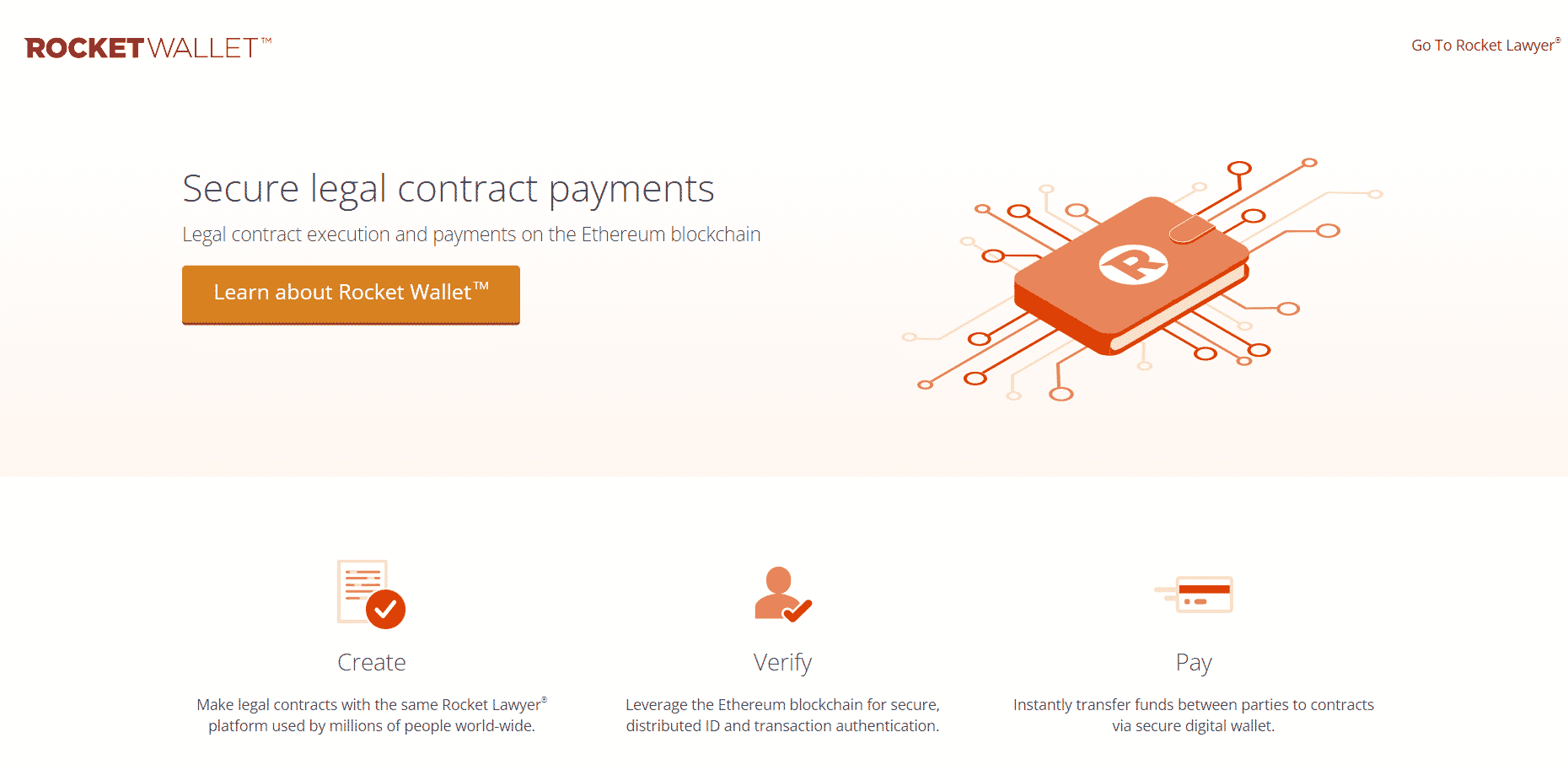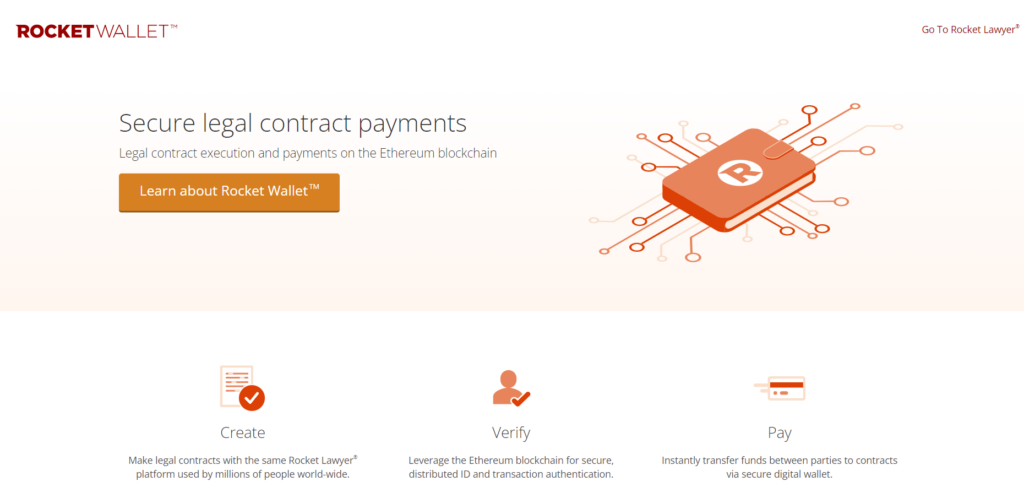 Price: $90/month
Notification Frequency: 1-3 signals/day
Signal Type: Telegram
Key features
Let's look at the main features of this service:
VIP group: The VIP group is perfect for gaining deep insight into the present market scenario. There are four distinct VIP channels consisting of thousands of subscribers where you get signals and market updates. Those not willing to pay for VIP can join the public channel.
Monthly reports: With Rocket Wallet, you get to see the past performance of your trade signals. At the end of every month, you get a detailed report that lets you evaluate your performance.
Multiple subscription plans: While the one-month plan costs $90, there are four other plans you can opt for. The three-month membership costs $220, and the six-month plan is priced at $390. For the one-year and lifetime plans, you need to pay $700 and $1300, respectively.
| | |
| --- | --- |
| Pros | Cons |
| VIP channel | Free cryptocurrency trading signals available |
| Large community | |
| Monthly performance reports | |
4C Trading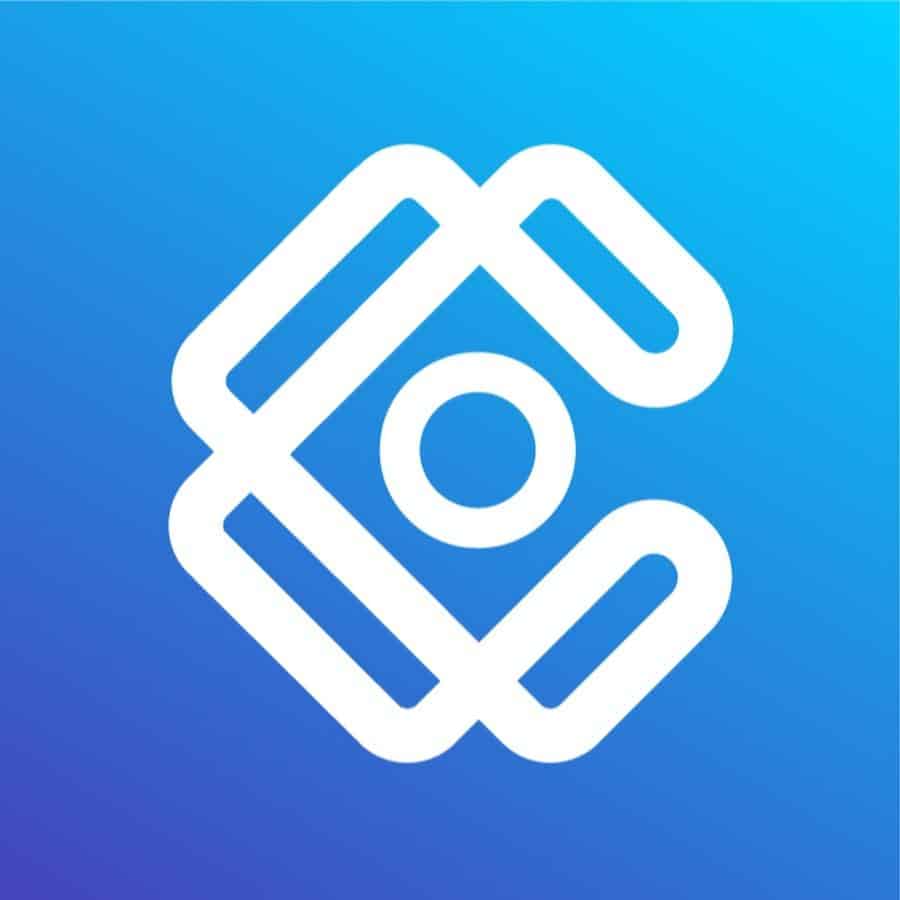 Price: $59/month
Notification Frequency: 5-10 signals/week
Signal Type: Automated
Key features
Here are the key features of this signals provider:
Automated signals: Here, the crypto signals are generated by smart bots. Thus you can earn profits on autopilot with minimal manual effort. These bots help you grow your capital for assets like LINK, Ethereum, and Bitcoin.
Smart margin: 4C Trading provides you with margin signals. In margin trading, you borrow funds from a brokerage to carry out trades. This way, you can target even bigger profits.
4C Dashboard: This is a professional dashboard where you can efficiently manage all your investments.
AI algorithms: This platform uses the latest AI algorithms, which means you can engage in high-volume trading.
| | |
| --- | --- |
| Pros | Cons |
| Automated process | Poor customer service |
| Educational content | |
| Affordable plans | |
Learn2Trade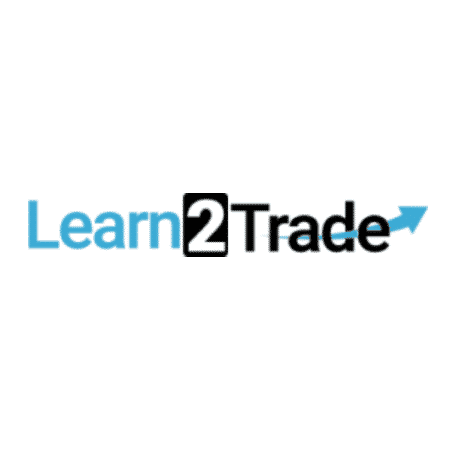 Price: £35/month
Notification Frequency: 3-5 signals/day
Signal Type: Telegram
Key features
Let's look at what this service offers:
Experienced analysts: The signals on this platform are generated by professionals who have over 15 years of experience in the crypto market. Every month, subscribers receive thousands of pips in profit.
VIP signals for free: By registering with one of the partner brokers and making a minimum deposit, you get lifetime access to the VIP signals crypto telegram groups for free.
Weekly webinars: Learn2Trade holds weekly webinars where you can get professional advice from expert traders. They also provide you with daily technical analysis performed on crypt coins.
Economic alerts: You get frequent alerts on economic events that help you make better decisions.
Notifications and alerts: This platform sends you signal notifications on mobile and Telegram.
| | |
| --- | --- |
| Pros | Cons |
| Weekly webinars | No trading results |
| Highly experienced analysts | |
| Free VIP signals | |
Signals Blue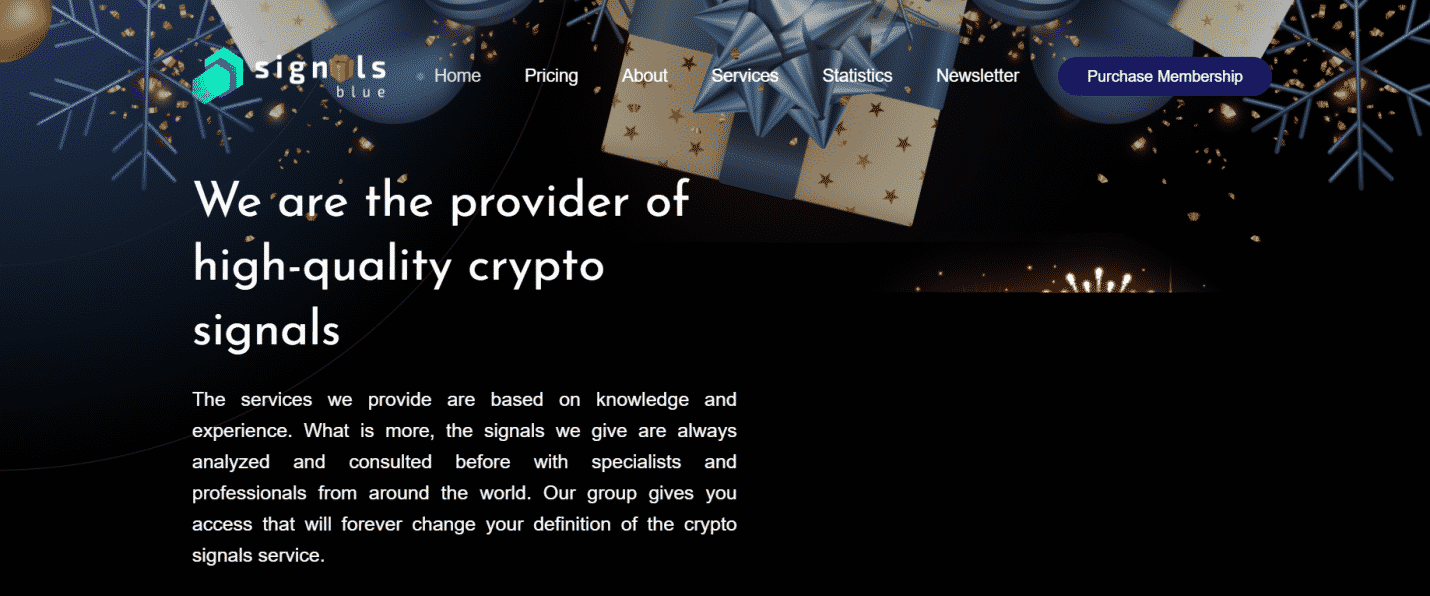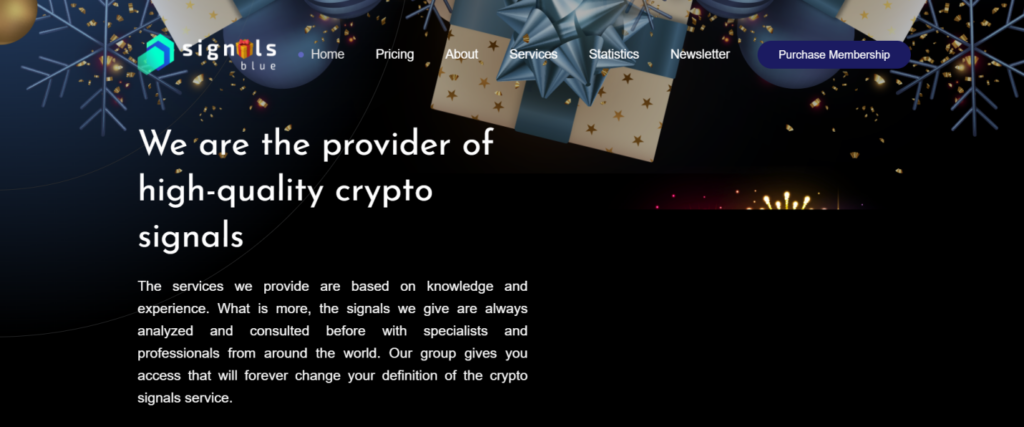 Price: £229.99/month
Notification Frequency: Unknown
Signal Type: Telegram
Key Features
Here are the principal features of this platform:
Signals via API: Signals Blue provides the best paid crypto signals for advanced users. You can get the signals via JSON and webhook.
Cornix automation: This platform supports Cornix Automation. By using this automation service with Huobi, KuCoin, and Binance, you can automate the entire trading process based on the signals.
AI-based tools: Signals Blue has a dedicated program that monitors the crypto market and detects the anomalies that signal price changes for a particular asset. As a result, the signals are delivered faster.
Advanced analysis: The signals provided by this service are backed by expert consultation and analysis. You can study the charts to get a deeper insight into the suggestions.
| | |
| --- | --- |
| Pros | Cons |
| 24/7 support | Expensive pricing plans |
| Advanced AI tools | |
| Automation service | |
Fat Pig Signals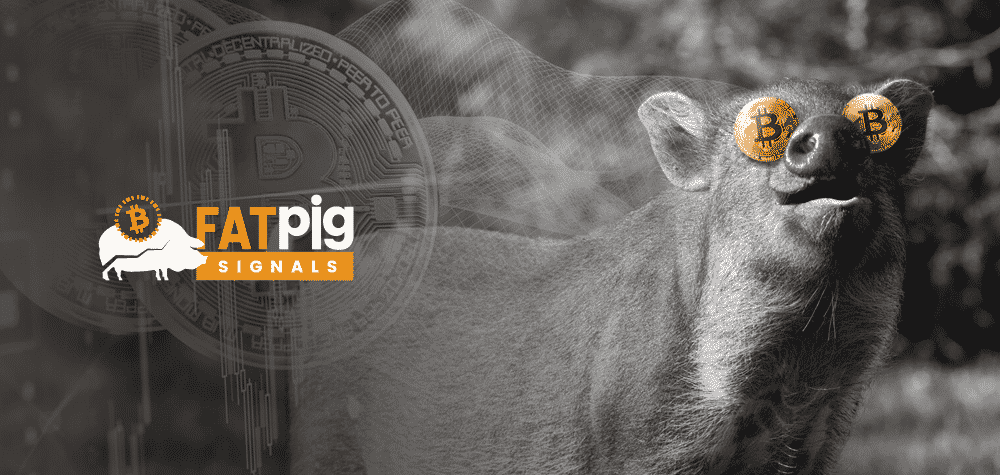 Price: ETH 0.50/3 months
Notification Frequency: 1-3 signals/day
Signal Type: Telegram
Key features
Here are the main features of this signals service:
All types of signals: This platform generates signals for short-term, mid-term, and long-term traders. So no matter your investment objective, you can always find trades you can take advantage of.
Technical analysis: Each signal is generated on the basis of sound technical analysis. The signals are up-to-the-minute, so you can readily take advantage of them.
Margin trading signals: If you are short on balance, you can try out the margin trading signals. These signals are complete with recommended leverage.
Trading results: On the official website, you can find a spreadsheet detailing the past results for hundreds of signals.
| | |
| --- | --- |
| Pros | Cons |
| Signal results available | Payment only via ETH |
| Advanced technical analysis | |
| Multiple pricing plans | |
Crypto Alarm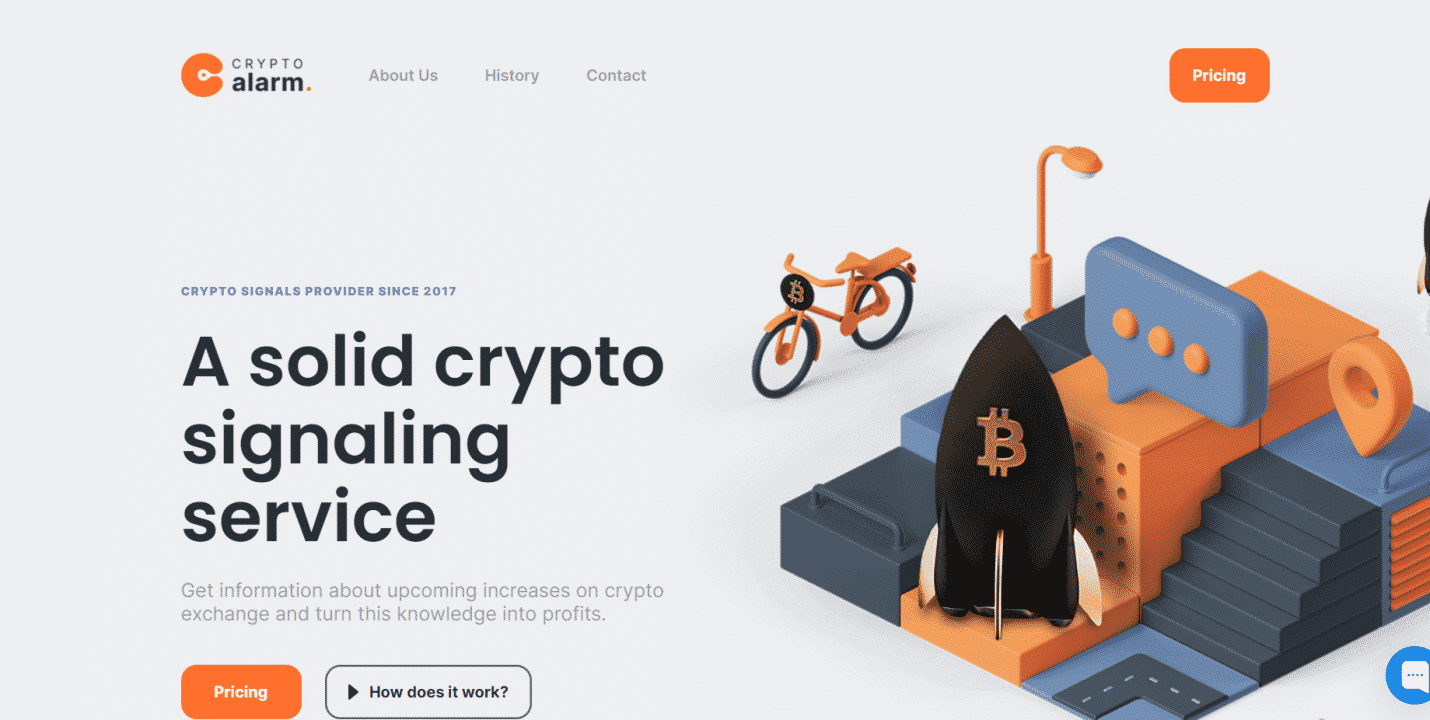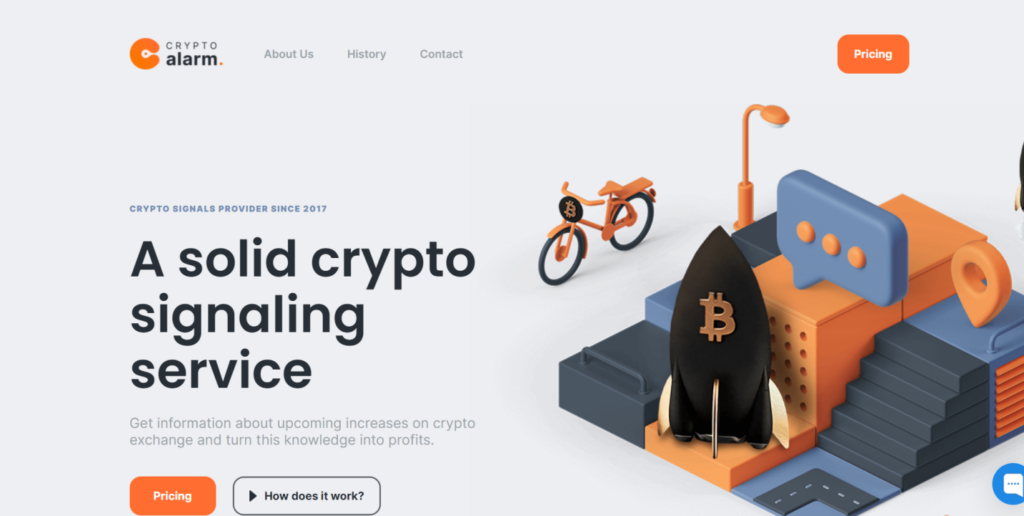 Price: $249/month
Notification Frequency: 1-2 signals/day
Signal Type: Telegram
Key features
The main features of the system are as follows:
Historical records: On the official website itself, you can check the past performance of the signals provided by this service.
Signals for different time zones: Crypto Alarm follows the UTC time zone and the signals remain active for at least a few hours. Thus, you can use them regardless of the time zone.
Powerful strategies: The analysts generating the signals rely on several strategies and trading methods. They also use AI-based tools for greater accuracy.
Signals for different periods: While most of the signals are for short periods, the platform also sends you mid-term and long-term signals.
| | |
| --- | --- |
| Pros | Cons |
| Accessible trading history | Expensive plans |
| Suitable for different time zones | |
| Cornix integration | |
Zignaly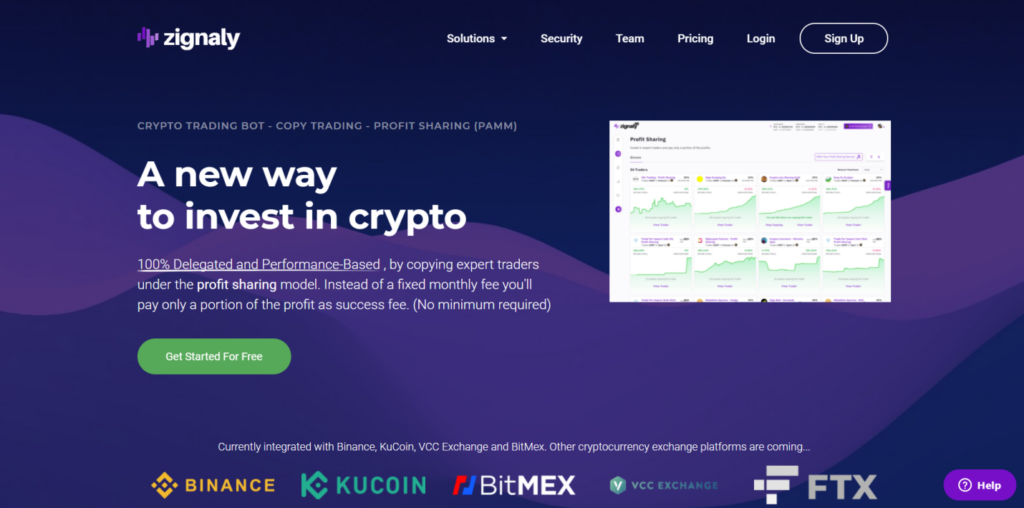 Price: Free
Notification Frequency: Unknown
Signal Type: Copy Trading
Key Features
Let's look at the top features of this trading signals provider:
Copy-trading: Zignaly offers an evolved version of copy trading known as Profit Sharing. Here, you can visit the marketplace and invest in a trader's portfolio. This way, you have full control over managing your gains. It is better than normal copy trading since you co-invest with the trader.
Small starting investment: This platform lets you get started with as little as $1. As such, beginners will find it well-suited to their needs.
Minimal risk: By copying multiple traders simultaneously, you can diversify your portfolio and minimize the risk.
Curated marketplace: Each provider is reviewed manually, making sure they meet all the requirements.
| | |
| --- | --- |
| Pros | Cons |
| Free service | Limited number of exchanges |
| A large number of signal providers | |
| Unlimited pairs | |
Universal Crypto Signals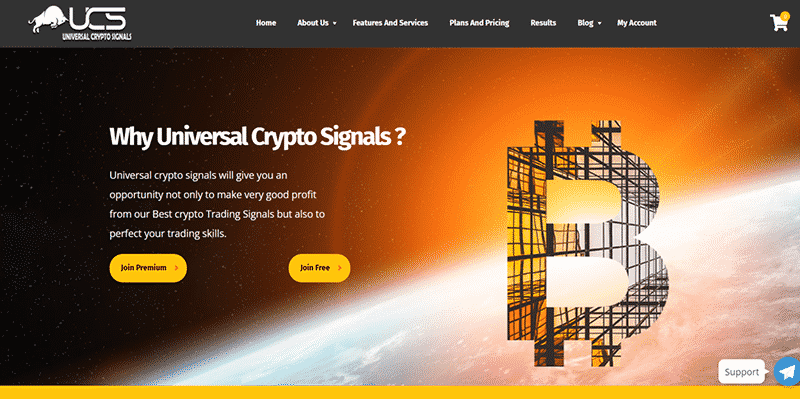 Price: $66/month
Notification Frequency: 1-5 signals/day
Signal Type: Telegram
Key features
The main features are as follows:
Bitcoin and market analysis: The Bitcoin signals come with the detailed analysis. You also get the alts index and the BTC dominance analysis. This tells you when to purchase and sell Bitcoin and other assets.
Automated trading: The signals are integrated with Cornix. Thus, you can trade them without any manual intervention.
Supports multiple exchanges: This service provider delivers signals from different exchanges like Coinbase, Okex, Kucoin, Huobi, Bitmex, Bybit, Bittrex, and Binance.
Premium Trollbox: Through the Premium Trollbox, you can discuss trade ideas with admins and premium clients.
Advanced trade setups: Traders receive guidance on risk management. Each trade setup comes with stop loss, targets, and entries.
| | |
| --- | --- |
| Pros | Cons |
| VIP Trollbox | Complicated pricing structure |
| Supports automated trading | |
| Risk analysis for each signal | |
2Moon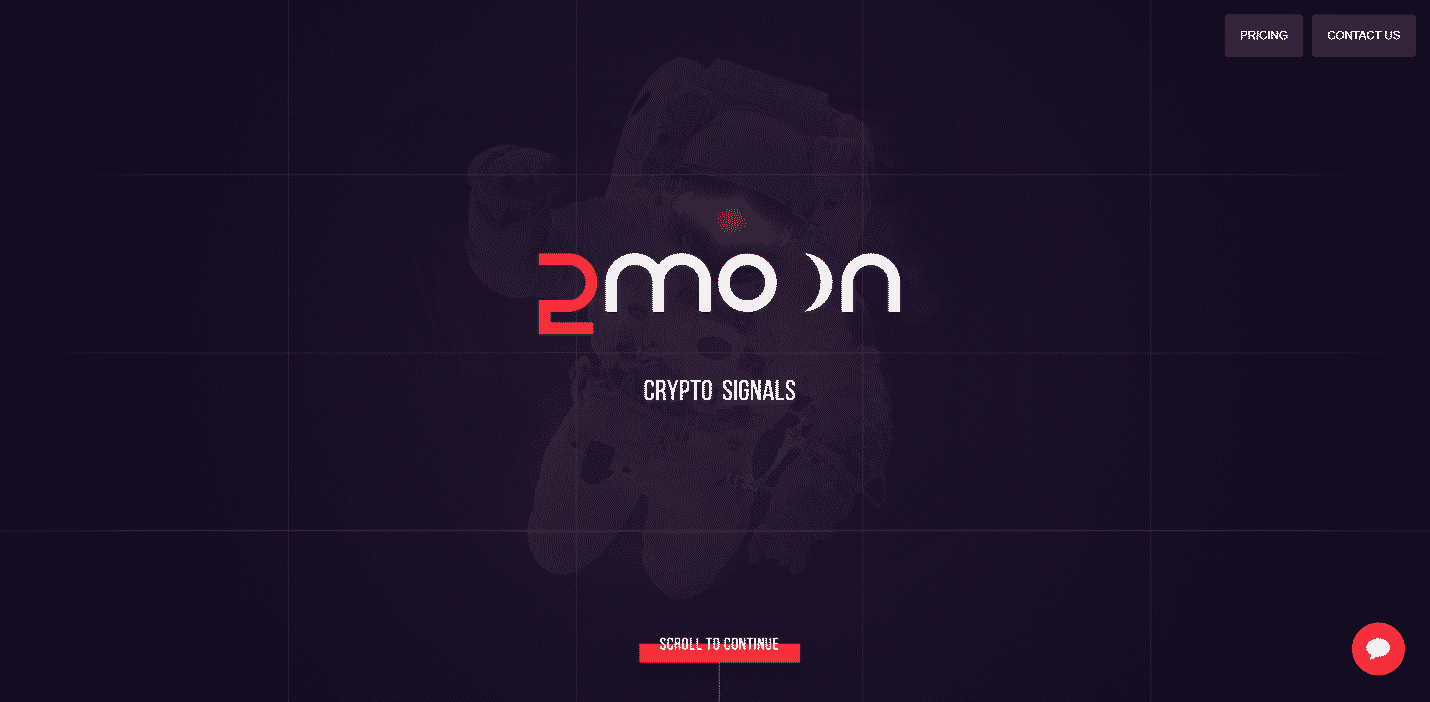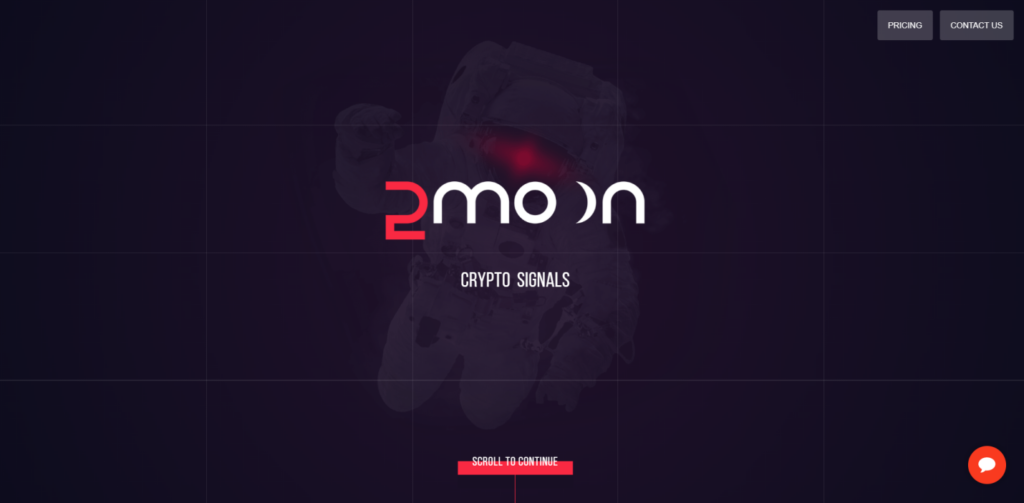 Price: $297/month
Notification Frequency: Unknown
Signal Type: Telegram
Key features
Let's find out what the key features of this platform are:
Experienced service: This platform has been active since 2017 and has generated 2133 signals so far.
Focus on alternative digital coins: The main focus is on altcoins, as they offer easy short-term profit opportunities. 2Moon generates profitable signals even where there are adjustments and declines in the market.
Strategy advice: With the costlier plans, you get access to strategy advice. There are experts who tell you what kind of strategy you should use for a particular asset.
Tracking systems: 2Moon keeps an eye on the currencies whose values are about to shoot up. As soon as the prices are about to rise, traders receive a signal from the platform.
| | |
| --- | --- |
| Pros | Cons |
| Live chat support | Lack of vendor transparency |
| Binance and Bitmex signals | Expensive pricing plans |
| No pump & dump signals | |
How to choose the best Bitcoin trading signal?
In order to choose the best crypto signals, it is not enough to know about the different service providers. There are several factors that you need to take into account before making a final decision. These are the factors that set a reliable service provider apart from a fraud one. Here, we shall take a look at the various factors and discuss each of them in detail.
Entry price
Although there are both paid and free services available, the former is considered more reliable. When you pay a certain amount every month for the signals, it motivates the analysts to do extensive research and identify the best possible trade setups. Remember, free services often turn out to be scams.
There are a few free services that are legit, but most of them run pump and dump schemes. This involves the fraudsters purchasing a certain coin in bulk amounts prior to generating the signal. This would drastically enhance the asset's value, after which they sell all their assets, leading to a sharp price drop.
Trial
For novice traders, it is unwise to subscribe to an expensive signals service. These individuals don't have too much market knowledge and because of this, a free trial plan is beneficial for them. With a free trial, you can test the profitability of the signal without investing too much money. Once you are sure that the signals lead to steady profits, you can subscribe to one of the paid plans.
Time frame
One of the most common mistakes crypto investors make is that they don't check the time zone of the provider. Trading in crypto is a time-sensitive affair because the prices keep changing so frequently. So if the provider's time zone does not match yours, by the time you receive the signal, the trading opportunity might have passed.
Source of signal
Since a reliable provider never offers their services for cheap, it only makes sense to find out how the signals are generated. You should carefully study the trading strategies to make sure the analyst conducts adequate technical and fundamental analysis before sending the suggestions. A professional analyst who considers both types of analyses is likely to provide profitable signals.
Trading performance
This is one of the most vital factors to consider before selecting a signals service. There are some providers that promise unrealistically high win rates and you should steer clear of them. Make sure the amount of profit generated by the service exceeds the losses suffered. A reliable provider does not make too many tall claims, rather letting the results speak for themselves.
Trading strategy
Various signal providers have different types of strategies and your choice should depend on your requirements. Normally, analysts use technical and fundamental analysis for generating the signals, but some of the strategies might not suit your needs. For example, short-term strategies are not ideal for traders who are looking to earn long-term profits.
Good broker
Your trades will always be executed through a brokerage platform, regardless of the nature of the signals provider. For your trading operations to be successful, the broker must be reliable and possess a good reputation. No matter how profitable the signals are, you can lose your trades if you execute them on an unreliable broker platform. A decent brokerage that has advanced features and supports automated trading enhances the efficiency of the signals.
Reliability of the core team
A reliable service provider should have a team of experienced trades working behind the scenes to ensure the robustness of the signals. As such, you should carefully examine the details of the team, making sure they have the required experience.
Customer reviews
Any decent service should have tons of user reviews supporting it. You should visit third-party websites and check the average rating.
Are crypto trading signals worth it?
If you are wondering "is crypto signal legit?" there is no need to worry. While there are some scam services on the market, you should be able to filter them out by considering the various factors mentioned above. A signal generated using proper analysis techniques has the potential to be profitable.
Conclusion
As you can see, you can potentially make large profits by signing up with a trustworthy provider. Whether you are a novice or an experienced trader, you can get some much-needed advice from the experts. Some of the platforms have large trading communities where you can interact with other individuals and discuss trading ideas.