Request network reached 4,352 total transactions in December 2021, with the total cryptocurrency payment volume exceeding $170 million last year.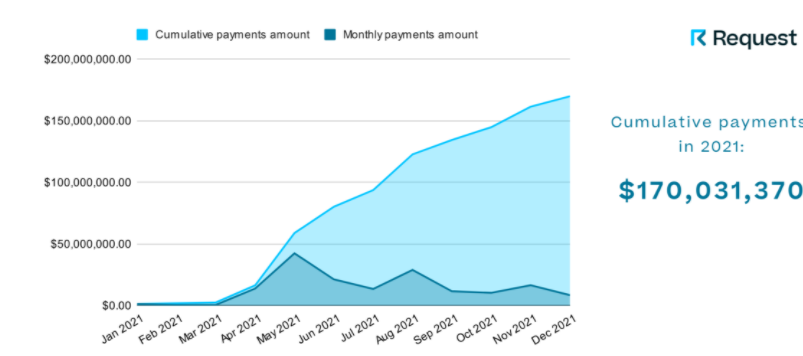 The firm paid $8.5 million in the December cryptocurrency invoices amid its rapid market expansion.
USDC is the most used cryptocurrency in the network at 24.2% of the total paid invoices, followed by SAND and DAI at 19.1% and 18.6%, respectively. The growing metaverse activities support SAND usage.
Request Finance recorded 7,980 users, comprising new firms and freelancers, in 2021, with an average monthly increase of 23%.
The number of invoices that REQ issued in December was 1,706, a 29% increase compared to the preceding month.
The issued-to-paid ratio, a metric that ascertains the network's user experience, was 65% in December.
Request currently assist over a thousand businesses in managing their cryptocurrency payment solutions and financials.
Source: Twitter
The "Request in Numbers" article for December 2021 is out 📊🚀https://t.co/8Uj0VAuBHZ
✅ $170m in cumulative payments for 2021
✅ Newly registered users in 2021: 7,980
✅ 1,706 crypto invoices issued in December 2021
✅ Top cryptocurrencies used: 24% $USDC, 19% $SAND, 18% $DAI https://t.co/ENUIYO0f45

— Request (REQ) (@RequestNetwork) January 14, 2022