Ethereum price has been under pressure in the past few days. On Monday, Ether dropped to $3,097, the lowest level since May 3 as cryptocurrencies sold off. It has fallen by more than 22% from the all-time high. According to CoinMarketCap, the currency has a capitalization of over $392 billion.
Crypto and technology sell-off
The recent weakness in cryptocurrencies is attributed to the overall rotation from growth and high-risk assets to value. Indeed, the sell-off has coincided with the sharp decline in growth stocks like Tesla, Shopify, Spotify, and Teladoc.
Shares of these companies have dropped by more than 30% from their year-to-date high. The Ark Innovation Fund (ARKK) that tracks many growth companies has dropped by more than 35% from the fund's all-time high. On the other hand, value stocks like Occidental, Goldman Sachs, ExxonMobil, and Bank of America have rallied this year. As shown below, the Vanguard Value ETF has outperformed its growth counterpart.
Vanguard growth vs. Vanguard Value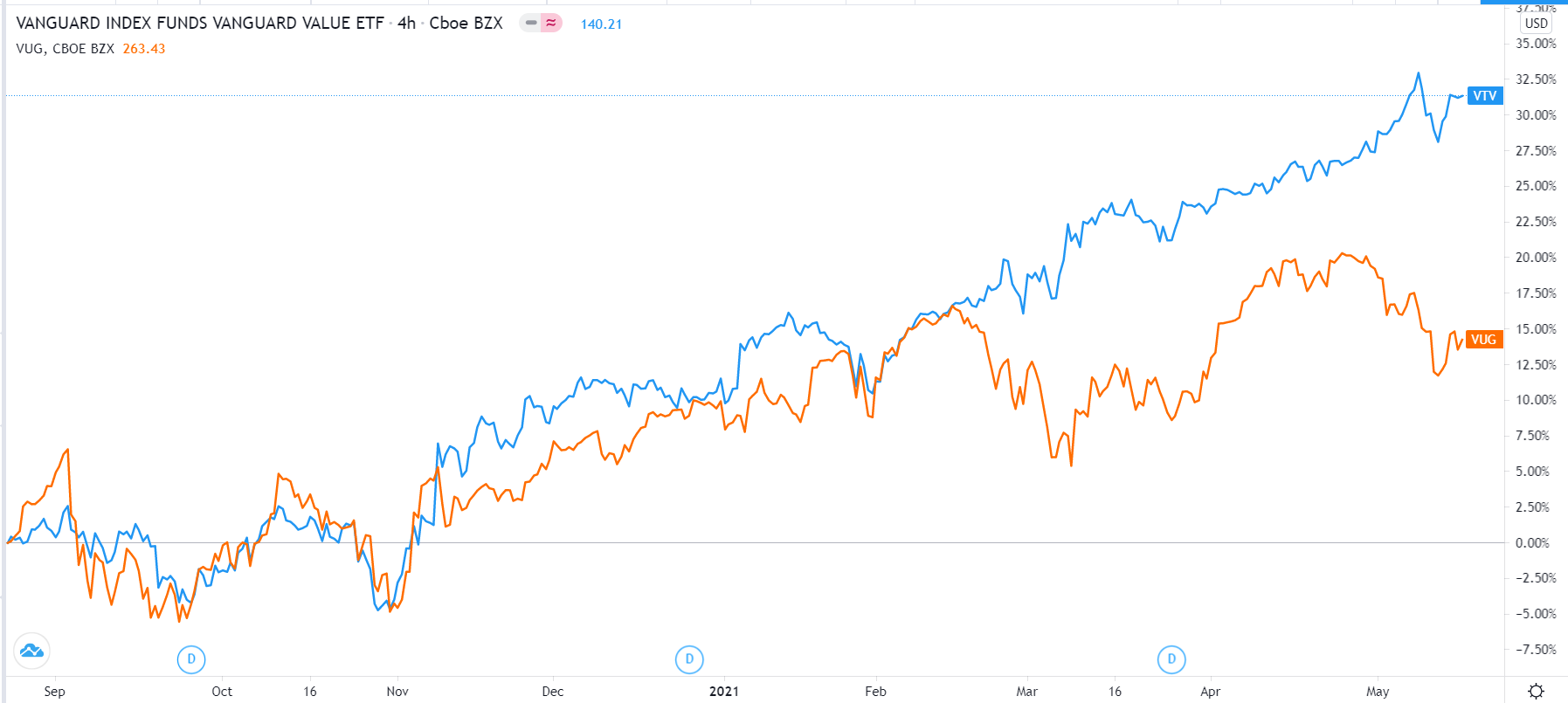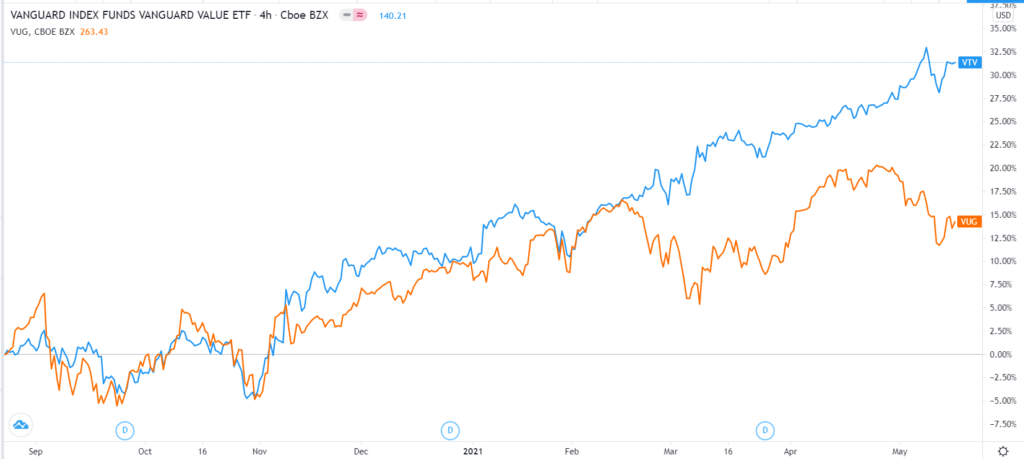 This performance is mostly because of macro factors and worries of valuations. In the United States, inflation has surged while the labor market has tightened. Therefore, if the trend continues, there is a possibility that the Federal Reserve will be forced to gradually tighten to prevent the economy from overheating. As such, historically, growth stocks and risky assets like Ethereum tend to underperform in periods of rising interest rates.
Elon Musk's influence
Ethereum price has also struggled because of the recent erratic behavior of Elon Musk, Tesla's CEO. In the past few months, Elon emerged as a leading proponent of cryptocurrencies. In February, his company became one of the biggest holders of the digital currency when it acquired BTC worth $1.5 billion. The company also started allowing customers to buy its products using Bitcoin.
The situation changed last week when the company decided to stop Bitcoin transactions. In a tweet on Sunday night, he suggested that the company would sell the Bitcoins it holds. He later clarified the statement, saying that the firm had not exited its positions. But it could since nothing prevents the firm from selling its holdings.
This was an important point for Ethereum price since cryptocurrencies tend to have a close correlation, meaning that they move in sync most times.
DeFi and rising competition
Ethereum price has struggled at a time when the DeFi industry has seen some exits. According to DeFi Pulse, the total value locked in DeFi has dropped from surpassing $88 billion last week to $76 billion. The DeFi industry is critical to Ethereum's success since most projects are built using the technology. If the trend continues, Ethereum will likely continue being under pressure.
Meanwhile, Ether price has struggled because of the rising competition in the industry. Recently, more developers have moved to less congested networks like Solana, Cardano, and Polkadot. While Ethereum still dominates, rising competition could affect its market share.
Ethereum price forecast
The four-hour chart shows that ETH has been under intense pressure in the past few days. The currency formed a head and shoulders pattern and broke out below its neckline at $3,523 on May 16.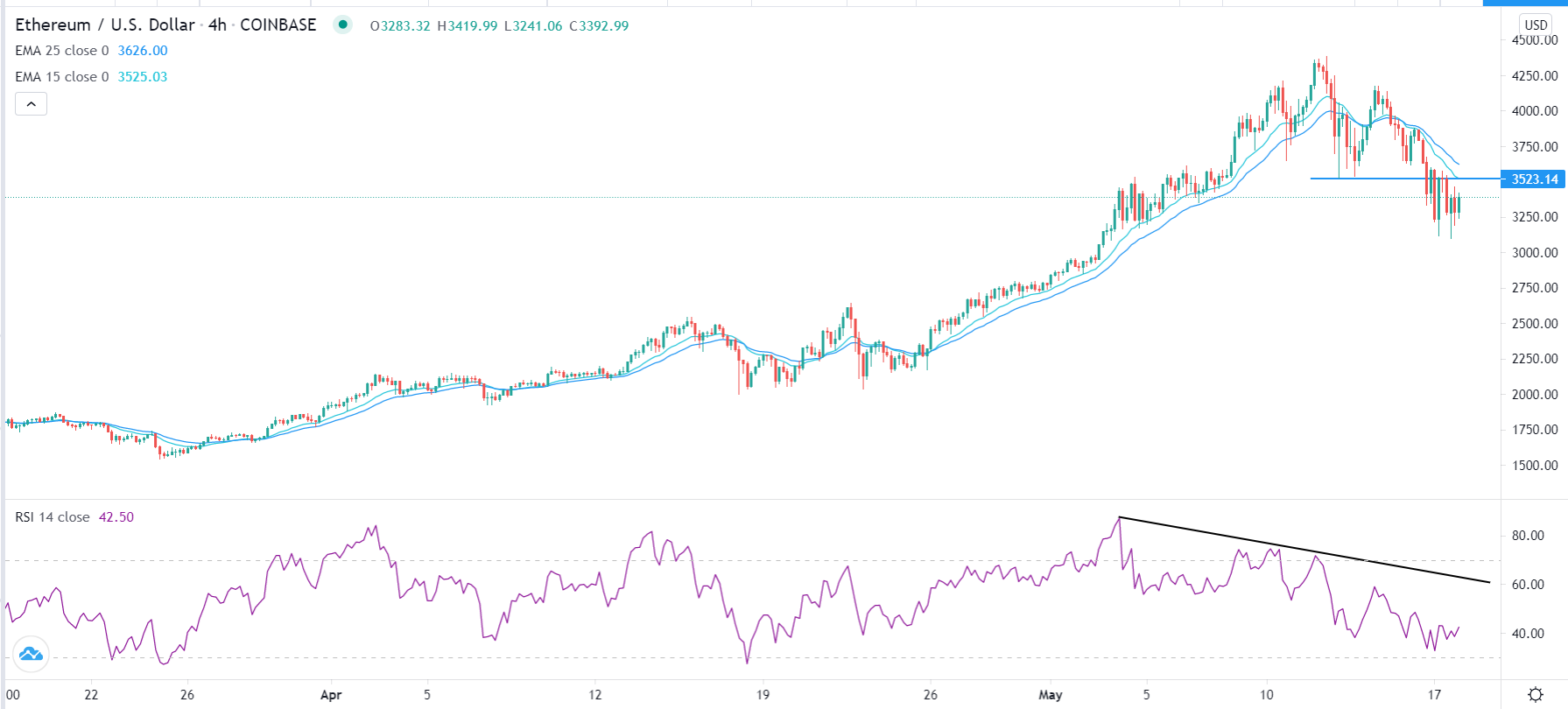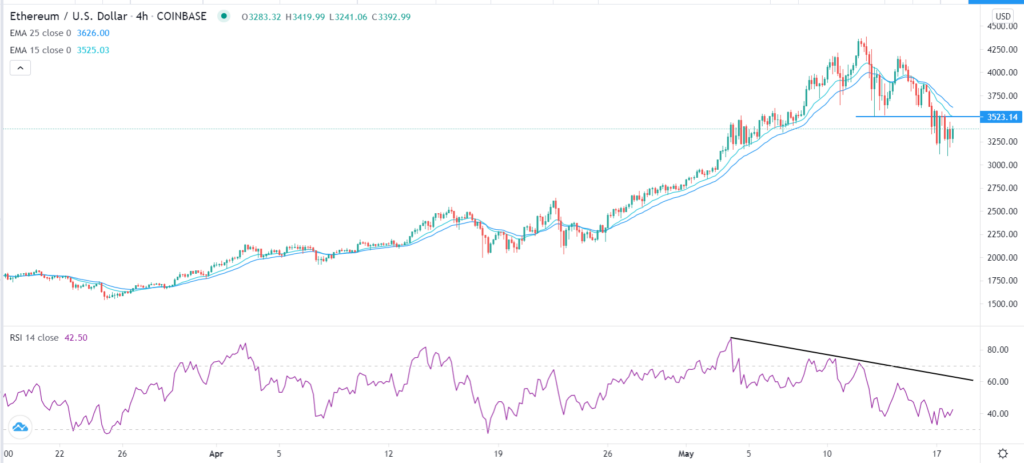 The 25-day and 15-day exponential moving averages (EMA) have made a bearish breakout pattern while the Relative Strength Index (RSI) has formed a bearish divergence pattern. Therefore, the price may keep falling as bears target the next support at $3,000. However, a move above the resistance at $4,000 will invalidate this trend.