Ethereum price seems ready for take-off as interest in the Decentralized Finance (DeFi) resumes and as traders wait for the London hard fork. The coin is trading at $2,340, which is about 38% above the lowest level in June.
London hard fork
Ethereum is a leading blockchain project that helps developers build all types of decentralized applications. Ether or ETH is the native currency for this ecosystem. In the past few years, Ethereum has moved from a relatively small project to become the second biggest cryptocurrency project in the world, valued at more than $300 billion.
Ethereum has also become a critical part of the blockchain network since most developers have used it to build its applications. For example, most DeFi projects like Maker, Curve Finance, Compound, and Uniswap are all built using Ethereum's technology.
However, Ethereum is also facing significant challenges. For one, it is facing substantial competition from fast-growing blockchain projects like Cardano, Polkadot, Solana, and Binance Chain. These projects are said to be more dynamic and relatively faster than Ethereum.
In addition, Ethereum is also facing the challenge of its technology. Like Bitcoin, Ethereum uses a proof-of-work technology to mint new Ethers. This technology is usually relatively inefficient and expensive.
Therefore, Ethereum's price is on the cusp of a major bullish breakout because developers are working hard to transition it to a proof-of-stake consensus mechanism. The proof-of-stake is usually more efficient and faster to implement.
In June, the developers unveiled the testnet of the London hard fork. This process will then be followed by the release of the mainnet later this month. Therefore, Ethereum price is poised to rally ahead of this launch. Historically, cryptocurrencies tend to rally ahead of a major upgrade. For example, Bitcoin price rallied in 2020 ahead of the halving event. Recently, Theta bounced back ahead of a major network upgrade.
DeFi industry booming
Ether is also rising because of the booming Decentralized Finance industry. Activity in the industry has surged in the past few days, even as some analysts raise regulatory concerns. In general, the total value locked (TVL) in the industry has grown to over $57 billion. This is substantial since the industry's TVL was less than $50 billion a few weeks ago.
The TVL of DeFi projects like Yearn.finance has risen by more than 20% in the past 24 hours, while Synthetix has grown about 10%. As a result, DeFi tokens have done relatively well, with Aave, Compound, and Uniswap rising over 10%.
This price action is important because all these DeFi projects are built using Ethereum's technology. The only major DeFi project built on another network is PancakeSwap, with a value surpassing $4 billion. It was built using the Binance Chain technology.
Meanwhile, Ethereum is rising as investors react to the news that the number of wallets in the network has kept rising. In fact, last week, the total wallets rose above those of Bitcoin.
Ethereum price prediction
Ether has been in a solid bullish trend, as shown in the three-hour chart below. The coin has moved above the 15-day and 28-day Volume-Weighted Moving Average (VWMA). It also seems to be forming an ascending triangle pattern, which is usually a sign of a bullish continuation. Further, the coin has risen above the 50% Fibonacci retracement level.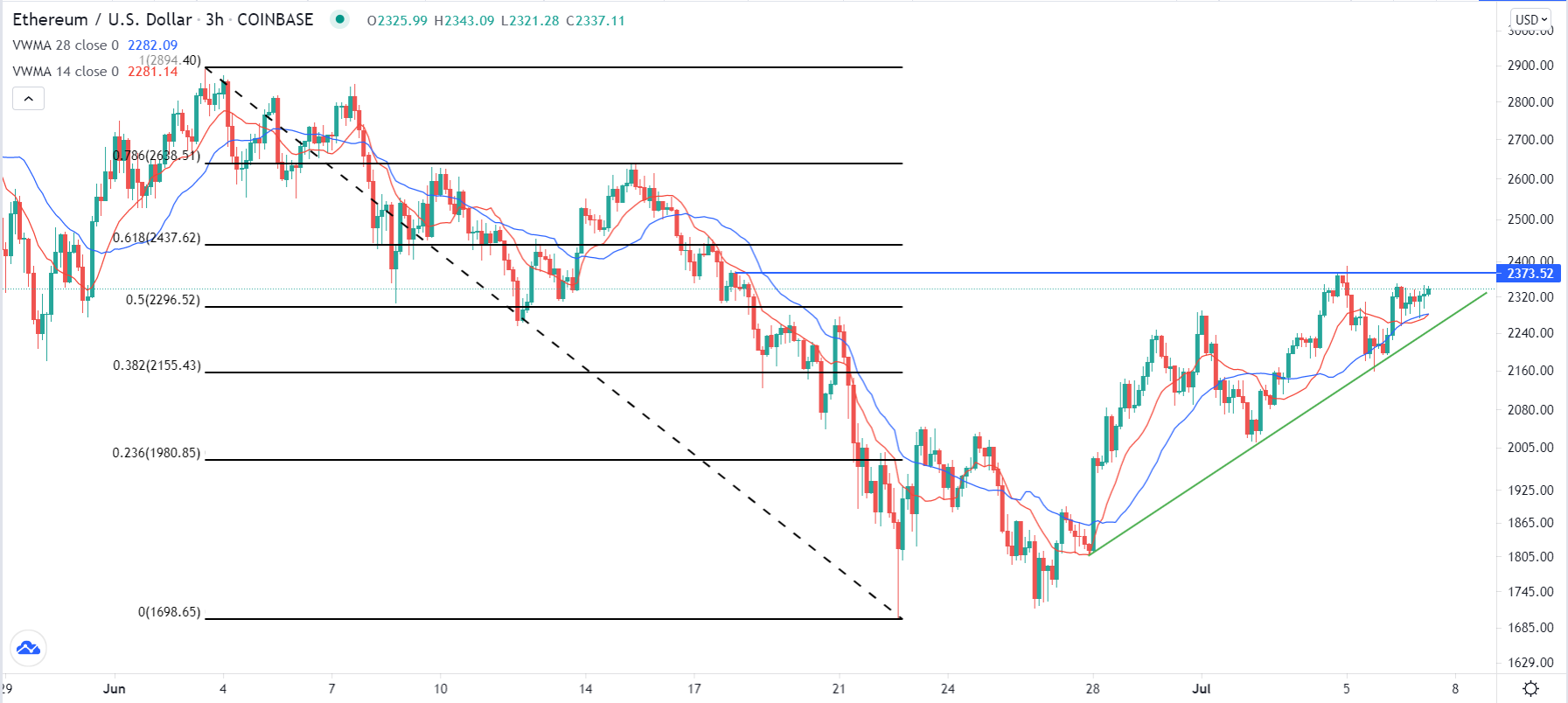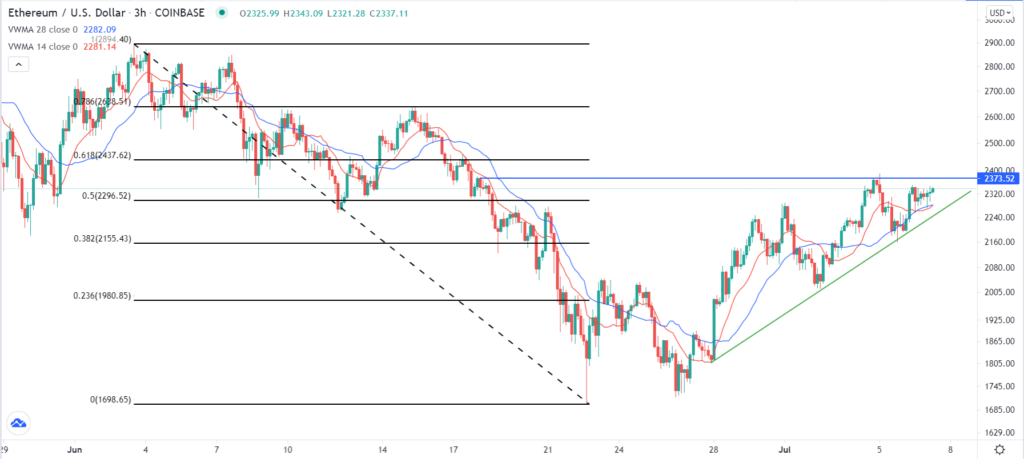 Therefore, Ethereum seems ready for takeoff as investors wait for the next upgrade. If this happens, the next key level to watch will be the resistance at $2,500.