EIP-1559 is likely to spur ETH prices as the August 4th launch date approaches.
Ethereum's adoption as an investment asset on the rise, driven by DeFi and NFTs.
Ethereum was marginally lower at 1345 GMT on Friday as it continued to steady above $2,000 following the recent crypto-market rejuvenation. The cryptocurrency was down by a marginal 1.47% in 24 hours at the time of writing but was still about 13% higher over the past week.
Ether's growth in the coming days is likely to be driven by the forthcoming London hard fork, bringing Ethereum Improvement Proposal 1559.
EIP-1559 is likely to increase demand and drive up prices
Commonly known as EIP-1559, the upgrade is expected to improve the functionality of the Ethereum ecosystem drastically. Specifically, it is designed to reduce transaction times and gas fees. The "gas fees" is the cost paid for processing transactions on the Ethereum network, and it will henceforth from August 5th be divided into three parts.
The first one, known as the base fee, will be "burned up", consequently ensuring that a significant amount of the token doesn't circulate. That will have a significant impact on the amount of ETH in circulation, considering the base fees often constitutes between 25% to 75% of gas fees.
The burning up of the base fee token will also significantly reduce the yearly 4% rise in the volume of ETH supplied to the Ethereum ecosystem. In the end, Ethereum will become deflationary as ETH becomes progressively rarer and more valuable. You can look at EIP-1559 as having a similar effect as Bitcoin's halving event.
Acceptance and adoption as a mainstream investment asset
Ethereum's value is also likely to keep rising as it becomes increasingly accepted as an investment asset. In Canada, for example, cryptocurrencies are now allowable for addition into Tax-Free Savings Accounts (TFSA). The accounts have been steadily gaining popularity in Canada because they are not subjected to taxation by Canada Revenue Agency.
For risk-averse investors, cryptocurrency-related TFSA is currently available for Bitcoin and Ethereum ETFs. Investors can gain exposure from ETH's price movements through the 3iQ CoinShares Ether ETF, traded at TSX exchange. The embracing of ETH and BTC as government-recognized investment options by a major global economy is certainly good news for the crypto market.
DeFi and NFTs driving growth
In another development, Coinbase has recently announced in its H1 review for 2021 that Ether's trading volume and growth have both outperformed BItcoin and have been the best performers in the crypto-market in the first half of the year. Ethereum's exchange volume rose by 1,461 per cent to reach $1.4 trillion, up from $92 billion in H1 of 2020. In comparison, Bitcoin's volume rose by 489% during the same period.
In the report, Coinbase attributed Ethereum's massive growth to DeFi. The segment is by far dominated by Ethereum and has about $62 billion held in the various projects on the platform. Indeed DeFi has taken the market by storm and despite some concerns regarding its safety, institutional interest in the product has kept on rising.
In the latest development, it has emerged that PayPal and other fintech companies have been in talks with Uniswap about integrating DeFi on their platforms. According to Coinbase, DeFi attracted some of its biggest customers in H1 of 2021, and the demand for DeFi continues to rise. This is more good news for Ethereum.
Beyond DeFi, Ethereum's other high-yielding segment is NFT (Non-Fungible Tokens). The relatively new segment has proven a hit, and Tuesday's slowdown of the Ethereum blockchain caused by massive traffic in search of Stoner Cats NFTs is proof of its seemingly unending growth. In Tuesday's mad rush, more than ten thousand NFTs were sold out in about half an hour.
Technical analysis
ETH price is currently marginally lower than its position 24 hours ago. The Relative Strength Index (RSI) of the ETHUSD pair looks strong at 61 but was headed downwards at the time of writing. If the buyers keep the market bullish, then ETH is likely to rise slightly to find the first resistance at $2,382. Further bullish control is likely to push the price to the second resistance level at $2,542.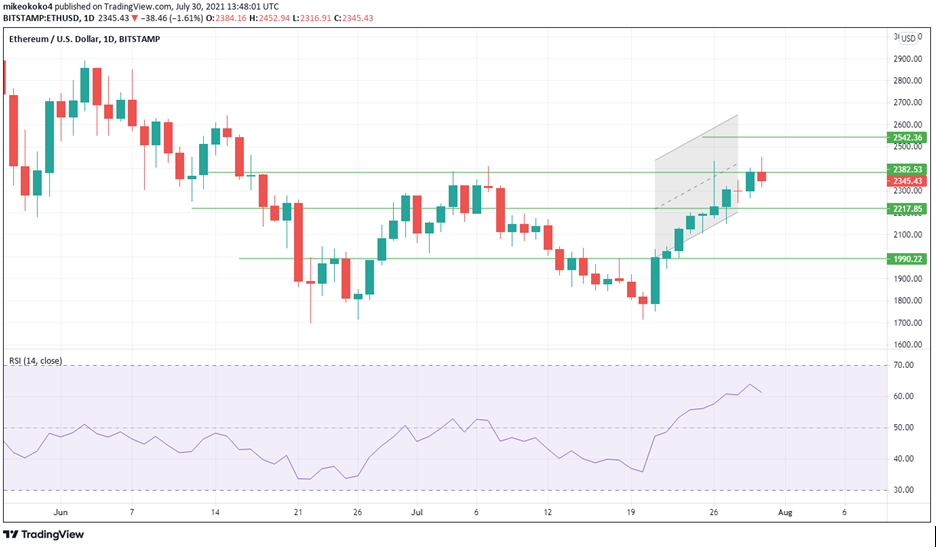 However, if the market momentum weakens, then ETHUSD may slide down to find first support at $2,217 and sustained bearish sentiment could send the pair back below $2,000 to the second support at $1,990.