AXS has been a rough diamond in the crypto market, gaining more than all the other cryptos in the past month.
AXS gives gamers an incentive to play through earnings.
The initial investment in the gaming platform may be prohibitive to many potential gamers.
The crypto world has a new kid on the block, and it may revolutionize the gaming world for good. Axis Infinity (AXS), a blockchain built to support earning-based gaming, is increasingly becoming popular among gamers and has caught the eyes of crypto investors. In just two months, the number of gamers on the platform has grown more than ten-fold to reach 1 million users.
However, you've probably never heard of it, considering that it is a relatively new entrant. You will, however, be surprised to know that Axis Infinity's native token, AXS outperformed all cryptocurrencies in July, rising by about 651% at a time when the crypto market was struggling to avoid further falls. It has also risen more than 7000% since January, which eclipses BTC and ETH.
The Axie Infinity is based on a gamer's ultimate fantasy – being paid to play. The platform earns players ETH depending on, among other things, time spent playing. But, there's a catch: players have to pay for their game time using NFTs.
The NFTs are also used to buy the game's characters known as Axies, as well as items such as land and accessories. However, using NFTs for gaming can be an expensive affair, considering the recent spike in the price of NFTs.
Axie Infinity tokens
Axie Infinity (AXS): This is the main native token connected to the Axie Infinity blockchain. It is currently not worth any monetary value, but the platform's developers have stated that holders of this asset will have voting rights on the game's development in the future.
Small love potions (SLP): This is a token built with the capability of breeding Axies and enhancing the game's characters' features/ strengths. The more you play, the more SLPs you accumulate.
Non-fungible tokens (NFTs): These are the standard currencies in the Axie Infinity network. They buy game time on the network. In addition, the game's characters, known as Axies are in the form of NFT.
Earning from Axis Infinity
There are three ways you can earn from the platform. The first way is by playing. The longer you play, the more you earn. However, the fact that you need a minimum of 3 Axies means that you may spend quite a bit of money in your initial game, considering that you have to use NFTs as payment for gaming time.
The second way to earn is through "scholarships," which are a form of agreement between players on the platform. This method involves renting your characters to other gamers, who use them to generate SLPs.
Thirdly, you can use newly-minted Axies for breeding and giving rise to "younger" Axies. Thereafter, you have to wait for five days for the young Axies to grow enough to be capable of being used for playing. Breeding can be quite rewarding to gamers, with the key downside being the long maturity period for Axies.
Where to buy AXS
The easiest way to get AXS is by purchasing directly from crypto.com. Alternatively, you can get it indirectly, buying Ethereum first before converting it to AXS.
You can buy Ethereum from any of the leading cryptocurrency exchanges like Binance, Bitstamp, Kraken, and Coinbase. Once you get your Ether, you should then head to Uniswap.org, where you can exchange your ETH for AXS, depending on the current exchange rate.
Disadvantages of Axis Infinity
Axis Infinity is certainly showing great potential as an investment asset, considering the popularity of gaming worldwide. Gaming is already a relatively costly undertaking as it is. Therefore, the added incentive of earnings may prove to be a huge hit in the coming days.
However, Axies Infinity, in its current setup, has some significant weaknesses. Firstly, it is relatively expensive to start gaming on the platform, considering that one has to use NFTs, which are quite pricey to purchase Axies for playing.
At the time of writing, the price of 3 startup Axies was about $900. Therefore, assuming that you generate about $20 per day through gaming on the platform, it may take you about three months to recoup your initial investment.
Technical analysis
AXSUSD has been trading sideways for the past two weeks. Its RSI is at 65, indicating that the buying momentum is strong but could weaken as it approaches the overbought territory.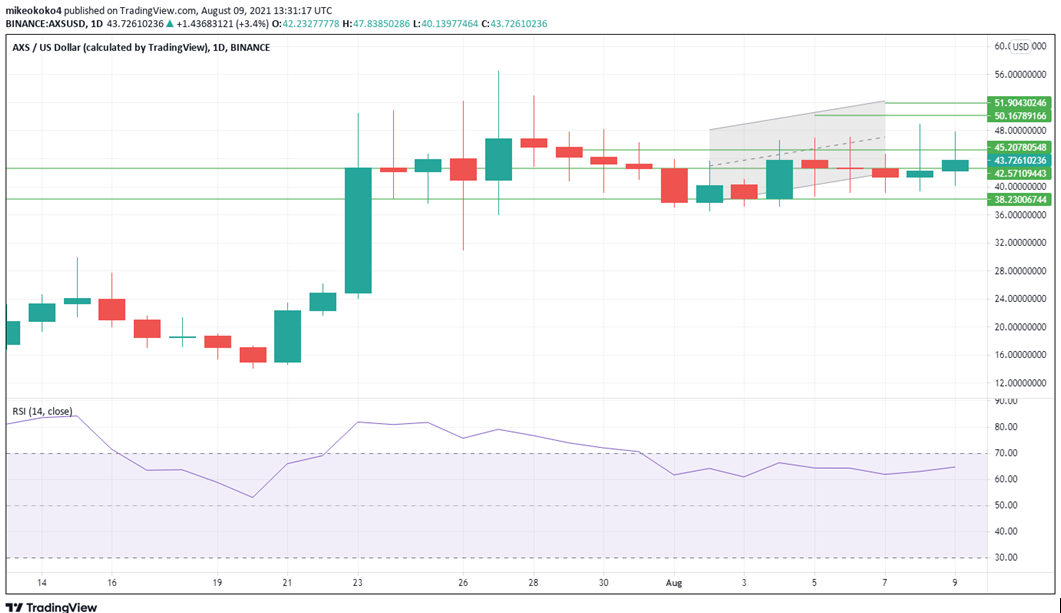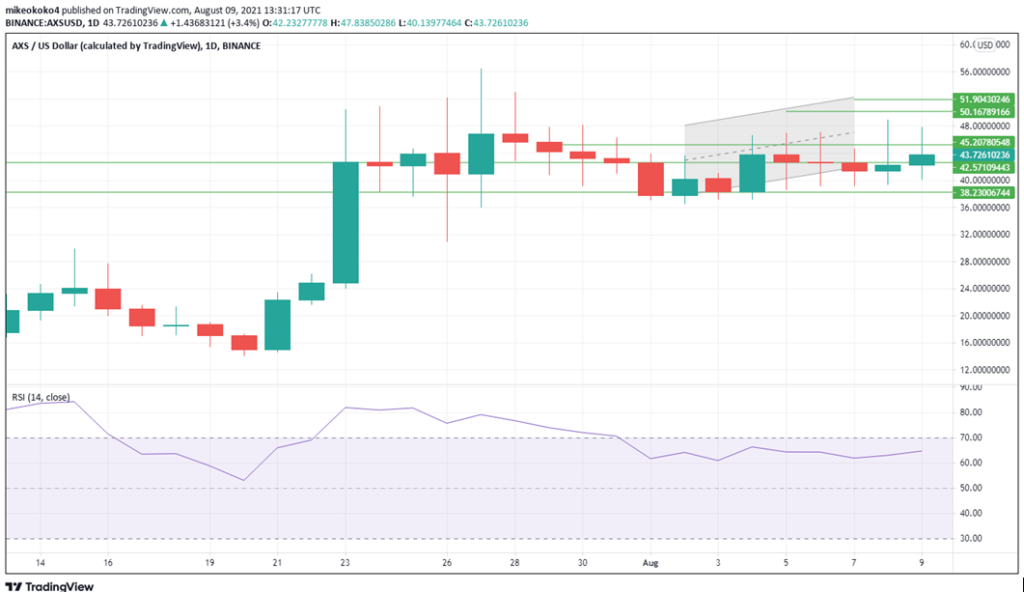 The ASXUSD pair is likely to rise to the first resistance at $45.20, but a sustained bullish run could push it up to the second resistance at $50.16 and possibly to $51. A bearish market could pull the price down to the first support at $42.57 and possibly to $38.23.