Fintech is the shortened form of financial technology, and it refers to the revolutionary, innovative technologies in financial services provision on digital platforms. Fintechs gained prominence about 10 years ago, and their adoption has been on a steady rise.
The main innovations brought by Fintechs include:
The onset of blockchain technology and cryptocurrencies.
Data protection through cyber-security.
Innovative smart contracts: automated self-executing contracts.
The introduction of InsuTech.
The integration of artificial intelligence in the evaluation of the financial standing of customers and the use of mobile phone Apps to offer financial services.
The use of robo-advisors in rendering investment guidance.
Virtual banking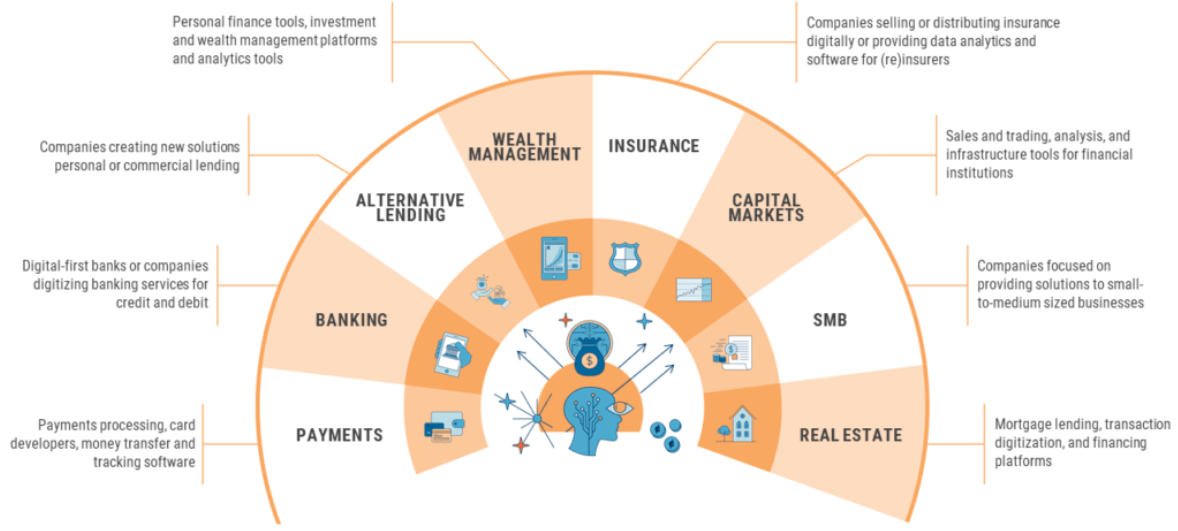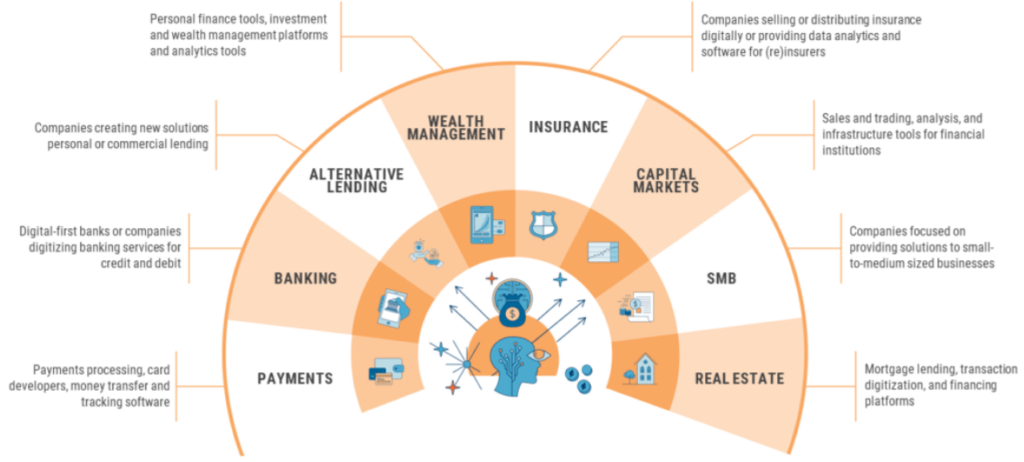 Fintech is among the most consistent segments in terms of attracting investment. In just eight years, between 2008 and 2016, Fintechs saw their financing rise from $100 million to about $18 billion. The figure has since grown to surpass $40 billion in 2020.
The revolution brought by robo advisors
Robo advisors refer to algorithms that are employed by investment firms to help their clients make well-informed investment decisions. They are typically structured in the form of questions that are used to evaluate prospective clients' financial positions, their priorities, among other essential considerations. This has eliminated the barriers that had prevented many people from investing, as well as simplifying "complex" investment concepts for them.
Sustained growth and resilience
Fintechs have proven to be resilient, even going as far as attracting additional investment in the face of a global pandemic. The latest data shows that Fintech investments rose by 4% in the year 2020, bringing in $42 billion in new Venture Capital deals as compared to $40 billion in 2019.
In total, the segment had $105 billion worth of investment last year, effectively meaning that last year saw the highest-ever investment in Fintech. Notably, this happened at a time when most investors slashed their investments for fear of the effects of the pandemic. This underlines the strong growth prospects for the segment going forward.
The largest investments in Fintech have traditionally come from Venture Capitalists. Last year, VC investors pumped in $42 billion in the segment. However, Private Equities, as well as Mergers and Aquisitions, also took a good chunk of the fintech financial pie.
With the rise in popularity of Fintechs, the segment has also seen its average size of investment increase. For example, the median seed capital forked out by Venture Capitalists grew by $400,000 while late-stage investment had a median growth of $5 million. This is strong evidence of the attractiveness of Fintech.
Global fintech investments (2010-2020)
The Americas are the biggest financiers
The Americas are still the biggest financier of Fintech, with about $79 billion invested in 2020, followed by Europe, Middle East, and Africa region with $14 billion, and Asia-Pacific came third with $11 billion. However, considering that regions such as Africa and South-East Asia are traditionally behind in terms of access to financial services, these regions have the highest growth potential.
Why fintech have an edge
Banking the unbanked and giving a personalized touch
Fintechs have cut a niche in because they are in touch with the masses. They have become attractive because they give customers a personalized touch beyond traditional financial institutions. Using breakthrough technological innovation such as artificial intelligence, robo-advisors, Fintech firms have packaged services that address the needs of their clients based on their capabilities. Fintechs also have the advantage of offering convenience and flexibility.
But, perhaps the most transformative aspect of fintech is the extent to which it has enabled millions of unbanked people to access loans and carry out financial transactions seamlessly. Banks had for a long time created bureaucracies that many people found unwarranted and discouraging.
Today, Fintechs have enabled people to access loans for expanding their businesses and for personal use without being taken through tedious paperwork or having to attach their assets as collateral. The automated nature of Fintechs also means that people can access their services in the convenience of their homes and at any time, without the restrictions associated with official business hours. Smart contracts have also recently experienced increased use, with a good example being Decentralized Finance (DeFi).
Promoting savings culture
Fintechs are also attracting more people because they have simplified the concept of savings and interest-earning. Millions of people can now save their small savings on a daily basis, knowing that every cent counts. Many fintech savings schemes enable depositors to lock their savings and earn interest. The beauty of it all is that everything can be done at the touch of a button and anywhere at any time.
Fintech is paving the way for financial giants
Initially, Banks cringed at the idea of adopting the concept used by Fintechs. However, following the success stories from Fintech firms, traditional lenders have had a change of heart. They have embraced the technologies and data analysis methods used by Fintechs and have integrated them into their core operations. Banks now have mobile apps structured around fintech technologies.
The popularity of mobile payments
Fintechs have come with revolutionary payment solutions that have disrupted and redefined financial transactions. Millions of merchants around the world have embraced digital wallets and mobile payment systems — and we can be certain that the numbers will keep rising. The result has been the expansion of online trading and the creation of more jobs.
Payments done through digital platforms can also be integrated into financial analysis and accounting software, thereby making book-keeping easier. With mobile payments, even the smallest of businesses can compete. All that is needed is a mobile handset.
In Africa, for example, more than 40 million people have been integrated into the mainstream financial system through the MPesa platform. For perspective, in  Kenya, for example, $38 billion worth of transactions took place through the MPesa platform in 2019. This is equivalent to half of the country's GDP.
Revolutionizing insurance
Insurance Fintechs are slowly but steadily changing how we perceive and transact the insurance business. Fintechs have appreciated the need to change the approach towards insurance, and Millennials have embraced this. In the age of Millennials, Fintechs will almost certainly succeed in insuring more Millennials than traditional insurance agencies.
Final thoughts
Fintech has been a disruptive innovation that has made our lives easier and increased access to financial services. Individuals, small businesses, and large corporations have to embrace the technologies going forward because they are the future of finance.