Makara is an investment advisor for cryptocurrency that is based out of Seattle, USA. This SEC-registered company was launched in 2020, as a sister organization of Strix Leviathan, and using the same technology as the hedge manager. As per vendor claims, this robo-advisor is capable of compounding the trader's capital at a higher rate compared to others. Whether the investment service is legit or not can be determined after assessing its various system aspects in this Makara review.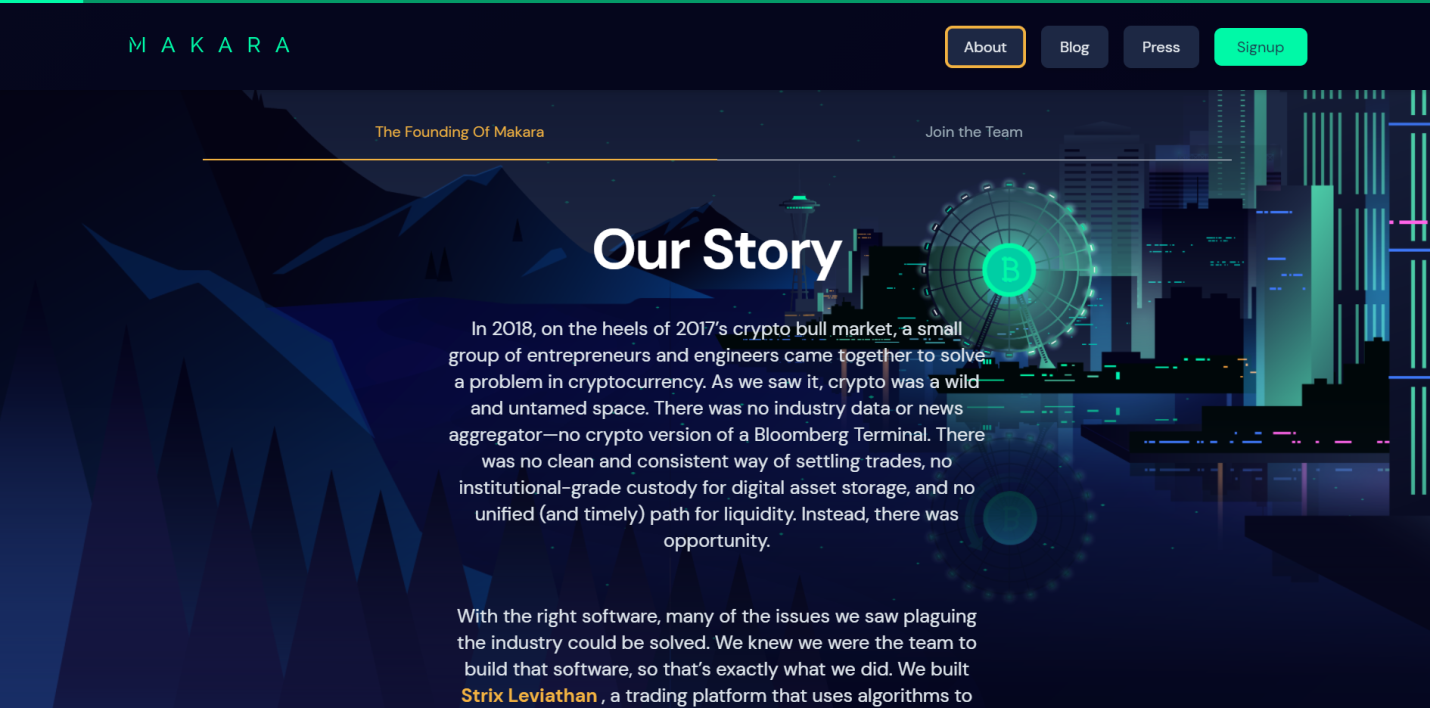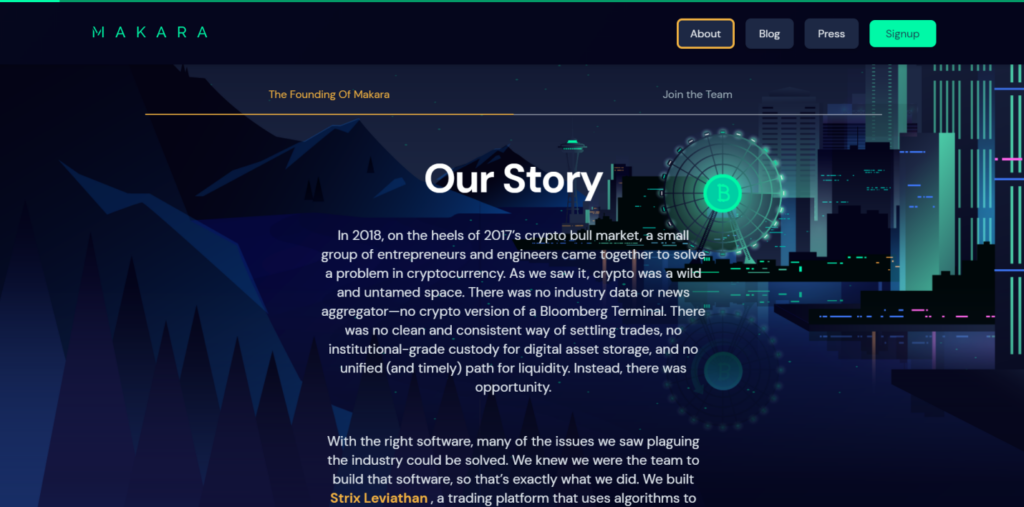 Makara Overview
On the official website of Makara, the vendor narrates the history of how this investor came into being. There is a lot of focus on the fact that this service offers something new and unique to customers and that it has the potential to revolutionize crypto trading. Next, we are provided with a brief overview of the features. The website also has a blog section where the company heads open up about the platform, and a press section containing articles written about this robo-advisor on other websites.
Makara's technology is mainly based on the Strix Leviathan platform, and this allows it to offer variegated collections of investment assets. These collections are managed and systematized by high-end technology. This platform is capable of trading on autopilot, so no manual intervention is needed on the trader's part. It can rearrange the baskets on its own and switch to currencies recommended by the platform's advanced algorithms.
Both new and experienced crypto traders can use this platform with ease. It is focused on education, so even the novice trader can learn the ins and outs of crypto trading while working with Makara. You can start off with as little as $50, and it takes hardly five minutes for this software to invest in the chosen assets.
The Idea Behind Makara
Even a few years back, trading in crypto was a harrowing and confusing process. There was no definite place to store your digital assets, and a shortage of liquidity was prevalent. The team behind this robo-advisor realized that these issues could be fixed by designing a complex piece of software.
At Makara, it is believed that all traders should be able to deal in cryptocurrencies. Since it is an SEC-registered platform, regular investors can easily access it. Due to the introduction of this platform, crypt-trading is no longer a field exclusively available to the ultra-rich.
The Core Team
The founder of this platform is Jesse Proudman, who has been a technical entrepreneur for more than 20 years. He earlier founded a company known as Blue Box, which he later sold to IBM. He also worked at IBM, where he carried out research on digital investment instruments and blockchain.
Sadie Raney is the co-founder of the company, and she has 18 long years of experience in leadership and finance. She completed her MBA from the University of Washington and her international MBA from the IE Business School in Spain. The Chief Technical Officer (CTO) is Matt Kern, who has a software engineering background and has worked with companies like Ariba, CoreHarbor, and Palm.
Safety of Makara and the Network
On the official website, the vendor has not provided any details on the safety features used by this platform, which is quite disappointing. Crypto traders need to know that the platform they are trading with is 100% secure because they don't want to lose their funds at any cost. As such, the vendor should have provided some details on the security of the server's network and the platform itself.
Other Notes
Currently, Makara has a waitlist that crypto investors can join. If you have a US bank account, only then are you eligible for joining this list. The members will be the first ones invited to sign up on the platform. Additionally, they don't have to pay any account fees for the initial six months after their registrations are complete.
Client Testimonials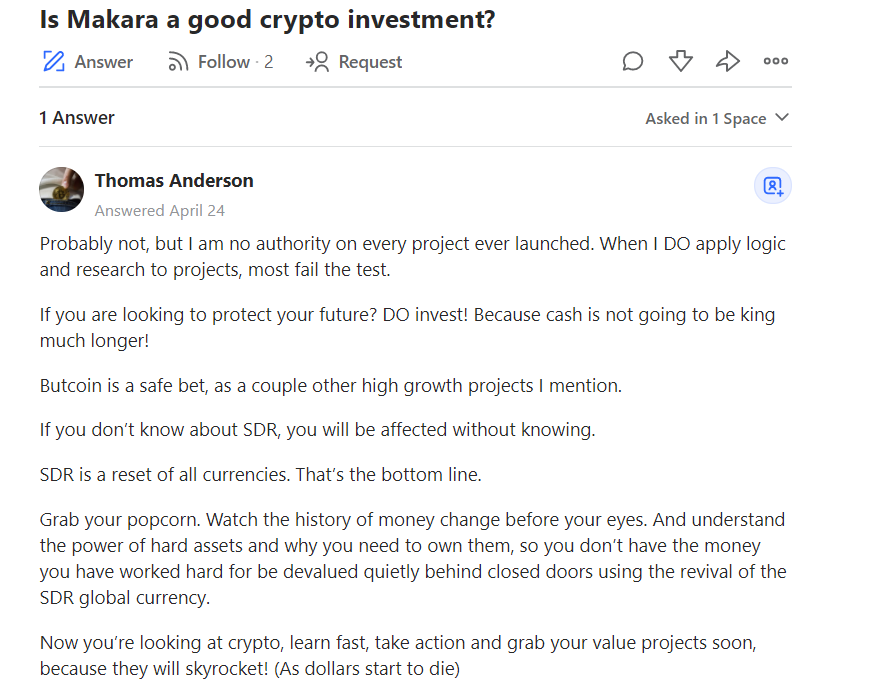 We found a single user review for Makara on the Quora website. Here, the user expresses his doubts about the platform and states that it will be difficult to use it for someone who does not know about Special Drawing Rights (SDR). There are not many customer reviews available on the web, which makes us think that Makara does not have much of a reputation as of now.
Is Makara a Legit Investment Service?
Makara
We would advise against signing up for this investment service since it is new and unproven. You never know what you're going to get from it, and it is not clear how secure the platform is.
We would advise against signing up for this investment service since it is new and unproven. You never know what you're going to get from it, and it is not clear how secure the platform is.
Pros
Experienced team
Low starting balance
Cons
New platform
No information about security features
Long waitlist