The aggregated open interest for Ethereum futures peaked at an all-time high of $12.6 billion globally on Wednesday, exceeding the previous high of $11.1 billion.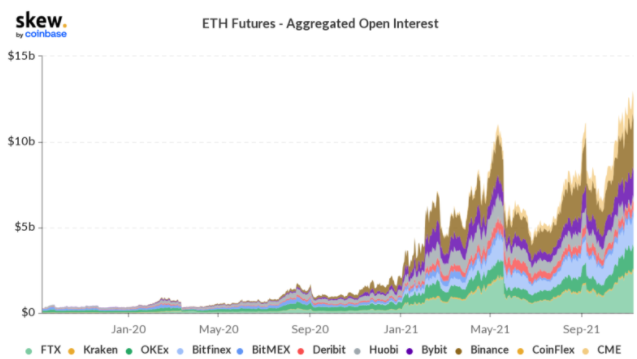 The open interest of Bitcoin futures markets is currently at $26.4 billion, slightly below April's all-time high of $27.4 billion.
The rising open interest is reportedly responsible for the sustained bullish momentum of the second largest crypto. Another factor boosting ETH is the August London hard Fork upgrade that created deflationary pressure and changed the network's fees structure.
The increasing interest in Bitcoin's futures market could be attributable to the cryptocurrency's rising prices after the launch of Bitcoin Futures ETFs. The upcoming November upgrade, Taproot, is also driving the surge.
The surge in the open interest metric indicates that the upward momentum of both tokens is sustainable. Goldman Sachs analysts project ETH to reach $8000 in the next two months.  
Source: Cryptobriefing