Bitcoin is making a comeback, with the bulls rushing to take advantage of the recent slump to enter the blue-chip cryptocurrency at a discount.
Ether and BNB have emerged as favorite altcoins as investors bet on the future of DeFi and native network tokens.
Investors can't complain. Cryptocurrency investments have generally paid off well. Although it has pulled back 20% from its recent peak, Bitcoin (BTC) has returned more than 80% for investors in 2021. Ether and Binance Coin (BNB) have returned more than 230% and 1,200%, respectively. The Coinbase IPO generated massive excitement that generally lifted cryptocurrencies across the board.
Even with the juicy returns, investors are not sitting pretty. Biden administration's capital tax gain hike, the recent collapse of two crypto exchanges in Turkey, and the decision to ban crypto payments, and plans to ban cryptocurrencies in India are the risks that investors can't ignore.
Bitcoin making a comeback, but investors are cautiously optimistic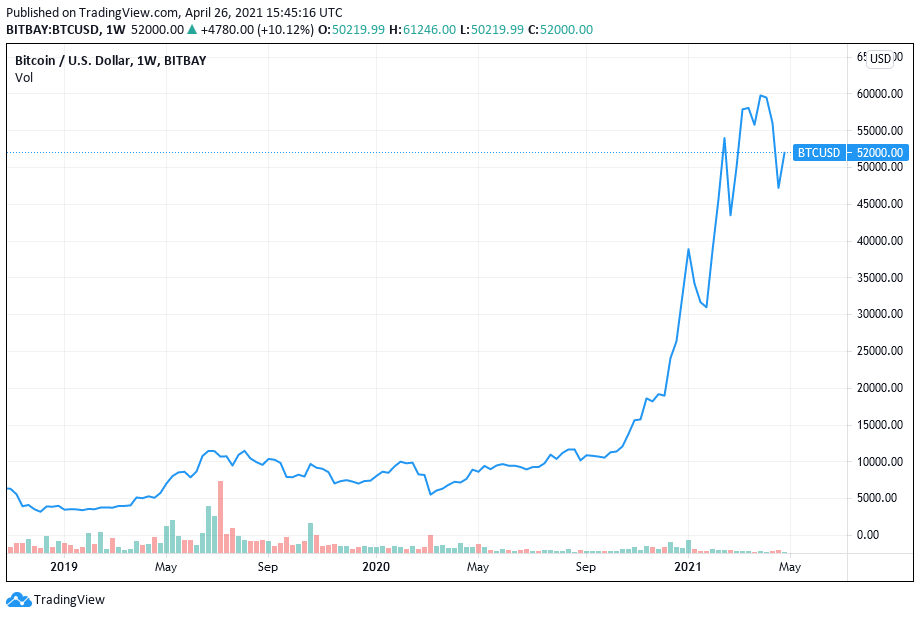 Bitcoin jumped more than 8% to trade above $54,000 on April 26. The rebound came as Tesla prepared to report its first quarterly results since revealing an investment of $1.5 billion in Bitcoin. The blue-chip crypto recently entered a downtrend, falling to $47,000 level. The downward spiral began after it surged to a record high of $64,829 on April 14, buoyed by excitement from Coinbase IPO. Bitcoin seemed to sink on a wave of profit-taking.
Institutional endorsements have played a central role in Bitcoin's surge. For example, big banks like JPMorgan, Goldman Sachs, and Morgan Stanley are lining up to offer their wealth management clients exposure to the blue-chip cryptocurrency. It has also gained on favorable mentions by public figures like Tesla CEO Elon Musk, Mark Cuban, and ARK funds manager Cathie Wood.
The bulls appear to be taking control of Bitcoin after it dipped below the 100-day moving average. But the charts show bulls can't declare victory yet. Bitcoin has found support above $50,000, but it faces resistance around the $58,000 level. A further rise above the support could unnerve bears. But a decline below support would re-energize bears and push the price lower.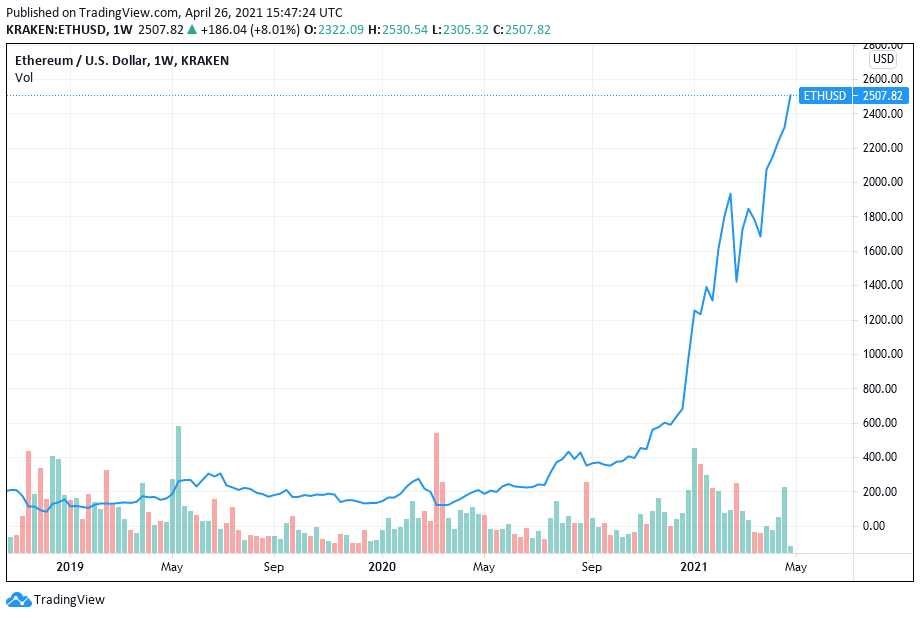 Ethereum network upgrade exciting interest in Ether
Ether shot up 7% to $2,5000 Monday (April 26). Investors see bright prospects for the crypto amid the Ethereum network upgrade. But particularly exciting is that the upgrade will reduce Ether supply, which could, in turn, boost the price. Ethereum's growing role in DeFi and now NFT is another major draw to the network's native token ether.
Ether has first support at $2,143, second support at $1,963, and third support at $1,811. The crypto's first resistance is not at $2,628, and the next resistance point is at $2,808. If the bulls can maintain Ether price above $2,400, they could keep bears at bay for a long time and allow the crypto to breach the immediate resistance point.
BNB gets boost from token burn and Binance's expansion into DeFi space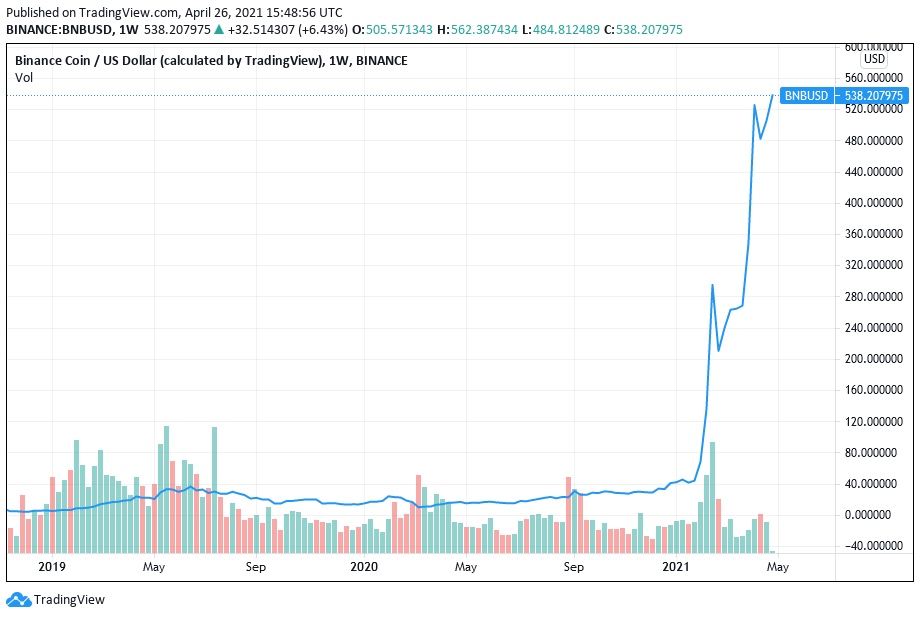 BNB, or Binance Coin, is the native crypto on the Binance network. The token has been on fire in 2021, buoyed by several factors from the burns to the launch of Binance's DeFi platform. Binance issued 200 million BNB tokens when it launched. It aims to reduce the token's supply to 100 million units. To get there, it destroys a certain amount of the token every quarter in what it calls BNB to burn. As the token's supply drops and demand increases, the price is going up.
Besides the burn, BNB has also got a boost from its expanding role as Binance launches a DeFi platform to challenge Ethereum. Binance DeFi platform is seeing rapid adoption thanks to its faster process and cheaper fees.
At $534, BNB has the first support level at $467, and the next support is at $419. But the token is trying to break first resistance at $546 and next resistance at $577. If bulls are able to keep BNB above $530, bears will struggle to take control.