Summary
The African project and energy efficiency are keys to the next big growth spurt.
Demand-driven institutional adoption to provide strong growth prospects.
Cardano's partnership with the Ethiopian Government was expected to give it a boost towards successive record-high prices, but it seems that investors have adopted a cautious wait-and-see approach.
Nonetheless, ADA has had an impressive run in recent days, and at the time of writing, it was at $1.35, up 23% relative to its price seven days ago. For perspective, ADA set its ATH of $1.48 recorded two weeks ago.
The African project is on course, and institutional adoption is promising
Cardano's much-publicized African project seems to be on course. The project is one of IOHK's premier projects that it is counting on for its growth. The company's partnership with the Ministry of Education in Ethiopia will develop a broad-based identification system based on the Cardano blockchain.
Cardano will come up with a digital ID functionality that will be incorporated into the education system of Ethiopia. The country's minister of education, Getahun Mekuria, revealed that the project is also designed to enhance access to higher education.
In another development, Simplex, an Israeli payment processor, has recently incorporated ADA, adding it among the supported digital currencies. This will enable users to buy ADA easily through bank transfers, credit cards, and Apple pay. The company revealed that the move was informed by the growing demand and rising adoption of ADA.
In a similar development Papa Murphy's, a popular pizza company, has recently added ADA as a payment method. ADA has also made a debut on the digital currency betting platform, Bitcasino.
ADA has also made a significant move towards adoption into the mainstream payments system. Last week, NOWPayment disclosed that it had enabled payments for Shopify, WooCommerce, and Magento on the platform using ADA. This has been done through a native add-on.
These developments show the rising demand for ADA as a transaction asset for everyday activity, which puts its prospects on a good pedestal.
Elsewhere, a Luxembourg bank, Swissquote Bank Europe, has enabled trading in ADA and 11 other digital currencies through the bank's infrastructure. The bank hopes that the move will give its clients more trading options. It also aims to facilitate the use of digital currencies in trades involving mutual funds, equities as well as fiat currencies.
Cardano the pacesetter?
Cardano's blockchain attributes have earned it a respectable inclusion in the education sector. The University of Zurich will add a module on ADA in its in-depth analysis of the blockchain 2021 curriculum.
The main focus of the course is to teach students about the many features of blockchain technology. The university has assembled a team of lecturers competent in blockchain technology and knowledgeable guest lecturers, including the CEO of Cardano, Charles Hoskinson.
Never shying from stirring a storm in the crypto market, Charles Hoskinson has recently claimed that the Cardano blockchain is nearly 2 million times more energy-efficient than Bitcoin. He explained that the proof of stake had an advantage over proof of work.
If this is true, then ADA will certainly be more appealing to institutional investors and individuals who are keen on environmental protection.
ADA/USD technical outlook
ADA can find first support at $1.33, while the second support level may be established at $1.26.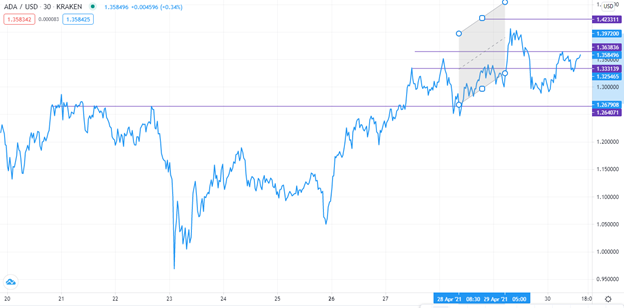 If the bulls take charge, the cryptocurrency may go upwards of $1.39, where it should find the first resistance. A further push will see ADA attempt to break the second resistance level at $1.42.