A third of 18 major crypto exchanges in Glassnode's report have integrated SeGwit upgrade at 90% adoption, while the second third, including Binance, is at the 50-80% range.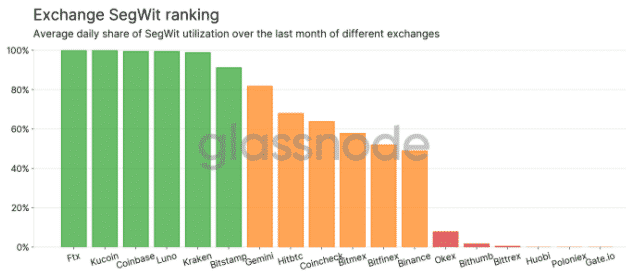 Major exchanges which also include Gemini still remain behind despite the integration of SegWit, reaching 50% in BTC transactions as of 2019.
The report reveals that Binance had an adoption rate of 50% as of the close of 2021, compared to Coinbase and FTX, which are at 100%.
Segregated Witness is a Bitcoin soft fork update that separates witness data from the base transaction. The upgrade facilitates safe and fast transactions and enhances scalability.
Cryptocurrency exchanges reportedly take about 40% of Bitcoin block space, with Binance and Coinbase taking about 25%.
Swan Bitcoin's editor-in-chief, Tomer Strolight, remarked that the slow adoption by the big players would make it hard for the network to achieve full scalability.
Strolight notes that the mentioned exchanges may also lag behind in adopting the latest Bitcoin soft fork, Taproot risking causing high transaction fees.
Source: Cointelegraph