Metaverse is an interesting industry that many people believe will change how the world operates. It is seen as the next big thing in the internet world because it will enable participants to interact well in a virtual environment. Companies like Facebook, Roblox, and Nvidia are playing a vital role in the industry.
Blockchain startups like Decentraland and Sandbox are also at the forefront of taking metaverse projects. In this article, we will look at some of the top Polygon metaverse projects.
What is Polygon?
Polygon is a layer-2 blockchain platform that was formerly known as the Matic Network. Its main goal is to help scale apps built using Ethereum's technology. By so doing, Polygon is able to reduce fees and make the transactions faster.
In the past few months, Polygon's network has been growing fast. For example, in February 2022, the developers raised a whopping $450 million from the likes of Sequoia and Softbank to fund its growth. They have also rolled out more products to help scale Ethereum apps. 
For example, they launched a proof-of-stake Ethereum Virtual Machine (EVM) to scale apps. They have also developed zk Rollup tools that help to improve the speed of Ethereum apps by processing most transactions off the network. Other projects in development are Polygon Miden, Polygon Nightfall, Polygon Avail, and Polygon Zero. So, here are the leading metaverse projects built-in Polygon.
Aavegotchi
Aavegotchi is a metaverse project that combines the concept of gaming, non-fungible tokens (NFT), and decentralized finance (DeFi). It was created by Pixelcraft Studios, a company that is headquartered in Singapore. Another important part of Aavegotchi is that it is governed by a decentralized autonomous organization (DAO) known as AavegotchiDAO.
There are three key elements that help to determine the value in this metaverse. First, there is the collateral stake, which is made up of an escrow address that holds Aave-backed ERC tokens as collateral. These tokens usually generate a yield because of the platform's lending pool.
Second, there are traits that influence their availability or rarity. The rarer Aavegotchi is, the more valuable they become. These traits are determined by randomness, kinship, and experience. Finally, there are wearables.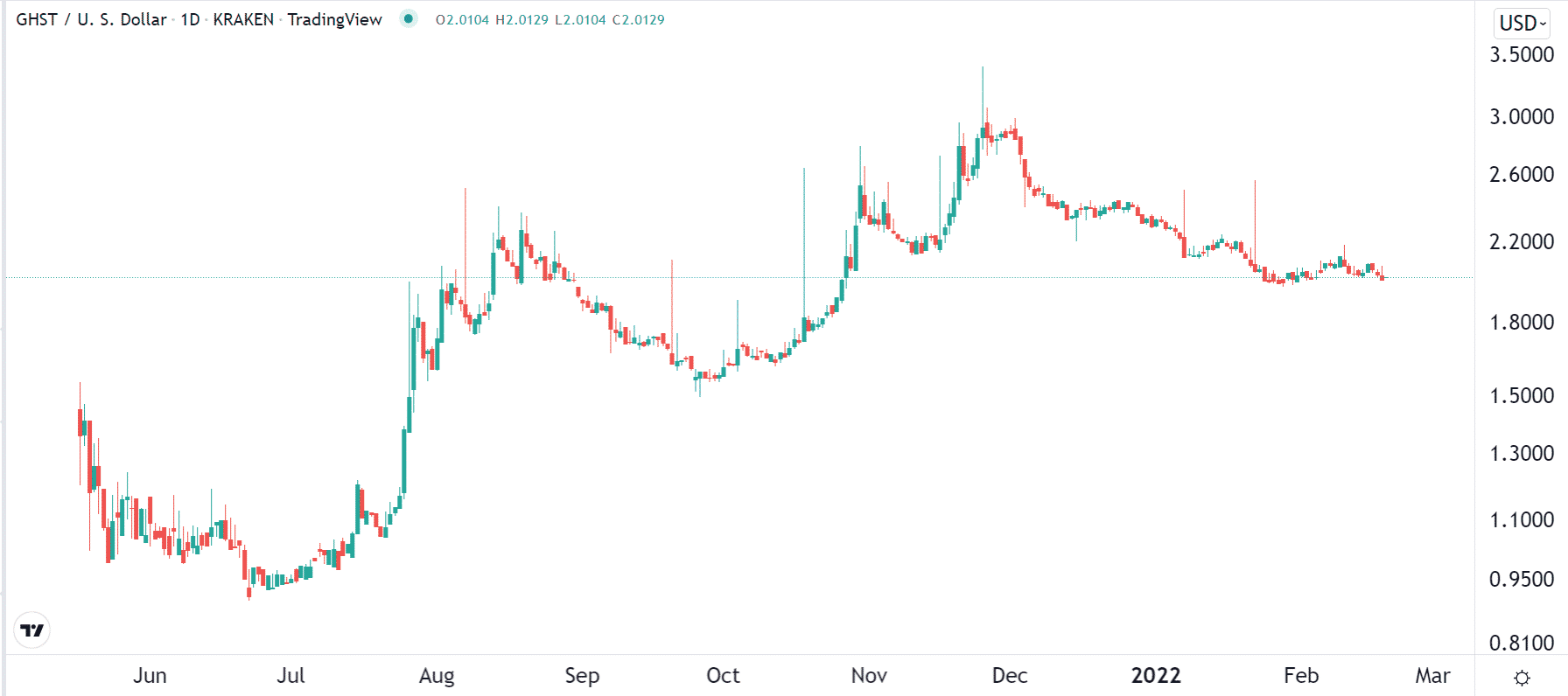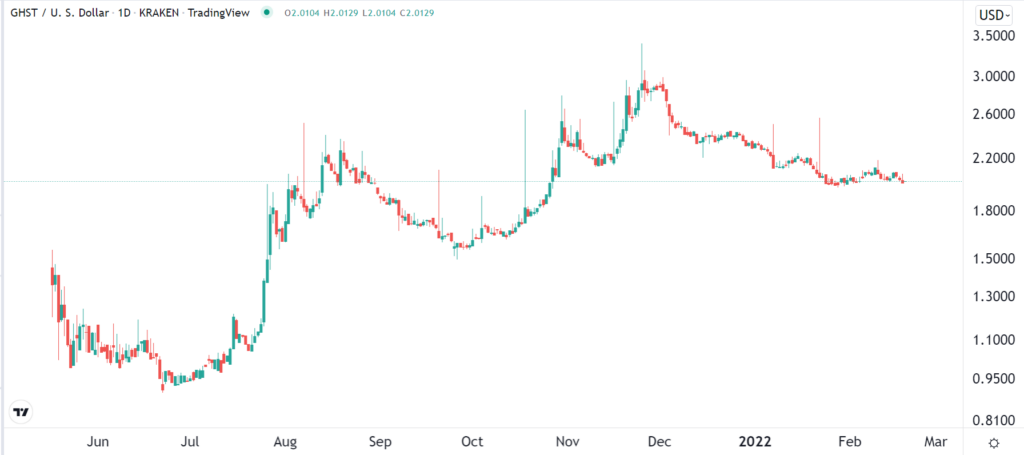 Aavegotchi has its native token that powers the ecosystem. It is known as GHST and has a market cap of about $125 million.
Evolution Land
Evolution Land is a metaverse platform that was built using Ethereum and then moved to Polygon for scaling purposes. It is a simulation game that has asset management as its core. The platform was developed by a team of Chinese developers who were influenced by the famous CryproKitties.
Evolution Land (EL) is based on one single planet in the universe with a climate that is similar to what we have on earth. There are about 64,442 lands on the planet. Users are then able to place a bid for each of these lands and then watch their value grow over time. Each of these lands has five core elements like gold, wood, water, fire, and silicon.
El is built on multiple blockchains. The original one, known as Atlantis, was built using Ethereum's network. Byzantine was built using Tron while Columbus was created using Crab. The one built using Polygon is known as Eden.
Metasoccer
Soccer or football is the most popular sport in the world, with more than 4 billion fans. It is so famous that the best players make millions of dollars every year while top clubs are valued at billions.
Metasoccer is a Polygon-built metaverse platform that seeks to change the game using blockchain. It is at the intersection of video games, soccer, and sports betting that is powered using blockchain and NFTs.
In the platform, people can create their own teams and manage them as they do in the real world. For example, people can sell and buy players, while participants can place bets on specific teams. Further, teams can work to find sponsorships and rent out stadiums to other teams. In other words, this is a complete soccer industry that is built using blockchain technology.
MetaSoccer is a relatively small blockchain project for now, but it's promising if it manages to become popular. Its native token is known as MSU and has a total market capitalization of $7.5 million and a diluted valuation of $50 million.
Everlight Metaverse
EverLight Metaverse is a fully autonomous gaming platform that runs on Polygon's blockchain. The network allows anyone to play and move from one level to another. It has several attributes, such as the ability for one to create characters, equip their wearing, and upgrade their equipment. One can even create new equipment, purchase their lucky stones, and then upgrade their levels.
Like most metaverse projects, Everlight is at the intersection of non-fungible tokens (NFT) and gaming. As for now, Everlight is a small platform that is set to launch its cryptocurrency in the coming months.
Cryptovoxels
Cryptovoxels is another Ethereum-developed metaverse platform that has recently moved to Polygon's ecosystem. Its model is similar to that of other well-known metaverse projects like Decentraland. Using its platform, people can play games, buy parcels of land, and acquire other items.
The chart below shows what parcels in this platform look like. As you can see, you can buy and build items like libraries, factories, galleries, and museums, among others.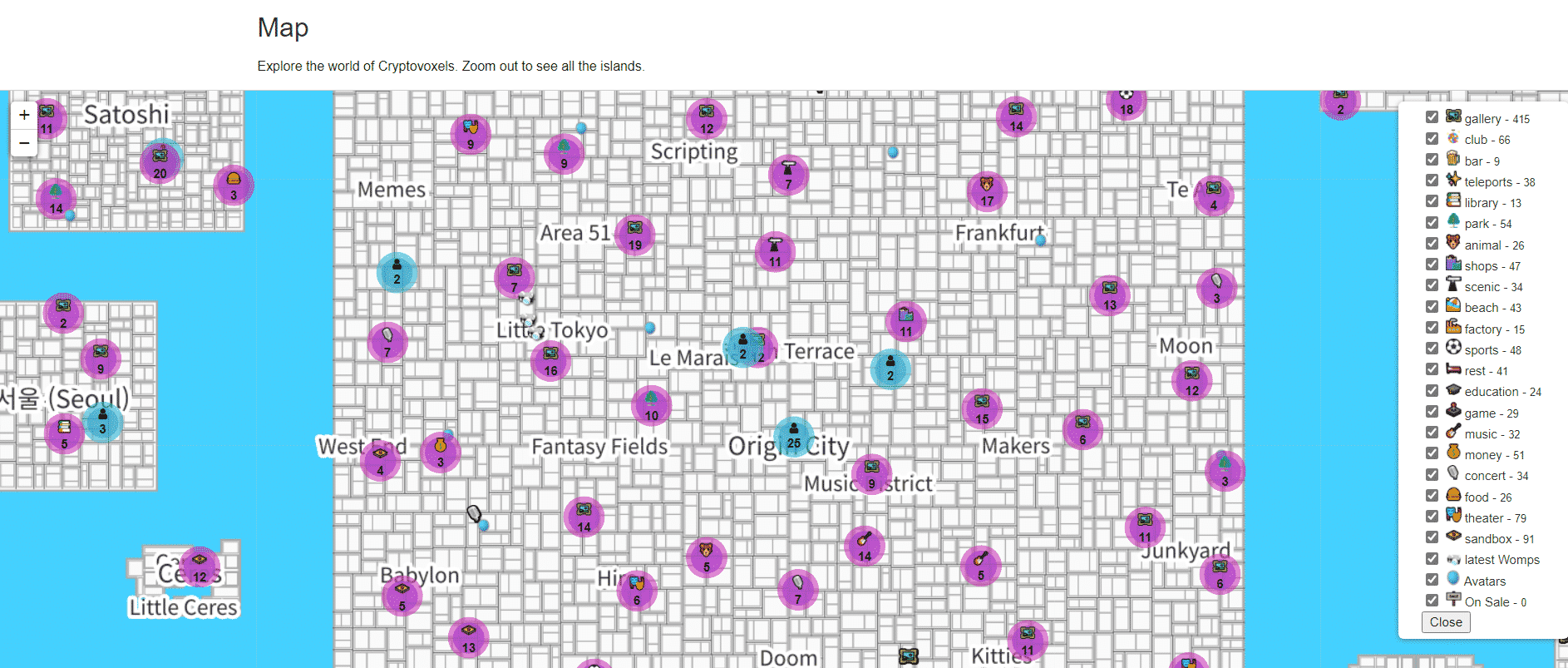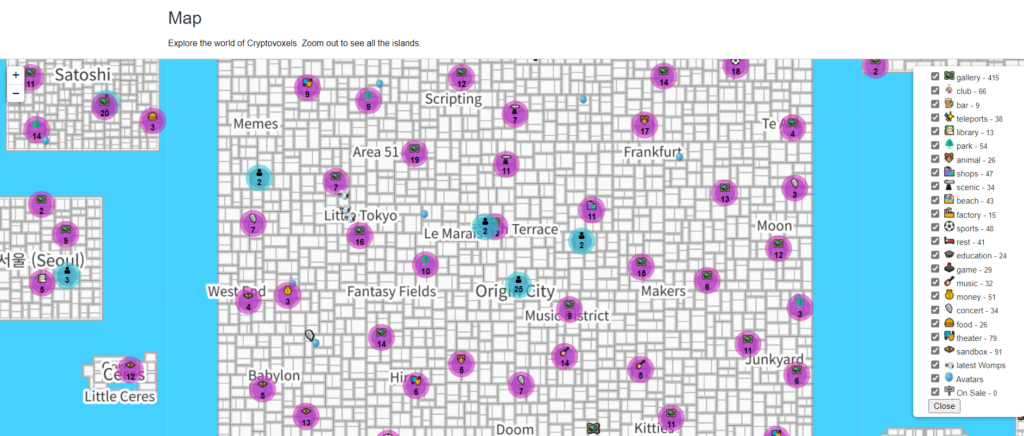 In addition, its marketplace is a platform where you can buy items and accessories like NFTs. Instead of buying on the platform, the company redirects users to buy on OpenSea, the biggest NFT marketplace in the world.
Summary
In this article, we have looked at some of the top metaverse projects built on Polygon's ecosystem. While Polygon is growing fast, we can conclude that its role in the metaverse is a bit limited. For one, we have not seen any major mainstream metaverse platform. Still, there is a likelihood that the platform will keep growing in the long term.